Hi! Hope you all had a great weekend! Luke and I had a date night on Friday night which was awesome. Saturday, Greyson had a basketball game and, other than that, we just worked on a few projects. Sunday… well Sunday was Super Bowl Sunday and, if you know me; well, then you know that I love football. It was a crazy game to be sure! Seriously though, you passed on the 1 yard line when you have one of the best running backs in the league. Just a crazy play call.
Anyways, Greyson's closet nook is coming along. Yay! We took a break from that the last two weeks to just finish the bathroom off. Now that the bathroom is finished we can focus on the nook again!
As one thing leads to another, focusing on the nook area has also got me thinking about his room in general. Greyson's room has been halfway decorated and organized a few different times since we moved in. I've never finished it because, really, it isn't the worst looking room in our house. It's been easy to put off because he doesn't really care. But, every time I actually think about it I get annoyed because it's *this* close to actually being done. Like we need a little bit of money to make some changes and probably 2 weekends and it would be finished.
Along with the kitchen reno (which nothing has been done in there since painting the dark trim), I'm pushing to get the little man's room done.
One thing on the list to change out is the old ceiling fan.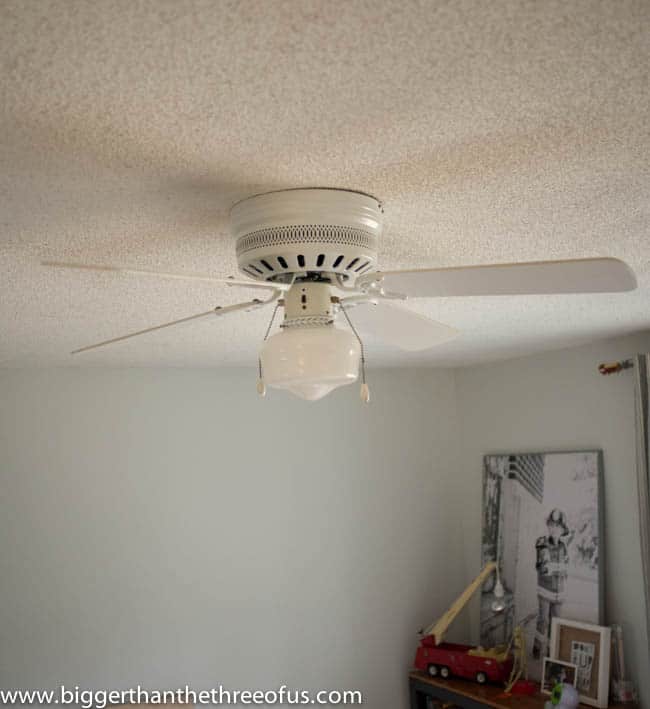 See, it's pretty bad. To be honest, it actually looks better in that picture than it does in the room! It's a bit willy wonky in person. Our house is a multi-level split so some rooms cool/heat differently than others. The two bedrooms on the north side (Greyson's room and the guest/office) are hotter in the summer and cooler in the winter. This means that we need to keep a fan in both rooms. Ceiling fans are not my favorite, but practicality wins out in this instance.
I've done my research and have ended up with these options for a ceiling fan.
I would say they aren't overly modern but they do have clean lines and are are MUCH better than the option that we currently have.
Which one would you pick?