I'm sharing tips for how to decorate around a TV so that the TV isn't the wall's focal point. Ideas, such as: adding a shelf for under a wall-mounted TV, what to put under the TV shelf, above TV decor, and more!
Styling around a wall-mounted TV or just a TV sitting on a console is so hard, am I right?! Heck ya, I know I'm right. Seriously, though, TV's are just big black boxes that most of us have to have in our lives to function, relax and zone out (sad, but true).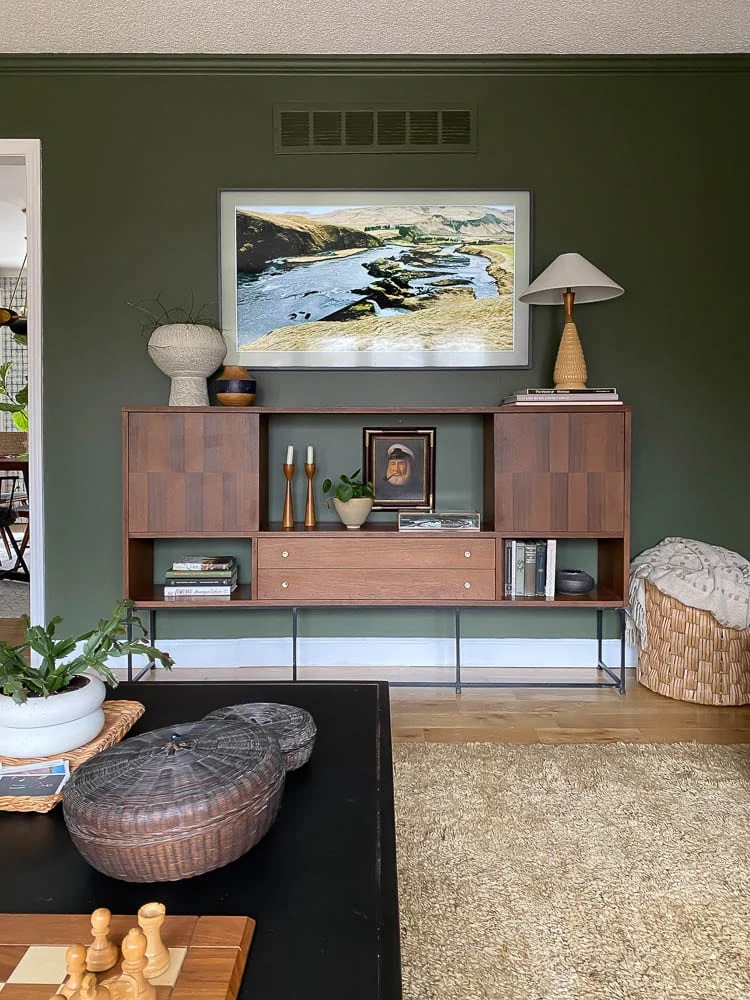 Why decorating around a tv matters
We want to be able to see the TV but not have it be a focal point of our space. We want to be able to have the convenience of it out and in a room but not always be looking at it. Or at least, that's how I feel about it.
Other than knowing that I had to run the TV wires behind the walls, I hadn't give much thought to above TV decor until a few years ago.
When I revealed our Mid-Century Master Bedroom, I felt like I nailed the wall-mounted TV styling in that space. My style has changed a bit since, but it was in that space that I felt like I figured out how to create symmetry around the TV.
Instead of just having this big black box on the wall, the decorating on the dresser under the TV helped guide the eye.
When it comes to styling, I'll be honest and say that I don't enjoy it and don't usually feel great about how my "styled" vignettes look. They either look too cluttered or too bare. Sometimes, the items that I have just don't have the visual weight needed to make an impact in the space and that creates problems as well.
It really is true that the more you hone your skill, the better you get with styling. I recently styled our coffee table in the living room and it took a bunch of tries but finally feels good.
All of that is to say that if you overlook styling, ESPECIALLY styling around a TV... you are missing out on helping the TV blend into your space instead of being the focal point of your space.
p.s. Make sure to stick around 'till the end for some great styling additions you could add to your space.
If you are a design lover, like I am, then you get it and if you are new to the idea of what minimizing the TV in a space and maximizing other interesting aspects can look like... let's get to it!
I'm going to show you a few inspiration images for how to make a wall mounted TV look good and then, at the end, I'll share some of the ways I feel it works in my house. But spoiler, if you have TV cords not behind the wall, you need to run the TV cords behind the wall AND hide the rest of the TV component electrical cords. Those are key to making your space feel cohesive and styled. Lucky for you, I have blog posts on both of those things.
How to Decorate around a TV
Brit, from HouseUpdated, takes a minimal approach to decorating around a TV. She has the TV mounted above the fireplace and, instead of camouflaging it... she draws the eye away from the TV with the large vase and pops of green leaves. The green leaves are taller than the TV and really pop against the white paint color that she has in the living room so the eye just naturally looks there. I think it's a good use of scale in the space.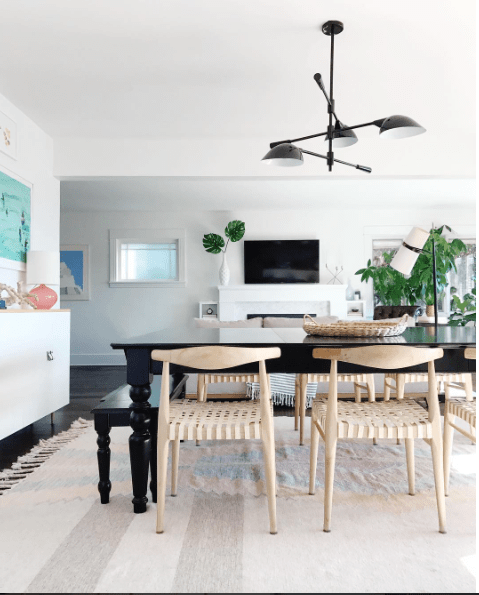 I found this home over at Decor Dots and I have to say I'm smitten. It's a PERFECT example of how to decorate above a TV. The negative space and asymmetrical gallery layout around the TV make it NOT feel like the star of the show. Too often, we think we need to frame the TV with a gallery wall but the gallery wall just goes around the TV instead of incorporating it into the overall feel. The under the TV shelf styling is also well done. It's the perfect messy look without being overwhelming because of the neutral colors.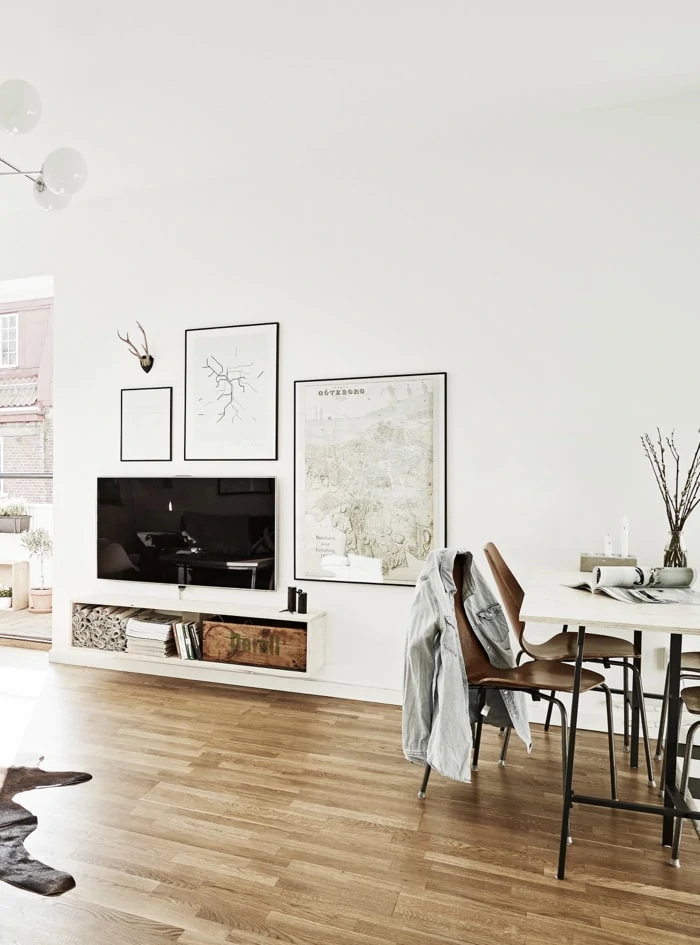 Another gallery wall that I feel is done well is this space that I found on Lonny. The gallery wall feels intentional; placed on the wall behind the TV with the TV sitting on the console. I think a BIG key to this is the art and frames that float behind the TV. Yes, you miss being able to see a tiny bit of the art, but it's worth it for the full effect. This might be my favorite example of decorating around a wall mount TV, but look closely and you'll see that this TV isn't actually wall-mounted! Whether you are going to wall mount or not, this look could be pulled off the same way.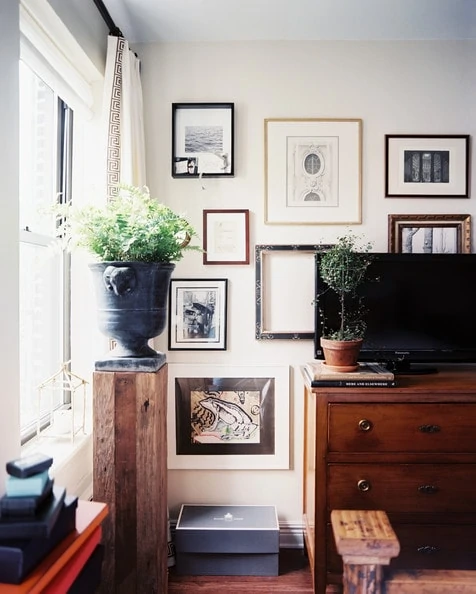 Erin, from Francois et Moi, does an amazing job here providing visually interesting items and decorations around a TV that draws the eye. The great thing about her space is that she decorates downward, meaning that under the TV shelf gets most of the love. Plus, the stacks of books on the floor --- aren't they genius?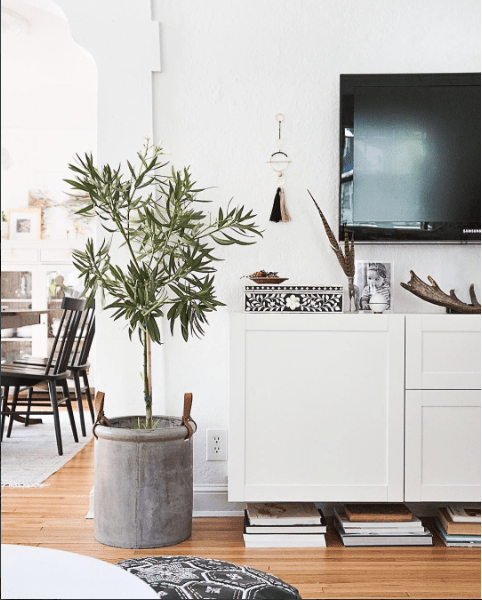 Erin recently moved spaces and nailed it again with decorating around the TV. She added a DIY floating media shelf under the mounted TV with a chunky wood that helps balance out the visual weight of the TV. Then, she created symmetry around the TV by adding large art on one side and a chair to draw your eye on the other side. I feel like this example of how to decorate around the TV is great because it mimics some of the pieces that most of us have in our homes or could easily make (i.e. a large white canvas, branches, simple lamp, bowl of greenery, poofs, etc.)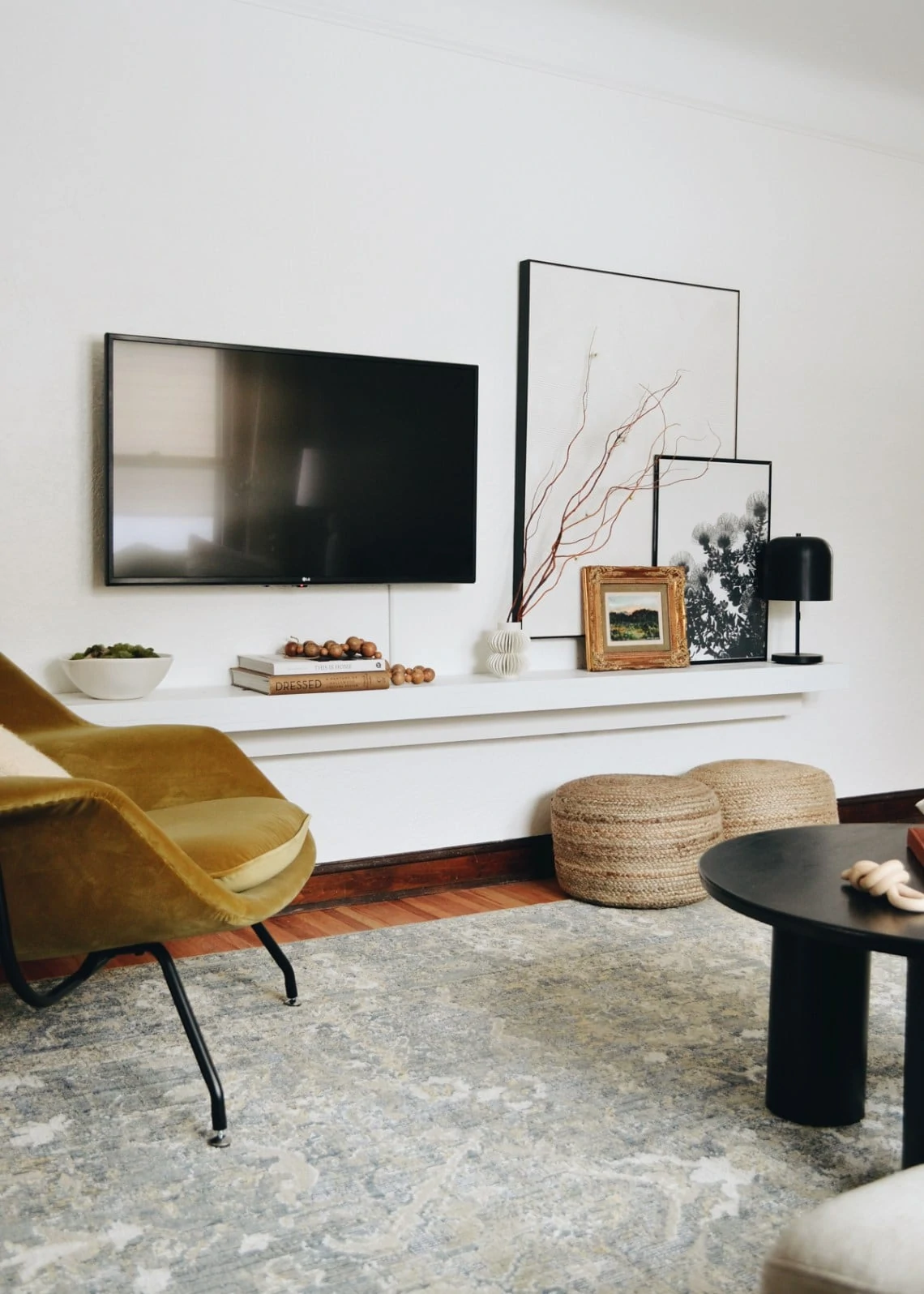 Kim, from kimmyintx, decorated above a flat screen TV by layering a large frame behind it. I think this really works because of the white space the piece of art has. She added a few frames in front and a vase which added layers and interest to her space.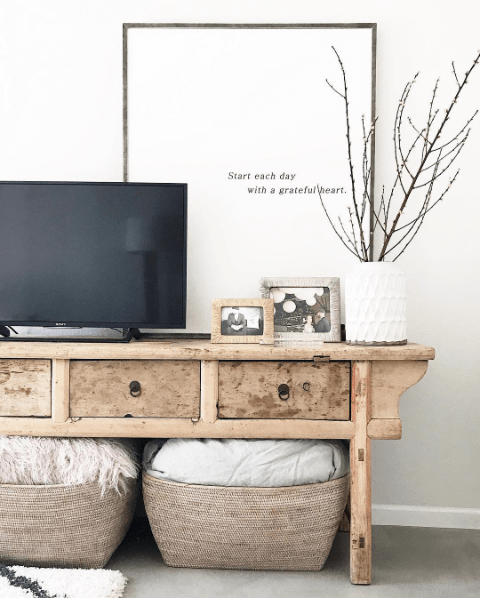 If you've ever considered painting your fireplace black, Cassie's styling here will probably convince you! Can you spot the TV? It's barely noticeable.
Last but not least, Kelsey's styling from Left & Level. This styling and whole room vibe is probably the one that is most similar to my style. I love how simple the styling is around the TV, yet your eye gets drawn to the plants that flank the side of the media console.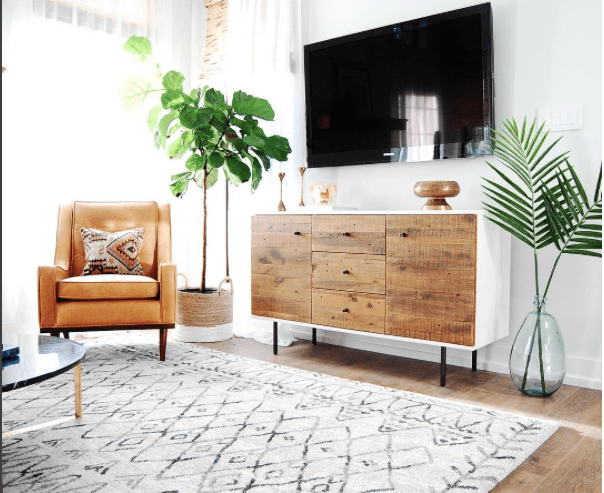 I don't know if you noticed, but most of these mounted TVs all have something in common... they have the TV cords run behind the wall. This is a simple project to do and one that I'd highly recommend.
Check out my tutorial for how to run TV cords behind the wall if you have cords dangling from your TV.
Here's my BEFORE version of decorating around a TV: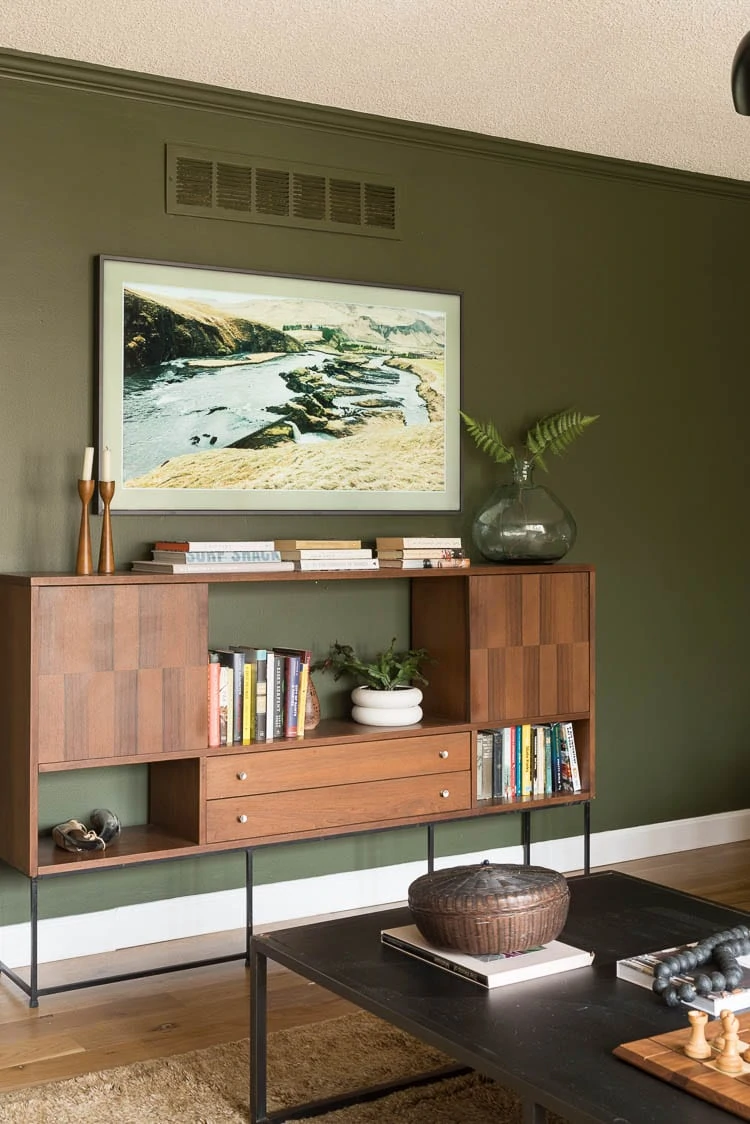 I will say that having The Frame TV helps hide the TV and make it an art piece but let's not focus on that. To help create symmetry around the TV, I brought in a larger vase on one side and wood candlesticks on the other.
I kinda have a shelf under the TV because of how our console is built. On the shelf, I have stacks of books which, as a reader, I love seeing and, as a design enthusiast, I like because of the interest they provide.
As I'm looking at this photo now, it definitely feels too lived-in. It feels unique to who lives in the house (my son and I both have books there - those are all of our "to read" books) and, a tad busy.
Here's my second attempt at living room console styling: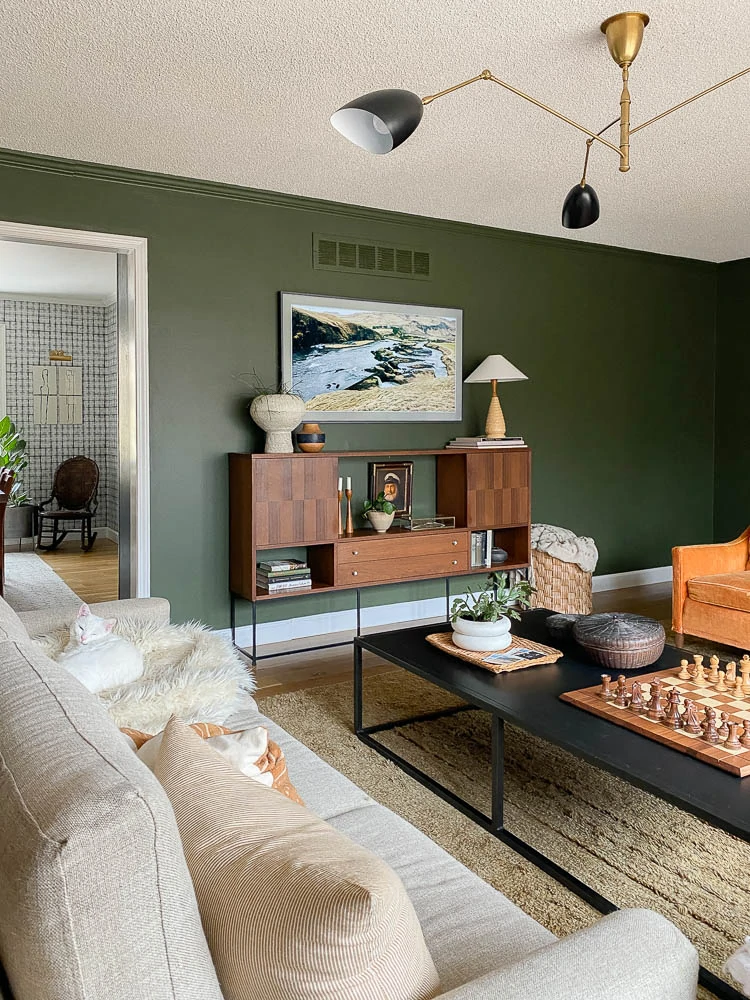 It's definitely "less styled" than most of the images above but it feels like us so it works for me.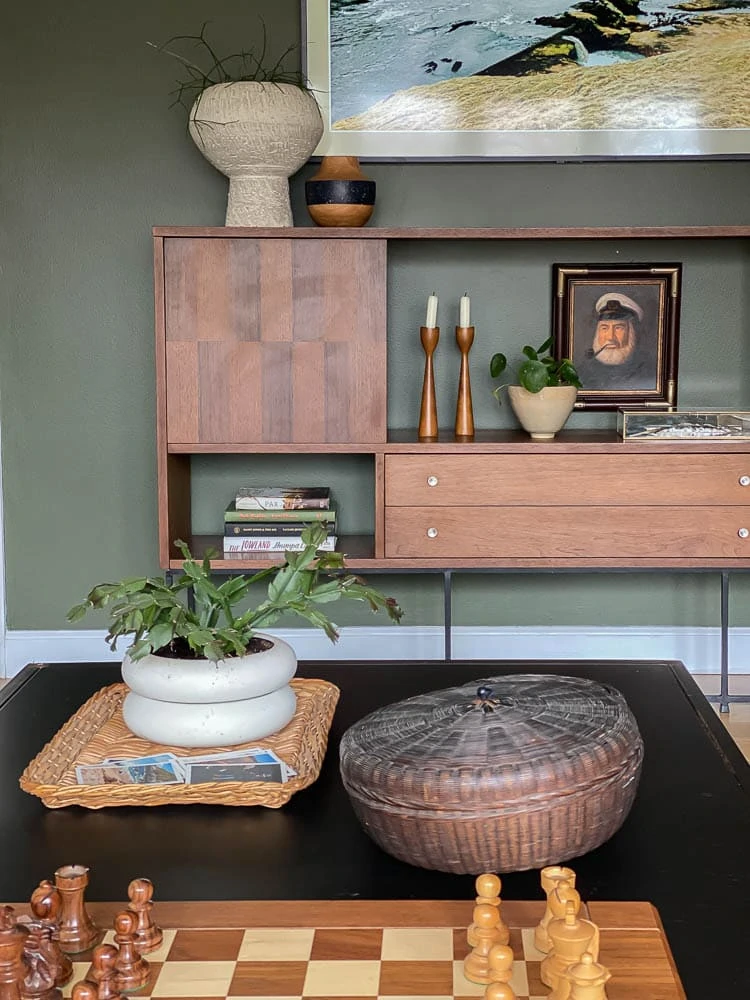 If you've been asking...
How can I hide my flat screen TV?
Painting the wall behind your TV black will help the TV blend in. Add in styling items such as a vase, plant or books and that will further help draw the eye from the TV to the decor.
Our bedroom also has a wall mounted TV and I think it really feels like the flat screen TV is hidden in there!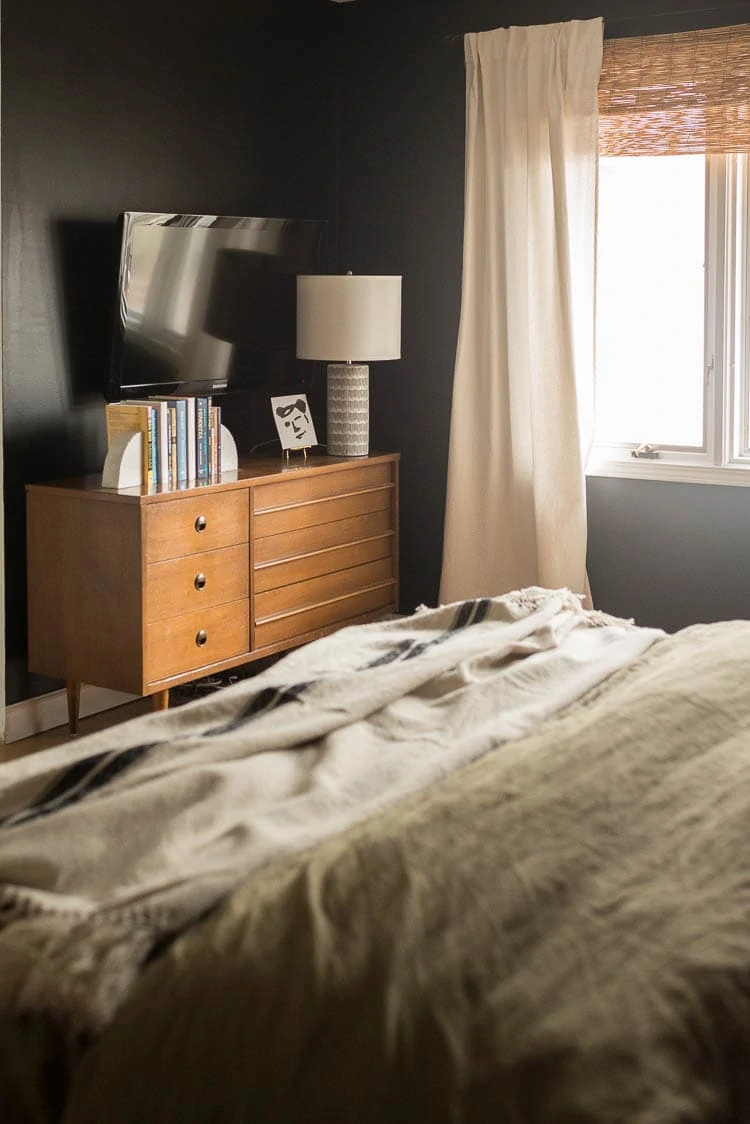 The black walls really help disguise the TV. We rarely (like haven't in two years) used this TV so I have a lamp sitting in front of it that you would have to move to see the whole screen. If you like this setup but actually use the TV and need the space to be functional, then just replace the lamp with a smaller one or a vase.
If you are starting from scratch and thinking about decorating around the TV, you might like some of these decor items to help get you started.
Affiliate links. Thanks for supporting this blog. Click to read my privacy and disclosure statement.
Shop Home Decor Pieces for Decorating Around a TV

Curious to hear about how you feel about the TV in your space? Is it something you've thought about? If you haven't and these ideas for how to decorate around a TV seem overwhelming, I'd start with thinking about just mounting your TV on the wall. It's a small project that will open up lots of different design avenues to try once you do it!SaveSaveSaveSaveSaveSaveSaveSaveSaveSaveSaveSaveSaveSaveSaveSaveSaveSaveSaveSave
Decorating Around A TV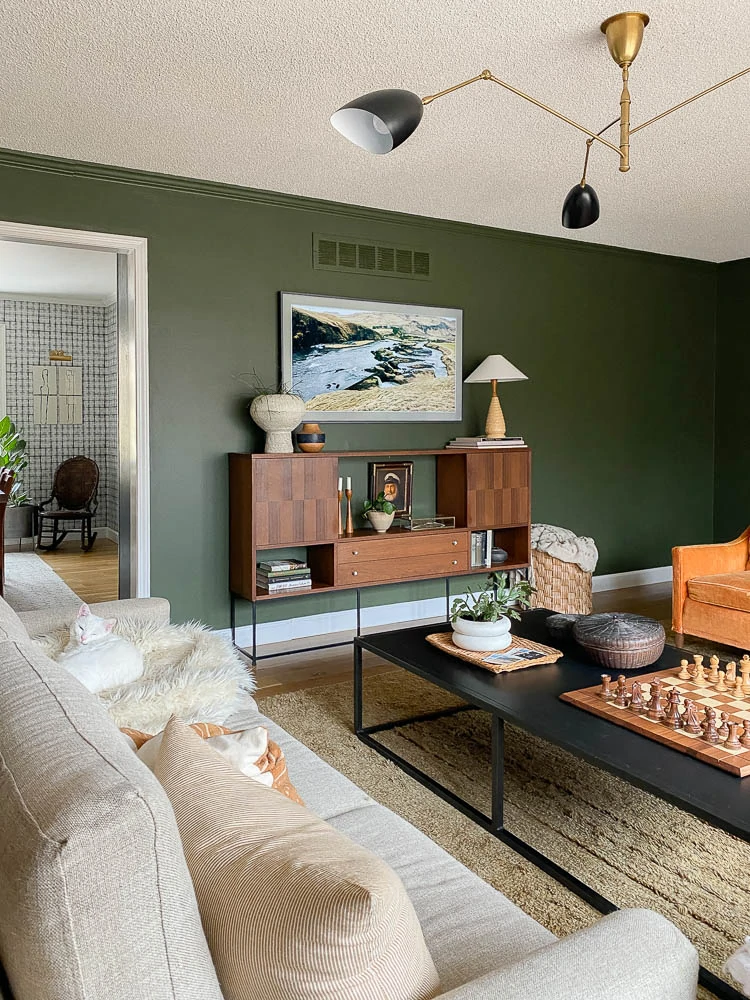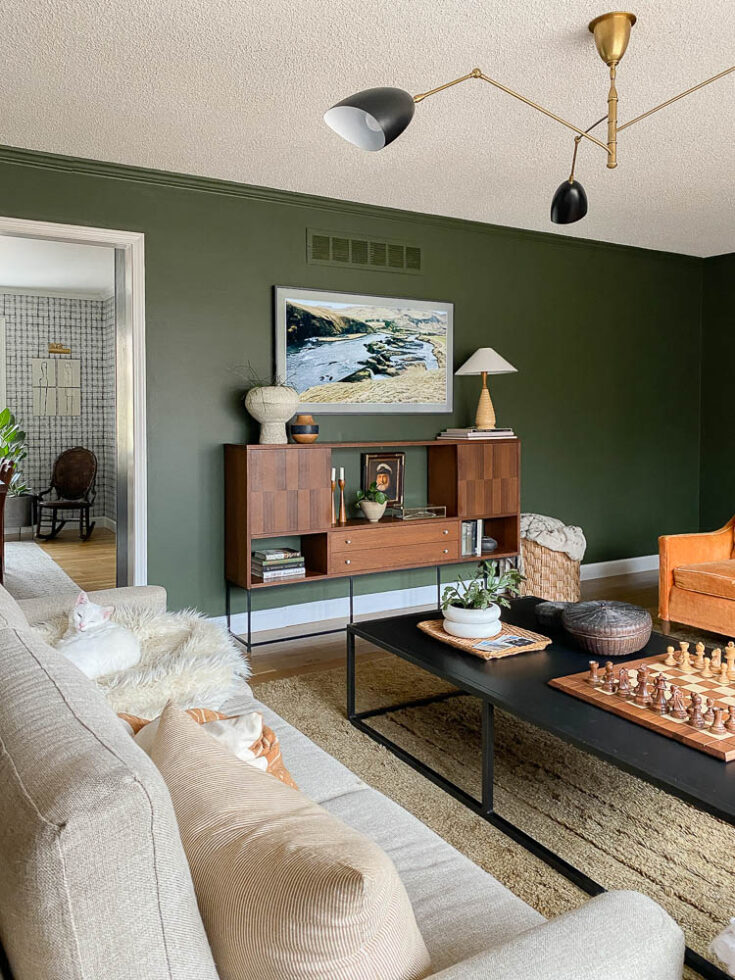 I'm sharing tips for how to decorate around a TV so that the TV isn't the wall's focal point. Ideas, such as: adding a shelf for under a wall-mounted TV, what to put under the mounted TV, decorating ideas above the TV and more!
Materials
Vases
Books
Ceramic pieces
Greenery
Artwork
Instructions
Think about whether you want to decorate above a TV on the wall or if you want to mainly decorate on a shelf under the TV.
If you are mainly decorating under the TV, consider your wall paint. Is it a darker color to help the TV blend in?
If you are decorating above the TV, do you like the look of a gallery wall behind the TV or one large piece of art?
Look through the inspiration provided in this blog post to give you an idea of what you like so that you know where to start your decorating process.
For a gallery wall above the TV or large art, you might need to take time to collect those pieces. Start collecting and, in the meantime, work on styling under the wall mount TV.
For styling under the wall mount TV, play around with greenery in a vase on one side and a ceramic piece, lamp, or candlesticks on the other side of the console. Do you like the look? If so, leave it and if not, continue below.
Stacked books, decor boxes, and large bowls can be a great addition on top of a console because they are lower in height and therefore don't block the TV viewing. Use these items to play with styling.
Take photos or videos of your styling so that you can come back to it and evalute which look you liked the best. Have fun and keep playing around.