Styling around a Wall-Mounted TV or just a tv sitting on a console is so hard, am I right?! Heck ya, I know I'm right. Seriously though, tv's are just big black boxes that most of us have to have in our lives to function, relax and zone out (sad, but true). We want to be able to see the tv but not have it be a focal point. We want to be able to have the convenience of it out and in a room but not always be looking at it. Or at least, that's how I feel about it.
We've lived in our current house for 4+ years now and I've NEVER styled around the living room tv. I've placed a candle or plant on the console but have never given much thought to styling around the tv because it's something that I wasn't confidant in doing.
When I revealed our Mid-Century Master Bedroom earlier this year, I felt like I nailed the wall-mounted tv styling in that space. Not lacking confidence there, right?! HA!
Actually, if I'm completely honest… I hate styling (nightstands, coffee tables, shelves, you name it!). Mine always looks cluttered with too many things or without enough interest. Styling is just hard. BUT, I felt good about the bedroom tv styling. I don't know why I waited so long to try to style either tv because it's really the little things (like the styling) that make me feel good about spaces.
Before we get to my TV styling, I thought I'd share a few of my Instagram friends and how they style around tv's.
Styling Around a Wall-Mounted TV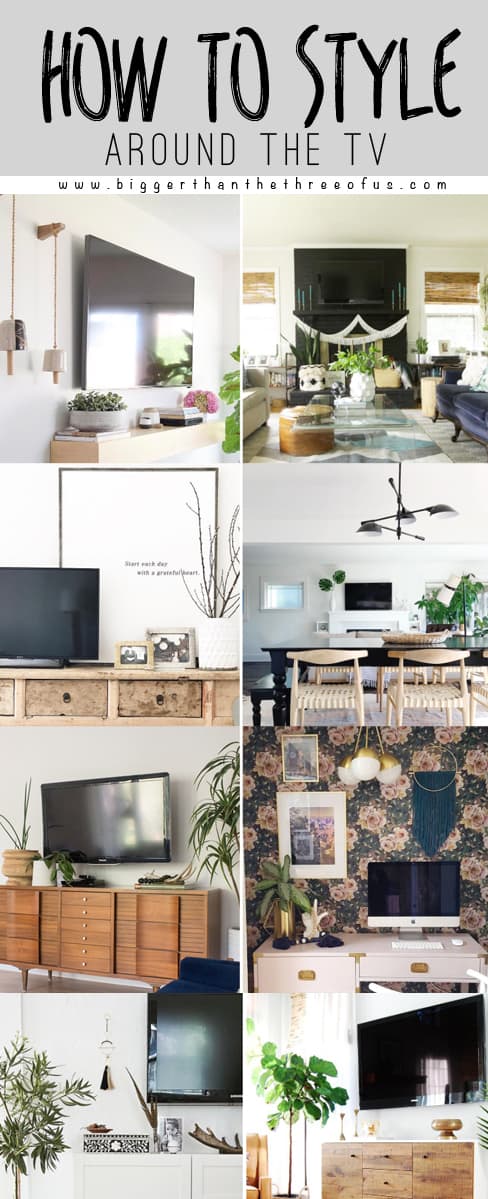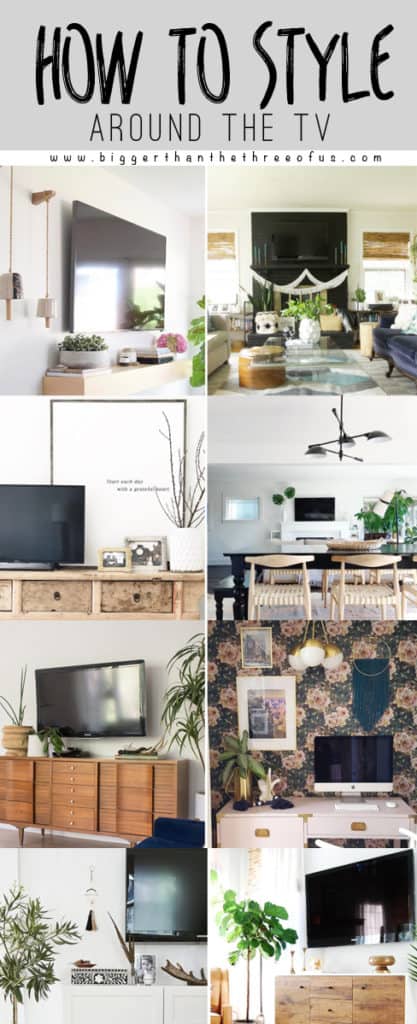 Brit, from HouseUpdated, takes a minimal approach to her styling. I love the large green leaves that come out of the tall vase. My eye naturally gets drawn there.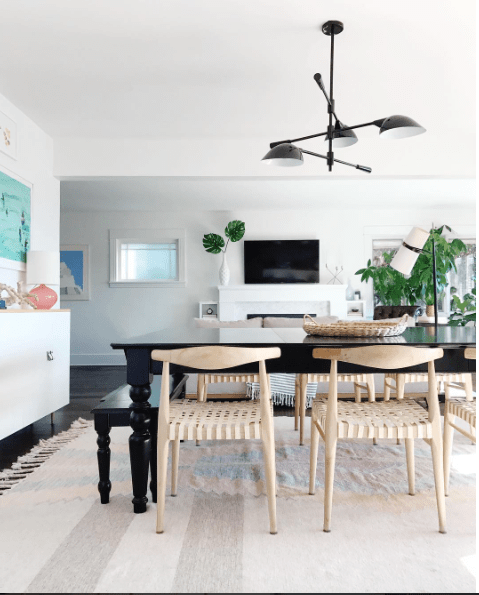 via @houseupdated
Erin, from Kismet_House, is able to camouflage her computer screen (not a tv, but the idea is the same) with patterned wallpaper and a gallery wall of sorts.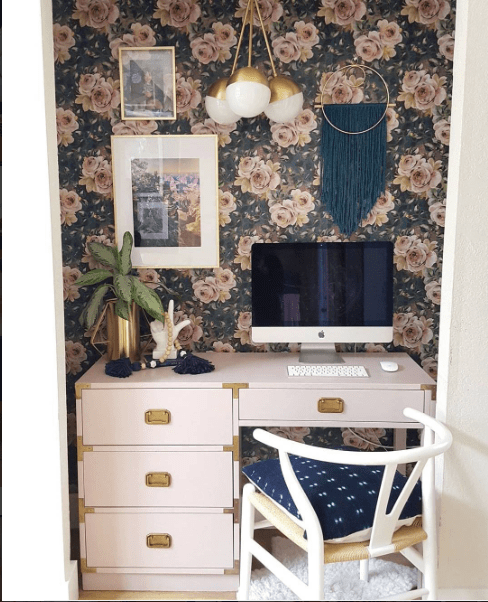 via @kismet_house
Kim, from kimmyintx, layered a large frame behind her tv. I think this really works because of the white space the piece of art has. She added a few frames in front and a vase and I think the proportions are just spot-on!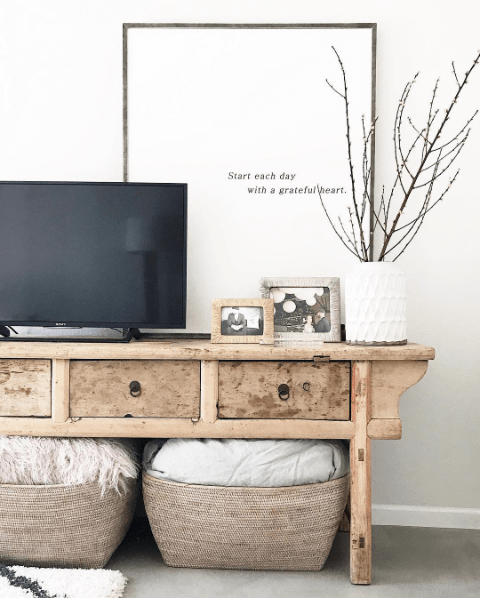 via @kimmintx 
This next idea from Britttanyh is so fun! I love the use of the floating shelf and the hanging bells. The tv is oversized so there's no hiding it; yet the pieces around the tv are interesting and give your eyes something to look at.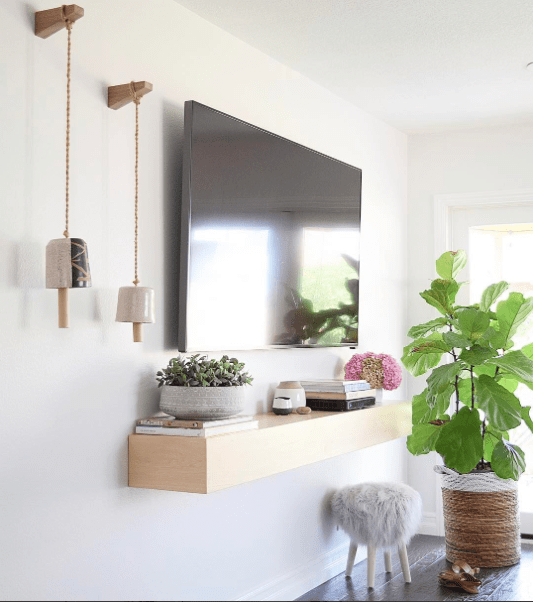 via @britttanyh
If you've ever consider painting your fireplace black, Cassie's styling here will probably convince you! Can you spot the tv? I absolutely love how it blends in!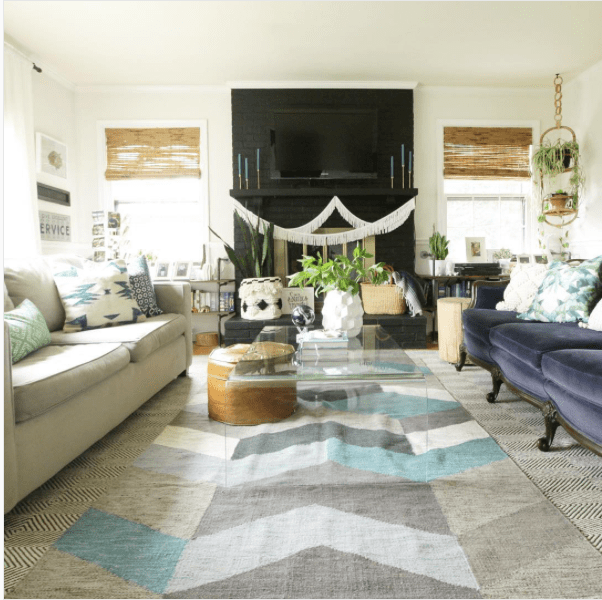 Erin, from Francois et Moi, does an amazing job here providing visually interesting items around the tv that draw the eye. The stacks of books on the floor — aren't they genius?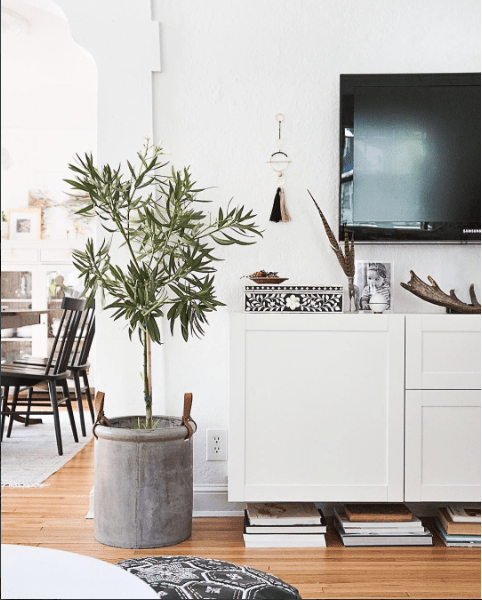 via @francois_et_moi
Last but not least, Kelsey's styling from Left & Level. This styling and whole room vibe is probably the one that is most similar to my style. I love how simple the styling is around the tv yet your eye gets draw to the plants that flank the side of the media console.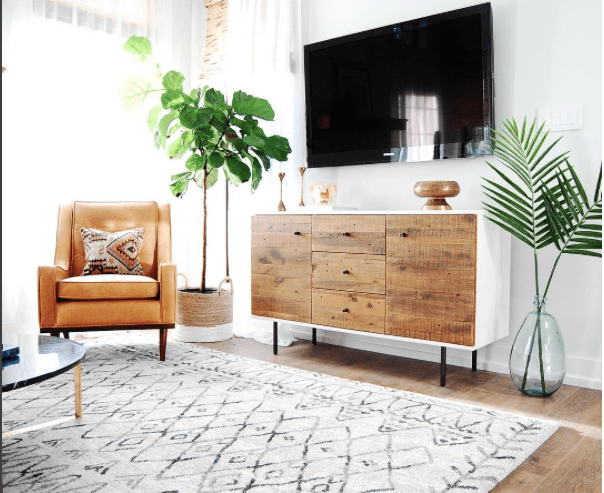 via @leftandlevel
Gosh, now that I just looked at all of those again, I'm feeling more insecure about my styling. I'll share with you anyways… of course!
I had to go back a long ways to find a photo with the console and tv completely in it. So, let's call this the "2015 Living Room" but it may be more recent or older… who knows!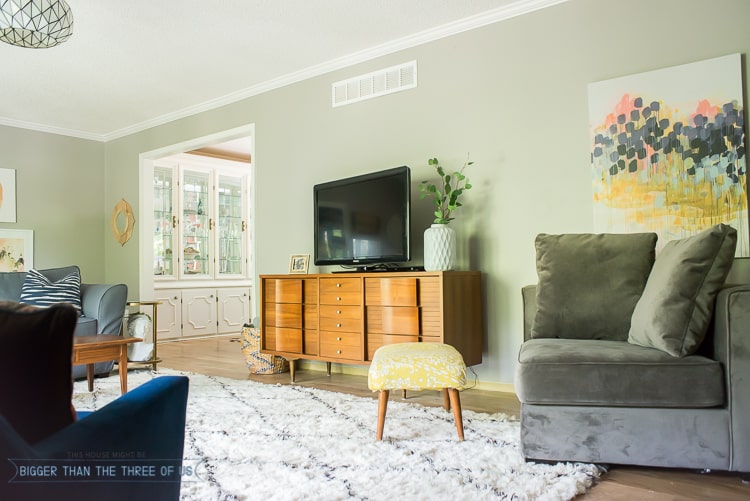 My "tv styling" was: put something on each side of the tv and call it a day.
This year, it's been on my agenda to give the living room some love. So, I painted the walls white, which I'm still undecided about.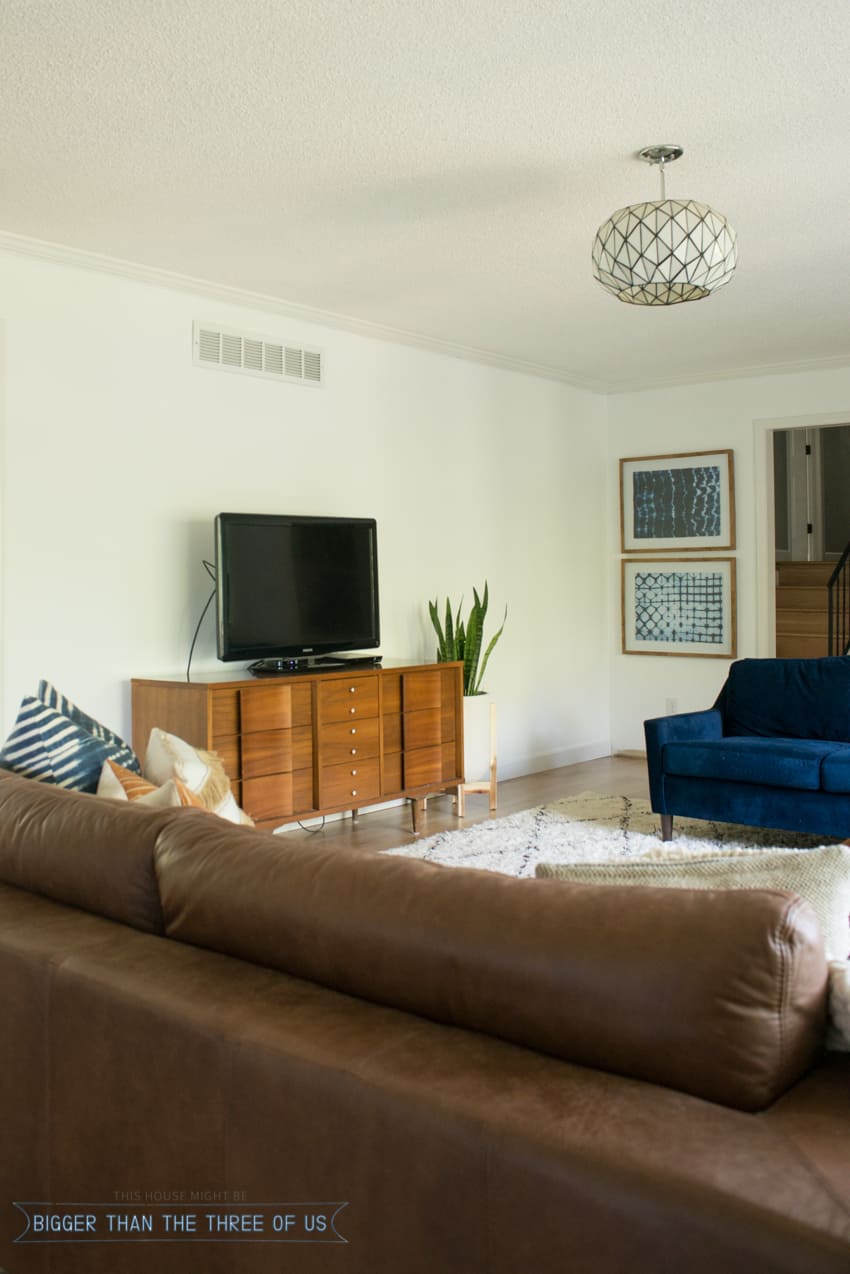 Then, we used the same simple tutorial for running the cables behind a wall-mounted tv and did that in twenty minutes.
From there, I was focused on trying to find some sort of tv styling that I could feel like I semi-liked.
Here's how I progressed: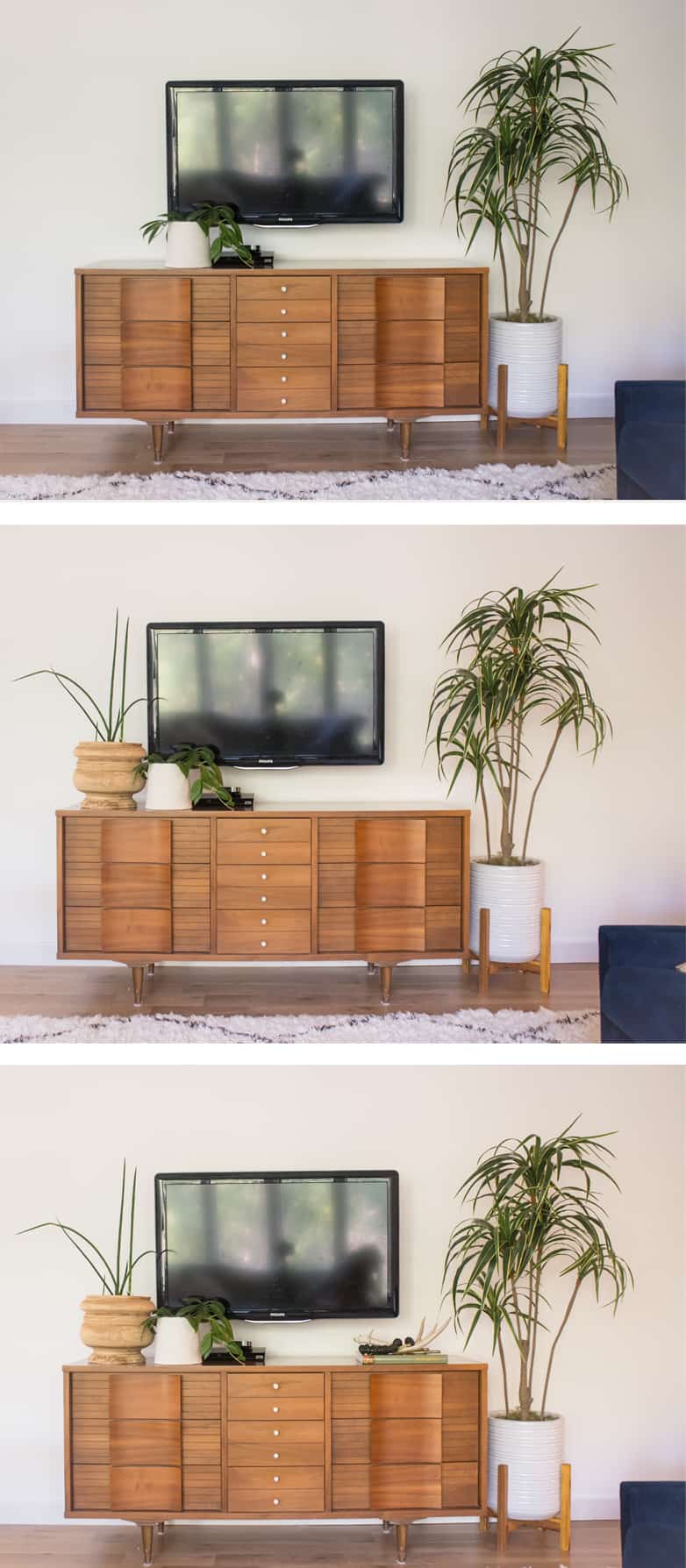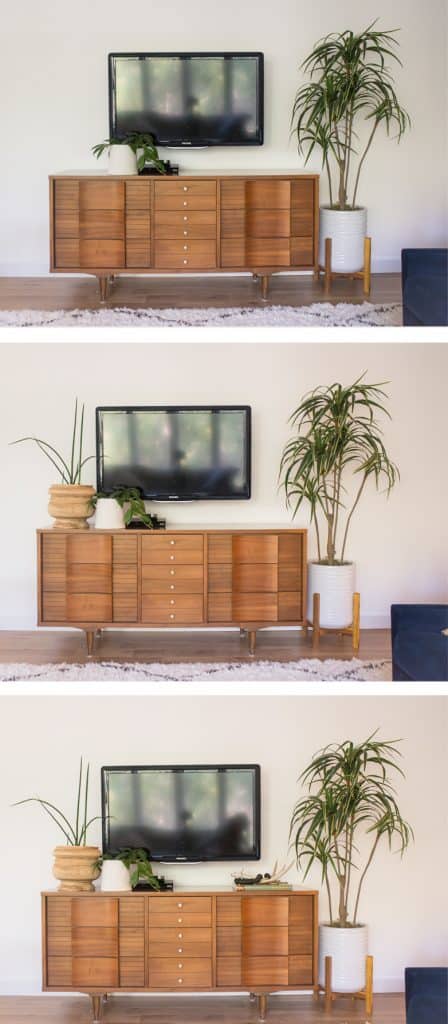 In person, I really feel like there's just enough interest to feel like you aren't just staring at a big black screen. In photos, it definitely feels lacking for some reason.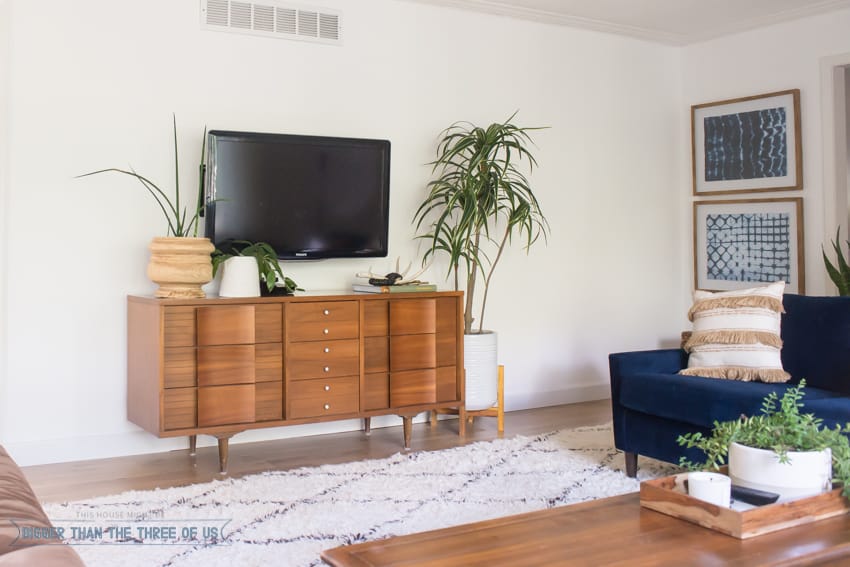 But, it's 1000x better than where I started at. Improvement is improvement!
If you can't see what's on top of the console, there's a large wood planter, a small white planter, media box, a travel book, one deer antler and black beads.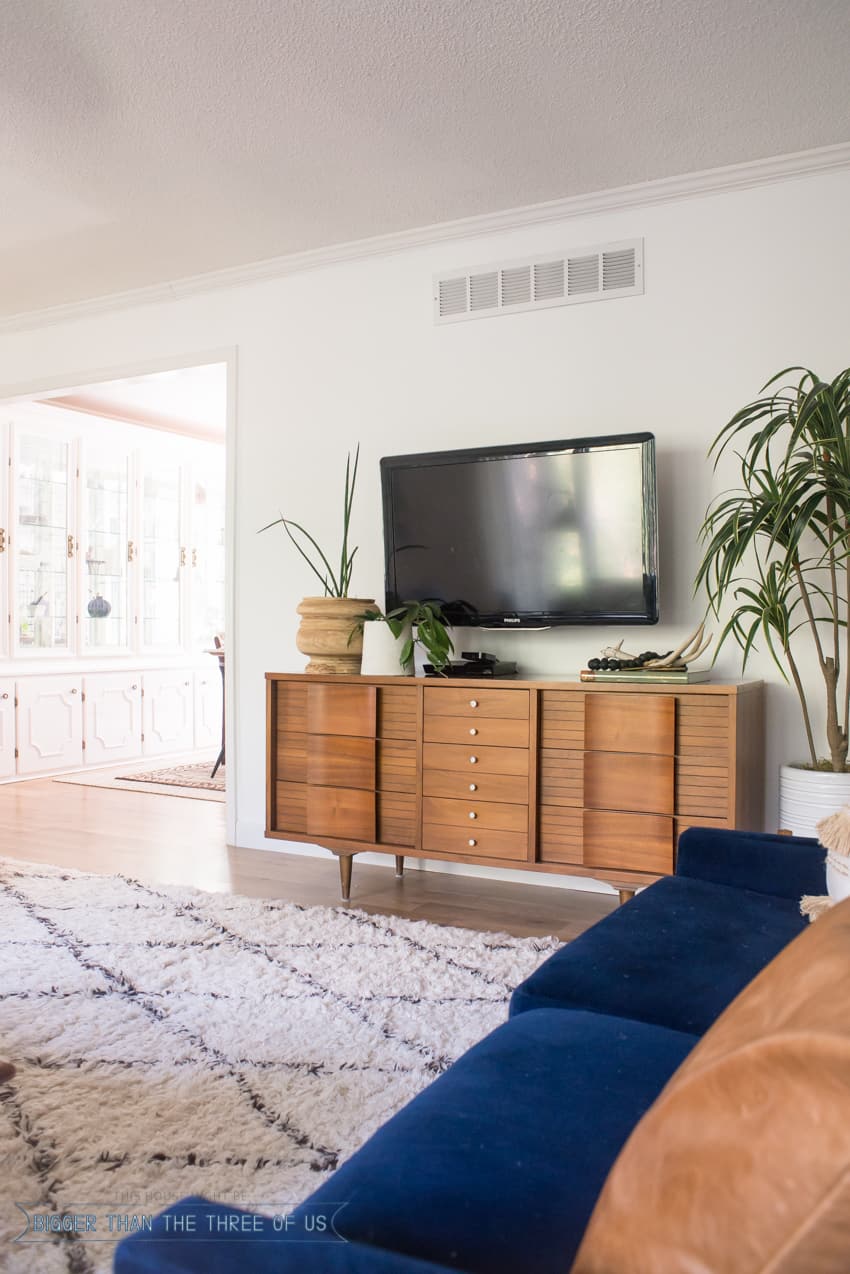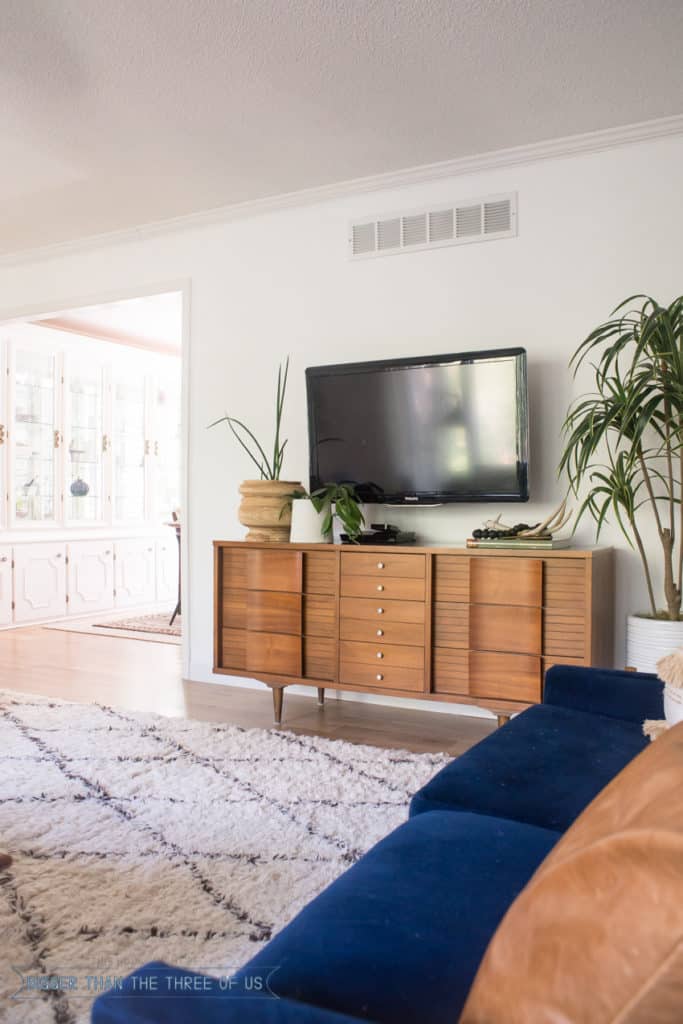 *Affiliate links below. Thanks for supporting this blog. Click to read my disclosure policy.
Shop the Space

So, are you inspired to give your TV console area some love?
PIN FOR LATER: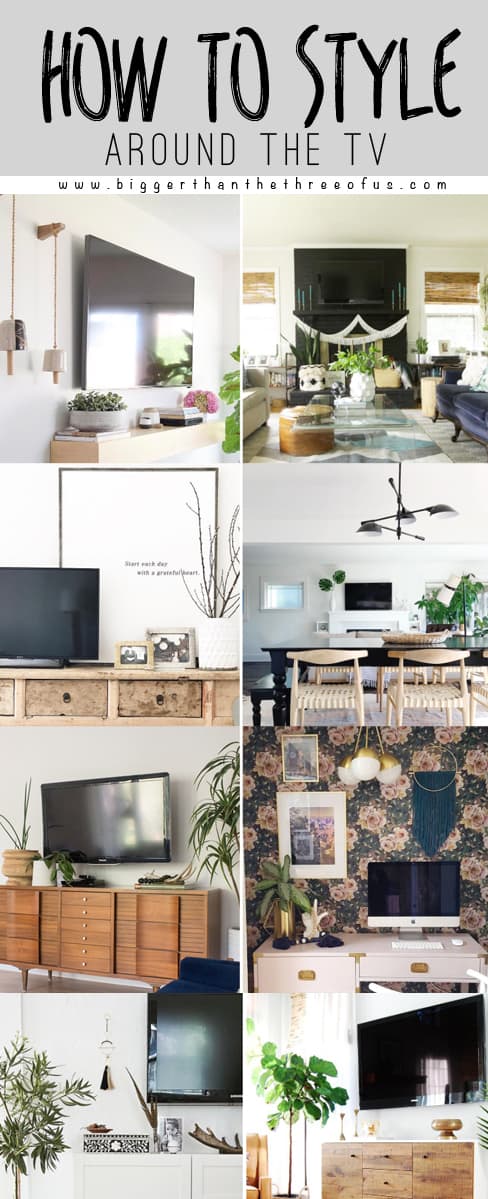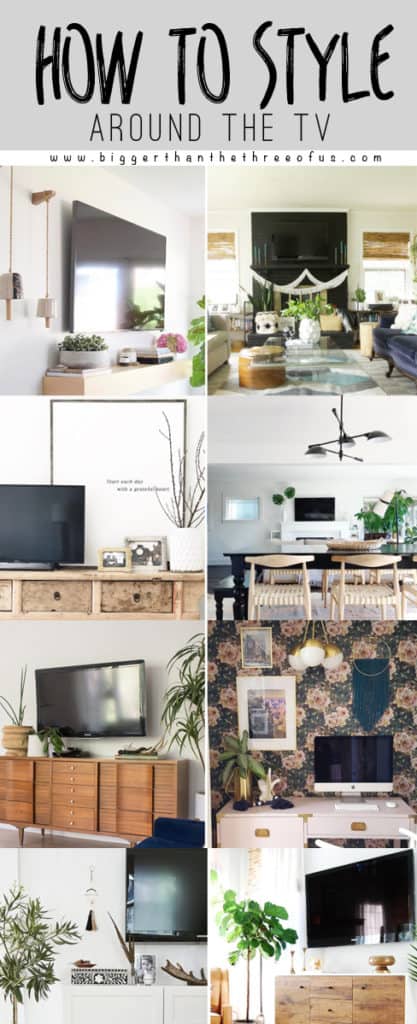 If you want to see more styling ideas, then check out the styling in my master bedroom reveal.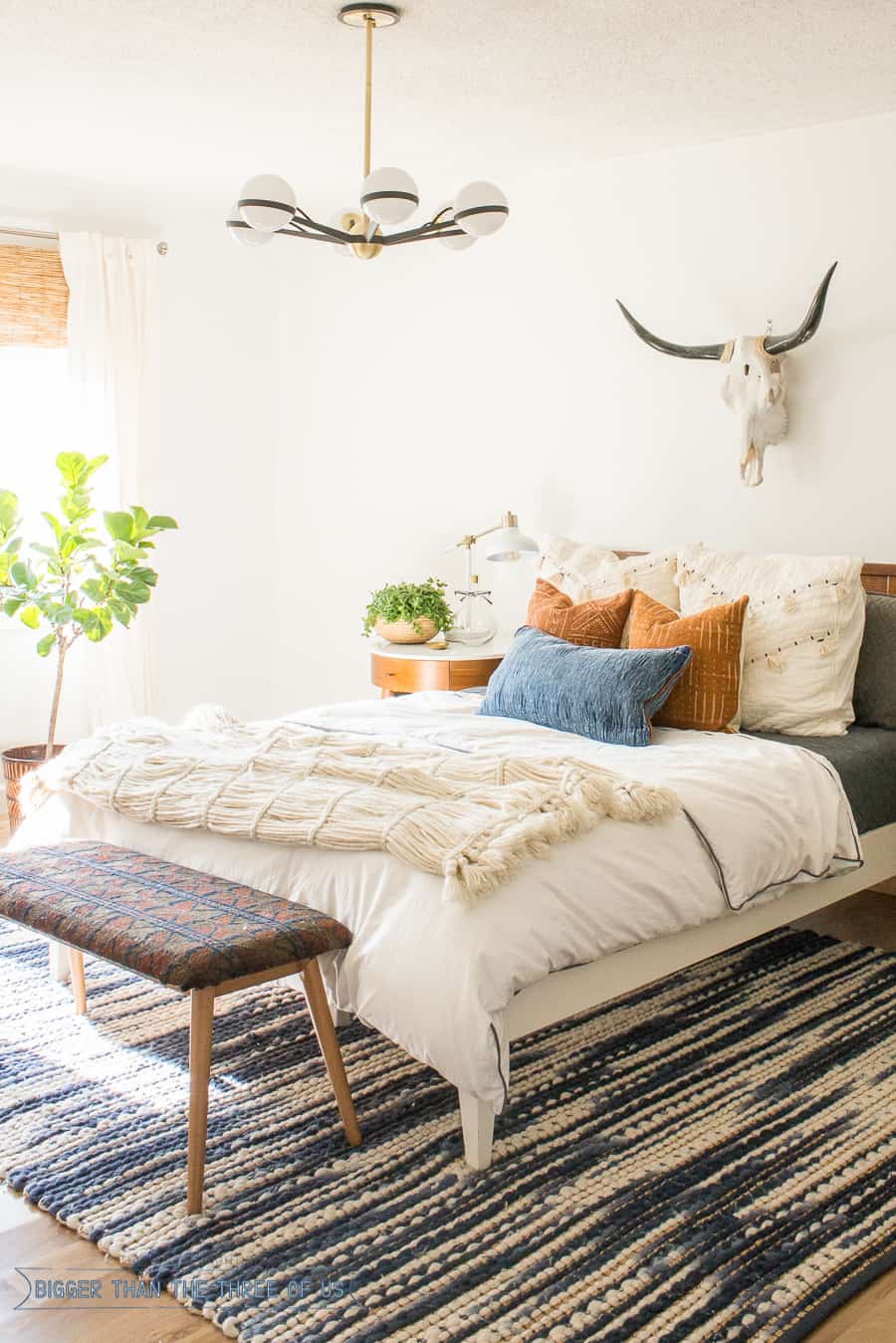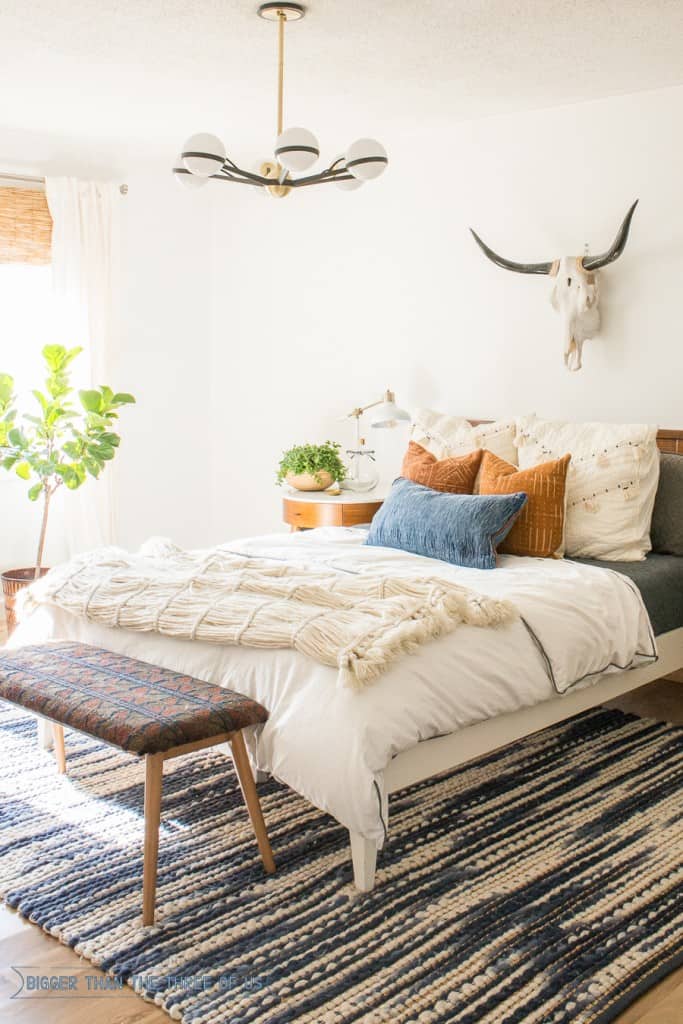 Or, check out our tutorial for running tv cables behind the wall the easy way!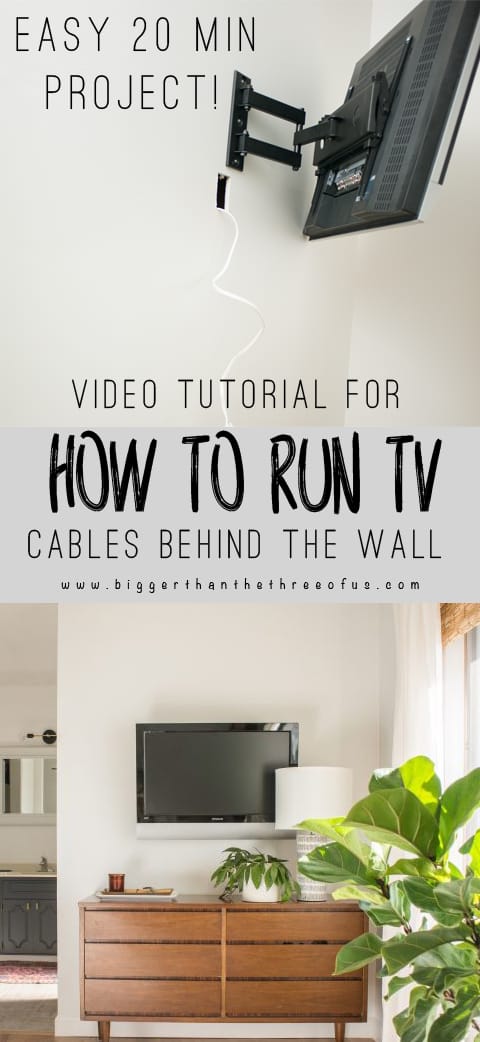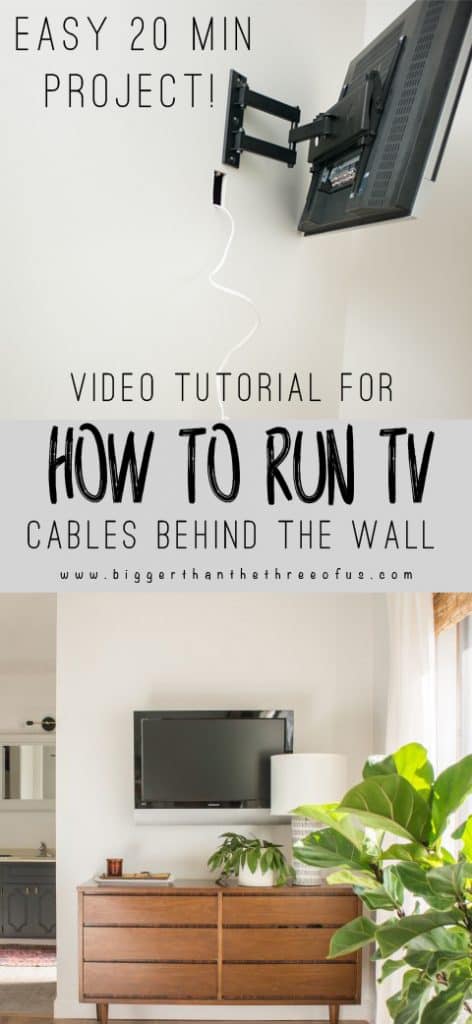 SaveSave
SaveSave
SaveSave
SaveSave
SaveSave
SaveSave
SaveSave
SaveSave
SaveSave
SaveSave
SaveSave