All about hiding TV wires! We all struggle with electrical cords on walls behind media consoles. Today, I'm sharing some wire hiding ideas specifically for media cabinets and consoles.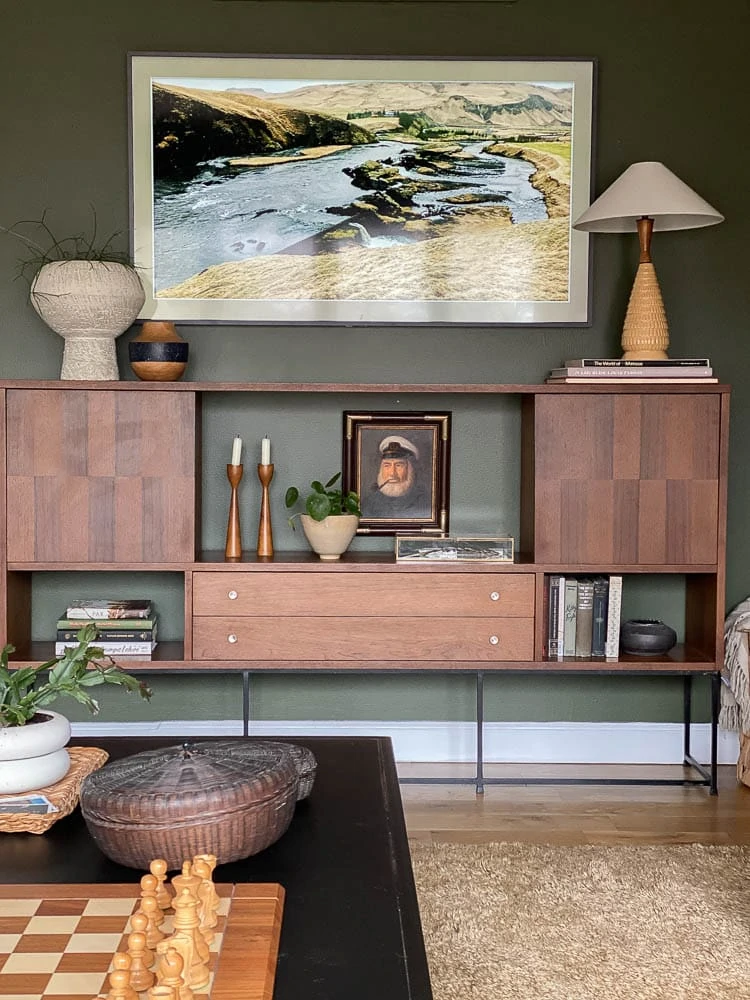 *This is an older post that I've updated. The struggle is still real with cord clutter, so I thought I'd share my media cabinet as it is today (up above); plus, exact steps that I worked through to hide the cords a few years ago and implemented again on this console.
As you are reading through this post, take note of our living room changes. The original post was published in 2014 and, wow, what a change our space has been through. And yes, this is the exact same space showing the TV in the exact same spot!! Crazy beans!
Here's the backstory. We've moved our television and console around a few times, even changing consoles completely. After finally finding a set-up that worked, I realized that my cord clutter was out of control.
The sideboard that I decided to use as a media cabinet had a bigger clearance between the bottom of the cabinet and the floor. The issue with having leggier furniture is that the cord clutter is much harder to hide. For quite a while, we were dealing with this:
THOSE CORDS!!
If you have a similar issue with needing to hide cords behind the TV, let me walk you through a few ideas to help!
Affiliate links below. Thanks for supporting this blog. Click to read my privacy and disclosure statement.
Supplies for How to Hide Electrical Cords in Wall
Hiding TV Wires How-To
If you are wall mounting your TV, then do this first! Check out my tutorial for how to run tv cables behind the wall.
Zip Tie Cords together. If there's excess length in a specific cord, zip tie it to itself.
Determine what type of electrical prong will help your situation.
If needed, buy a multiple prong electrical outlet that will wall mount or one that will plug directly into a socket.
Continue using zip ties to further clean up excess wire lengths.
*Each media console and cord issue will be different. We've found that certain supplies work better in some spots but, in all spots, we use zip ties. Really, having a drawer of options for helping to hide the cords behind a console is your best bet!
With just a few changes on our leggy media cabinet, the cords were no longer visible. The more I've worked with wire hiding ideas and tricks (see a HUGE blog post I did about in the bedroom called cord control cord management), the easier the solutions come to me.
It just takes a few different wire organizing clips, cable ties, etc., and you should be on your way to a clutter-free TV wire situation.
Ok, back to present day! I used some of the same tools and ideas to hide the cords behind my new (but vintage) media console. For this console, I switched to a sleek socket wall mount with power strip and was able to hide the power strip inside the cabinet door of the console.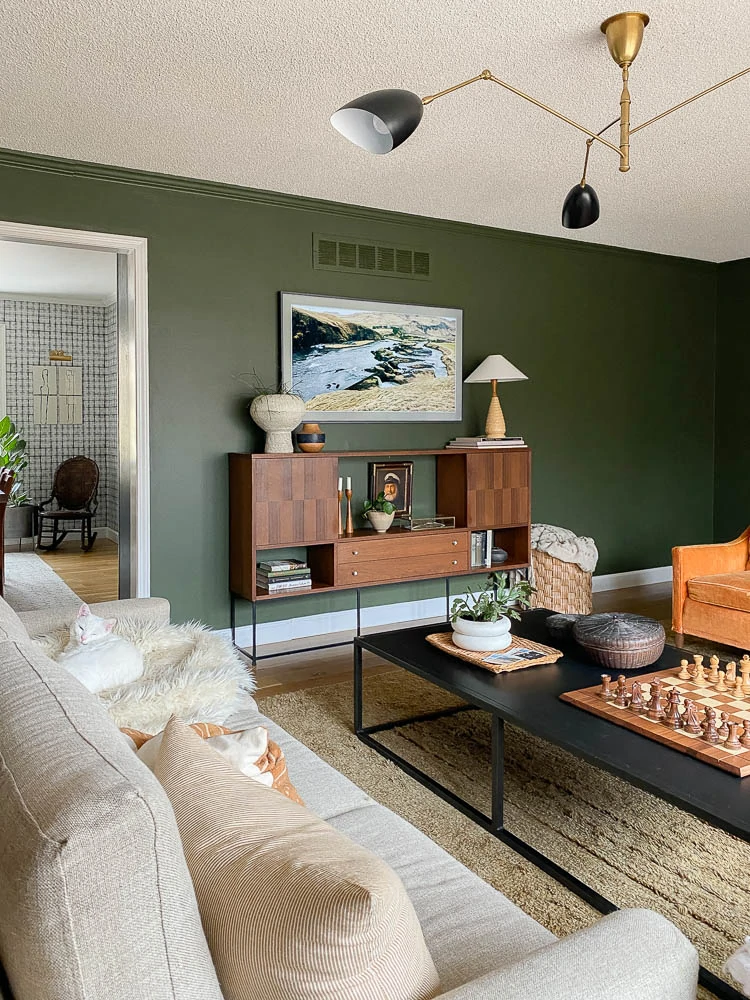 Each and every console is different, so you just have to work around what you have with your furniture and buy a few organizing supplies to help keep the cords in place.
In our bedroom, upstairs, we use a dresser as a media cabinet and that was pretty tricky to hide the cords under. For that piece, I ended up putting a nail in the back of the underneath of the dresser and wrapping the cable tie around the nail. It worked!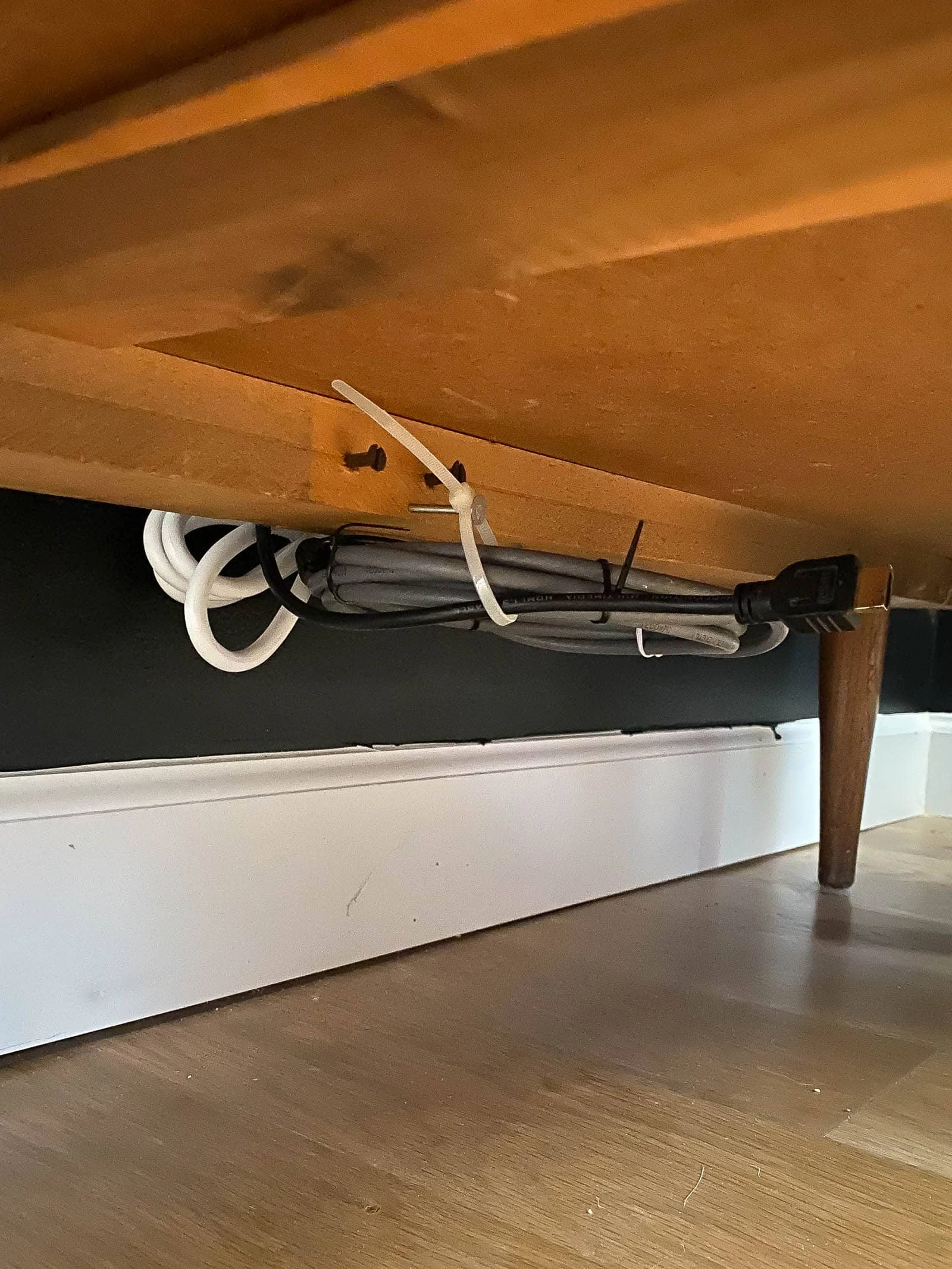 I guess the moral of the story is that there isn't one way to keep your cables tidy. Use what you have and, if you are lucky, you might have a piece of furniture that allows you to run the cables through the furniture to help hide them. Otherwise, snake the wires to the underneath of a console, hide them behind books, etc.
Any progress on hiding TV wires will make your space look so much better. Just do it! It seems pretty silly, but it's just one of those things that helps make spaces feel put together and clean.
p.s. I pinned this awesome trick for mounting electrical power strips and thought I'd share.