It's been quite awhile since I've talked about Greyson's room. To be honest, his room is always a hot mess. Legos, dirty socks, random transformers, stuffed animals, you name it... they are always out all over the floor. We've made quite a few changes in his space over the last four months or so, but cleaning the space up enough to photograph it just seems daunting. But, even with the changes that we've made there were still a few that we'd like to make. So, when Gelfoambed reached out to me about reviewing a mattress it was just a perfect opportunity to make a couple of the changes that were on our wishlist for the space.
Upgrading to A Full-Size Bed in a Kid's Room
*This post is sponsored by Gelfoambed. As always, all opinions are my own. Click to read my disclosure policy.
When we revealed Greyson's Modern and Bright Boy Room back in 2015, we loved it! All three of us really loved it.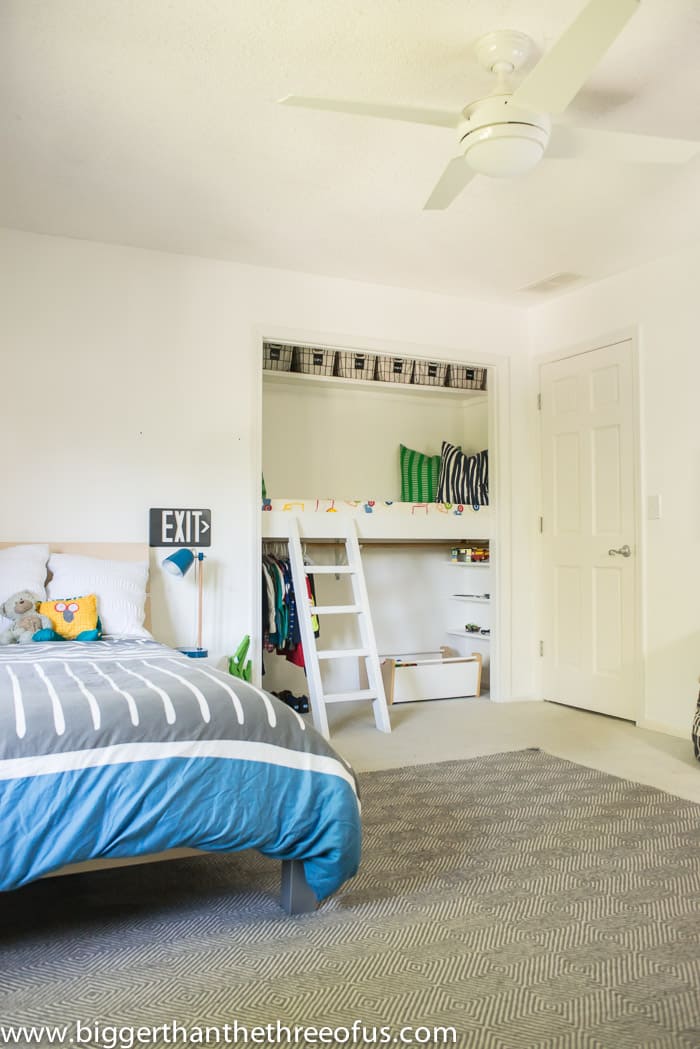 The closet loft (see the closet loft tutorial for all the details) was great, the bed and bedding was bright and fresh; we had book organization, lego organization and an ok dresser setup.
Fast-forward two years and I have a bigger little boy with different needs. We've all been talking about how to make some changes and which changes needed to be made.
One of the things that we wanted to do was move from a twin mattress to a full-sized mattress. Greyson is about at that age where he's ready to have a friend spend the night and we didn't really have a great place for the friend to stay. Of course, we could have made a pallet on the floor or brought an air mattress in but, as our "little boy" grows, the best option seemed to be moving to a larger-sized mattress.
If you are new here, let me give you a little bit of background on Greyson's room. It's large! I can't remember exactly but I think it might even be a foot larger than our master. Our master has a walk-in closet and a bathroom, so there's that difference, but for a bedroom it's big.
So, space is not an issue. We knew we had the space for a larger mattress and decided to go for it.
We went with the 12" Miranda Medium Plush Gel Memory Mattress and let me tell you... it's soooo comfy. Twice this week, I've slipped into the little man's room with a book in my hand to just read. You probably think I'm kidding, but I'm not. There's something about the firmness yet softness of the mattress that just invites me in during the day (while I should be working and photographing projects). =)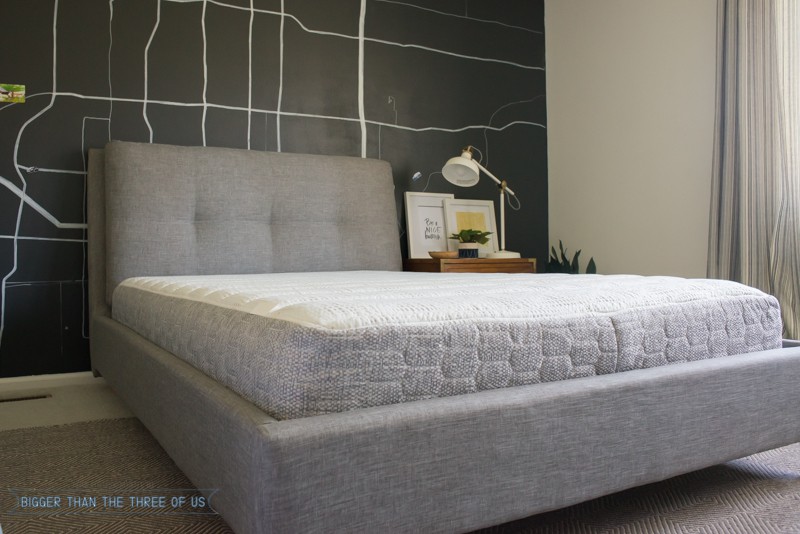 A funny story: Greyson, had never seen a bed shipped to our home and shrink-wrapped. So, the "magic" of the bed and how it grows was so cute. I fear that those moments are few and far between these days.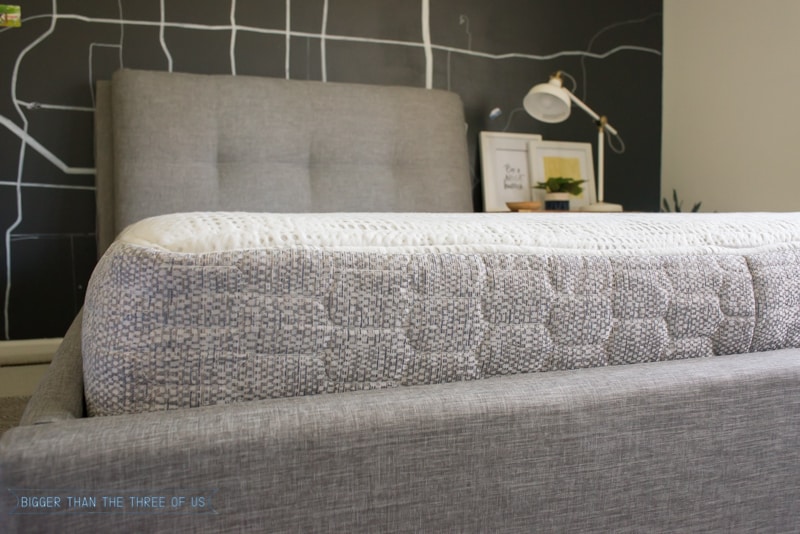 So, a few things that I noticed about the mattress and thought you guys might like to know.
It's made using 100% US materials using a new technology to create a Serene Foam mattress. What does serene foam do, you might ask? Well, it enhances support while offering pressure relief. That combined with it being extremely durable provide you with a great night of sleep!
It's made of a few different layers (including an Eco Flex Support Core, comfort layers and memory foam quilted into the cover).
It's environmental friendly.
And, there's a 100 Day Free trial, free shipping and a 10 year warranty.
That pretty much checks all my boxes when I'm looking for a mattress.
Since, we went to a Full size mattress, Greyson needed a new bed and bedding. It was about time for new bedding anyways. I'm not sure if it's a boy thing or a kid thing but his bedding was looking pretty dingy.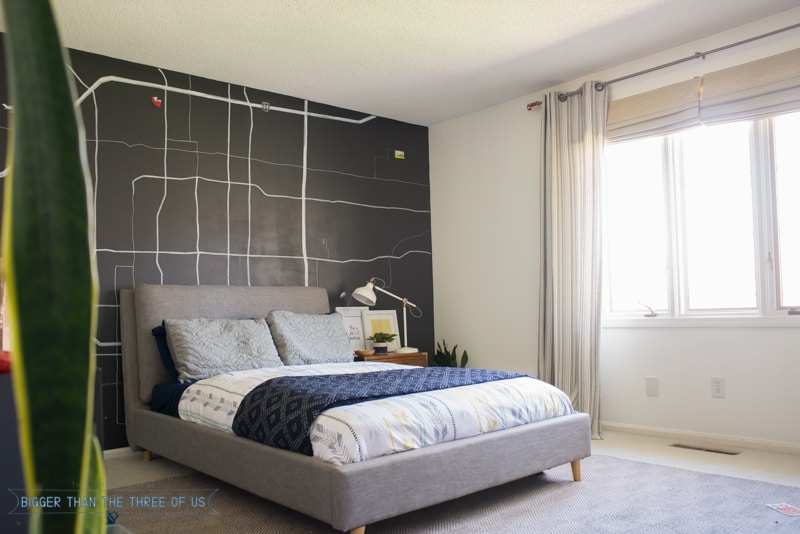 Can you spy the random stuff in the above picture? Bonus points if you do.
I looked all over town and online for yellow (his favorite color) bedding that wasn't in-your-face annoying. We settled on a duvet cover that had yellow arrows on it.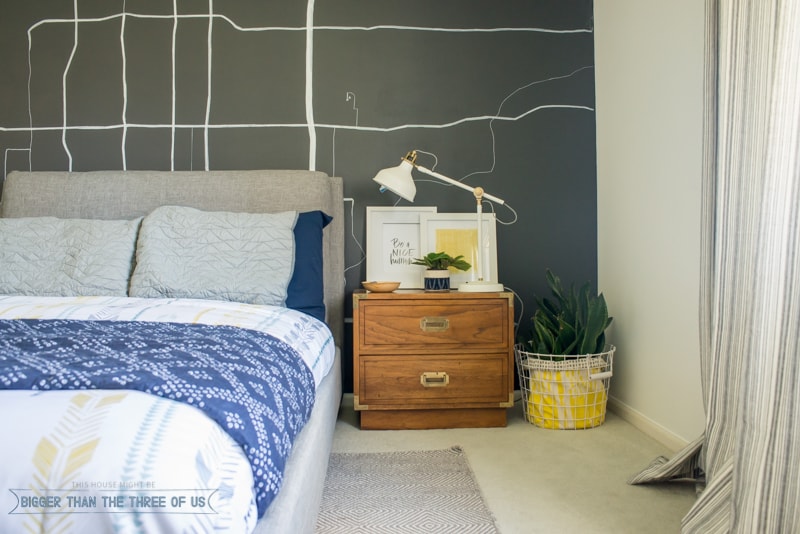 I shopped the house for the nightstand art and the planter basket.
You can tell he feels so grown up in his new bed and with all his bedding.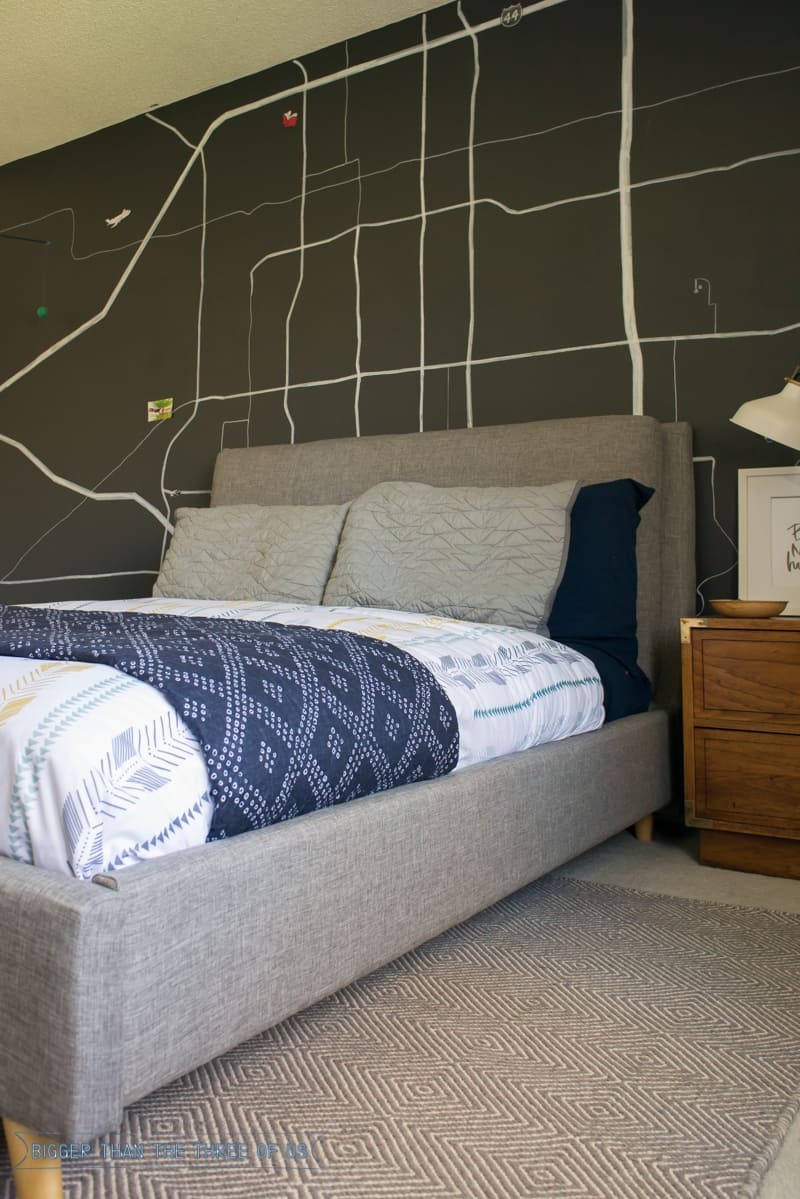 All in all, if you are looking for a mattress... check out Gelfoambed. With the guarantee, the free shipping and the 100 night trial you'd be silly not trying it out. Oh, and take $50 with coupon code: biggerthanthethreeofus!
Shop Greyson's Room:
*Affiliate links below.