You see projects on Pinterest, Hometalk or in a magazine and you think " I can do that". You do it or you do a version of it and it works for awhile but it's not really how you envisioned it. Or, you make multiple trips to the hardware store and craft store, spending a few dollars here and there and a few more dollars in gas until you finally put all the bags of stuff you bought on some forgotten dresser and forget about them. Months later, you realize that you have all the stuff for "that" project but you come to realize that "that" project doesn't interest you anymore. Does this seem familiar? I hope I'm not the only one struggling with these issues! So, how do we solve them and avoid project failures? I'm here to help you (and myself) by sharing 5 Ways to Avoid Project Failures!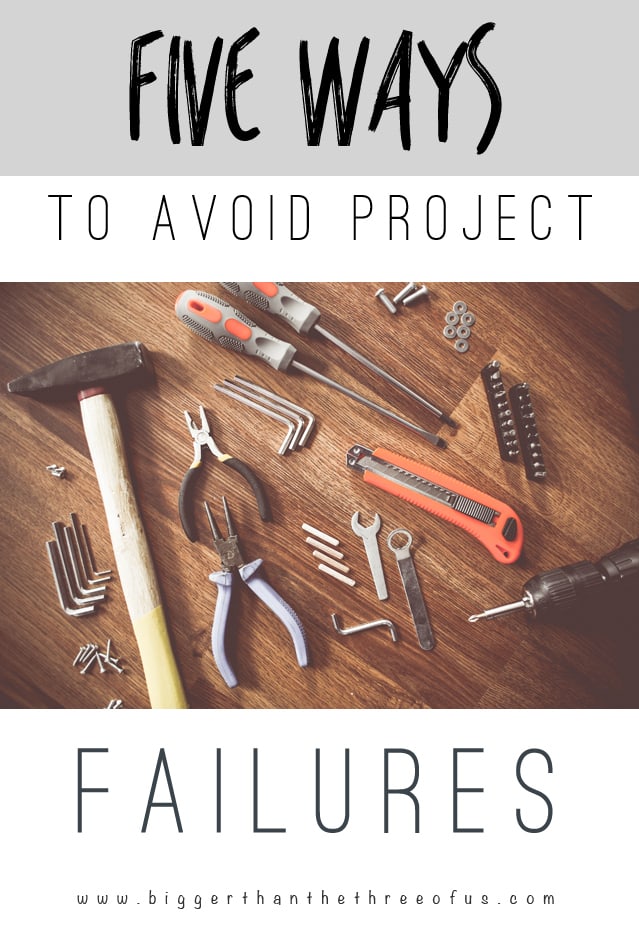 1. Let Yourself Splurge
This may seem confusing, but it's not.
Over the last two years, I have really been trying to focus on buying things (clothing, shoes, bedding, decor, etc.) that I love. In the past, I would buy things based on price. For example, those  jean shorts from Target… yep they were $6.99 on clearance so who cares that they are a little big in the butt but too small in the waist. This mindset gave me an overflowing closet with lots of things, but hardly anything that I felt amazing in or wanted to wear.
The same thing went with our house. The hunt for a good price (steal of a deal) was better than the actual item. Does that make sense to you? It's pretty annoying when you think about it, because it means that I have lots of things in my house that I'm not fond of.
Switching my mindset from being "on the hunt" for that next great item at an awesome price to knowing what I really want and being willing to pay full price for it is hard. But, it's harder to look in your wardrobe/house and not enjoy or even like the things you see.
Where's the silver lining, you ask?
The fun thing about "splurging" is that it doesn't have to cost an arm and a leg. It can, and sometimes will, but you should still buy the things that you think will be perfect because you really want them. And, because you haven't been buying all the little things on clearance or those extra things that you think you might like because of the price… you have money to "splurge" on an item here or there.
Take these storage baskets from Greyson's  reading loft for example.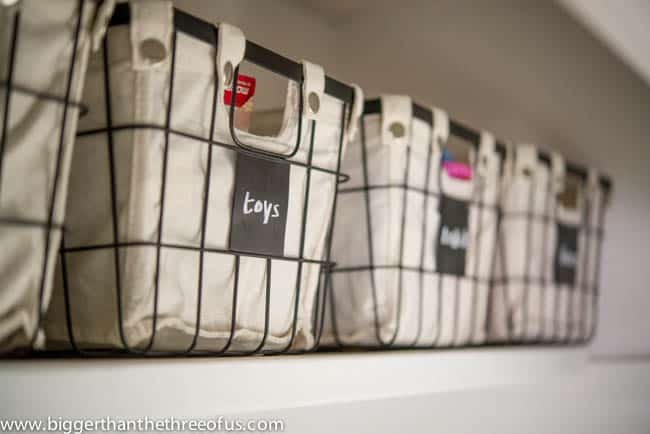 They were one of my successful "splurges". Did they cost a lot? I think they rang in at $9.99 each. So, nope, they didn't cost a lot. BUT, I had other storage baskets I could have put up there. So, I "splurged" in buying new ones that all matched and fit the space perfectly. Do they make me happy? Yes! Seeing them all lined up and organized definitely makes me happy. So, I would count those as a successful splurge.
So, start "splurging" on those items that you love and forget the rest!
2. Be Willing to Ask for Help
With DIY projects, it's so easy to get sucked into the rabbit hole of "I can do that". Well, a lot of times you can do it or you can figure it out, but sometimes it's not worth the frustration or time of trying to figure it out. If you have someone close to you who has experience with the types of projects that you are doing, don't be afraid to ask for advice. What's it going to hurt?
If you remember back to the beginning of this year, we finally revealed our hallway bathroom in all its DIY glory. That bathroom took us forever (about 3 years to be exact!) and we would probably still be working on it if we were strictly doing it by ourself. We can figure out things by ourself and we can muddle through things, but my Grandpa was willing to come and teach us how to lay tile… so why would we muddle through it by ourself? I understand that you may not have someone available to teach you how to lay tile, but all I'm saying is that you should be open to asking for help or advice when you have that option.
3. Be Patient in Considering All Aspects of the Project
This one can really get you! When you are DIYing, you can get so excited about the project that you don't think it through. Or, you want a project so bad that you are willing to cut corners to get it started. Don't do this! In the end, it will cause more headache and annoyances. Think and really plan a project before you start it. Think about how you would use it or use the space… dream a bit and then save. The more you invest in your planning, the better the outcome will be.
4. Be Patient with Yourself
On the flip side of planning, you have to be patient with yourself when all your laid out plans do not work out perfectly. Or when you get into a project and realize that what you had originally planned will not be the best option. Sometimes, you just have to bite the bullet and realize that you made a mistake and, yes, that mistake costs two weekends of time and $300. On a happy note, at least you caught the mistake now, right? And no, I'm not talking about taking our kitchen wall partly down, rebuilding it at a different depth and then taking it all the way down in the end. Nope, not talking about that at all. =)
Oh, and you might want to take a peek at IG to see how I got it down the last time. It'll give you a good laugh.
5. Will it Make you Happy or is it Just Another Project?
Oh man, this is so hard for me. Half of it is probably that I want to keep blogging and doing projects and the other half is that I just want our house (decor and renovation) to continually be making progress. Neither of these things ,when solely thinking about, them is good. Do I need to do a project just to post on this blog, nope… and to be honest, when I have done that the project has been a failure.
Take this project for example, my Yarn Wall Hanging.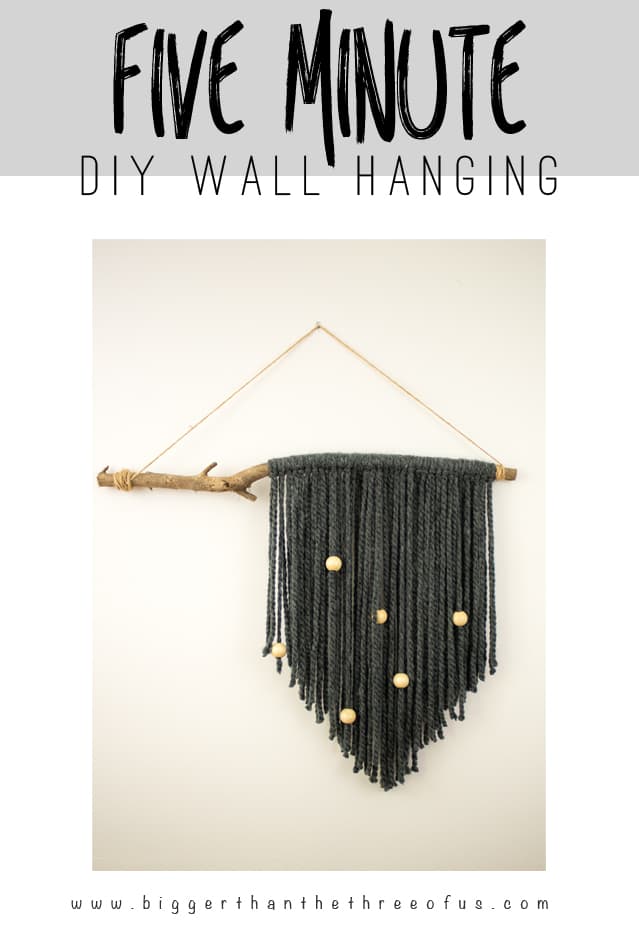 I had a project due and wasn't sure what to make so I made this. To be fair, it looks better in this picture than it does on the wall. Do I love it? Nope. Do I like it… its ok. I don't hate it, BUT it doesn't make me happy… it doesn't make me smile… it pretty much doesn't make me feel anything. So, basically, I needed a project to post and I made one and that's about all the thought process that went into it.
Now, my Anthropologie Inspired DIY Knife Block is another story. It's another case of when I had a project due at a certain time and I had to post, BUT, the knife block was something that I had wanted for quite some time and we had a need for. That's the type of thing that I'm talking about. Once completed, it served a purpose, made me happy and wasn't just another project.
I hope you got something out of this post! It's hard being sucked in to the world of Pinterest-projects and trying to balance real-life concerns as well. Hopefully you can get some use out of these 5 Tips!