Looking for the best antique stores in Springfield, MO? Whether you are looking for flea market stalls, vintage furniture or gorgeous antiques, these flea markets in my area will have something to please everyone.
I love to share fun vintage finds that catch my eye as I browse through aisles at some of my favorite Springfield antique stores. I mostly share on Instagram stories while I'm browsing each antique store looking for unique flea market items. But, after I've been asked many times, I thought it was time to round-up some of my favorite Springfield antique malls.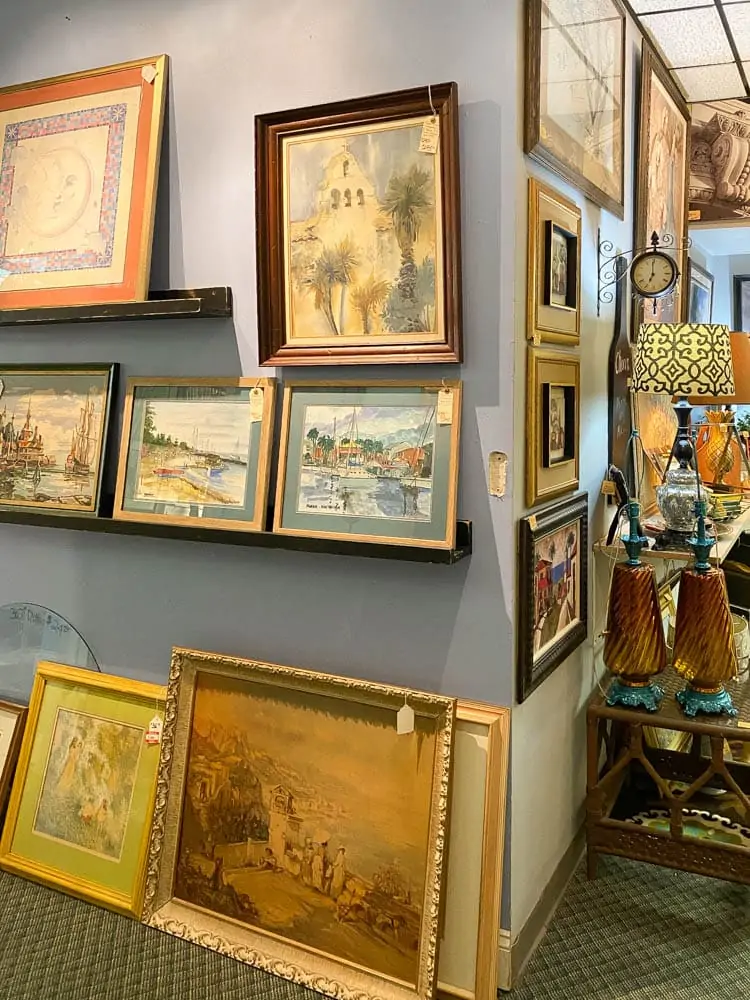 A small disclaimer: I use the words "antique stores Springfield, MO" and "flea markets Springfield, MO" interchangeably. I realize that there are some stores that require mostly "antique" filled booths only, but those are few and far between here in Missouri.
Ok, onto my favorite places to look for antiques in Missouri (or at least Springfield, Missouri). I'll share a list of stores first and then go into detail about what I've come to love about each of the stores.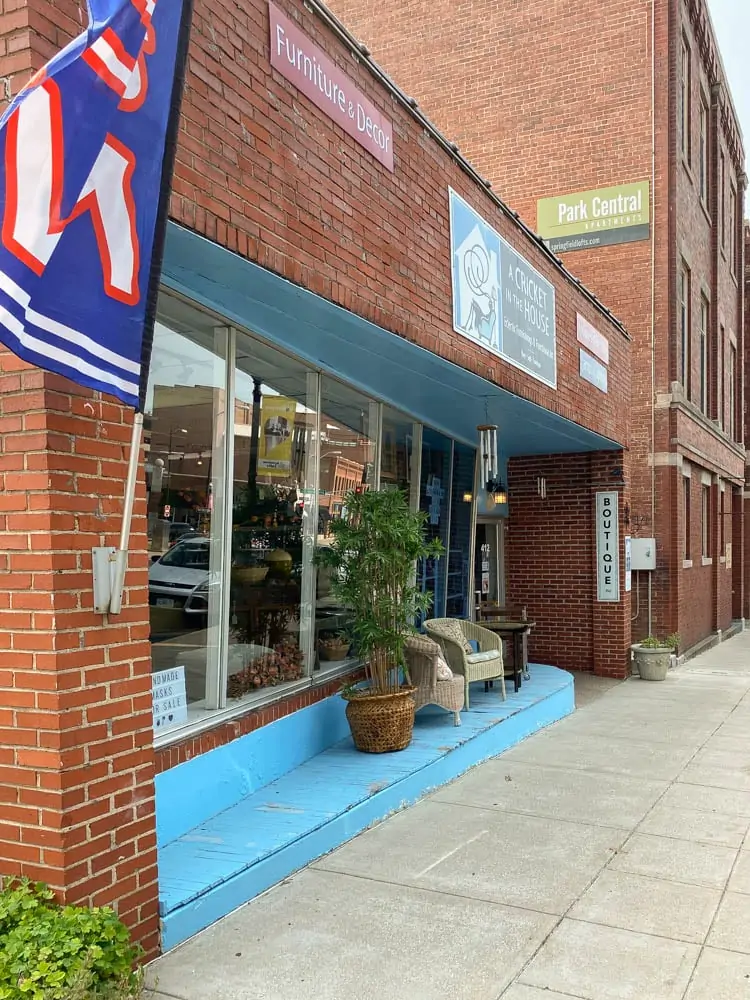 Antique Stores Springfield MO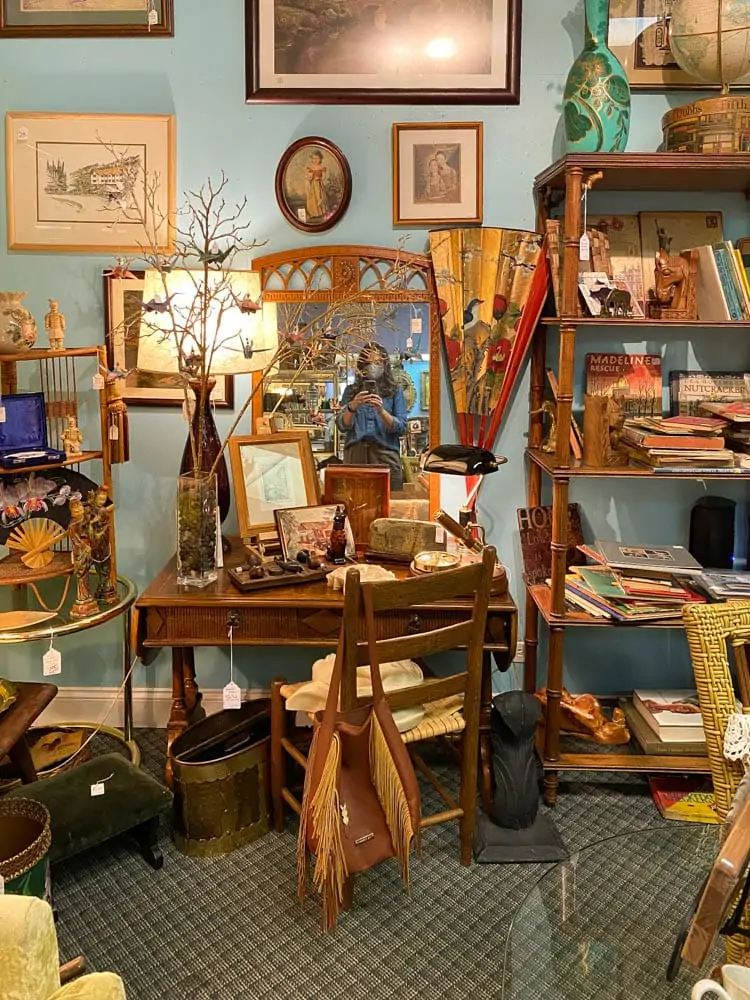 A Cricket in the House
I tend to always find something at this Springfield market. If you are looking for unique art, handmade pottery, mid-century decor, records, and other vintage small decor items, this is the place. I'm honestly not sure if you would categorize this store as a vintage store or a flea market, because it doesn't have stalls for vendors. It definitely has vendors but it seems like they are grouped by era or type.
A Cricket in the House isn't very big either, so you really feel like you can take in the whole store and see it all. It's my favorite place to look for vintage goodies in town.
I got one of my favorite art pieces here - a grumpy looking old man that I feel like represents me so well. Ha. Spy the grumpy old man vintage painting in my post for how to decorate around a tv.
Mike's Unique Collectable and Antique Flea Market
I like browsing the furniture selection here more than the actual booths. The flea market booths here are a mix of vintage items and new items; but, honestly, more and more booths are filled with random, new items (which I hate seeing).
This store is always hit or miss for me but I still have fun browsing through the furniture aisles. There's not that many Springfield antique stores with lots of used furniture, so if that's what you are looking for... this is the store for you.
The first time I went here, I got a set of horns. When I revealed our mid-century bedroom reveal, I think the horns were the stars of that space.
The Vintage Peddler Antique Store and Flea
I enjoy flea markets in my area that have a mix of curated goods and quirky finds. I feel like most of the booths at The Vintage Peddler have a little bit of curation but also, aren't repurposed DIYs. You can definitely find antiques here (at antique prices) but there's also some architectural salvage items, vintage fabrics, and more. I don't always find something to bring home with me here but I always find inspiration for my home.
Freakin' Antiquin' Vintage Market
If you like a well-curated flea market with repurposed goods, then this is the right antique flea market for you. A lot of the booths have some new items mixed in with vintage but displayed like a store front window. Honestly, I don't love the farmhouse repurposed items in the front of this flea market. My favorite booths are in the back middle to right of the warehouse. There are a few really great vintage booths back there where I always find something I can't leave without.
On another note, the size of Freakin' Antiquin' Vintage Market is perfect! If you stroll through on the faster side, an hour is ample time to see all of this flea market.
Relic's Antique Mall
Relic's Springfield, MO is routinely thought of as the best antique store in this area. It's massive. If you are looking for an antique mall that has lots of furniture, lighting, art, etc., then this might be the one for you. For me, it's a bit too big so can feel overwhelming. It does boast a tea room though, so I guess you could make it a day and plan to take a break for a light lunch while you are there. Out of all the cool antique stores near me, this one is my least favorite out of the one's I go to. That being said, I do go there!
Harrison House Market (Vintage Flea Corner)
I'm torn on whether to include Harrison House Market on this list but honestly, I LOVE their vintage goods. I wish their whole store was vintage but that's a completely different beast. Anyways, this Springfield market is mostly a home decor/clothing market. In the back corner of the store though, they have one small corner of vintage furniture and decor. Whoever stocks that corner has an amazing eye and I'm always intrigued by the items and the styling.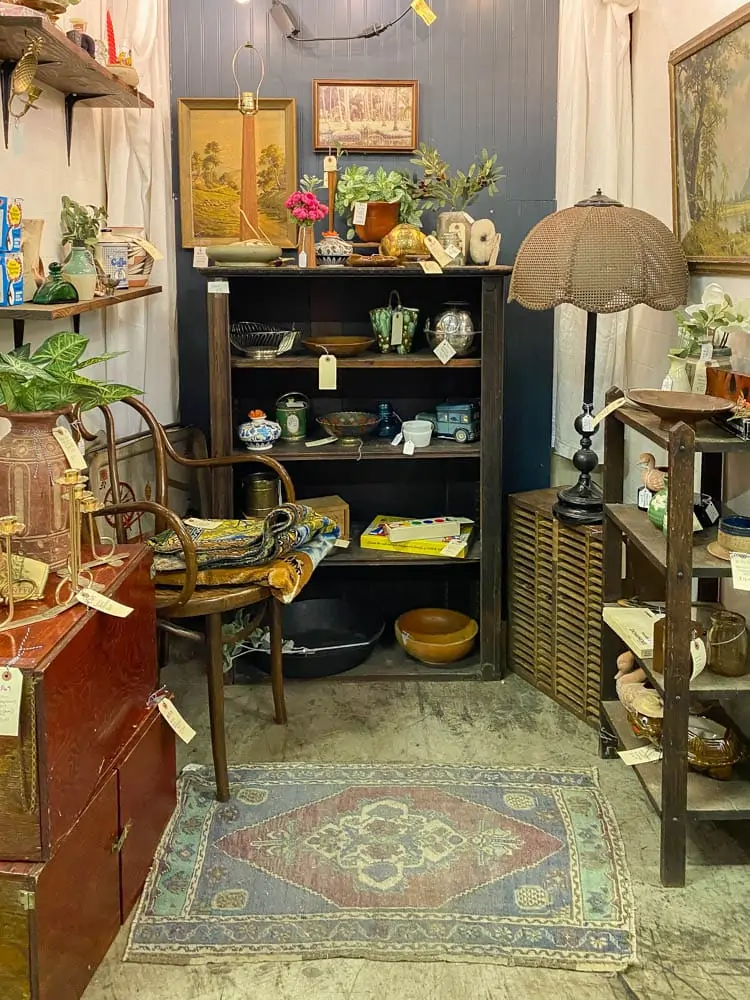 All in all, if you are looking for the largest flea market in Springfield to spend a day at... that's Relic's Antique Mall, but again, that's my least favorite on this list. If you have under an hour, definitely go to A Cricket in the House. But, if you haven't been to all of them... get out and get antique shopping in Springfield. There are some great things to be found.