We are making progress slowly making progress in the bathroom. We have come to a bit of a stopping point because we need to plan a time to do the tile. Another little hold-up is that I am waiting on an Amazon order (I ordered the magazine holder shown on the bathroom mood board) to see how it matches the lights and faucets. From there, we need to decide on hardware. We will hopefully have a pretty decent update by Friday. *Cross your fingers.
So, back to the title of this post. I get itchy when I have to wait for things and I start to jump to other projects. Hence the title of this post. So, another ROOM that we are currently working on is the hallway. To be honest, it kinda makes sense. It is directly visible from the bathroom and the living room.
The hallway redo is pretty much my favorite kind of transformation (you know, more decorating than work...). Last fall we ripped down all wallpaper and had the walls re-mudded. They sat un-primed (still chalky from the mud) for two months or so. We finally got around to priming the bathroom in January. Once we started painting in the bathroom, it was just super easy to continue that to the hallway. So, that is where we are at.
We basically have a pretty clean slate to work with. We are addressing the walls, baseboards, all door/door-frames, lights, misc (grate/attic fan) and electrical outlets. The flooring is something we are undecided about.  So, the list mainly includes painting and decorating.
So, on to paining. We are going with the same gray that we have in the living room and dining room. Luke really pushed for the gray and I love it, but I'm a bit scared that I will get bored looking at the same color all the time. If that happens, we will try a stencil (which I kinda wanted to do anyways). We are staying with the same bright white for doors and all trim.
Check out my inspiration for decorating:
via Pinterest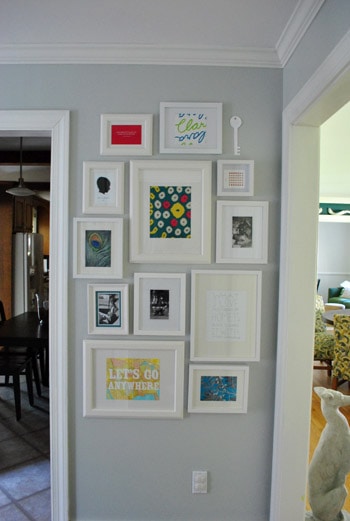 via Young House Love via Pinterest
I am trying to go with an eclectic frame grouping down one side of the hallway. I haven't completely made up my mind on frame colors (mostly white, but maybe some wood?), but I do know that I want them hung close together. I also want mostly larger frames with a few smaller items mixed in.
The theme of the wall is going to be "Our Travels". Remember my DIY Map Art from yesterday? Yep, I did it for the wall. I really want to mix some homemade map art, travel prints, our travel photographs and our souvenirs in a classy (non-cheesy) way. I hope I can pull it off.
The other side of the hallway is also going to be travel themed. I picked out (but Luke vetoed it) a huge (6ft by 4ft) map to put on cork so that we can pin-point all the places we have been as a family. The idea is there (to stay), but the sizing needs to be smaller (or so says the husband). =)
I'll leave you with the before shot of our hallway.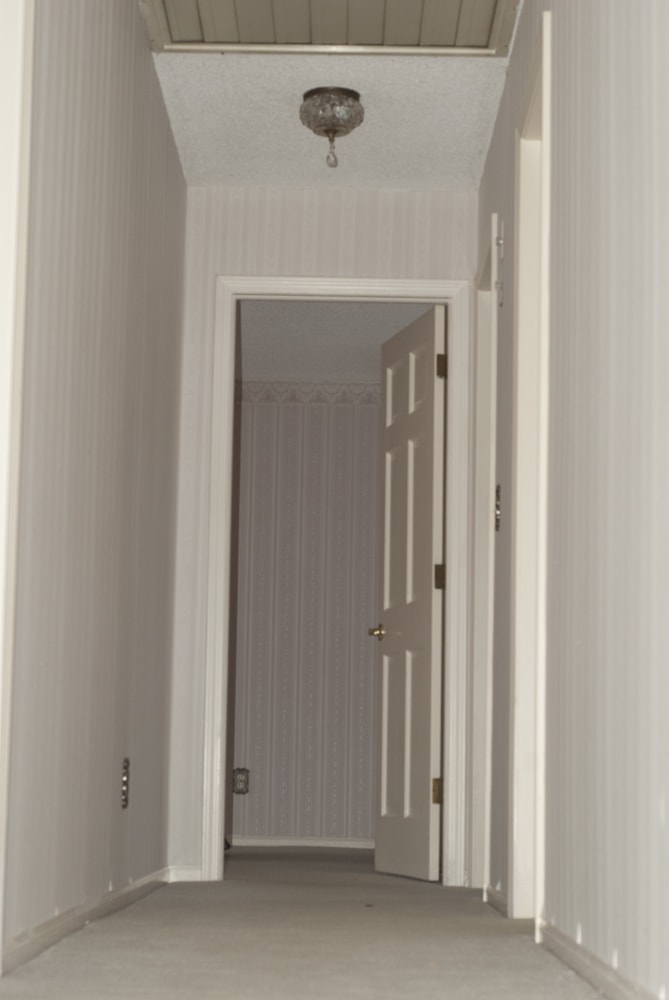 After mudding but before primer: