Holy moly guys, There is only one week left 'till the reveal! It's totally crunch time. I'm thrilled with the direction of the room, but oh boy, do I need to kick it in high gear.
If you have no idea what I'm talking about, I'm participating in the One Room Challenge hosted by Calling It Home. The One Room Challenge is a design challenge that happens twice a year. During the challenge, designers and bloggers come together to focus on transforming their spaces in just six short weeks. The full reveal will be 11/12, but today marks the fifth week of the challenge. Make sure to hop on over to Calling it Home to see all the other participants' progress. It's quite inspiring!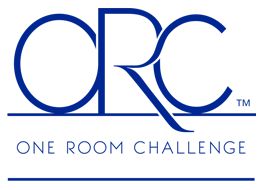 If you want to play catch-up:
Week 1 : The Before Pictures
Week 2 : The Design Board
Week 3 : Plank Wall and To-Do List
Week 4: Start of Banquette
So, this past week I've been making pillows and trying to decide on foam, decor, etc.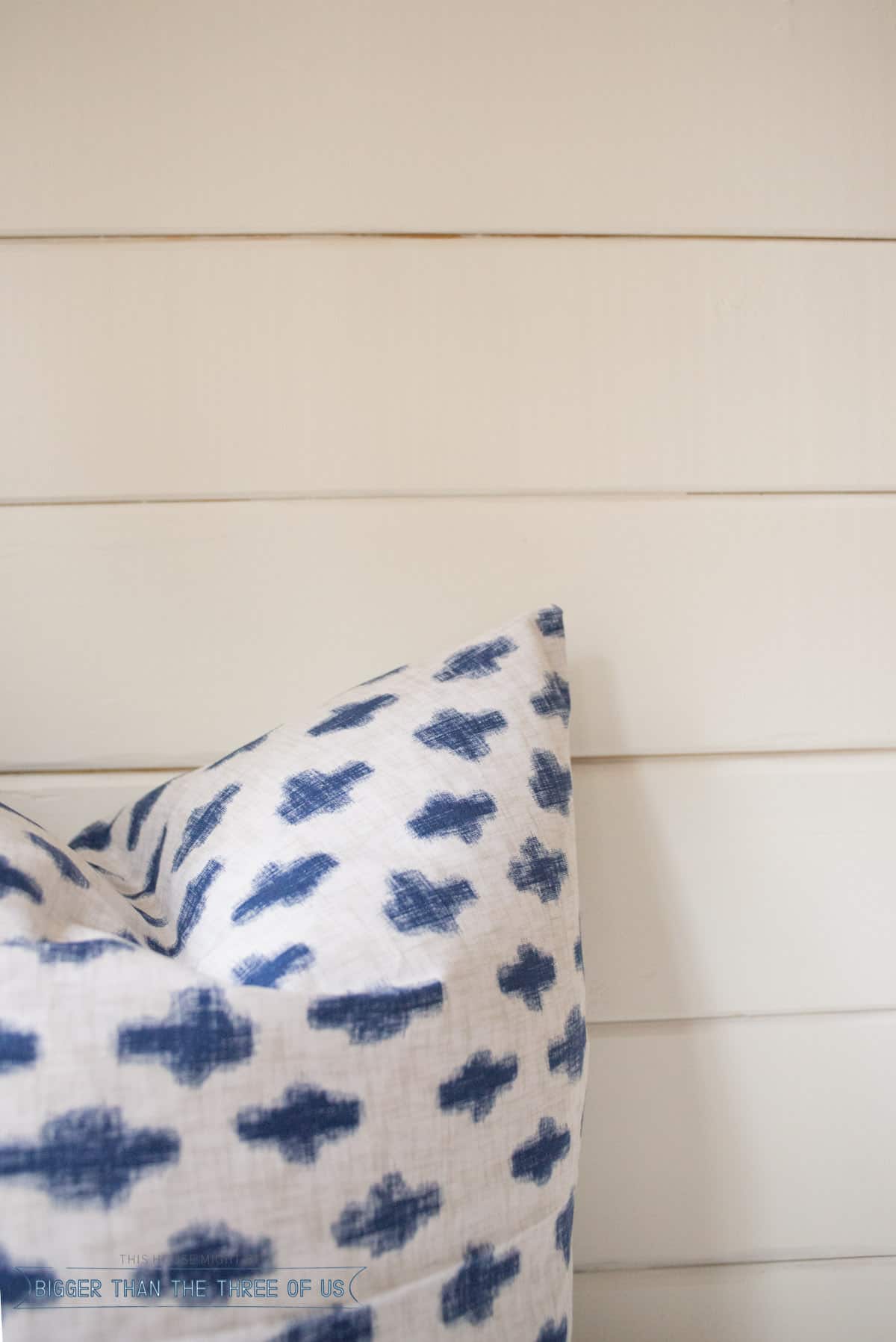 How lovely is that fabric? It's called Yukie and is by Michael Miller. I saw it online at Hawthorne Threads and just fell in love!
After I made that pillow, I made another square pillow which resembles a watercolor painting. I love the variations in it (it's Big Sky in Dawn if you're curious).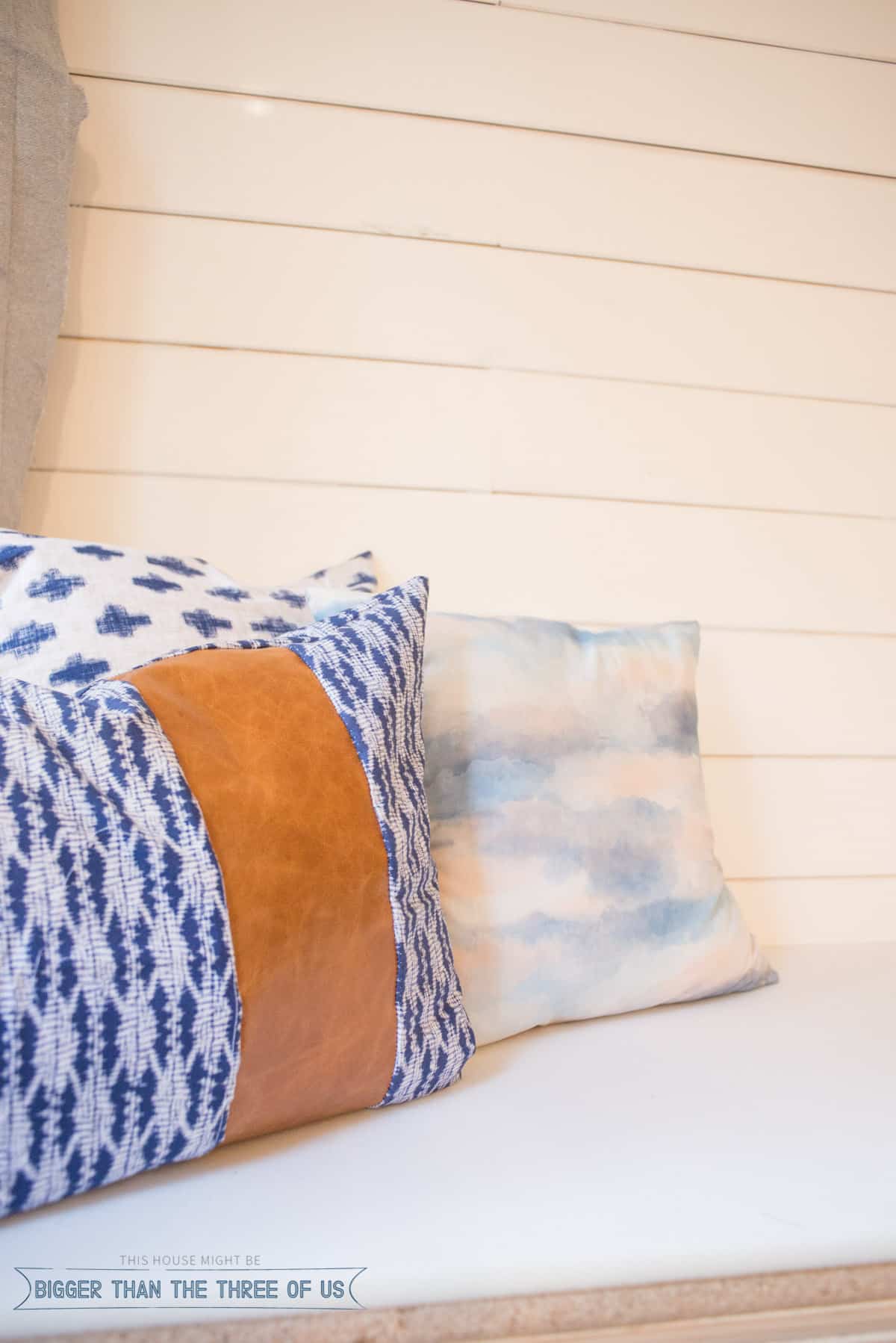 Then, I had fun with another blue print and used some leftover leather from my DIY Seat Cushion to make an oblong pillow.
I have more pillows to make, but I've made some progress.
As far as the bench seat and decor goes, you can see where I'm at.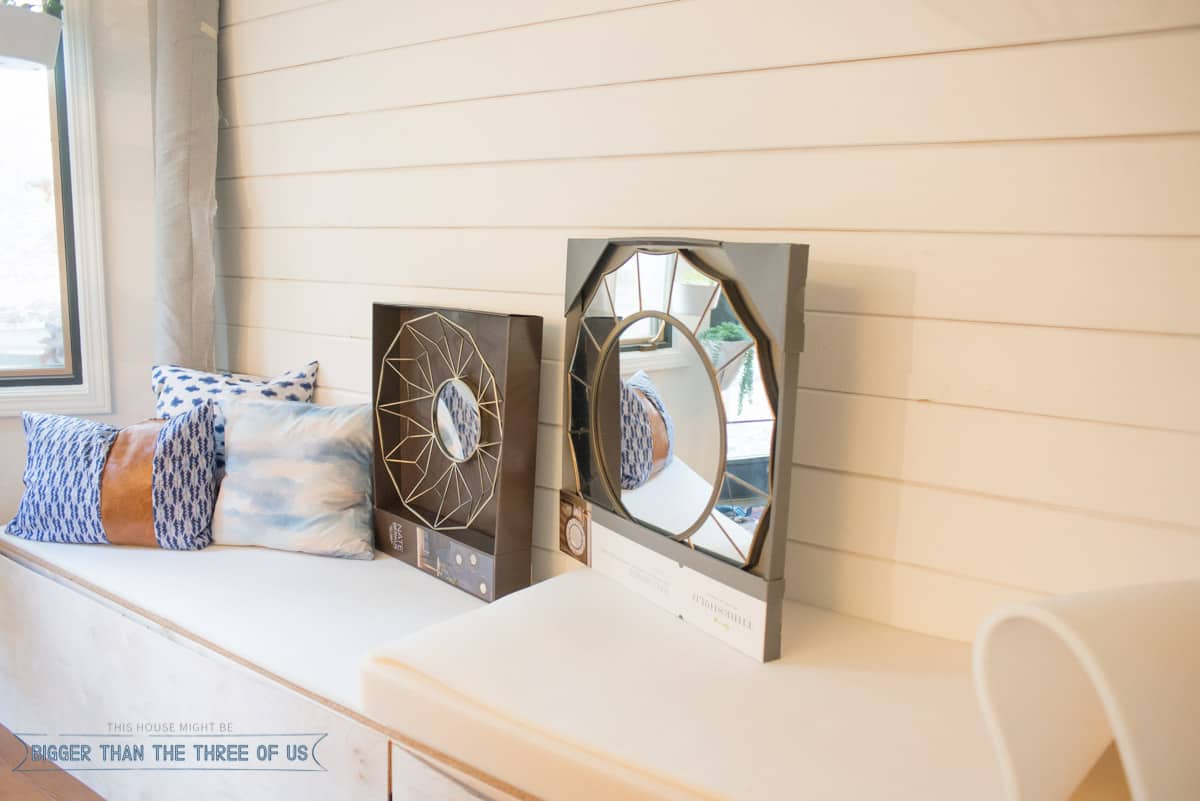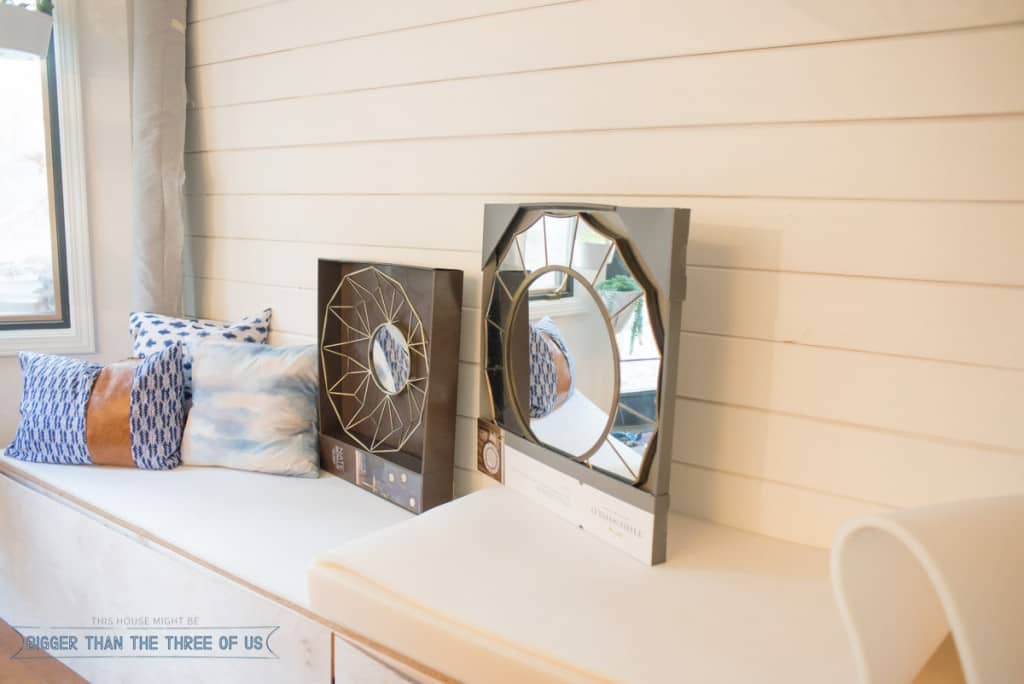 Not a ton of progress, but we have made a little. It feels a bit light and airy, but I think the dark colored bench (when I get it painted) will help anchor the space. Also, I had a good Target shopping trip today. We will see if either mirror stays.
The main thing that I completely accomplished this week was making the DIY Leather Chair cushions for our metal chairs.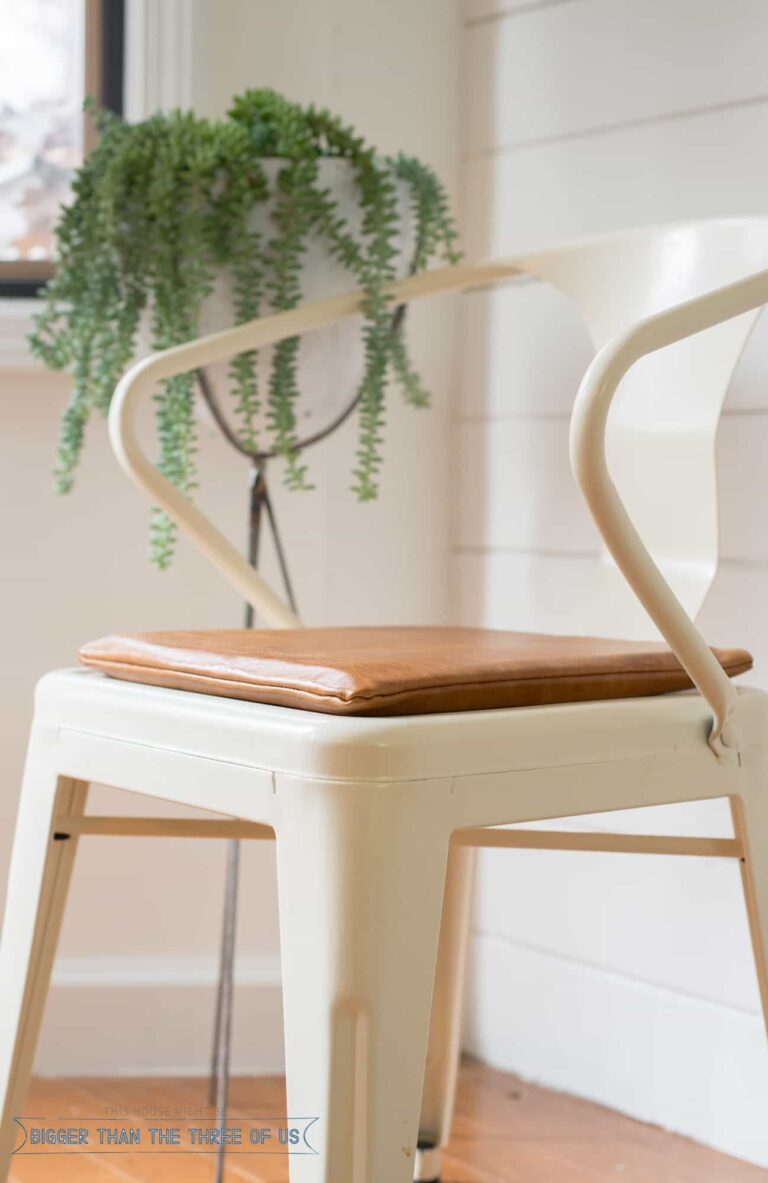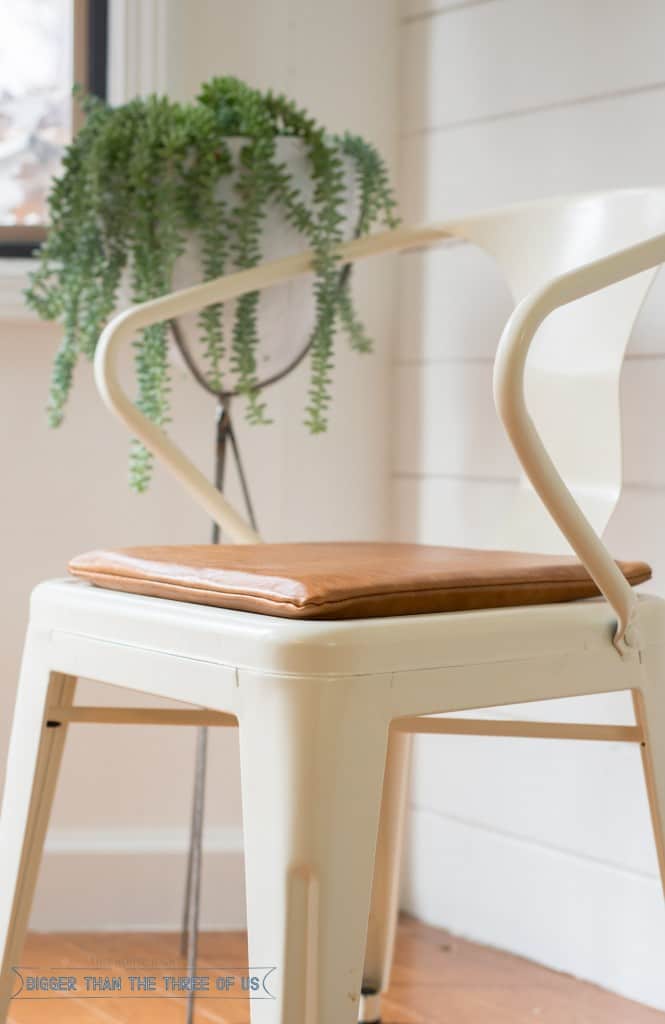 I adore how they turned out. If you want, check out the tutorial.
Ok, I know it will be painful but let's look at the to-do list.
1.  Finish Banquette
2. Sew Pillows (did you see my fabric choices?) I'm marking this off even though I have a few more to make. =)
3. Make Cushion Pads for Metal Chairs (Modern Leather Cushion Tutorial) - COMPLETE!!!!
4. Reupholster Dining Chairs
5. Get Rug (I ordered this hide rug and I'm hoping it's fabulous!) 
6. Find/Make a Textural piece of art
7. Hang artwork above stairwell
8. Hang Highland Cow Painting above bench
9. Install new light
10. Accessorize
Whew, I still have quite the list, but it's slowly coming together.
Have a great weekend.