I thought it was about time for a Mid-Century Dining Room Update + Source List. I've been tweaking things in there for a few months now and I realized that some of the sources were out of date too. I got to thinking about the space and realized that it's been about 8 months since I shared the reveal. That totally seems crazy!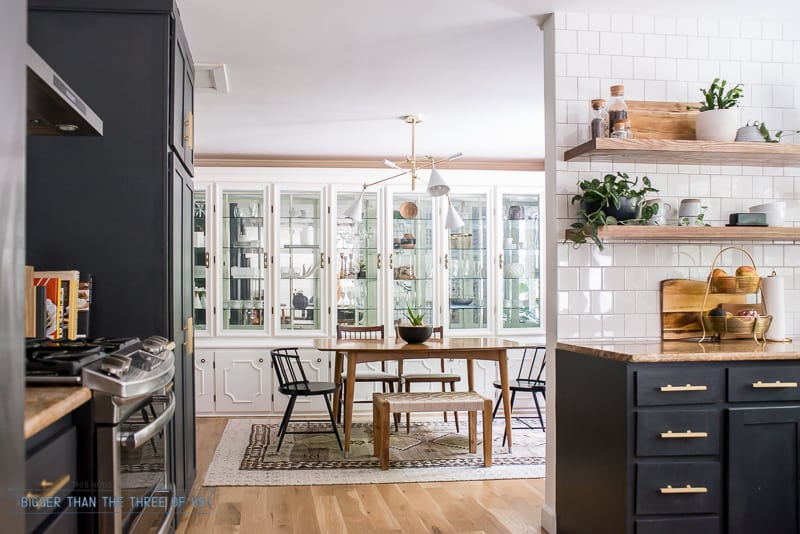 So, not a lot has changed but there have been a few changes... all for the better I believe.
A few months ago, Flor asked if they could send me some rug tiles to try out. I said yes because I was hoping I could layer the new rug tiles underneath my vintage rug that I had underneath the table. The vintage rug was a bit small but I loved it anyways. I thought that it would also be fun to make the rug width, overall, a better fit.
Guess what?! It totally worked and I'm really liking the new view. The floor tiles helped ground the table more and, now, the vintage rug just looks deliberate in sizing as opposed to just too small.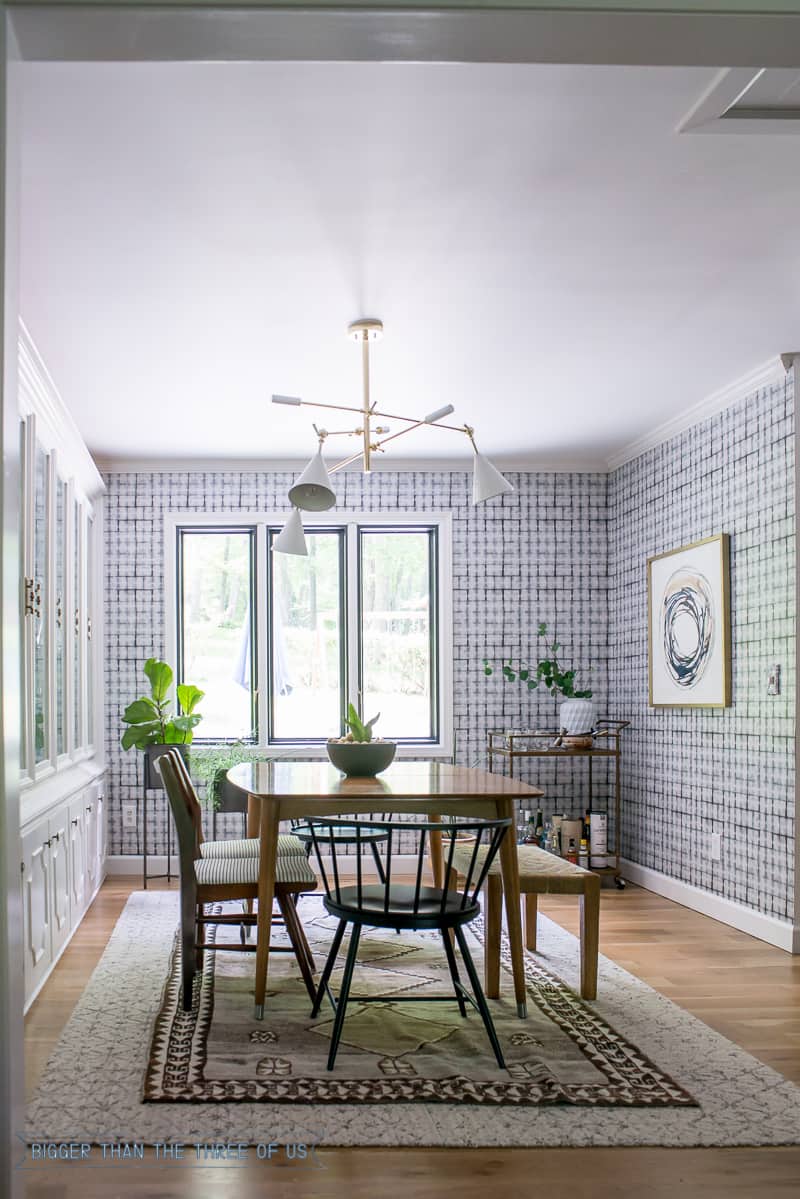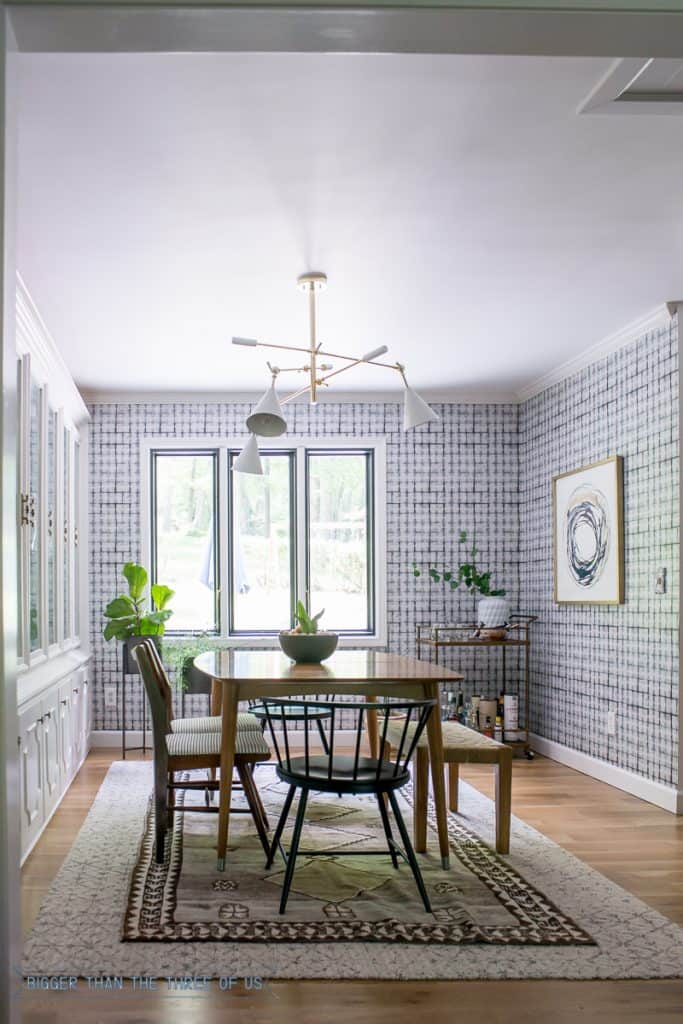 Did you notice anything else off the bat in the previous photo? Well, we FINALLY fixed the chandelier. Here's the backstory on the chandelier. When it came, it only came with one extension rod and the rod was about 18 inches. Well, I felt like without the rod, the chandelier hung too high but with it, it looked perfect. So, we went with how it looked and hung the chandelier low. Well, after the first time we sat in the space at night, I knew it wasn't going to work to keep it like that. The lights were almost at head level for a taller person and the light shined directly into our guests' eyes. So, for some reason it took us about 8 months to take it down and put it back up without the extra down rod. Overall, function wins here but I liked the height of the chandelier a bit more when it was lower. What do you think? Can you even tell?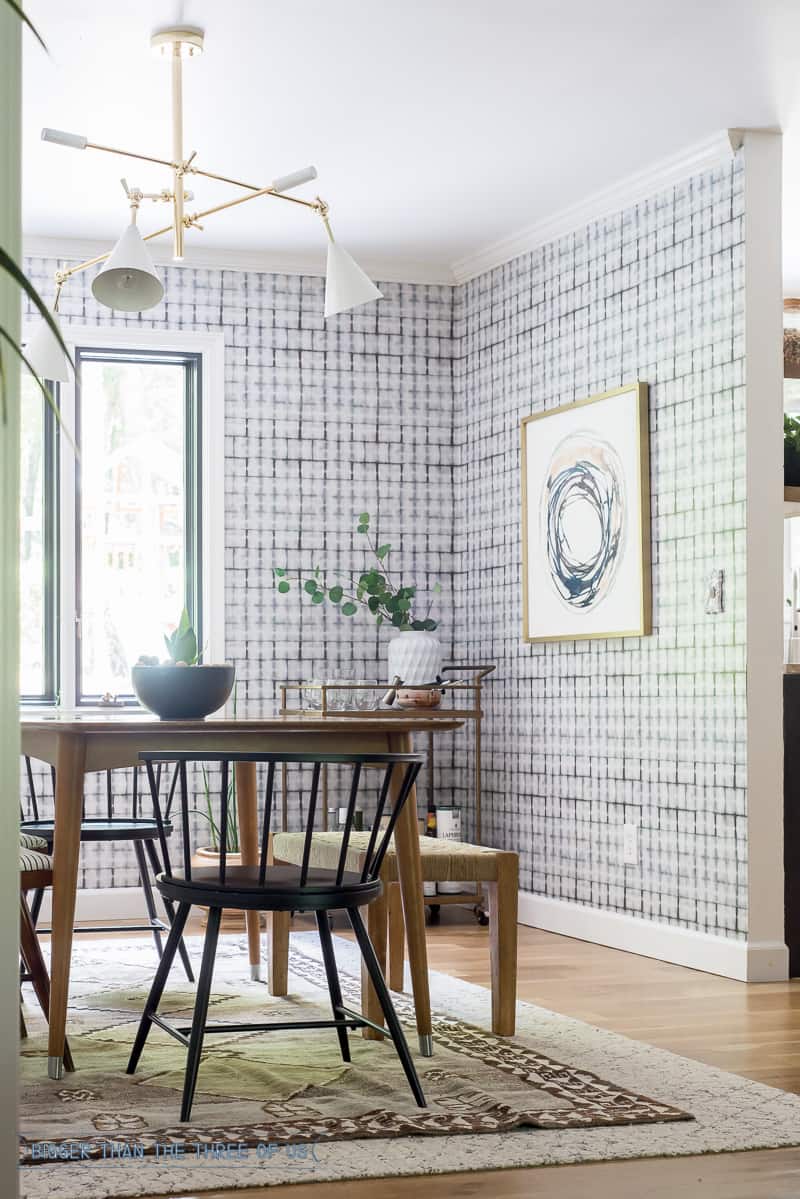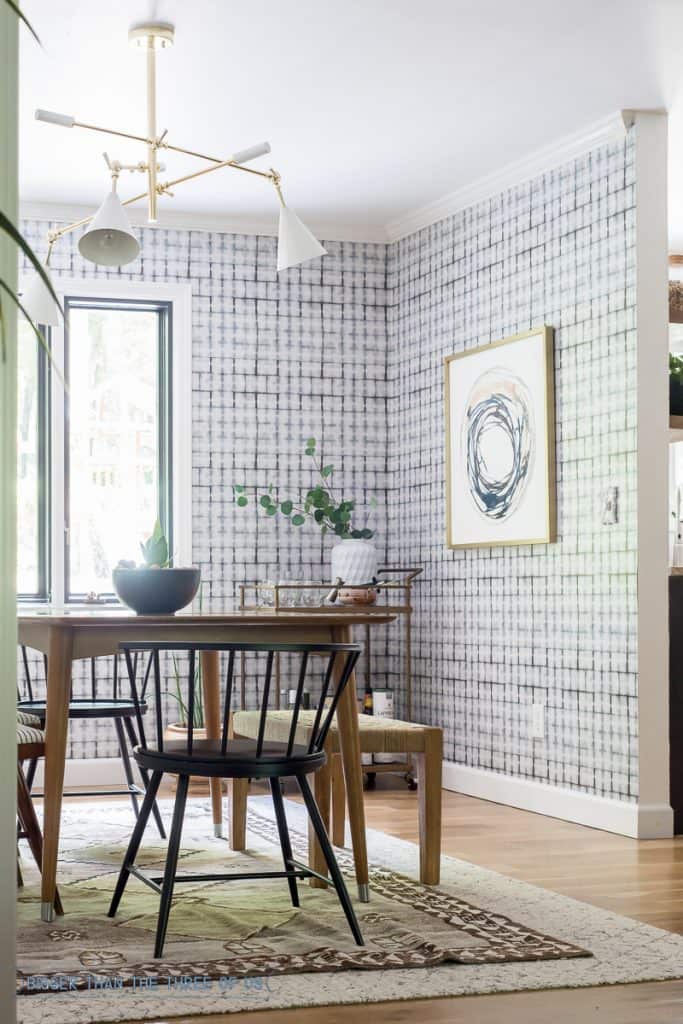 So, the few other tweaks are a bit less obvious. The table planter changed but that changes weekly depending on which room I'm moving plants around in. In the corner, in my tall planters, I repotted my fiddle leaf fig to the large planter. It was on the floor closer to the vent and it was constantly having growth but it would also get a brown spot on the largest leaf every single time. So, I thought it was time for a change.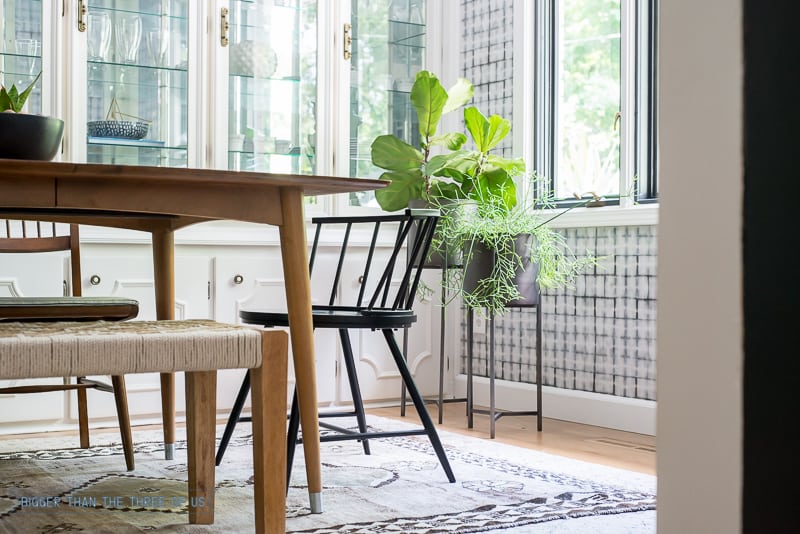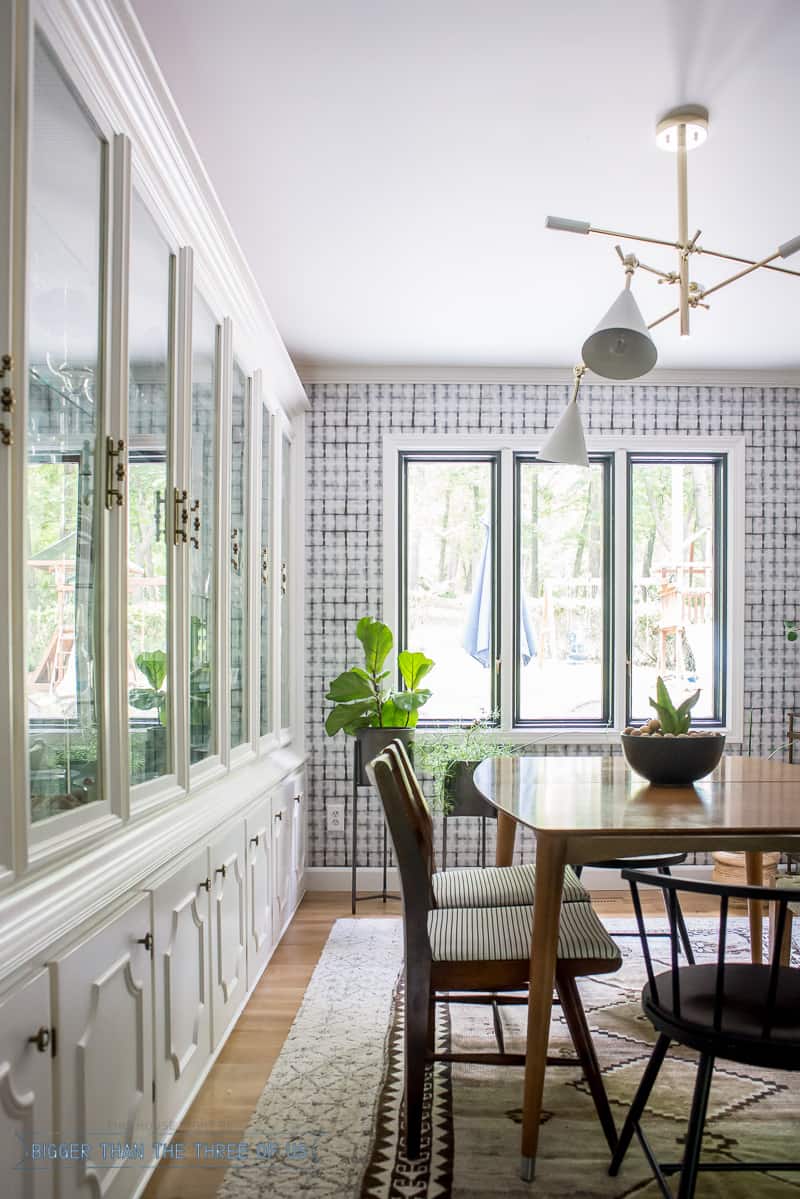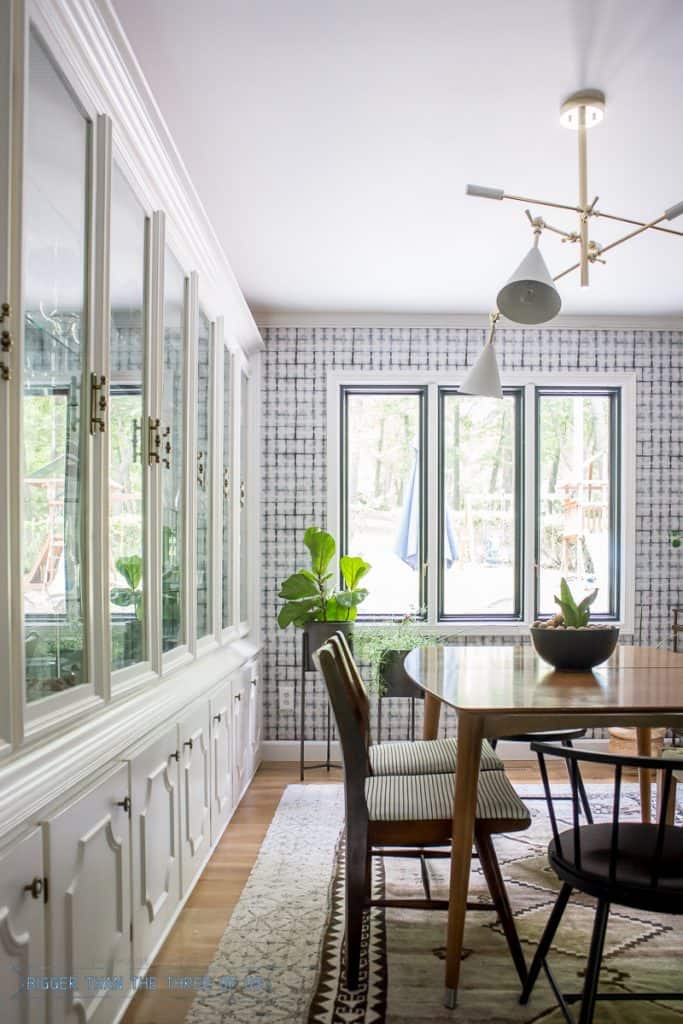 For Christmas, I got that really cool wood planter on the floor (photo below). It had sat empty for months until I finally picked up that Sansevieria Cylindrica from one of our local nurseries.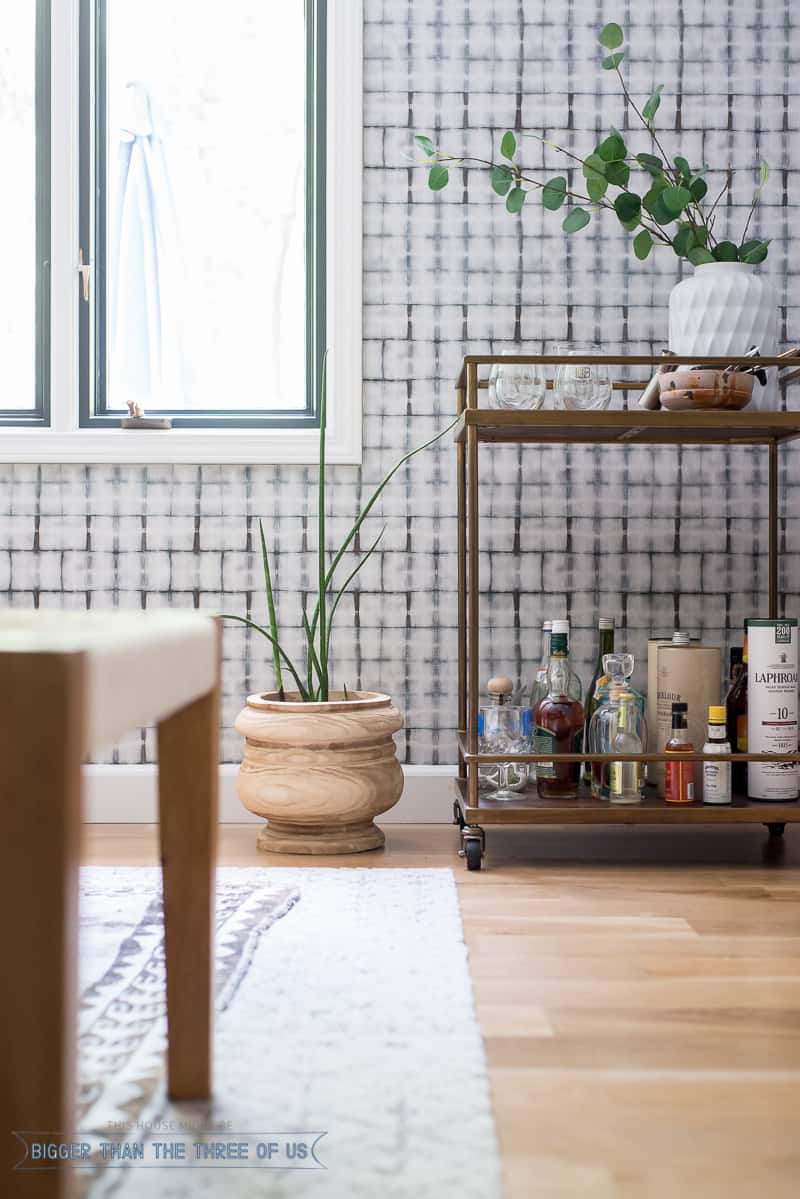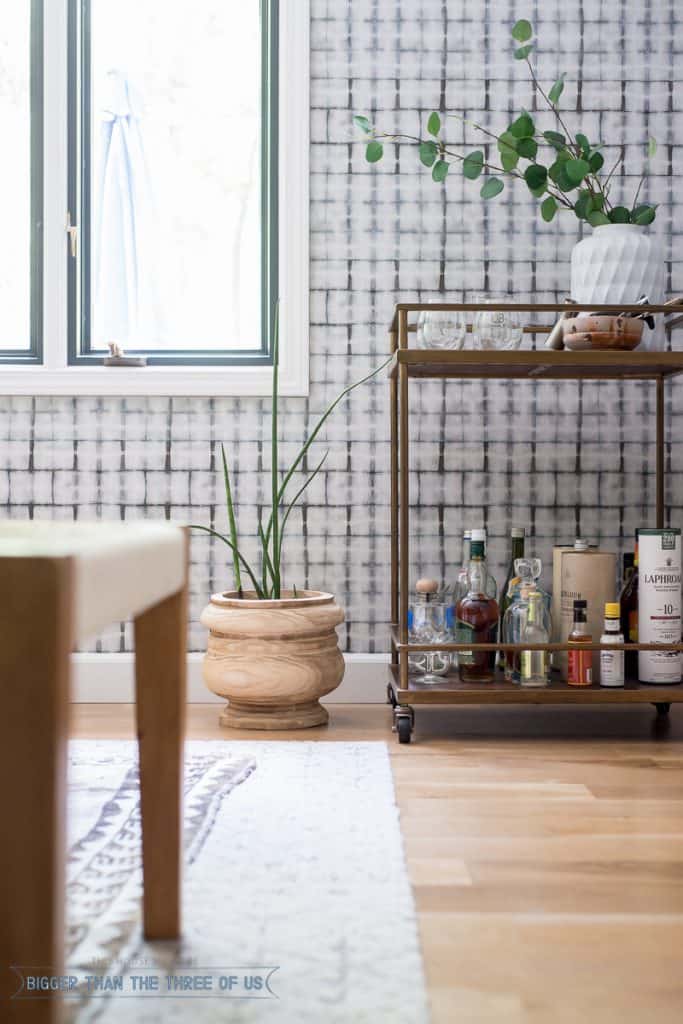 I first saw the plant around December when I was shopping for Luke. He asked for a few plants for his desk at work and I fell in love with that particular snake plant. I bought it and gave it to him for Christmas but couldn't get it out of my head. So, I went back to the same nursery hoping they would have another and they did! I was so excited. It's definitely one of my favorites.
So, those are pretty much all the changes. It's still one of my favorite rooms and I'm still loving the wallpaper!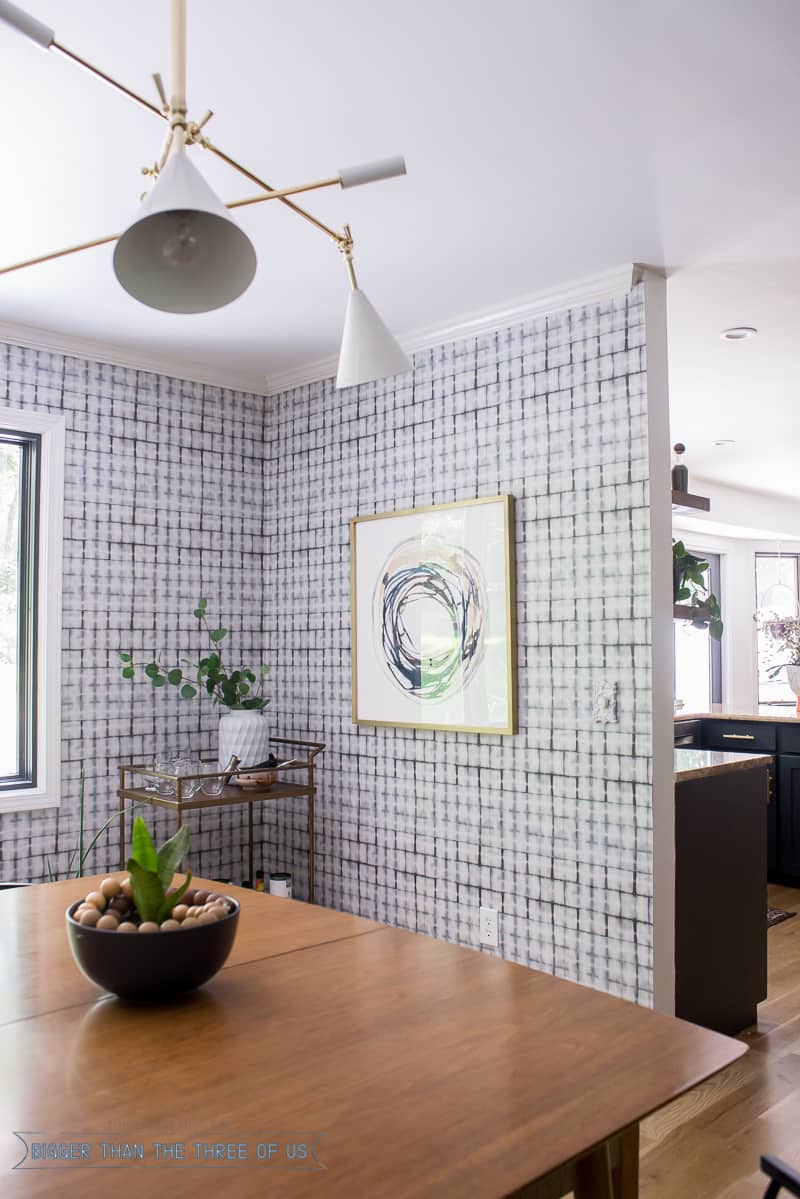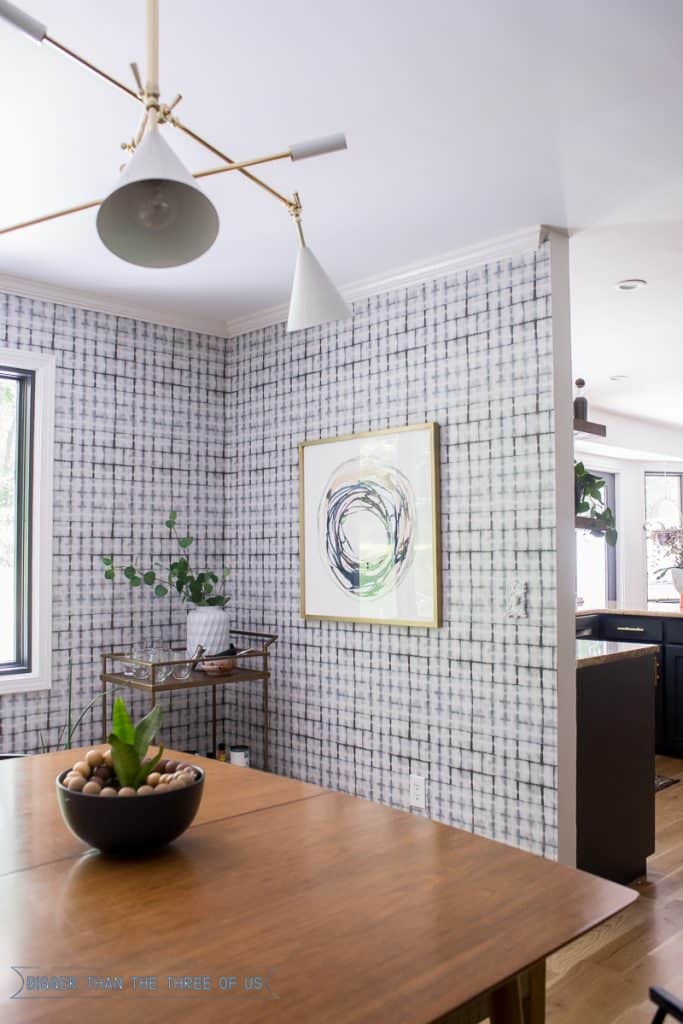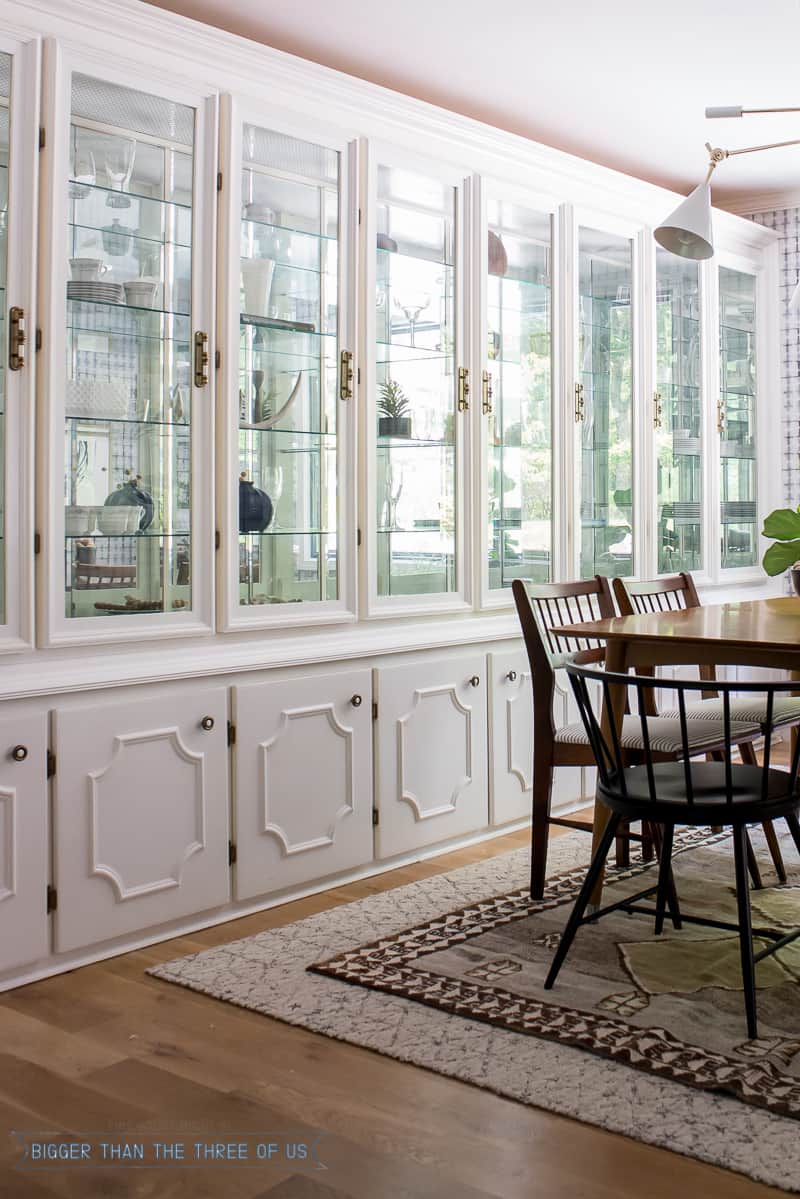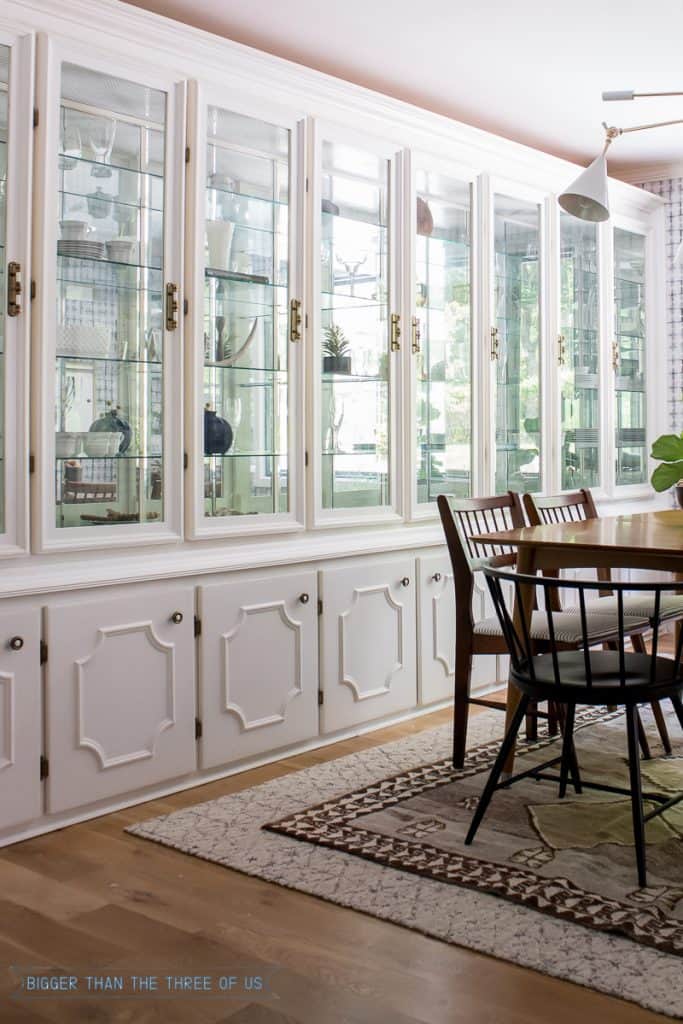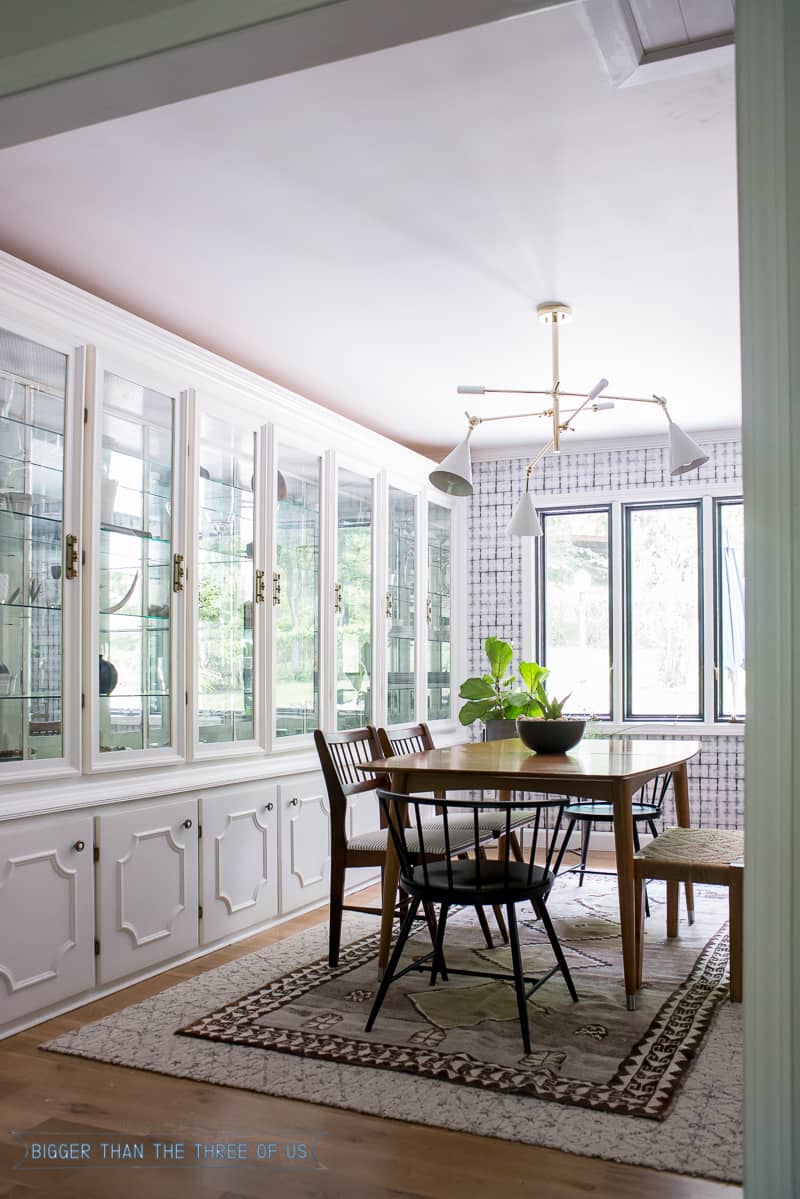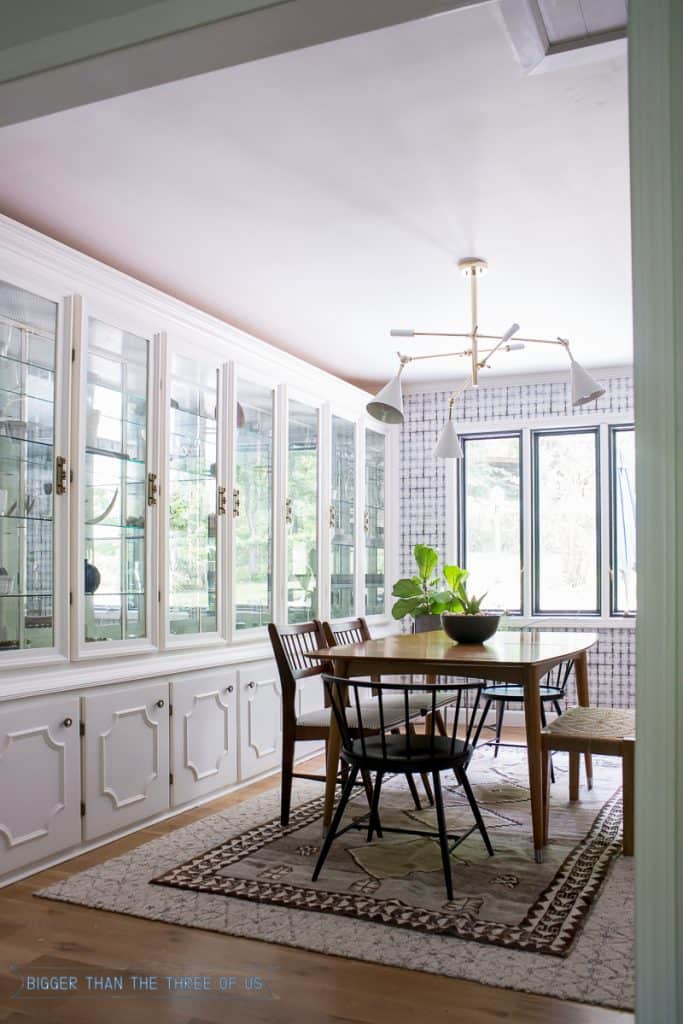 Mid-Century Dining Room sources are below. I did link up a few different lights. The light that we have was a good deal when it was around $100 but the few retailers that still carry it have it priced at over $500 and the quality is definitely not near good enough for that price. So, I linked up a few similar options that look like better quality/price points. A few other things are thrifted too, so I did my best to link up similar items.
*Affiliate links below. Thanks for supporting this blog. Click to read my disclosure policy.

Shibori Wallpaper - Milton and King | Vintage Vibe Floor Tiles- Flor
If you want to check out the original reveal, see the mid-century dining room reveal for all the original details!