I hate typing titles. Like, I despise typing titles. I feel like it boxes me in with decor styles or something. Who knows, I am what I am and I style how I style. I'm also drinking wine as I type this... ha, so I hope all of that makes sense. =) So, today is the day, friends. It's the Eclectic, Classic, Mid-Century Dining Room Reveal. That was a mouthful, wasn't it? I'm so incredibly thrilled with how the dining room turned out.
If you are new here, the goal of the space was to get it to jive with our kitchen. We are at the end of our of kitchen renovation (it looks like the reveal will be in two weeks!) and because the kitchen space is pretty open to the dining room... I wanted to refresh the dining space so that it felt cohesive. I never liked the original dining room. Well, I liked it but I didn't love it. So, with a budget... I set out to transform the space.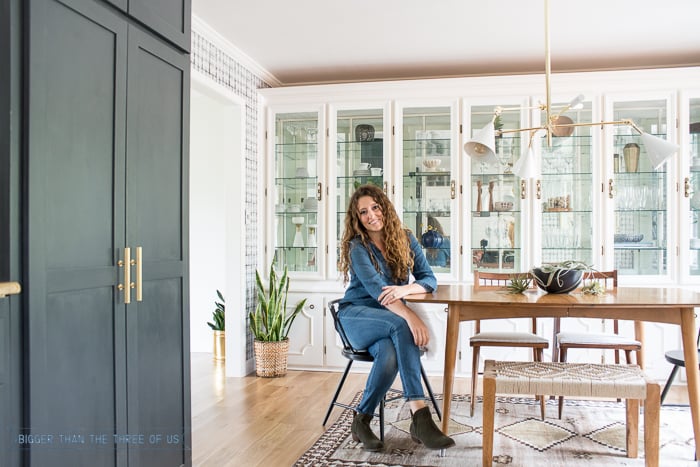 Before we jump right in to the new space, let's walk down memory lane.
When we first moved in and moved a few of our things in (around 2013), we were here: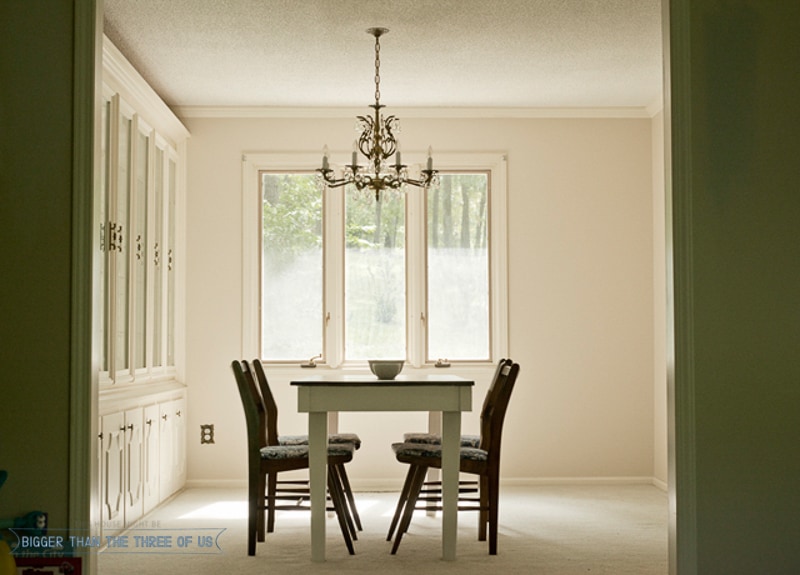 A few purchases, DIYs and months later, we landed on this: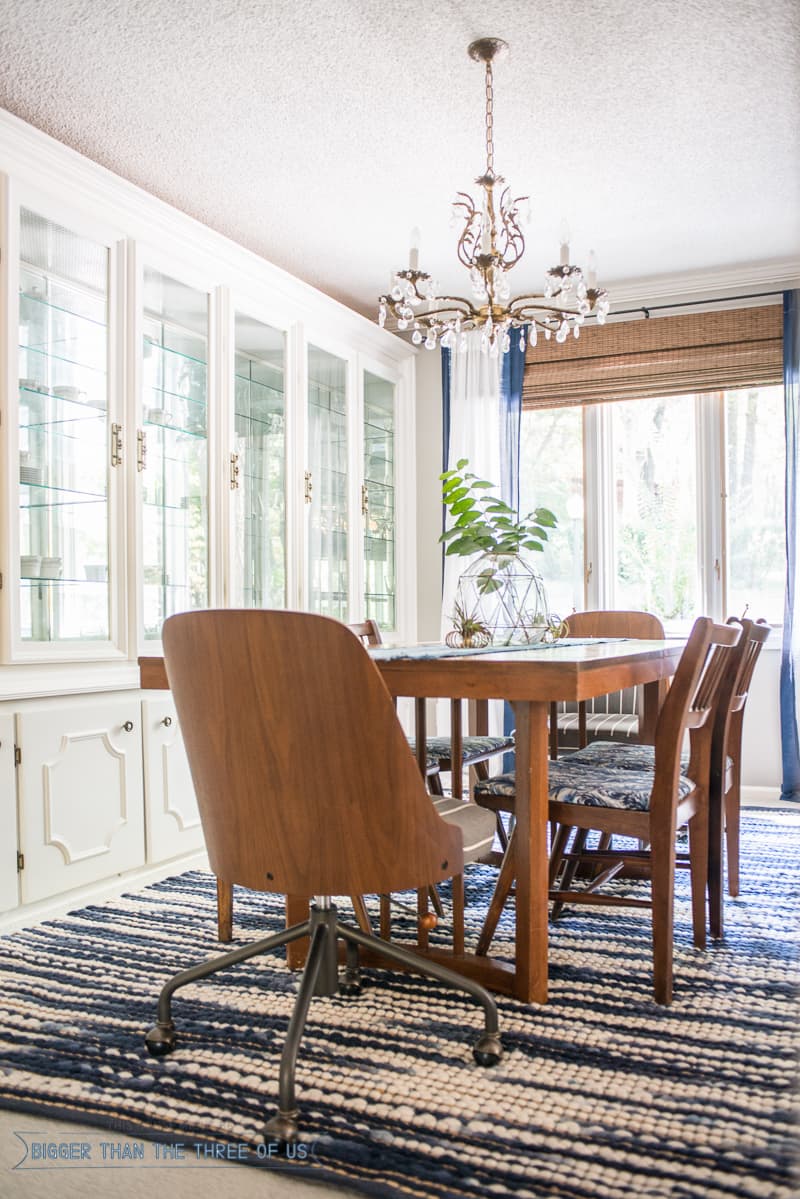 It was pretty and I genuinely liked it. As the kitchen renovation started to progress and we put up the open shelves in there, I quickly realized that the spaces didn't jive together.
So, when the One Room Challenge, hosted by Calling It Home, was getting ready to start, I was on the fence about participating. I knew I had a space that would be perfect; yet, the challenge to get everything done in six weeks is so hard! I finally decided to go for it and here we are.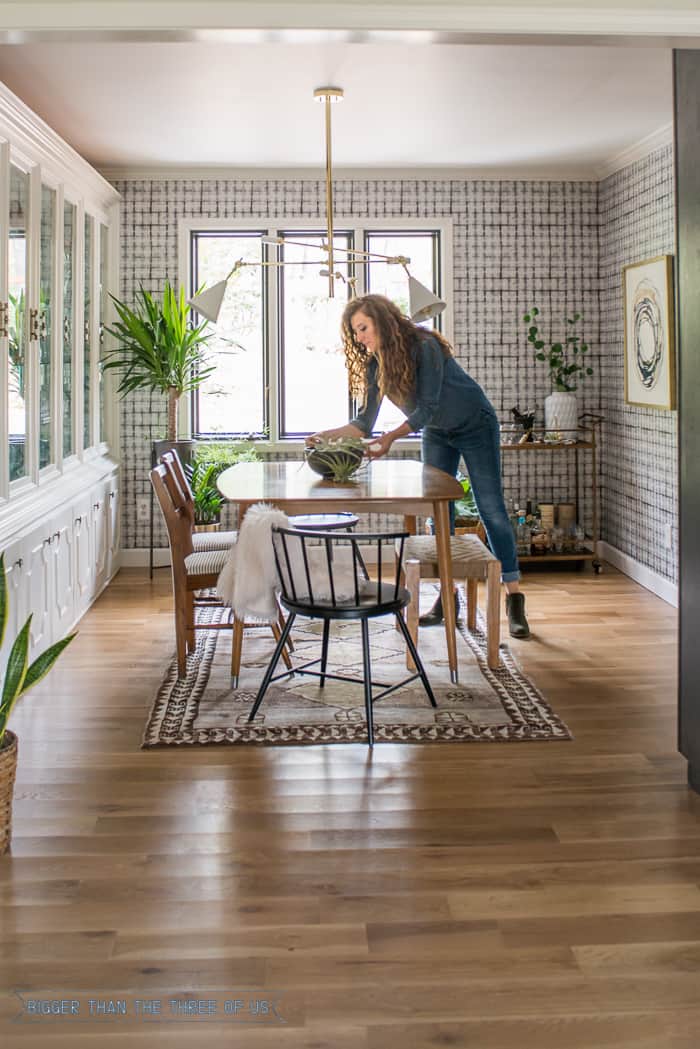 I'll share all the sources at the bottom of this post.
Let's chat about the game changer for this room - the wallpaper! Isn't that shibori wallpaper just amazing? I went back and forth on two wallpaper samples (the Earth Grey brick that I got and the City Scape in dark indigo). Ultimately, I went with the Earth Grey brick because it was just a perfect match for the china built-ins as well as the kitchen cabinet color. I think the wallpaper set the tone for the space and allowed the space to have something interesting and fun just to itself. That probably doesn't make sense if you haven't seen the kitchen shelves (see them on IG here) but the kitchen shelves are the wow factor in the space. So, the dining room, I felt like, needed it's own subtle wow factor. To me, the wallpaper is it!
Luke and I installed the paper ourselves and it was easy! I'd definitely do it again and a blog post about the process will be coming soon.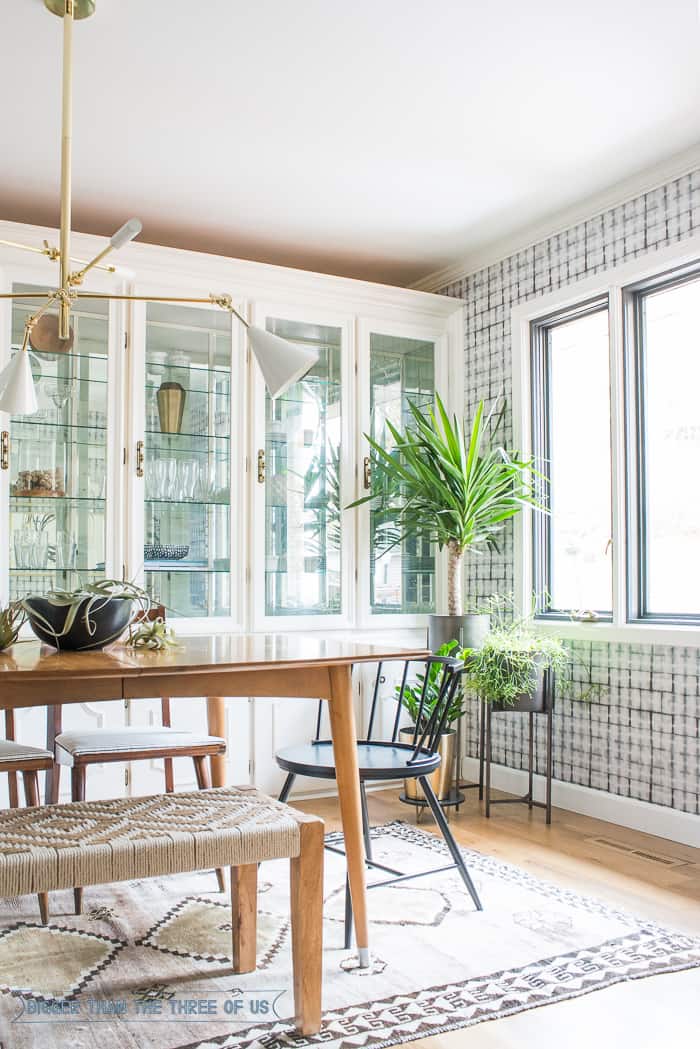 I went back and forth on whether to change the light or not. We had a gorgeous, all brass and crystal chandelier in there (original to the house). I'm definitely keeping that light and may have another spot for it, but overall I felt like this space just needed something different.
I love the texture the paper adds to this next wall! It might be my favorite wall in the dining room.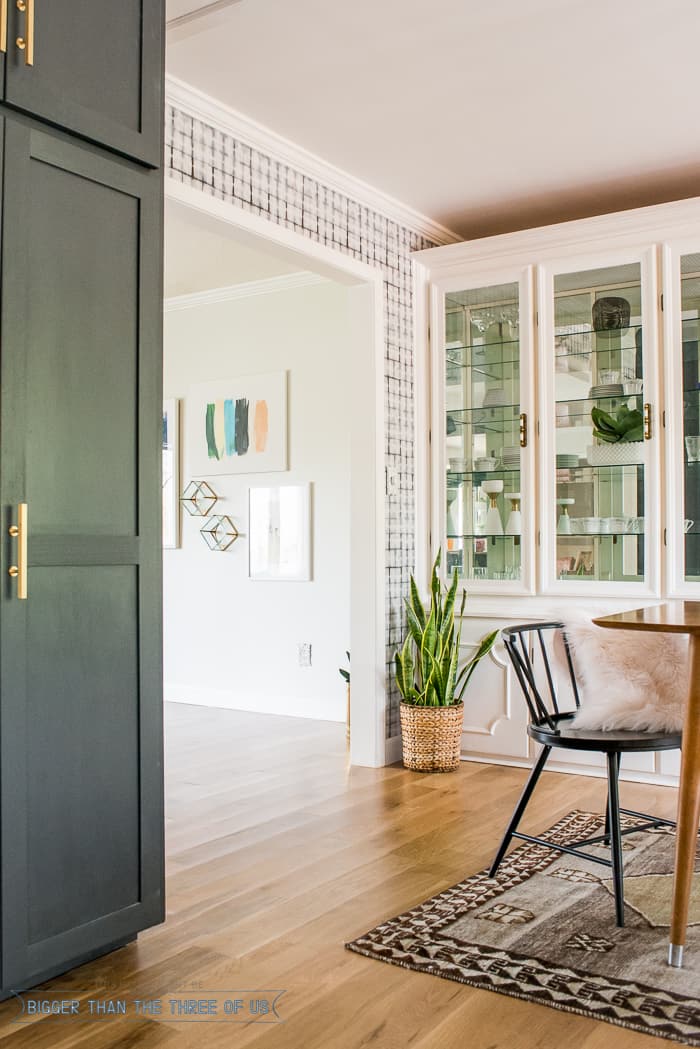 With deadlines, I'm totally a last-minute-type girl. So, of course, we had the wallpaper and everything done over the weekend but I 'knew' exactly how I wanted to decorate so I wasn't stressing putting everything in place. When I actually put the final touches on everything (yesterday!), I realized that I didn't love what I was putting up above the bar cart. My original idea was to hang this glass light turned planter above the cart and have an oversized airplant hanging down from it. Well, the glass light totally got lost in the wallpaper. It ended up being just an added thing and not really something that added to the space. So, that idea got nixed. Then, I started stressing about the wall/bar cart corner. I went to every home decor store in town (unfortunately, we live in a small town with small town type stores) and couldn't find a single thing.
That ended up being a blessing though, because I shopped my house and found the perfect thing. How gorgeous is this piece of art in the space? I think it's totally perfect!
I'm not the type of person that buys something for one particular spot in my home. Most of my favorite things can float to different spots and this is a prime example of that.
One of my favorite views might just be the next image. I adore how the textures play together.
Another game-changer for this space was taking down the window curtains and bamboo shades. It allows so much more light in the space. I love it so much! Plus, that allows me to fill the space with more plants because you know they love that light too!
The air plant holders are a very simple DIY. I'll share that project soon. I've been wanting to work with brass piping so I just went for it and totally love how they turned out.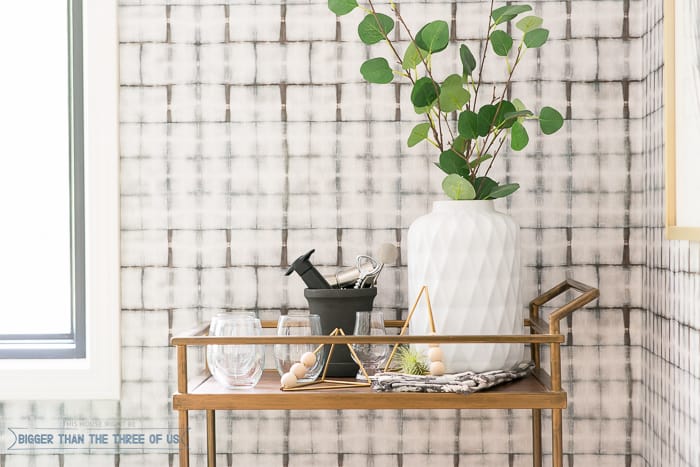 After listening to many of your suggestions, we decided to end the wallpaper at the end of the wall instead of wrapping it around to the kitchen. The hubs cut it perfectly and I'm so happy with how that wall turned out. I think the little strip of white paint allows your eye to take in both spaces without either space being too much.
If you've been around since week one, then you know I had a table dilemma. The dilemma was that I couldn't afford a table that I liked or if I could afford it then I couldn't get it shipped here in time. So, I didn't get a table. I switched the table from the eat-in kitchen. Luke and I both love this table in both rooms but it's really a perfect size for this space. It has a few leaves (which can extend to about 12ft) and this room can accompany that. In the future, sometime while thrifting or something... I'll find another perfect table for the other room. But, I'm not in a rush. It will happen when it happens.
I had the mid-century chairs but updated them with some gorgeous vintage striped fabric that I had in my stash. I LOVE the change.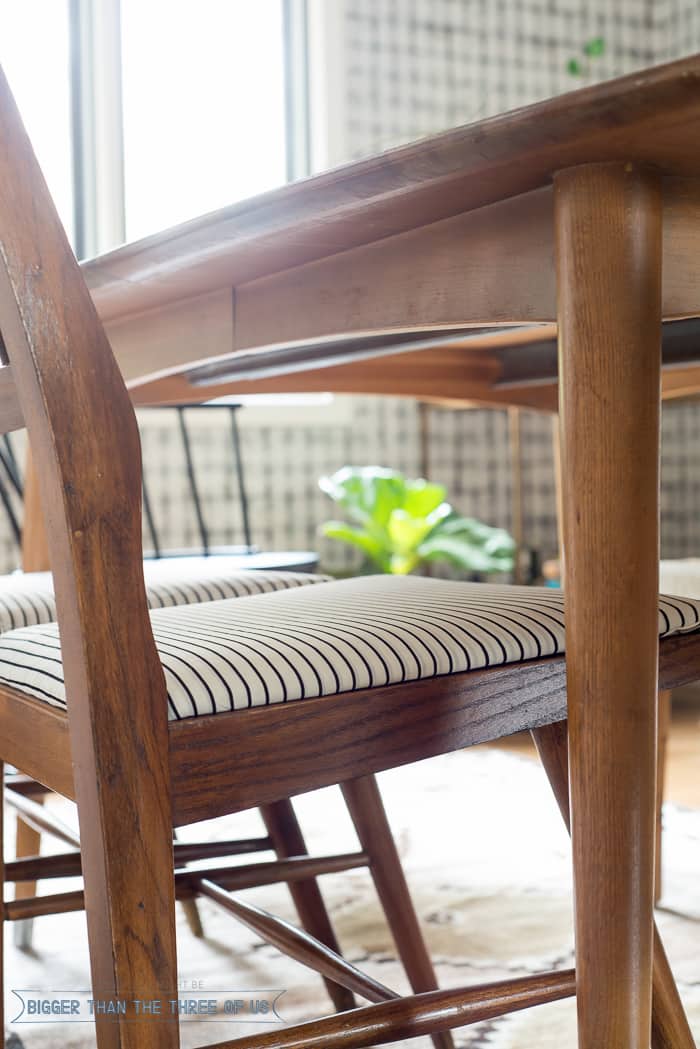 All in all, I think the space turned out so good. I love how it works with our kitchen. It feels like it's own room yet also feels like and extension of the kitchen space.
*Edited to add: Pop over to see our kitchen reveal and how it plays with this space!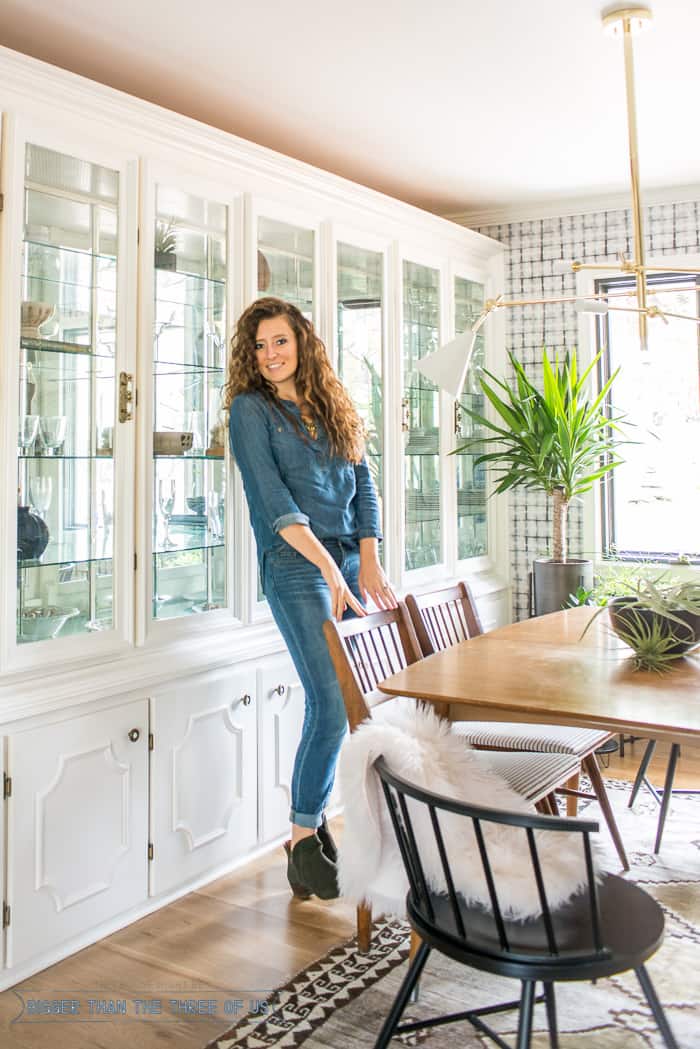 A special thanks goes out to Milton & King for providing the most amazing wallpaper.
| Sources | *Affiliate links below. Click to read my disclosure policy.
Shibori Wallpaper | Black Chairs | Mid-Century Chairs (Vintage - Similar) | Mid-Century Table (Vintage - Similar) | Rug (Vintage - Similar) | Light | Airplants (one / two) | Bowl | Tall Planter | Small Planter | Brass Planter | Black Hairpin Leg Plant Stand | Basket Planter (Vintage) | Art | Bar Cart (similar) | Woven Bench Similar) | Flokati Rug | Tall Vase (similar) | Mid-Century Candle Sticks (vintage - similar) |  Iron Candleholder | Buffalo Check Towel | Brass Air plant holder (DIY - coming soon)

Play catch-up if you've missed any of the posts in this series.
Wednesday, Oct 5th (week 1) – Introduce your space, and tell us your plan. 
Wednesday, Oct 12th (week 2) – Show us your progress. What have you accomplished? 
Wednesday, Oct 19th (week 3) – Have you encountered any setbacks? Any happy accidents? 
Wednesday, Oct 26th (week 4) – How's it going? Week 4 is the hardest! 
Wednesday, Nov 2nd (week 5) – Did you revise your plan? Hang in there, you can do it.