I said I wasn't going to do the One Room Challenge again this year. I knew I wasn't going to do it. But then, so many of my blogging friends were talking about it and I succumbed to peer pressure. It's exactly what we tell our kids not to do, right? If you have no idea what I'm talking about when I say the One Room Challenge... let me give you some background.
The "One Room Challenge" is hosted by Linda over at Calling It Home. It occurs twice a year and it's where bloggers and designers focus on updating or transforming a space real-time over the course of six weeks. Each week, as you follow along, you will be able to see how a room changes. I think over 200 rooms were transformed. It's such a fun event to take part in and just be able to follow along with everyone who is working their tail off to get to the finale.
Here's what you can expect from me.
Wednesday, Oct 5th (week 1) – Introduce your space, and tell us your plan. (THIS POST)
Wednesday, Oct 12th (week 2) – Show us your progress. What have you accomplished?
Wednesday, Oct 19th (week 3) – Have you encountered any setbacks? Any happy accidents?
Wednesday, Oct 26th (week 4) – How's it going? Week 4 is the hardest!
Wednesday, Nov 2nd (week 5) – Did you revise your plan? Hang in there, you can do it.
Wednesday, Nov 9th (week 6) – The Finale – It's all about the pictures.
The other applicants will mostly go live with their spaces on Thursday, but to stay consistent with my blogging routine I'm going to post on Wednesday in the afternoon.
Before I reveal which space I'm working on, let's walk down memory lane to the spaces that I've done in this challenge.
Our Eat-In Kitchen :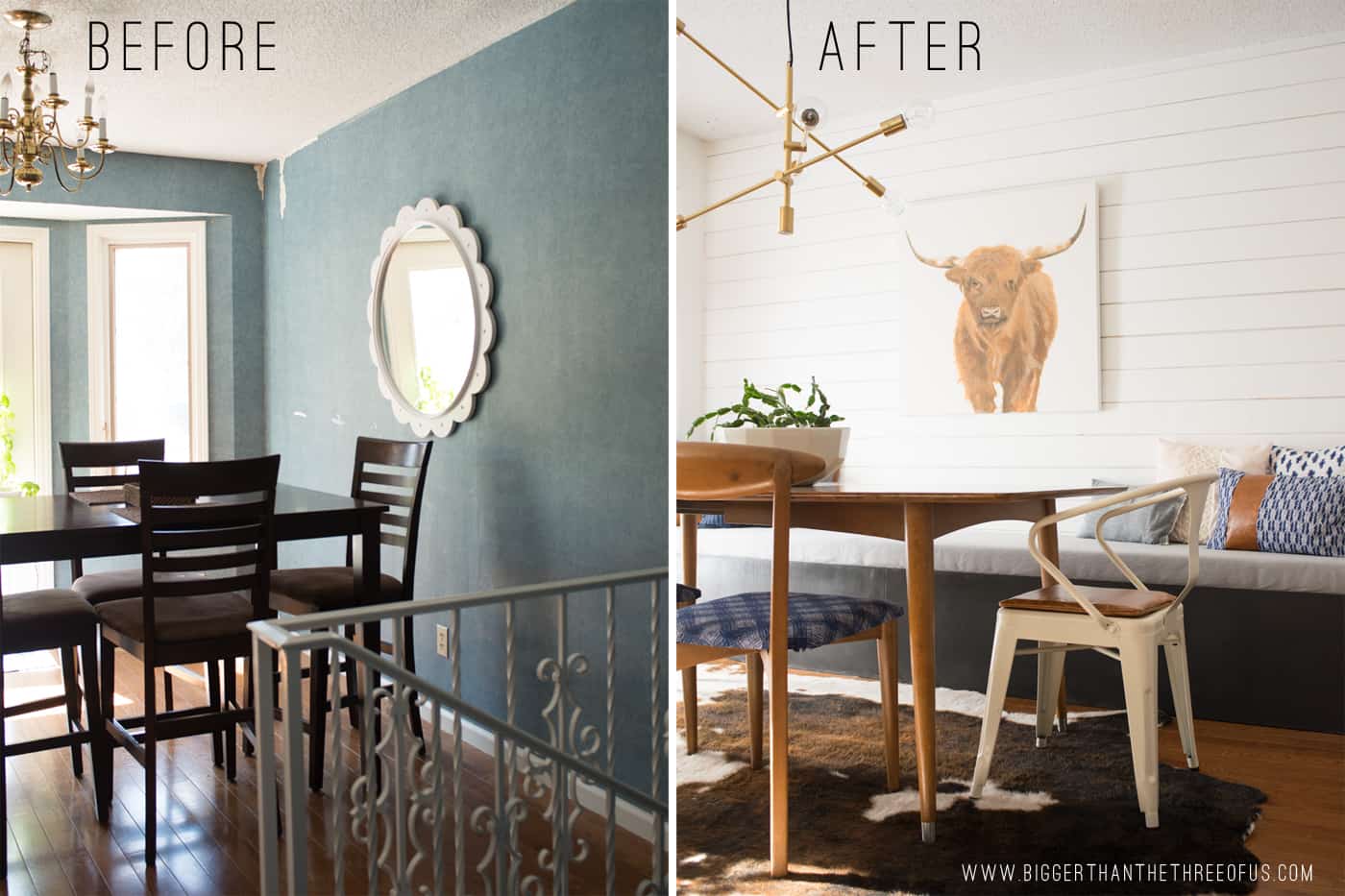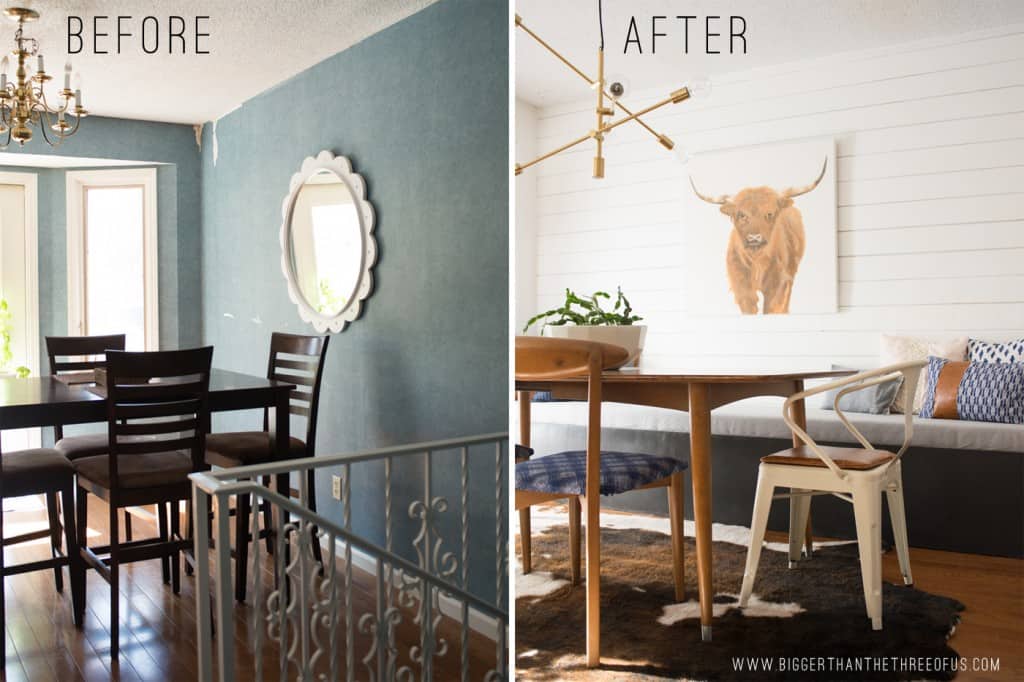 You can read all about the eat-in kitchen transformation in the reveal post or you can check in on the updated eat-in kitchen that I posted a few weeks ago.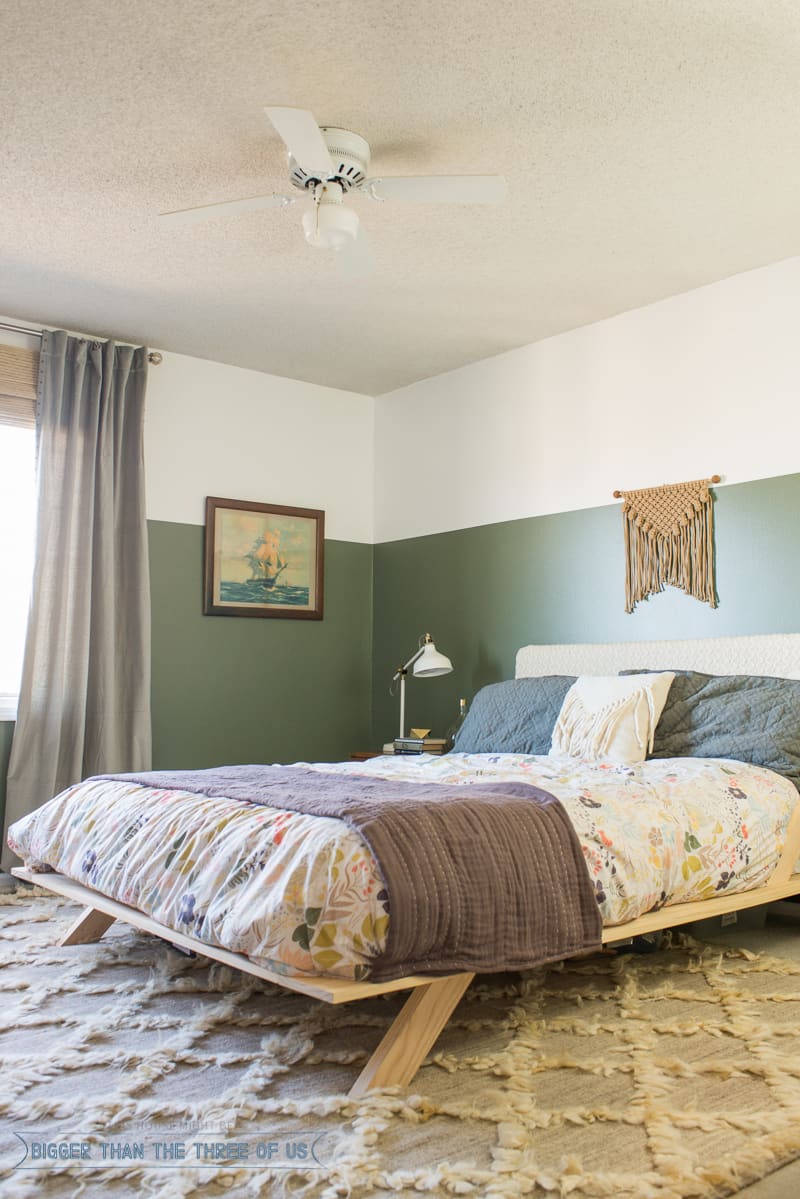 The guest bedroom was quite the challenge for us during the six week timeframe. I'm happy to say that we finished it. Check out the reveal and also the updated eclectic guest bedroom.
When I joined the challenge earlier this year (on our master), I had a few setbacks in trying to complete it. Our flooring install was supposed to be completed with three weeks left in the challenge and it ended up not being completed 'till after the challenge reveal date went live. It was extremely stressful and caused me to not get much accomplished during the challenge.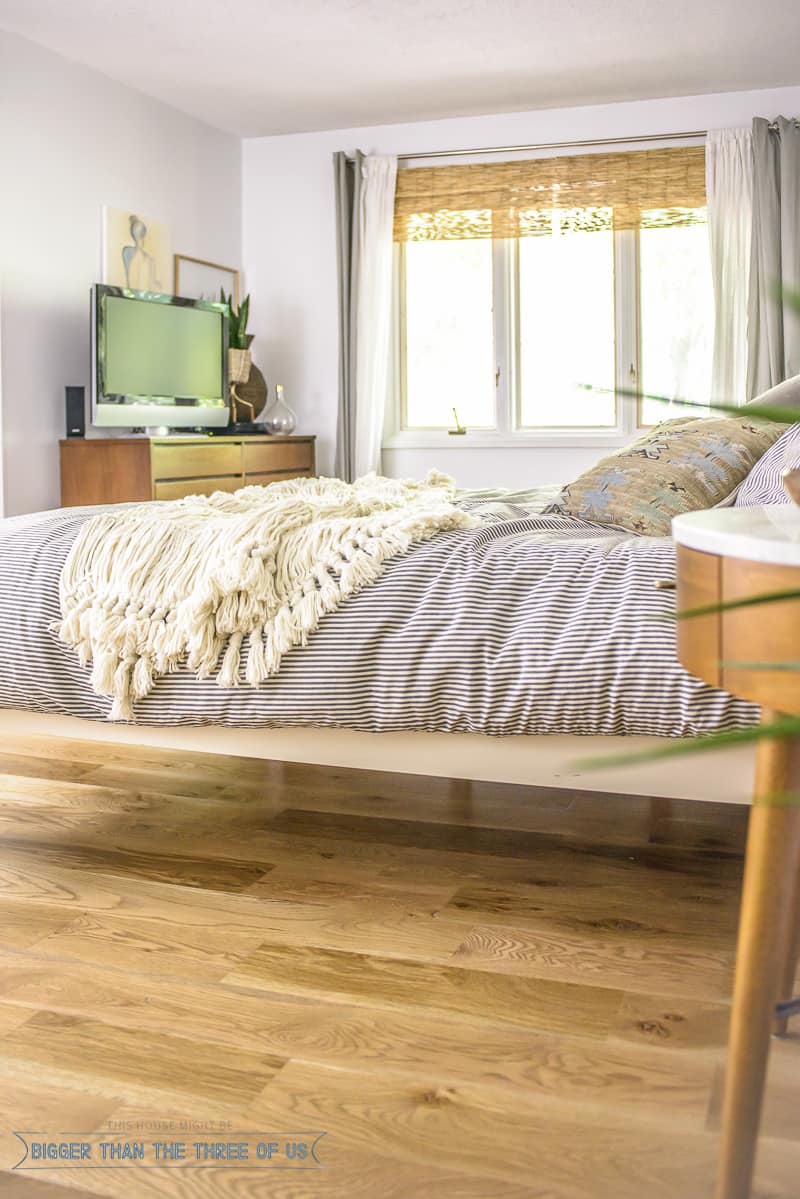 If you'd like to see where we ended up on reveal date, you can see the master bedroom here.
Since then, I've done a post about adding layers in the master bedroom but I'm not entirely certain that I'm sticking with those either. So, let's just say the master bedroom is under construction.
Now, that I've written a book, let's actually get down to this week's post. Drumroll please...
We are taking on the Formal Dining Room. I had to cross out formal because, although it's meant to be a formal dining room, we don't host formal dinner parties. Let me show you the real before and then I'll chat about where it's been at and where I see it going.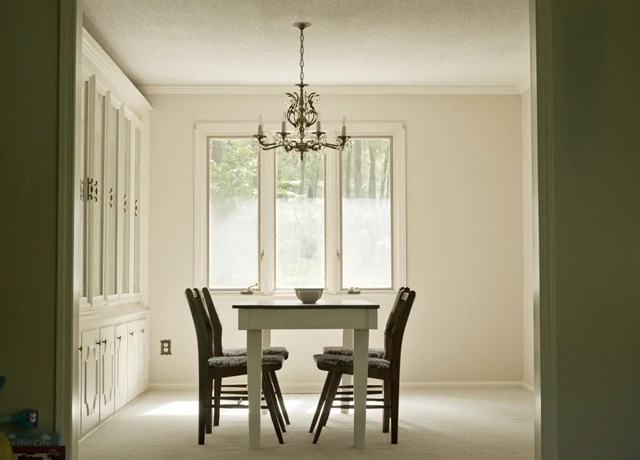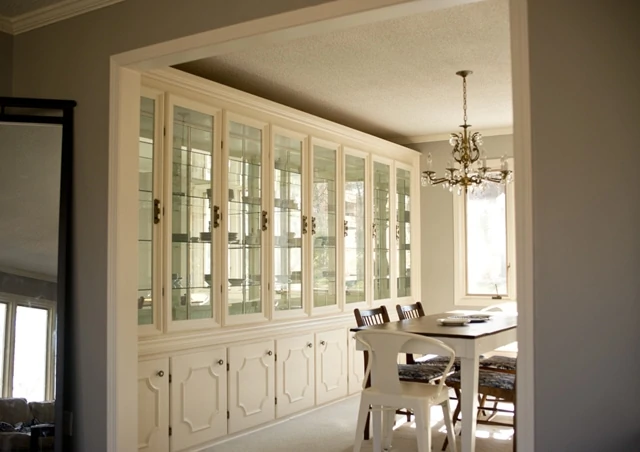 Ok, so those pictures were after we painted the walls gray and thrifted a table and chairs.
Since we lived here, we've done quite a bit to this space.
We've painted the walls, updated the table, reupholstered the chairs, added curtains, bought a buffet off of Craigslist, painted all trim including built-in, added a DIY Ikat Painting, added a rug and spruced up the chandelier.
It's pretty and so very blue,  but I've realized that it's not MY style. It jives together but it's not me.
We've been working on a kitchen renovation for about two years (yes, two years!) and through that, I've finally found my style.
I snagged that picture from my Instagram so, if you'd like to see more recent kitchen updates... head over to IG.
During the kitchen renovation, we took down half of a wall to open the space up to the formal dining room. Wood flooring was installed earlier this year so that the two spaces could be cohesive.
Here's another picture from IG:
So, let's get on to the plan. I haven't actually decided for sure what direction I'm going to go. All I know is that I want it to mimic the feeling of our kitchen/dining room.
I'm thinking I will keep the table but do something to it. I'm not a furniture refinisher so I really have no idea what I'm talking about here but the table color isn't cohesive to the kitchen. I either need to paint it or sand it down and refinish it. Tell me your thoughts on this one! I need all the help I can get.
I think I might try to replace two chairs or just recover the vintage set that I have. It's all about budget on this one.
Rug? Seriously no idea.
Window treatments - I'm losing them. I think I'm going to rock some amazing bare windows. Let that light in and enjoy it.
Are you wondering if there's anything that I do know about? I'm using wallpaper and I'm stoked about it.
I ordered samples of these: Shibori Earth Grey Brick and City Scape in Indigo. Luke and I have never wallpapered. We aren't scared of DIY projects, but would you DIY this or hire it out? I'm on the fence.
Now, that I've talked your ear off.. I'm going to go and start actually working on my space. I'm hoping to have some progress to show you by next week and possibly even a design board!