Have one day in Zion National Park? Make the most of Zion Canyon with these tips!
I'm phrasing this blog past as "One Day in Zion National Park" even though we spent two nights in the Zion area. When you put together everything we did in the national park, it amounted to one full day of activities. I think it will make more sense as I share more about our itinerary for Southern Utah as we go!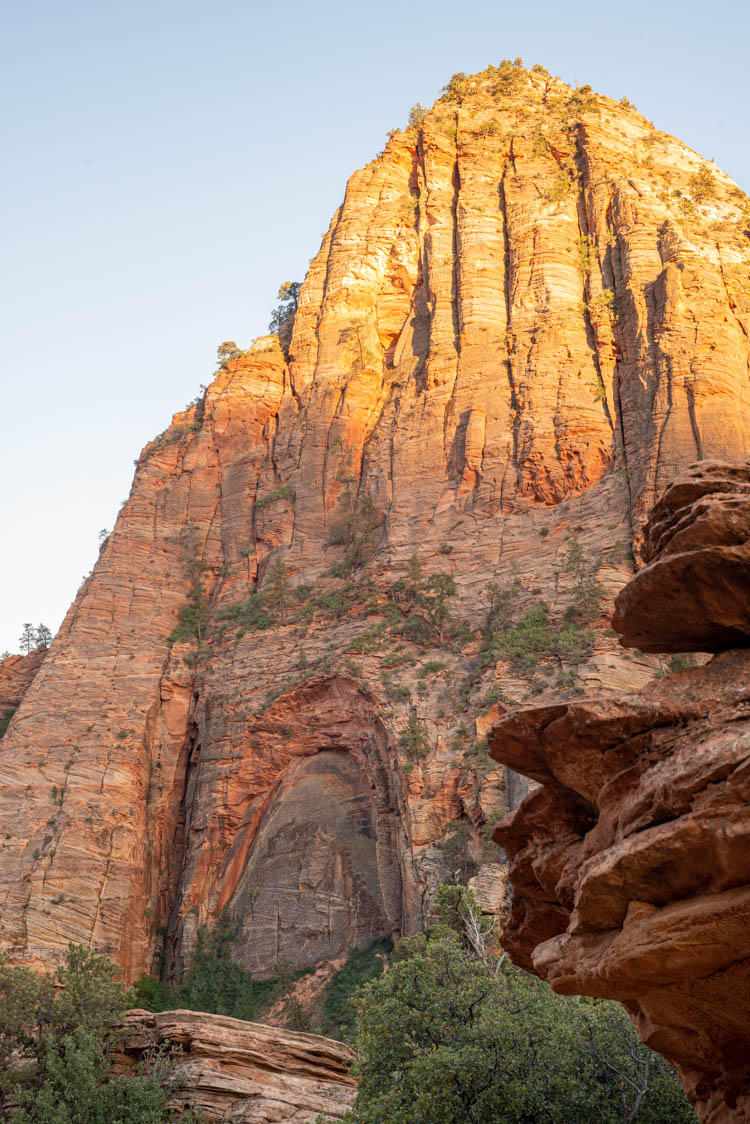 We checked out of our hotel in Bryce Canyon and then went off to explore Bryce Canyon for a late morning / early afternoon. We left Bryce, Utah to drive to Zion after that and got to the Zion late afternoon.
How far is it from Bryce Canyon to Zion National Park?
It's about 75 miles from Bryce Canyon to the east entrance of Zion and takes about an hour and a half.
One thing to make sure to take note of is that the east entrance to Zion has a tunnel and the tunnel closes at 5pm (earlier in the winter). You need to plan to make sure you make it to the tunnel before this time.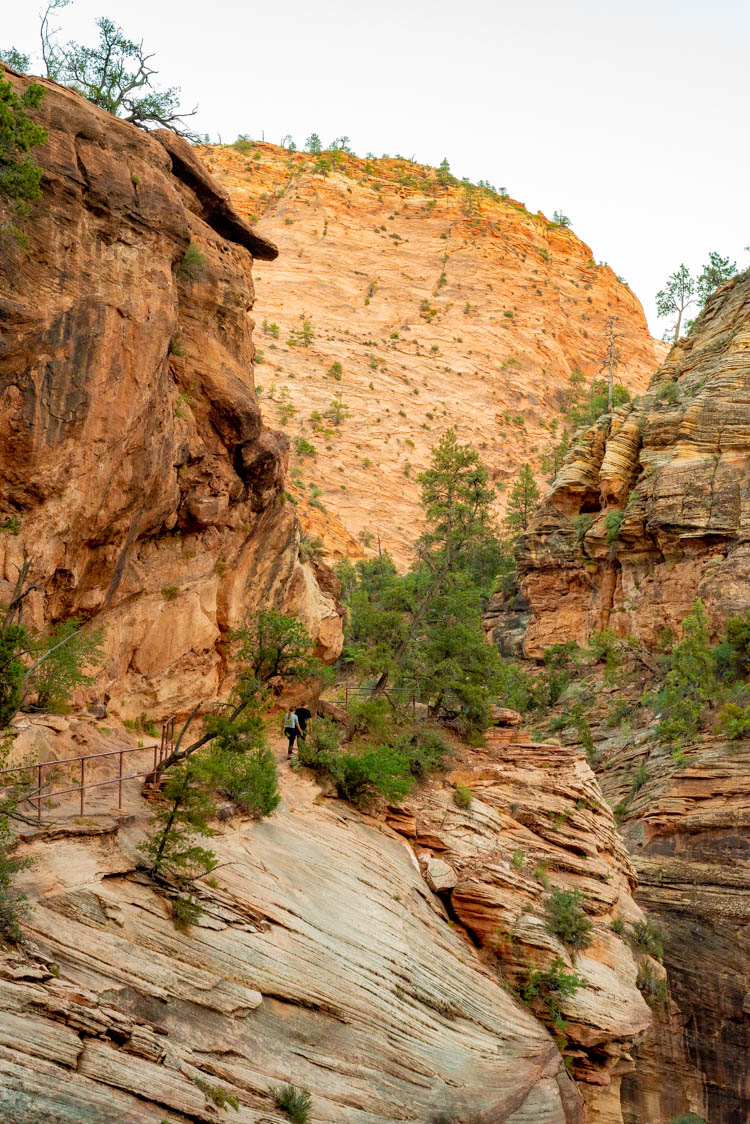 Driving through Zion National Park
We drove through Zion Canyon around 3:30-5pm, following the road through the tunnel and pulling off in a spot or two to gawk at how pretty the canyon area was in Southern Utah.
Where to Stay in Springdale?
Early evening, we got to our hotel, the Desert Pearl Inn. We booked a premium king riverside and the back patio had Adirondack chairs facing a river. The room was large enough to have a kitchen setup with a dining table and a pull-out couch, which was great for the three of us.
It was quiet and just a lovely place to decompress and relax. The pool was great and the location couldn't be beat. It was about five minutes from the park entrance to Zion and a five minute walk to all the food joints.
This was by far our favorite place we stayed at during our two week trip to Utah. We'd definitely recommend it.
Where to eat around Zion National Park?
Oscar's Cafe was hands down amazing. We ordered carryout here two (maybe 3?) times. We are foodies and weren't expecting much but really thought this place was great. We'd recommend the Murder Burger, Tamales and Shrimp Tacos. So good!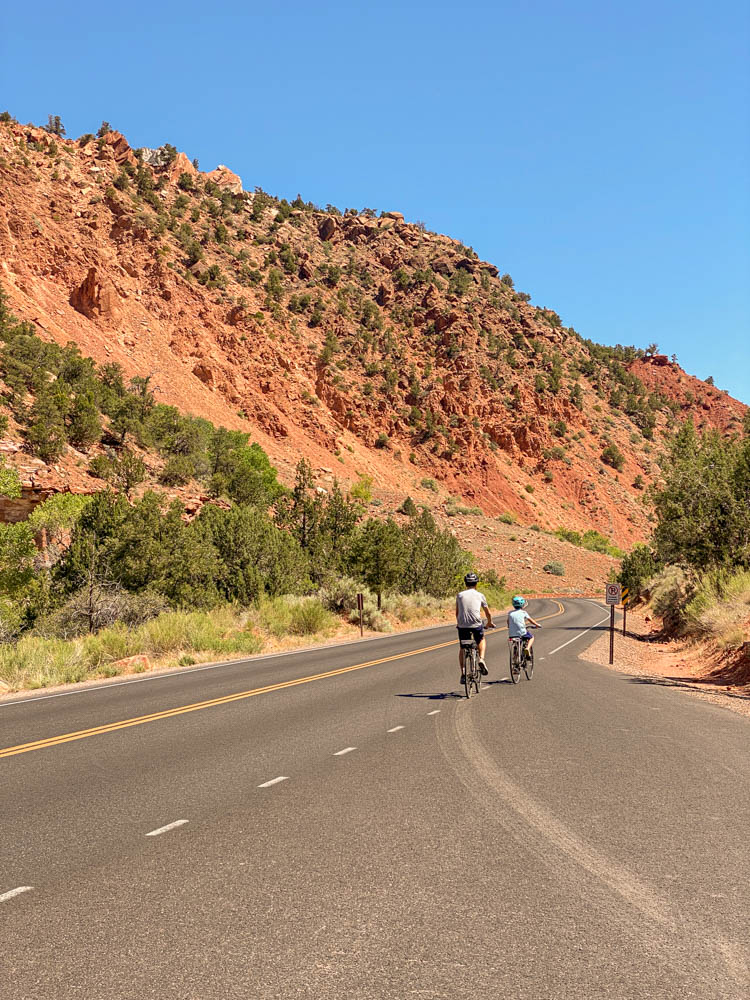 Things to do in Zion
You definitely want to drive through Zion. It's really pretty and enjoyable. Like I mentioned, we did that the first night on our way in.
Canyon Overlook Trail
The second thing I'd recommend is doing the Canyon Overlook Trail hike near sunset. This hike is an out and back trail and is a little over a mile. It would be good to allot 1.5 hours for this trail.
There were a few steep sections on this trail but most of it had some handrails. Still though, hiking shoes are recommended.
The overlook at the end of the trail is truly beautiful. We sat for awhile and just took it in.
Rent Bikes for the Scenic Drive in Zion National Park
The third thing we did in Zion National Park was rent bikes. I'll be honest and say that we made a mistake when we rented bikes for the scenic drive in Zion Canyon. Our son, Greyson, wasn't quite old enough for the motorized bike rentals (or we would have had to talk the outfitters into letting him do them) so we went with his bike and Luke's bike as non-motorized and my bike as a motorized. This is a pretty flat area to ride but it was HOT so wasn't as enjoyable for Greyson to ride for sure.
We were concerned, too, with how busy the drive would be even though it was open only to the shuttle drivers. This area is used to bicyclists and there are lots of people riding so opt in for the motorized bike and go have fun. Take lots of water and snacks and plan on staying out for a few hours.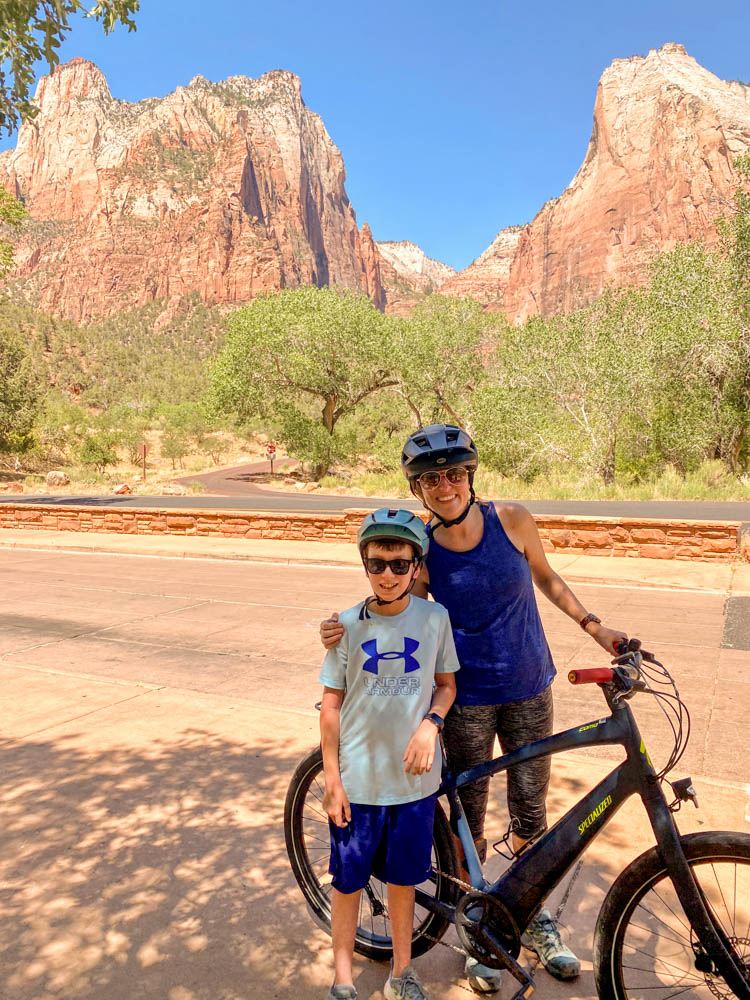 There are so many other hikes to do in Zion but we just didn't have the time. The second day we had available while we were in the area, we chose to rent a 4x4 jeep and explore a waterfall (which was amazing) not in Zion. I'll share that post next!
Eventually, I'd love to go back to Zion and see more. I know Angel's Landing and hiking the Narrows are both really popular but we felt like those weren't great options for us. The Narrows has had a bad bacteria in it for awhile and wasn't recommended for kids because of that. Angel's Landing looks like a fun hike but we aren't too keen on crazy heights so that was out. But, those two are probably the most popular if you are looking for more fun things to do in Zion!
I've been making my way through blogging about our Two Weeks in Utah. Here's a recap if you want to see what we did.
TWO WEEK ITINERARY FOR UTAH
3 Days In Moab (what hikes to do, what we enjoyed and more!)
Leave Moab and drive towards Bryce Canyon
Lower Calf Creek Falls Hike (hike this on the trip from Moab to Bryce)
2 Nights in Bryce Canyon
Kanarra Creek Canyon Trail (most amazing hike we did on the whole trip!)
Leave Bryce Canyon and head to Zion
Zion National Park (today's post)
2 Nights at Zion National Park
Toquerville Falls
Drive to Lake Powell
4 Nights on Lake Powell
Kayaks to explore Antelope Canyon
Rent boat for two days for wake-surfing and tubing
Coral Pink Sand Dunes
Drive home
I'll keep updating our Utah itinerary with blog posts as I write them!