Planning to hike the Kanarraville Falls Utah slot canyon trail? Get details on the Kanarraville Falls permit, what the slot canyon trail entails and more.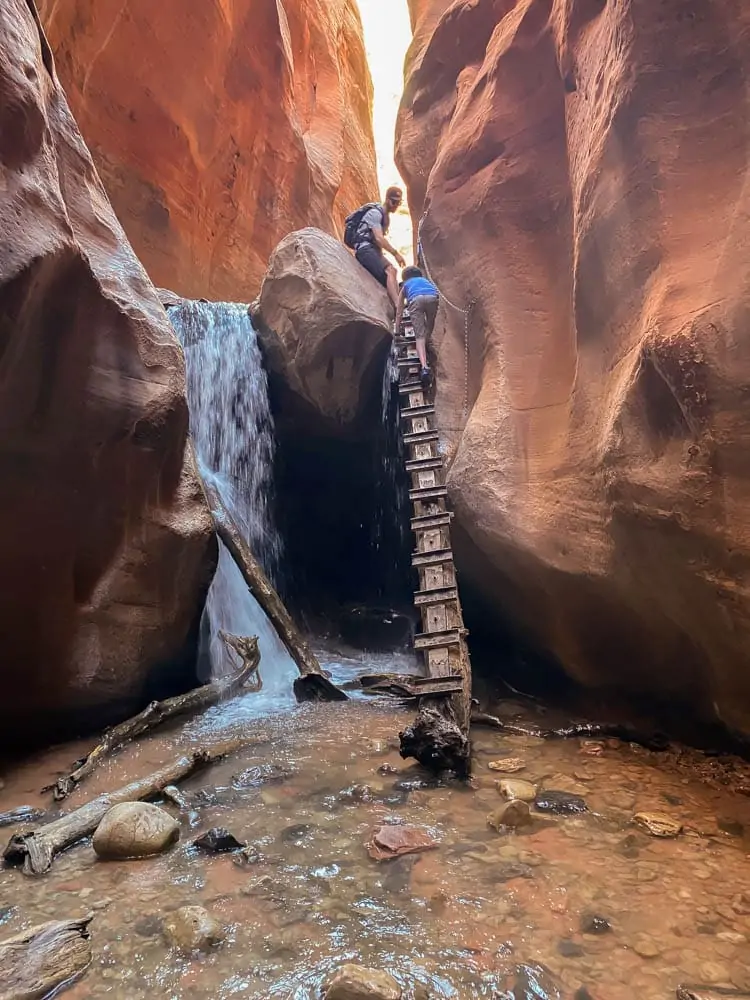 Kanarraville Falls, Utah
After leaving Moab, Utah, we continued our trip towards Bryce Canyon. We stayed in Bryce Canyon for two nights so we could see the area, but also, because it was a short trip to Kanarraville, Utah.
Honestly, we couldn't time it perfectly to stay in Zion and make the trip to Kanarraville. If you can, I would recommend staying in Zion and driving to Kanarraville Falls instead of driving from Bryce to Kanarraville. It's about 45 min longer to drive from Bryce instead of Zion.
I'm a huge planner and had keyed in on the Kanaraville Falls hike as one that we had to do! This is one hike that you really need to plan for, at least a few months out, because of the requirements to get in to Kanarra Falls.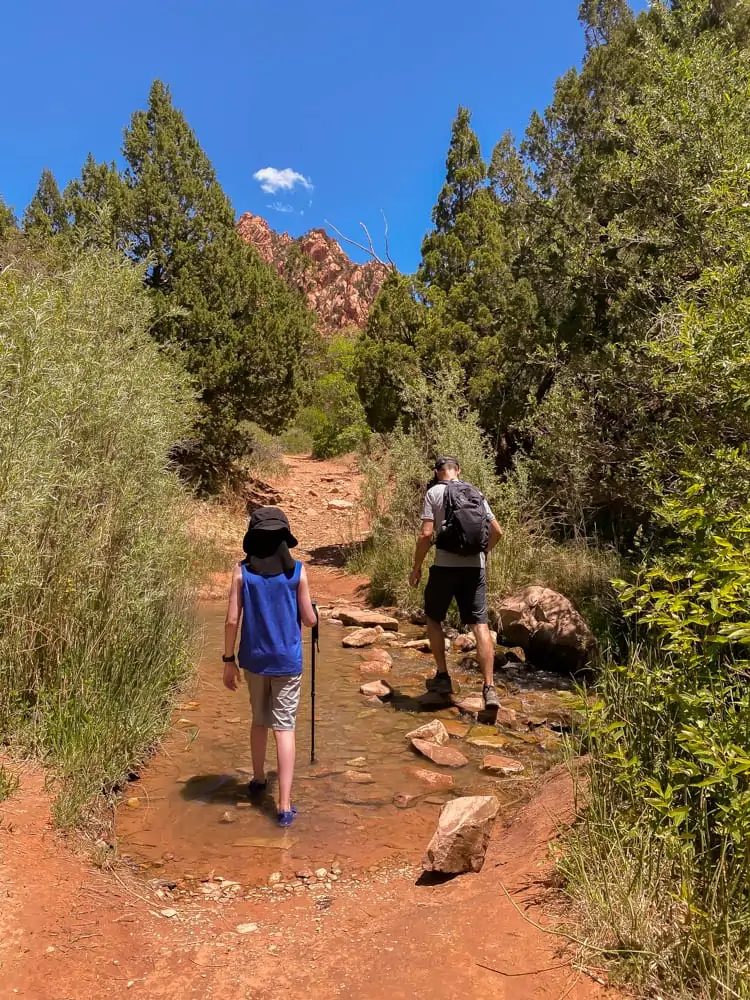 Our Experience with hiking Kanarraville Falls
We started hiking to Kanaraville Falls around 1pm during the first week of June. We arrived at the parking lot just as a bunch of cars were leaving. For us, I think timing the hike as a group of people were finishing was ideal. It was hot because it was during peak sun time but doable with sun hats and lots of water.
That said, Utah heat is serious and can be dangerous. Please make sure you're hiking at a time of day (and season) that is safe. No need to be scared. Just know your limits and respect the weather and terrain.
We parked at the parking lot and used the bathrooms (which, by the way, were very nice). This area of the trail is brand-new.
From there, we headed to the trailhead and showed our permit to the gate attendant.
*All nitty-gritty details for the permit to hike to Kanarra Falls, what you need to know about the ladder at the falls and more, are below. Keep reading for those FAQ's.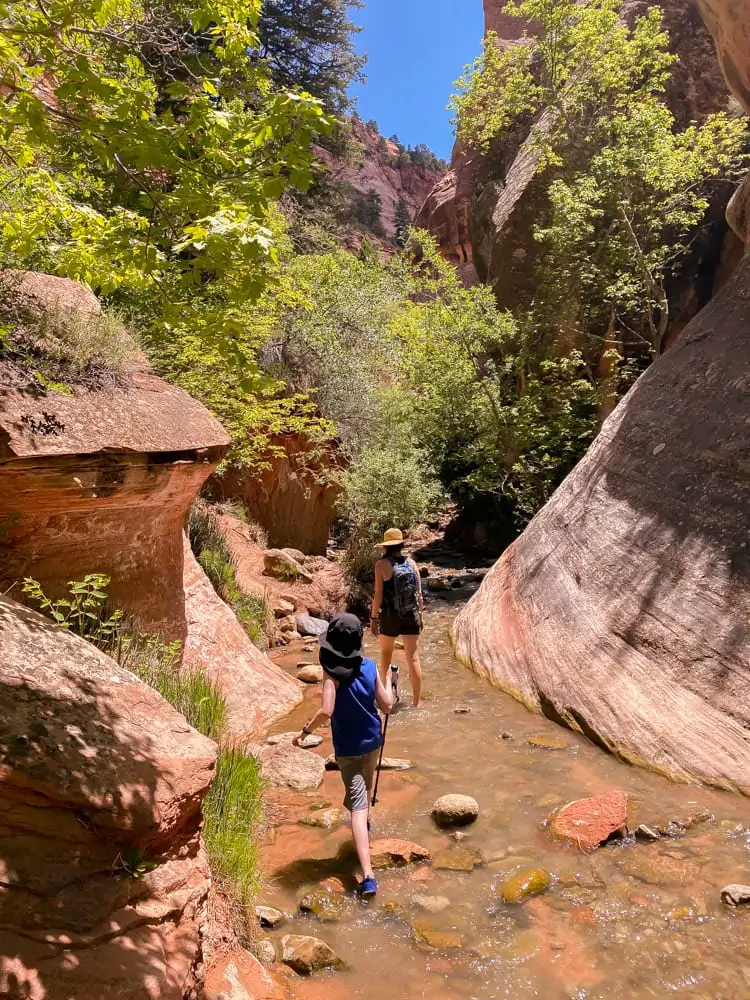 The first one mile of the trail to the slot canyon was definitely the hardest because of the sun and the heat we felt. It wasn't a hard hiking trail, but it was in full sun. Once we got closer to the stream and were in and out of the boulders, it was much nicer.
You continue up and through the water for a bit and then you get to the canyon.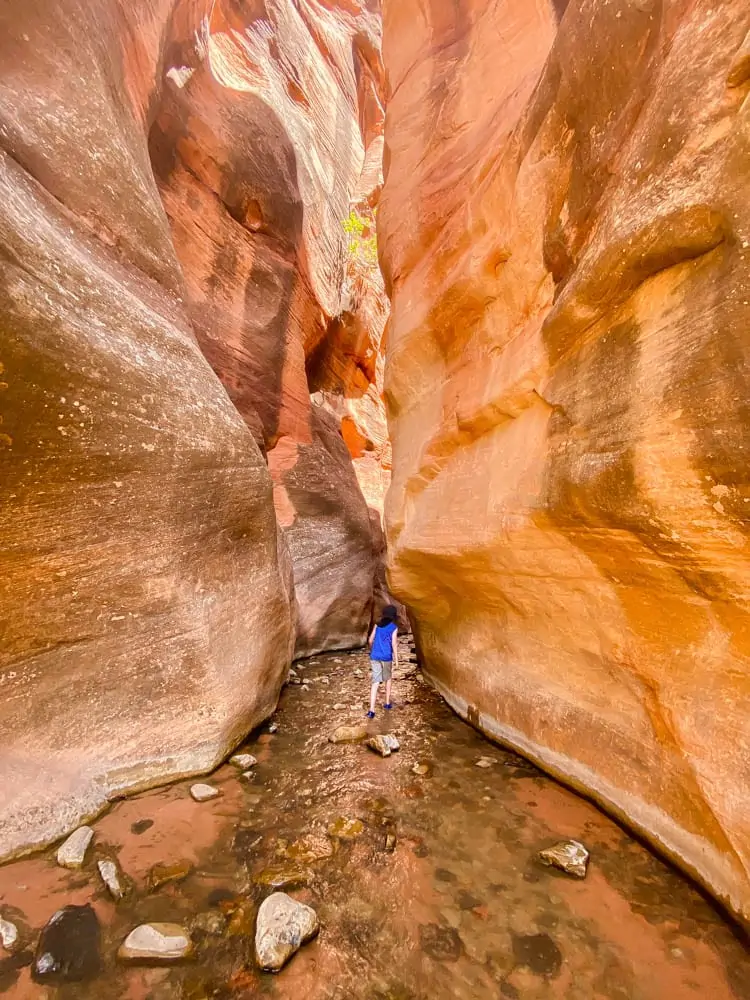 Slot Canyon Trail
Walking into the canyon is just breathtaking. The canyon walls are around you and you are walking through the water over rocks and it's just beautiful.
The water in the canyon when we visited was about ankle height in most areas. As you progress through the canyon towards the first waterfall, it gets a bit deeper but definitely didn't go above our knees.
Water level can change rapidly in the slot canyons though, so you definitely need to do your research and talk to the gate attendant before heading out.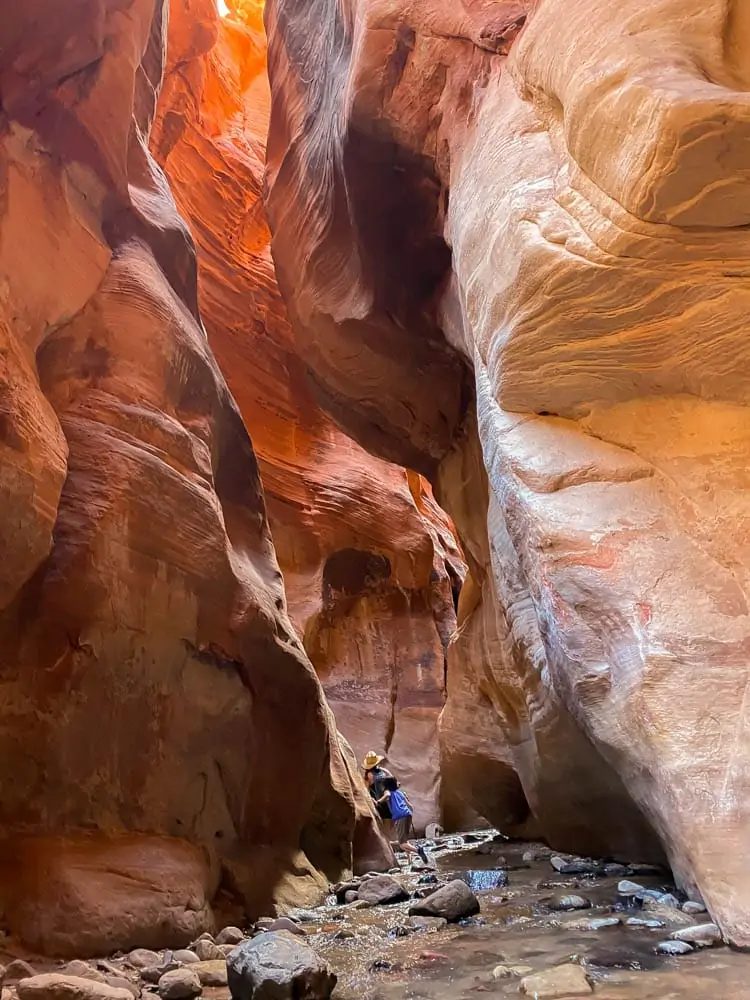 The Ladder at Kanarraville Falls
If you look at photos of the Kanaraville falls hike, you will see a metal ladder that is on the side of a waterfall. In photos, this ladder doesn't seem large, but in reality, it's a pretty big ladder. This was, by far, the hardest part of the hike for us.
The ladder is stable but the rungs tilt to one side and the whole metal ladder is wet. It feels scary to climb up the ladder because your feet don't fit well on each rung.
As someone who "isn't afraid of heights" this was daunting. I was definitely nervous going up but we all dreaded going back down.
We had our son, who was eleven with us, and I would say that kiddos much younger than him should probably not be taken on this hike past the ladder.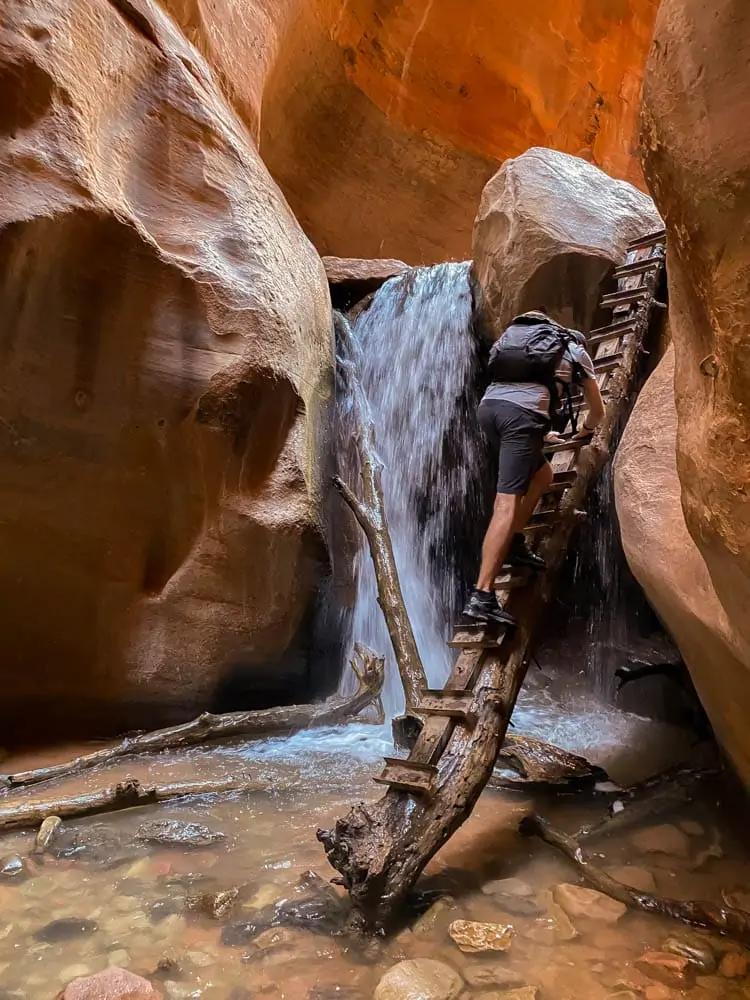 Once you get past the ladder, there is another bouldering section that has rope that you have to climb up and over on. There's a big step to get up on to the wet boulder but, after that, it's pretty easy.
About five more minutes walking on the trail, the canyon opens and it's just magical.
In the above image, the higher waterfall has a natural water slide to the left-side of it and then a pool of water that it empties into. You can also sit underneath the higher waterfall back in a crevice.
Kanarraville Falls Water Slide
When we got to the falls, we wouldn't have known where the water slide was. The water slide just looks like slick rocks. We were lucky in the fact that there was another family that was just finishing up in the area and were sliding a few more times before they left.
Adults and kids can both do the water slide. Tips for the water slide though are to plan on hitting the bottom of the pool when you land - it's not very deep. As a full-grown adult, you want to do a combination of bending your knees and trying to plop into the water graciously but also put your feet down as you go. Otherwise, you'll plop right down on the bottom of the pool (which I did and it was ok but I would have preferred to do what Luke did each time and put my feet down).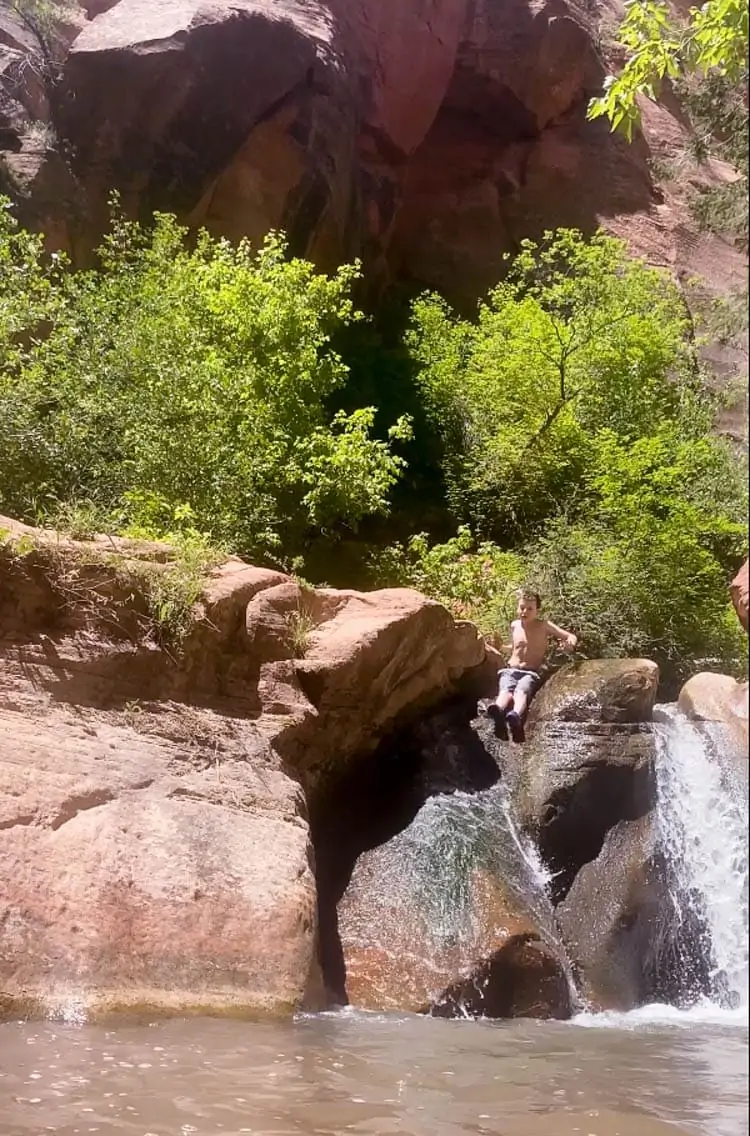 Lots of fun was had on the Kanarraville Falls water slide. It's just such a cool feature that just happens out in nature.
We stayed at the water slide area for probably two hours and played. One other couple came through and decided to trudge on to find the next waterfall but since the trail isn't as maintained and we were so happy with our location, we just stayed to enjoy where we were.
What you need to know about Kanarra Falls
I don't want you to be intimidated by this waterfall hike in Utah. The trail is clearly marked in most areas and with a bit of planning you will have a magical afternoon.
Do you need a permit to hike Kanarra Falls?
Yes, you need a permit to hike the Kanarville Falls Slot Canyon Trail. The Kanarraville Falls permit costs $12 per person and is non-refundable. The permit allows 150 people per day to hike this trail.
You'll want to plan as far in advance as possible to get your tickets to hike to these waterfalls in Utah. I purchased our tickets in March and we hiked the trail the first week of June.
How long is the Kanarraville Falls Utah Hike?
Hiking to all of the waterfalls on this hike is about 6 miles roundtrip. You can stop at around two miles though (that's what we did) and still see two of the waterfalls.
Past the two mile marker, the trail isn't maintained and might require more specialized gear.
For planning purposes, I'd plan on four miles round-trip if you want to experience everything we experienced.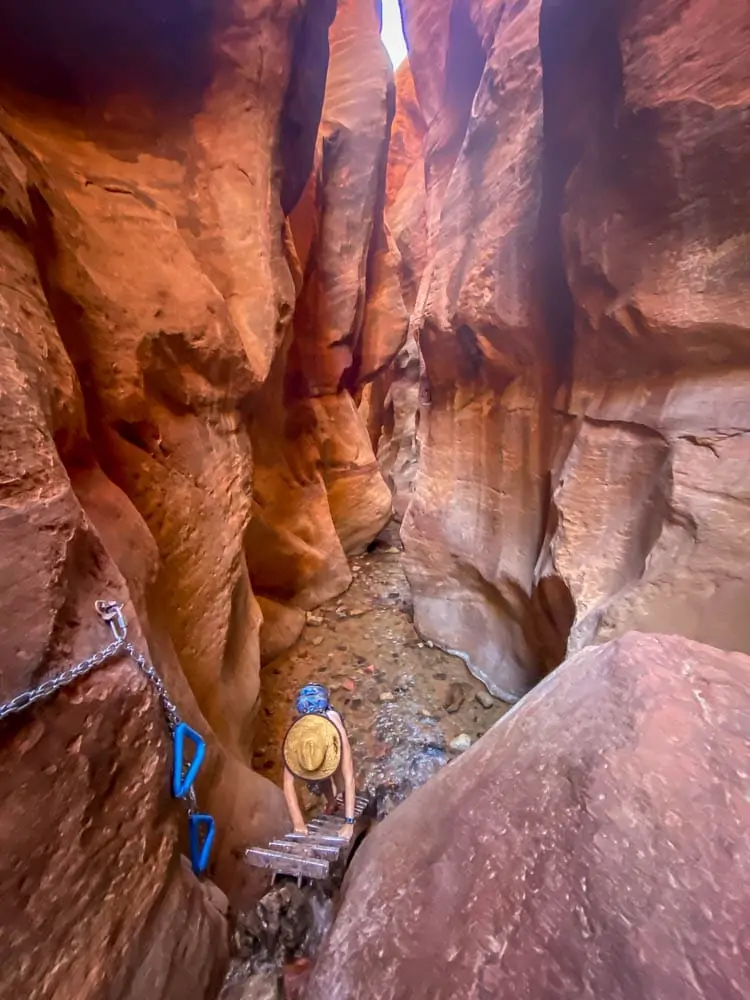 How difficult is Kanarra Falls hike?
I would say that the trail for 90% of the hike to Kanarra Fall is easy. There are two areas to get down to water crossings where you have to shimmy down boulders. For those with back problems or younger kiddos, this would be a problem.
My favorite hiking trail in Utah was this hike, the Kanaraville Falls hike. I knew we would enjoy the this slot canyon in Utah but I didn't know we'd think it was magical.
If you want more information, we loved having the All Trails maps of all of our hikes downloaded before we went.
Two Week Itinerary for Utah
I've been making my way through blogging about our Two Weeks in Utah. Here's a recap if you want to see what we did.
3 Days In Moab (what hikes to do, what we enjoyed and more!)
Leave Moab and drive towards Bryce Canyon
Lower Calf Creek Falls Hike (hike this on the trip from Moab to Bryce)
Kanarra Creek Canyon Trail (today's post)
Leave Bryce Canyon and head to Zion
2 Nights at Zion National Park
Toquerville Falls
Drive to Lake Powell
4 Nights on Lake Powell
Kayaks to explore Antelope Canyon
Rent boat for two days for surfing and tubing
Coral Pink Sand Dunes
Drive home
I'll keep updating our Utah itinerary with blog posts as I write them!