If you have only one day in Bryce Canyon, make sure to check out the Queens Garden Trail and the Navajo Loop Trail. There are lots of other things to do near Bryce though, so definitely take a look at some of the hikes outside the park if you have more time.
Our destination after leaving Moab was Bryce Canyon. At this part of our trip, I had planned a few slot canyon hikes because they looked like awesome things to do near Bryce Canyon, but for actual hikes within the park, I hadn't done my research on which Bryce Canyon hikes to try.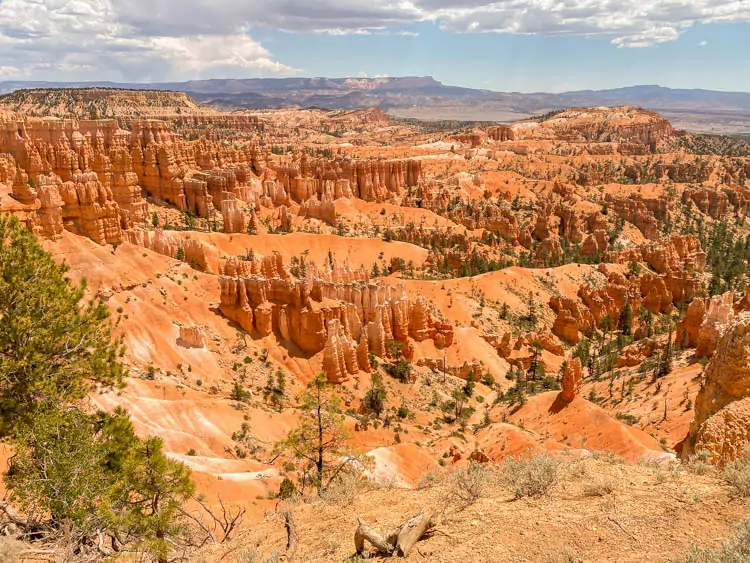 Our Trip in Southwestern Utah
We stayed two nights in Bryce Canyon for this part of our two weeks in Utah. On the drive in from Moab, we hiked the Lower Calf Creek Falls (which was awesome). We got into Bryce around 8pm and were very surprised at how small the town (this is being generous by labeling it a town) was.
We stayed in one of the only hotels around Bryce Canyon, The Best Western Plus Bryce Canyon. We went for the king suite with sofa bed and kitchen and it was a great fit for that area.
There were about two restaurants in Bryce and a few about ten miles away. We hadn't eaten dinner but didn't see any options for anything fast, so we ate out of the hotel mini bar selection from the front desk area. It was *quaint* to say the least. I definitely didn't realize how small of an area we were in.
Where is Bryce Canyon?
Bryce Canyon is in Southwestern Utah. From Zion National Park to Bryce Canyon, it's about an hour and a half.
From Bryce Canyon, to get to any decent-size town (from our experience), you'll travel about an hour.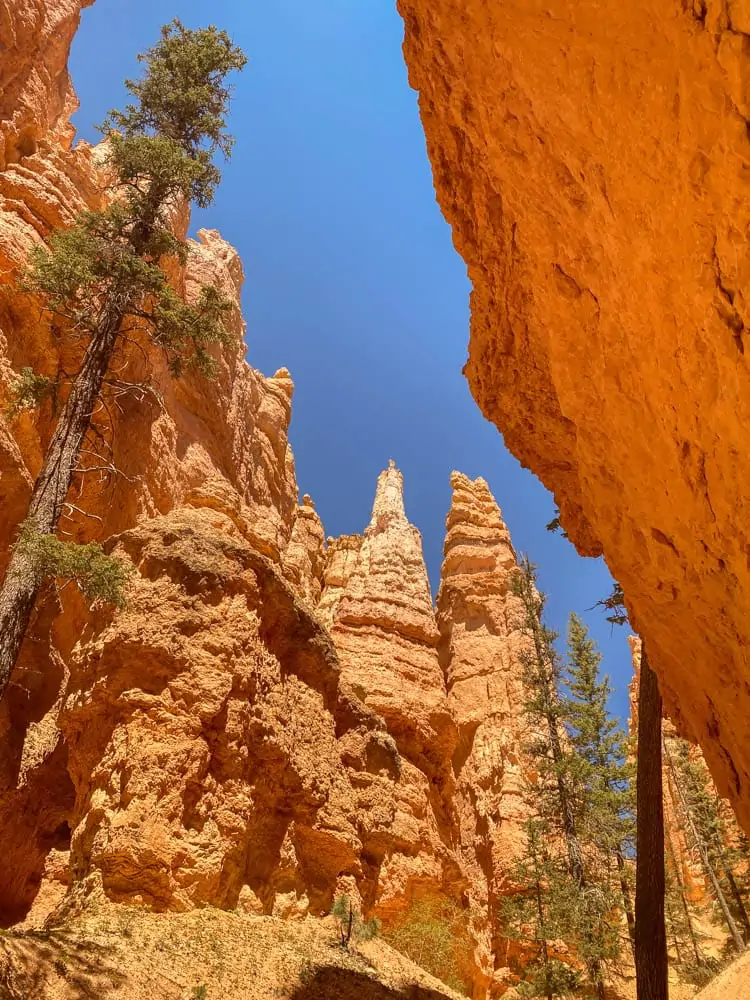 Bryce Canyon Elevation
The elevation in Bryce Canyon goes up to around 9100 feet. If you are driving in early one morning, hiking and then driving out, you might want to be aware of the possibility of altitude sickness.
From traveling in the past, we've found that acclimating to different altitudes by staying the night at a little less high altitude really lessens the chance of getting altitude sickness.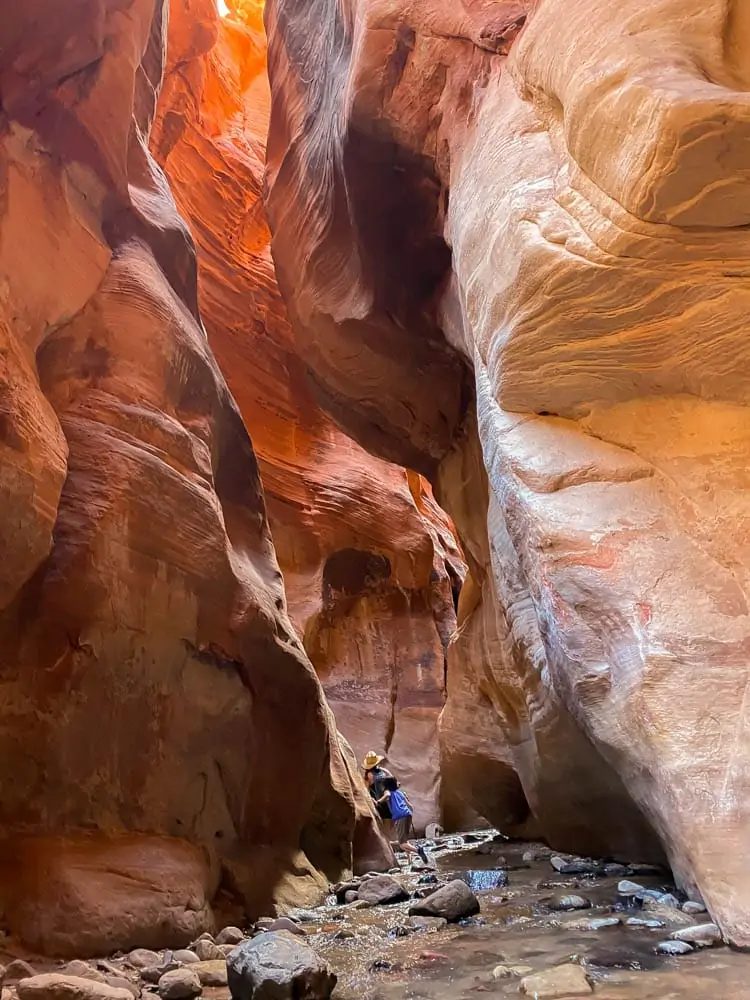 Things To Do Near Bryce Canyon
Like I mentioned earlier, we hiked the Lower Calf Creek Falls on the way to Bryce. I'd recommend this trail for sure and you could use Bryce as a home base to drive to hike this while you were in the area.
After our first night in Bryce, we hiked Kanarra Falls. There are other slot canyons around Bryce that I would have loved to hike, but we didn't have the time.
I will say that Bryce Canyon is pretty remote so you are going to have an hour and a half drive to almost any of the hikes that aren't in Bryce Canyon. You could use a home base somewhere else if it worked out better for your trip, but the two hikes should be on your list for things to do near Bryce Canyon.
If you have more time, I'd highly recommend you looking into the Peek-A-Boo Slot Canyon hike and the Zebra Slot Canyon hike in Escalante. We didn't have time to do either of those hikes, but they are definitely hikes that I want to do sometime in my life. They look absolutely amazing!
For our whole two weeks in Utah (see full itinerary at the end of this post), we prioritized hikes that were in and around water. So, that left us with only one day in Bryce Canyon to explore.
One Day In Bryce Canyon
We got into the park around 10 am after we loaded up the car because we were headed to Zion National Park after exploring Bryce Canyon.
There were two hikes that we were planning on doing in Bryce Canyon: Queens Garden and Navajo Loop Trail.
I'll be honest and say that starting a hike after 10am in June is NOT the best time to visit Bryce Canyon. It was very hot and made most of our time in Bryce not super enjoyable.
I do want to share more about what we did and our experience but keep in mind, if it's super hot... you'll be in full sun and there's no relief from that.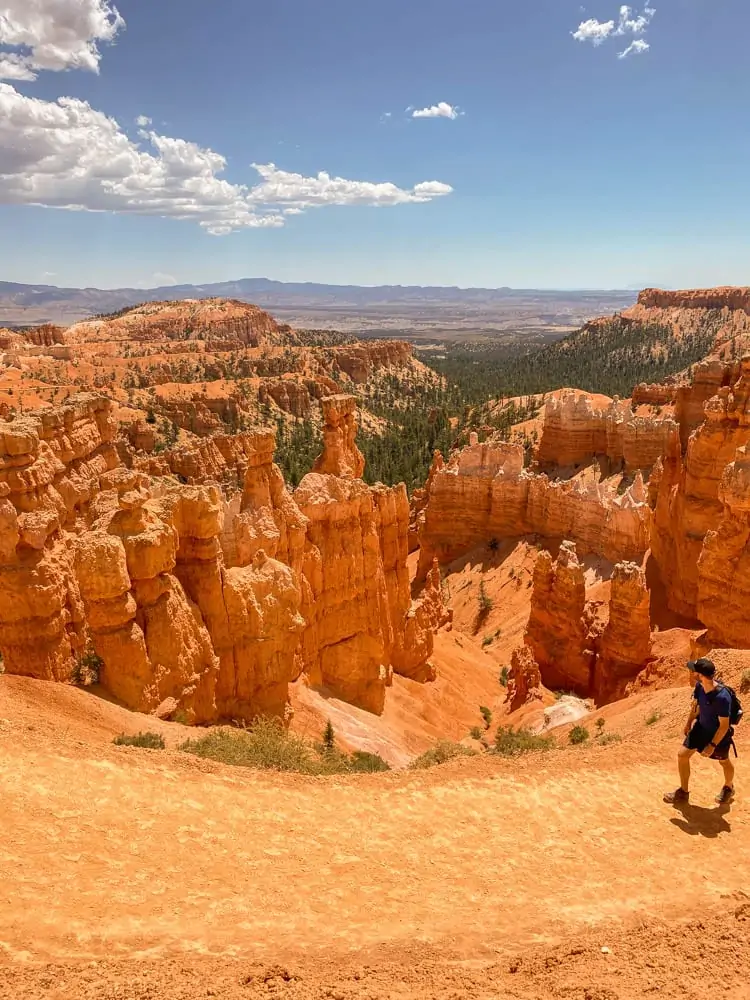 Queens Garden Trail
The Queens Garden Trail is just under 1 mile on it's own. It makes the most sense to combine this trail with the Navajo Loop Trail though. By combining Queens Garden and Navajo loop, you will be clocking just under 3 miles of hiking.
For both trails, the hike is a walking path that is clearly defined. Both trails are very popular, so you will definitely be sharing the trail with others.
During the hike, you'll see beautiful hoodoos, walk under a rock arch, see Thor's hammer and do an intense climb in the switchback area (if you start the hike off by doing Queen's Garden first) of the Navajo loop.
In our opinion, the prettiest part of the hike was the switchbacks. If you don't have the time to hike or don't want to, you can get some of these views at Sunset Point.
Sunset Point in Bryce Canyon
If you park at Sunset Point in Bryce Canyon and hike down the trailhead to Navajo Loop Trail to the switchbacks (around a ½ mile or so?), you will have seen the prettiest part of the longer hike that I shared above. This area is really gorgeous and you shouldn't miss it.
If you do this suggestion, then I'd also park at Sunrise Point and walk a ½ mile or so and see part of the Queens Garden hike because it is a bit different. Honestly, this suggestion (for hot or cold weather) will show you the best of both hikes in a much shorter timeframe.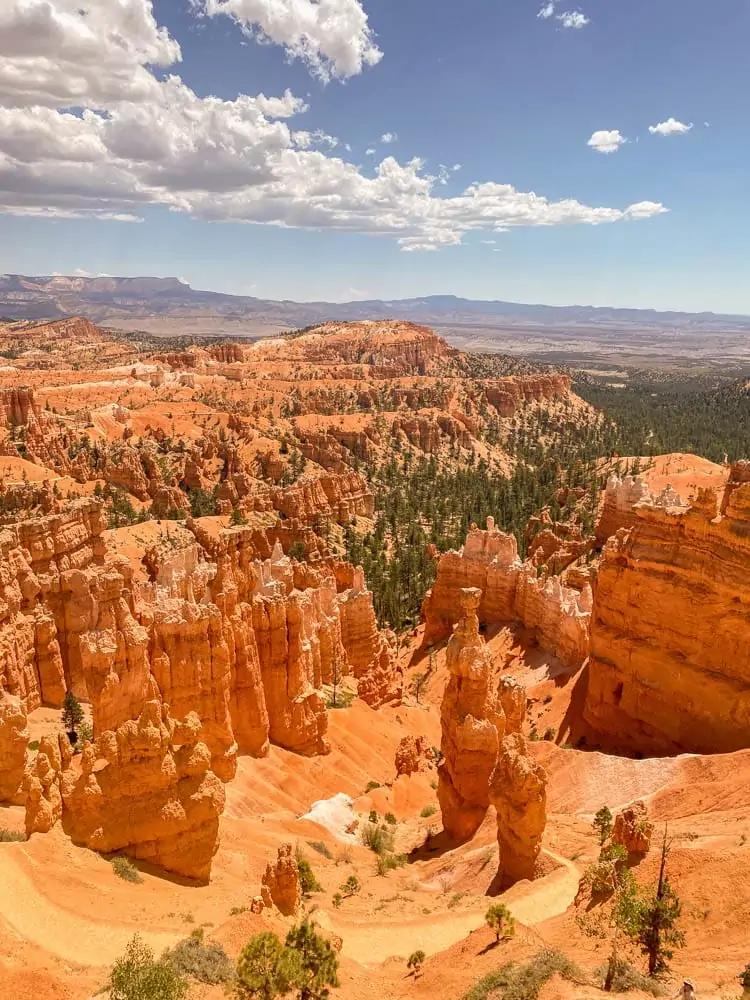 I hope this was helpful for you! We aren't in love with hiking if it doesn't involve getting to swim at the end of a hike so Bryce Canyon wasn't our favorite stop. That being said, there were beautiful points on the trails so don't let my reviews skew you if you love to hike just for the fun of it.
I'm still working my way through our Utah trip. Find links to what I've shared so far, below.
Two Week Itinerary for Utah
I've been making my way through blogging about our Two Weeks in Utah. Here's a recap if you want to see what we did.
3 Days In Moab (what hikes to do, what we enjoyed and more!)
Leave Moab and drive towards Bryce Canyon
Lower Calf Creek Falls Hike (hike this on the trip from Moab to Bryce)
2 Nights in Bryce Canyon
Bryce Canyon National Park (today's post)
Leave Bryce Canyon and head to Zion
2 Nights at Zion National Park 
Toquerville Falls
Drive to Lake Powell
4 Nights on Lake Powell
Rent boat for two days for wake-surfing and tubing
Coral Pink Sand Dunes
Drive home
I'll keep updating our Utah itinerary with blog posts as I write them!