Details on Kayaking to Lake Powell Antelope Canyon without a tour! We recommend this trip and share helpful tips for making it a great day for your family!
I've seen so many gorgeous photos of the slot canyon that is Antelope Canyon. It is located on Lake Powell by Page, Arizona. When we were planning our Utah trip, I knew that I wanted to explore Antelope Canyon but it took a bit of research to decide whether we should explore the upper canyon or lower canyon.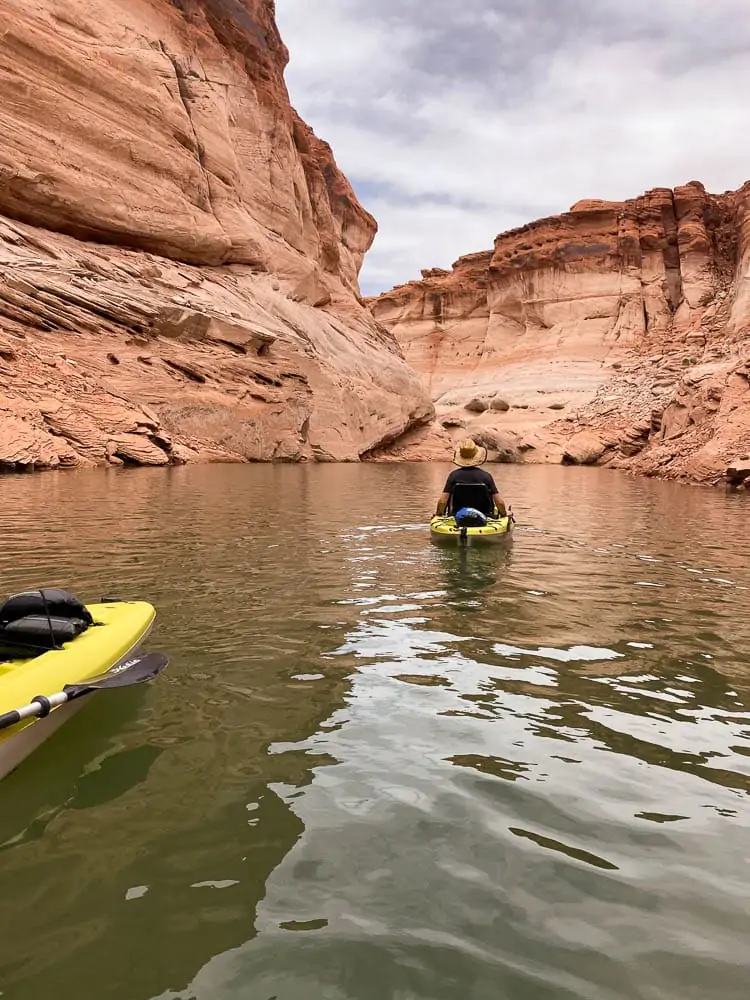 Kayaking to Lake Powell Antelope Canyon without a Tour
There were some restrictions on the upper canyon when we were exploring trip options so I focused my energy on looking at renting a boat or renting kayaks on Lake Powell. After some deliberation, I decided that we should kayak Lake Powell to the mouth of Antelope Canyon and then set off and explore however far we wanted.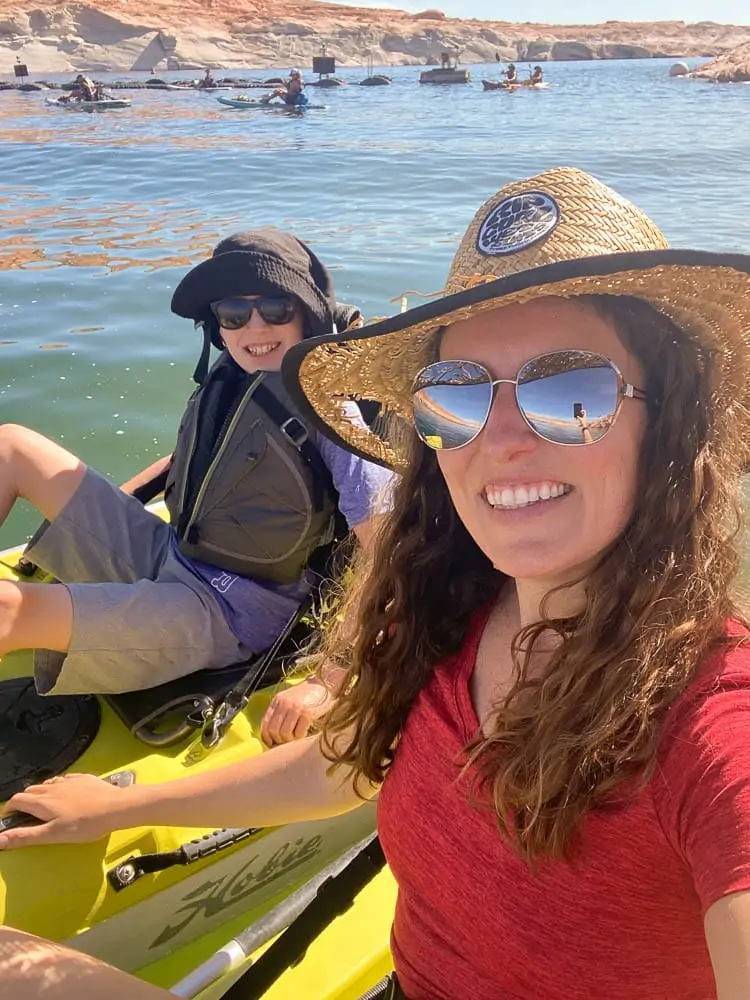 Renting Kayaks at Lake Powell through the week (not on a weekend!)
Because Lake Powell can get busy and a big part of the kayak trip would be through a wake zone, we decided to schedule our kayak rentals through the week instead of trying to explore Lake Powell on kayaks over a weekend. We made our kayak rental for 8am on a Monday morning during the first week of June. I would HIGHLY recommend planning the same way because I think this helped us all feel much more comfortable on the main part of the lake in our kayaks with minimal boats around!
There's a few options for where to rent your kayaks to explore the slot canyon, but ultimately I chose Paddle Lake Powell because they had kayaks that had foot pedals which I thought some of our group might need. We had a lovely experience with this company. They meet you at the Antelope Launch Ramp and quickly explain how the kayaks work and get you going.
I'm very happy we decided to go with Paddle Lake Powell because the full seat backs and the pedals on the kayaks made a world of difference, especially when we were all tired getting back to the launch ramp at the end of the day.
I didn't notice before but you can rent double kayaks with them, too. We were fine all having single kayaks but that could be helpful if you are traveling with slightly younger kids.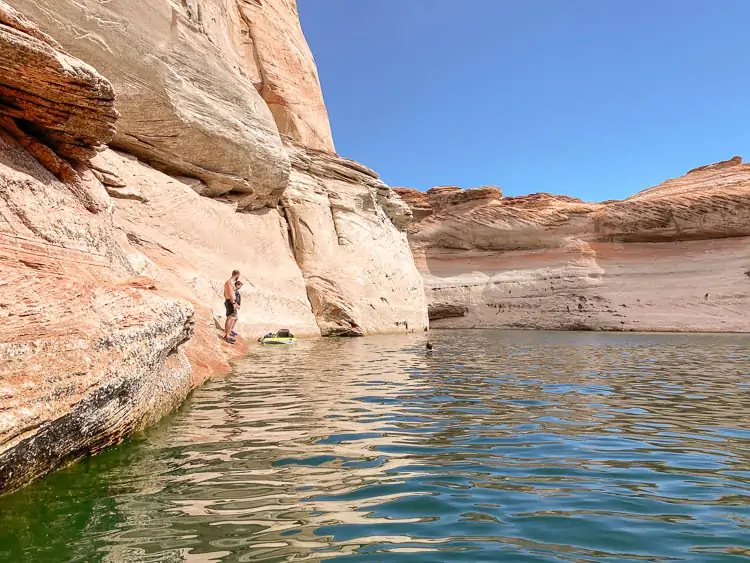 There were four adults and my son, who was 11 at the time, that were going to kayak to Antelope Canyon. I would say that anyone in good physical health could do the paddle and hike. It was strenuous paddling back to the Lake Powell Marina but you could definitely go at your own pace and take breaks (there are lots of spots to jump and swim once you turn towards the channel to get to Antelope Canyon).
I had read some blog posts on what people thought of their Antelope canyon kayak trip and, honestly, some of them made me feel like it was going to be a super strenuous and slightly scary endeavor. I think there's a few planning tips that can make it go smoothly.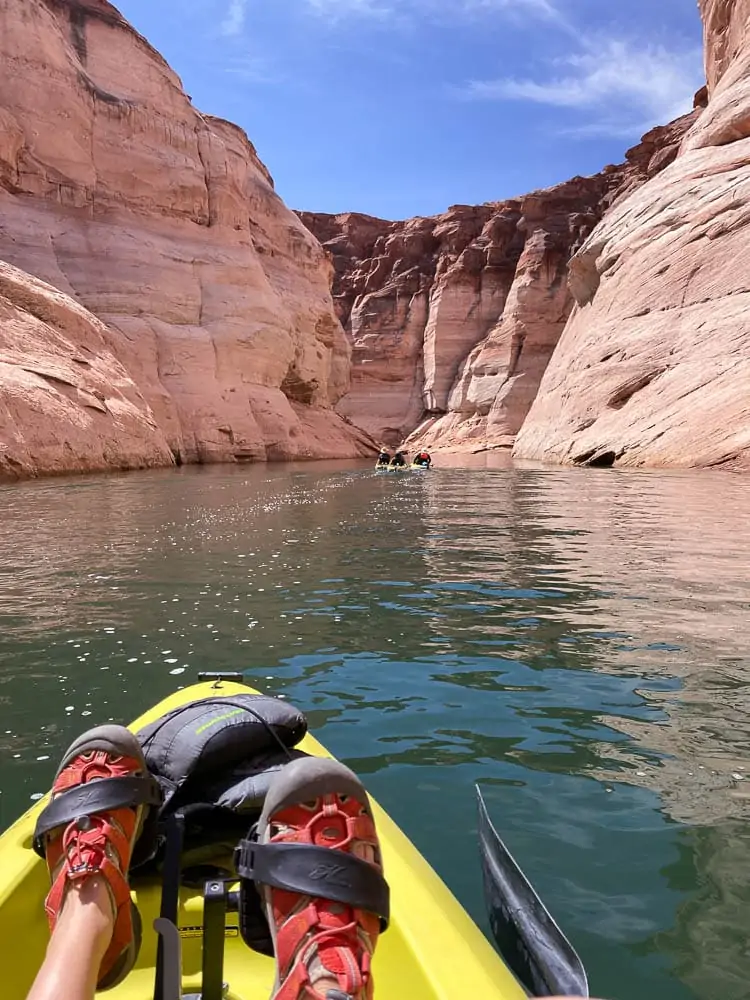 Tips for Kayaking Lake Powell To Antelope Canyon
Tip 1: Rent a kayak for Lake Powell through the week and launch your kayak as early as you can!
Tip 2: Pack lots of water and snacks!
Tip 3: You can always rent a jet ski instead if you are worried paddling the kayak will be too intense.
Tip 4: Take breaks to jump and swim. This will be a full day adventure, so let loose and explore when you see something.
Tip 5: Plan on two to three hours of exploring once you reach the canyon. Take water with you and be prepared to boulder a bit.
Hiking Lower Antelope Canyon
There are signs on the water that guide you to the canyon. You'll know you've reached it because the water ends and the walls of the canyon close in. When we were there, there were probably twenty other kayaks already there and a few jet skis. You park your watercraft on the sand and then hike in.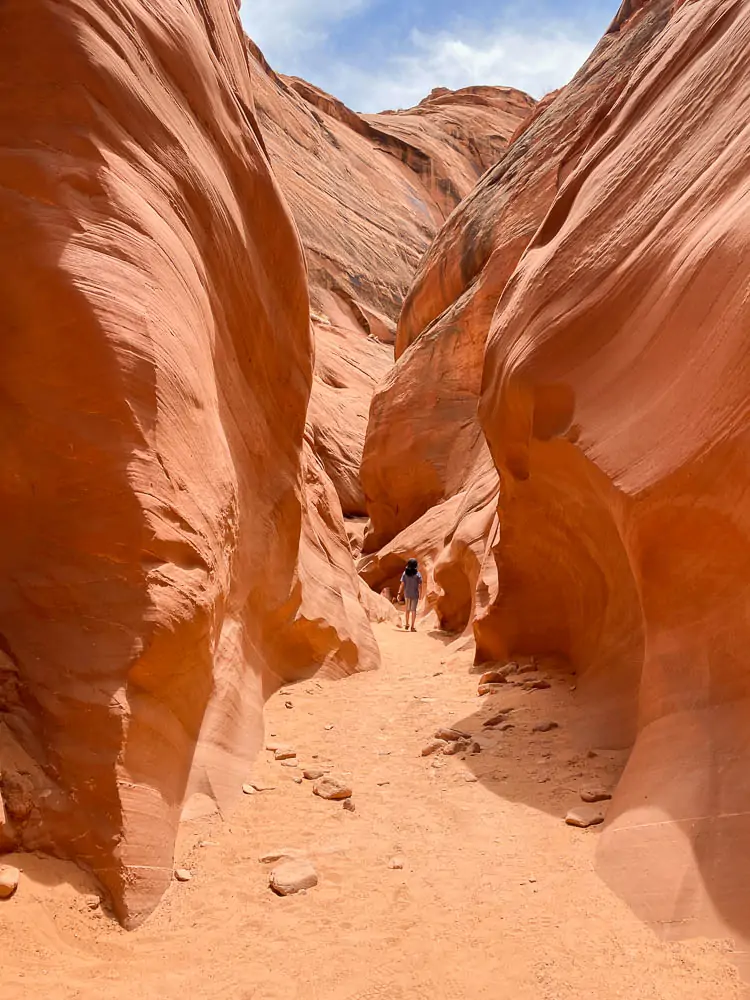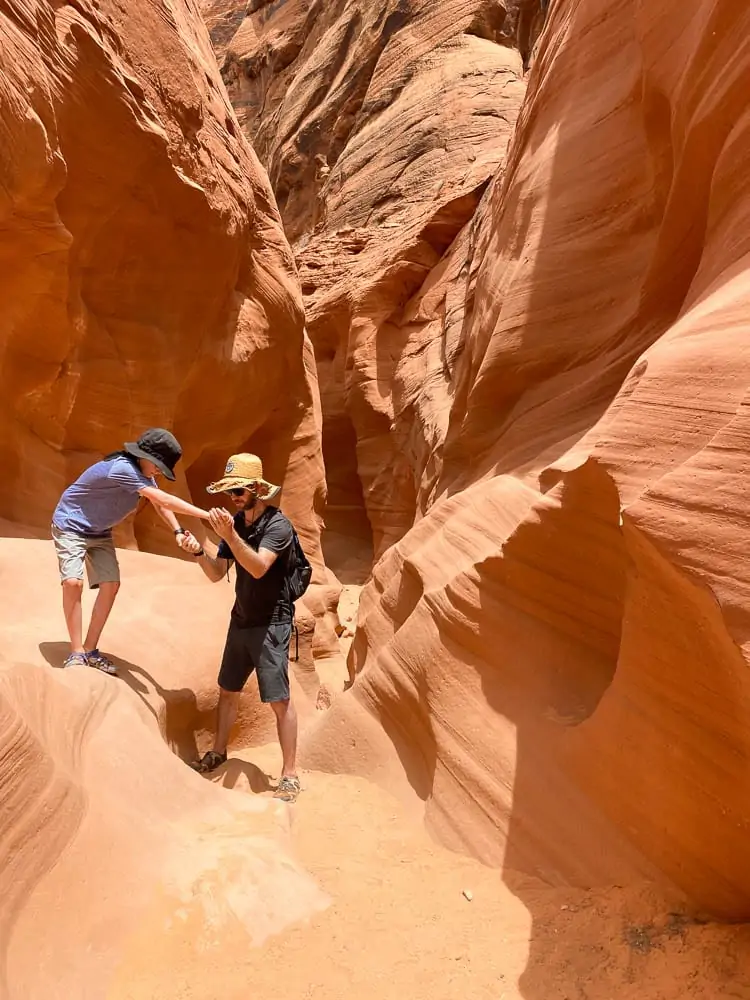 Pictures don't do the canyon justice. It was gorgeous. Hot, but gorgeous. Don't forget to wear sunscreen, use protective headgear and bring lots of water.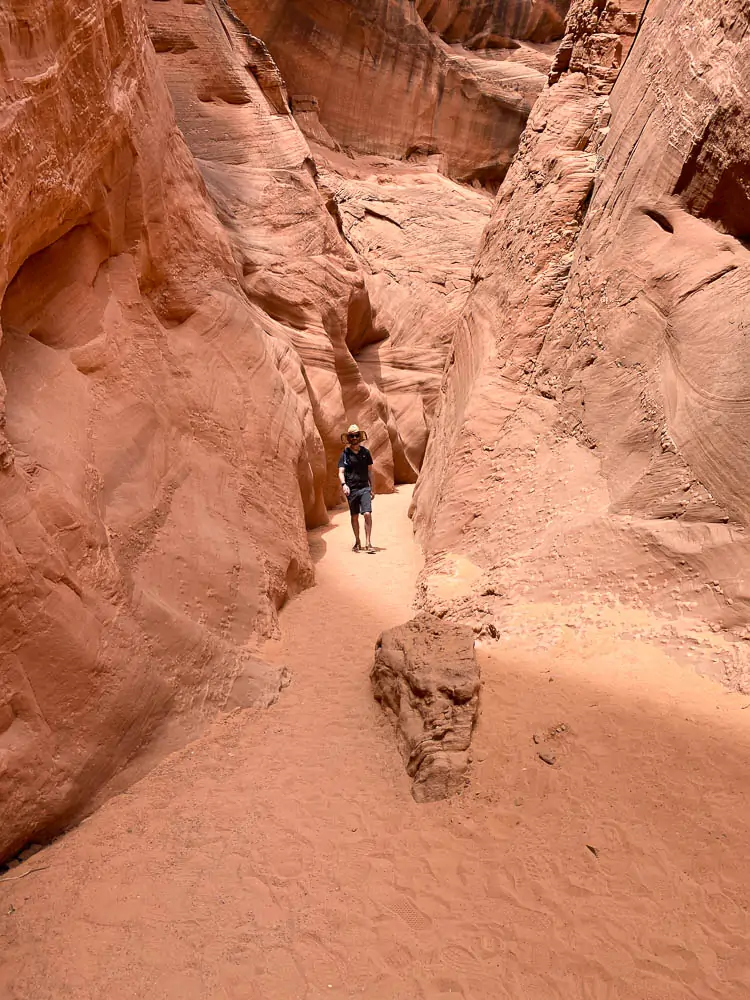 There are a few parts of the slot canyon that were tricky to navigate because they were tight to get through. You had to boulder a bit and climb up and over to get through. This is all part of the adventure but do know going in that it's not just a walk through sand to a view.
Overall, we spent about seven hours on this adventure. We were all exhausted when we got to the boat ramp but it was a great time. The paddle back would have been pretty miserable without the foot pedals so I highly recommend renting a kayak with them.
Two Week Itinerary for Utah
I've been making my way through blogging about our Two Weeks in Utah. Here's a recap + blog posts if you want to see what we did. 
3 Days In Moab (what hikes to do, what we enjoyed and more!)
Leave Moab and drive towards Bryce Canyon
Lower Calf Creek Falls Hike (hike this on the trip from Moab to Bryce)
Leave Bryce Canyon and head to Zion
2 Nights at Zion National Park
Toquerville Falls
Drive to Lake Powell
4 Nights on Lake Powell
Kayaking to Lake Powell Antelope Canyon (today's post)
Rent boat for two days for surfing and tubing
Coral Pink Sand Dunes
Drive home
I'll keep updating our Utah itinerary with blog posts as I write them!