What things to in Moab including Moab hikes, Arches National Park, downtown Moab and more!
We spent three days in Moab in May and had a great time. I thought it'd be fun to share what we did, what we loved and what was on our list that we wanted to do but didn't quite get to.
First off, if you are driving from Denver to Moab, there are so many things you can do and see. We chose to stay in Denver one night to be able to white water raft in Empire, Colorado. We used Downstream Adventures and would recommend them. We were back on the road, driving towards Utah, after rafting. We stayed one more night, in Grand Junction Colorado, before getting off on our Utah adventure.
One thing that I'd highly recommend, when driving from Denver to Moab, is to time your trip so you take in the scenic route to Moab while it's light out. If you can't time this right, it's ok and you can backtrack on your trip as the scenic route to Moab could be driven a different day (just account for three hours drive time to go out/back).
What to do for 3 Days In Moab, Utah
Drive Scenic Route to Moab
The scenic route to Moab follows highway 128 and adds about thirty minutes to your trip. Honestly, I think the views would be absolutely amazing if you went at sunrise but we got there around 11am and it was still very pretty. There are multiple spots to stop, hike around and take in the sights. I think we pulled off twice but enjoyed the drive the whole time.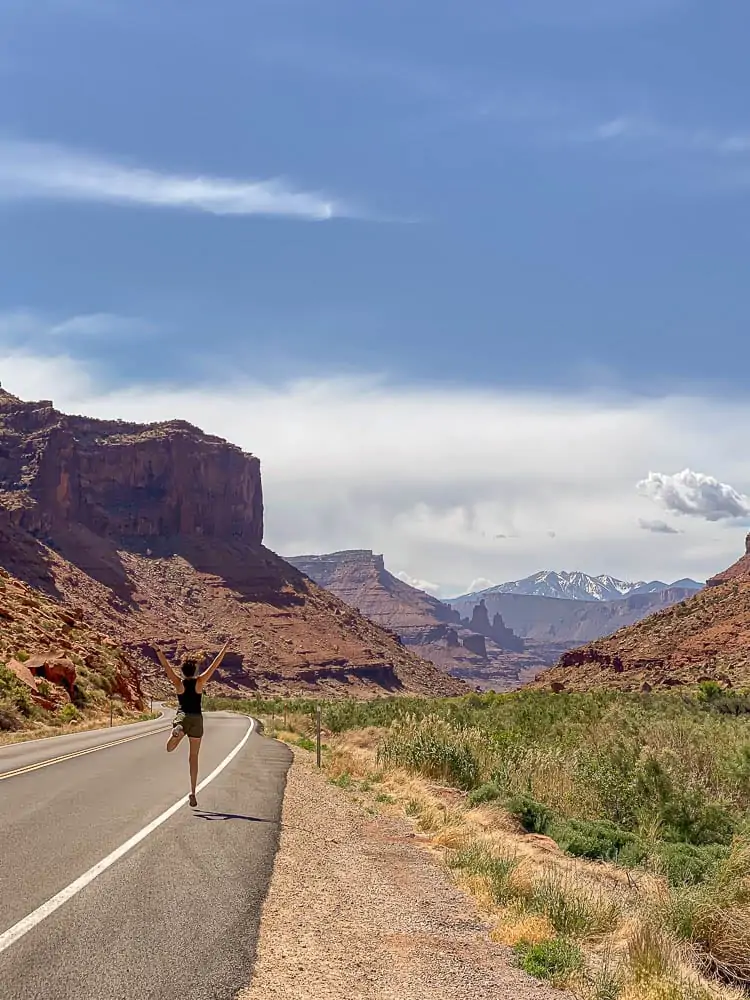 Mill Creek Moab Hike
I did a whole blog post on hiking and swimming the Mill Creek Trail in Moab. Definitely check that out, especially if you find waterfalls and hiking in and around water pretty. We LOVED spending the day on the Mill Creek trail hike.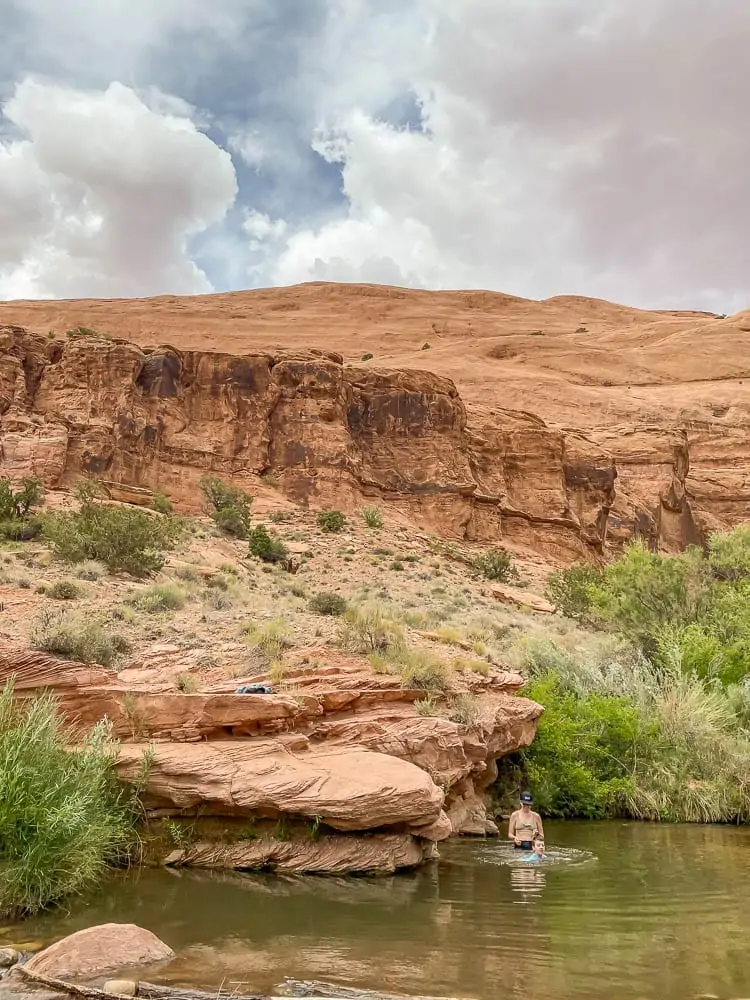 Dinosaur Tracks and Petroglyphs in Utah
One morning, we were looking for something to do and happened onto the idea of checking out some dinosaur tracks and petroglyphs. If you go down State Highway 279 towards Potash road, just outside of Moab, you'll see petroglyphs on the cliffside with car pull-offs just after them. If you go about five minutes past these, you'll come to Poison Spider trailhead. You can park here and do a ten minute trail to see more petroglyphs and dinosaur tracks. We spent about an hour on this adventure (all-in, with drive time) and thought it was fun for what it was.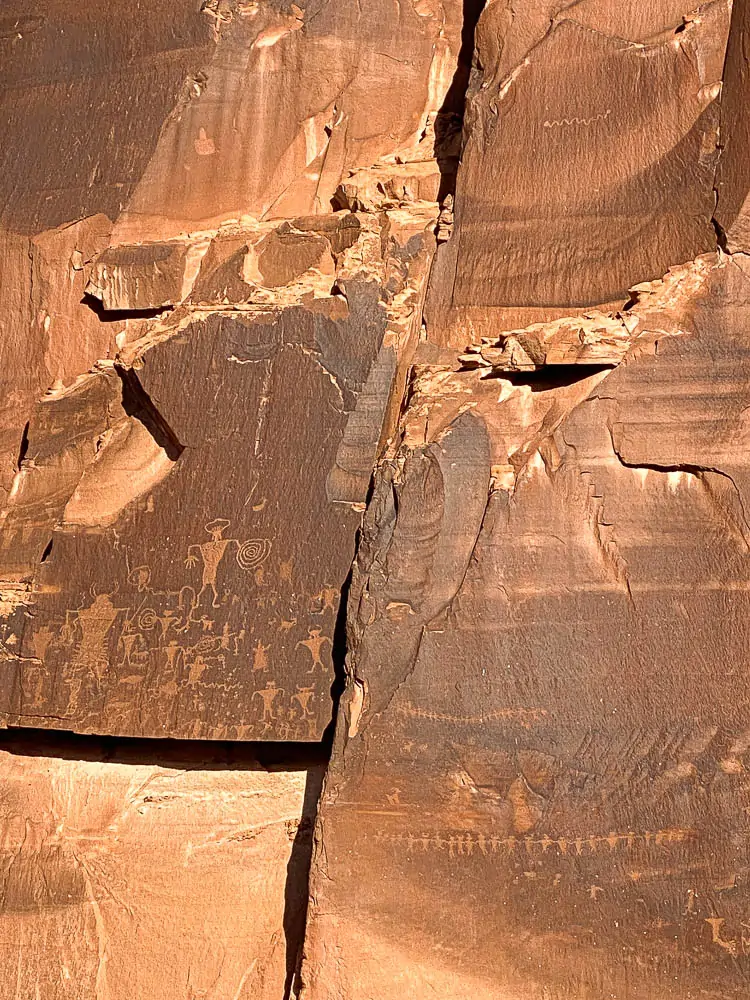 Here's a blog post to reference, if you want more details on Potash Petroglyphs and Dinosaur tracks.
Visit Arches National Park in Moab
Arches National Park was absolutely breathtaking. I did a big blog post on what hikes we did, what fitness level you need to be at and what else to do in the park (stargazing is a must!). Definitely check out the blog post for a deep dive on all things Arches!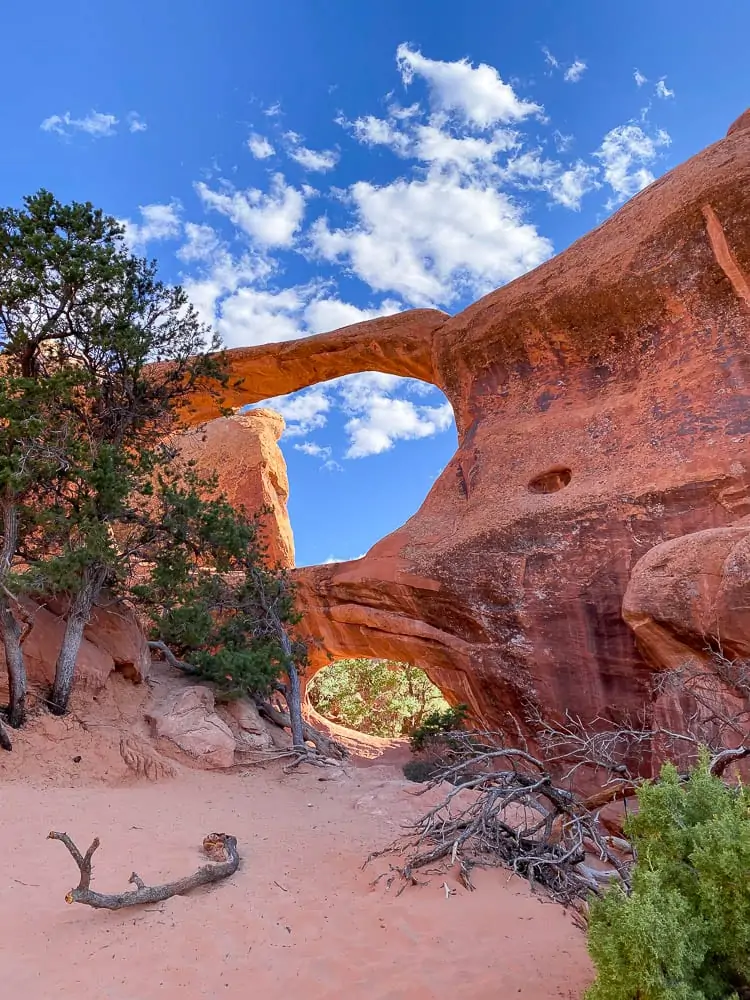 Go off-roading with a Jeep Rental in Moab
The last day in Moab, we were honestly exchausted from multiple hikes and were looking for something that would require less stamina. We decided to rent a jeep (we rented from Twisted Jeeps and it was a good experience) and try out Onion Creek and Hurrah Pass trails.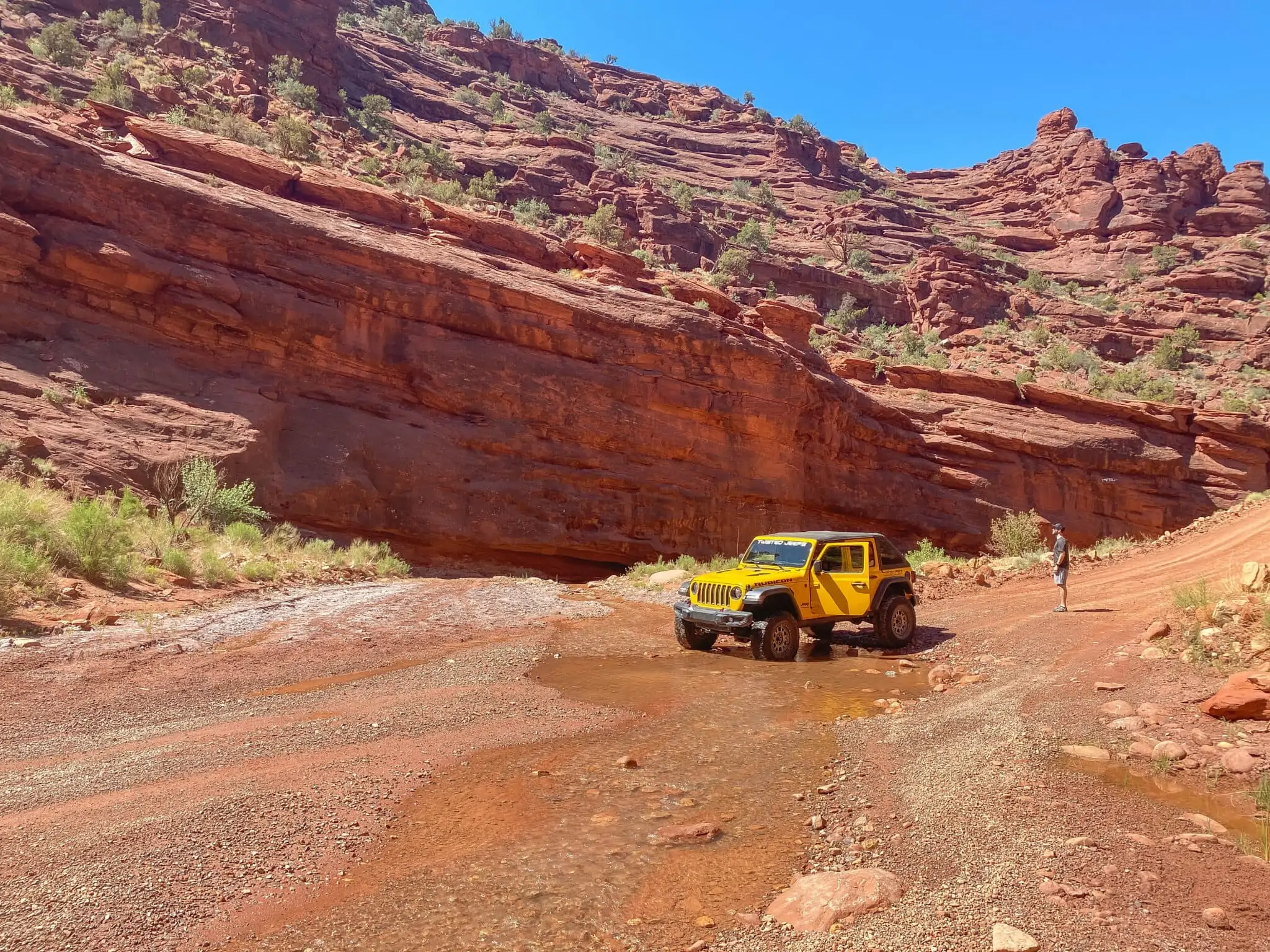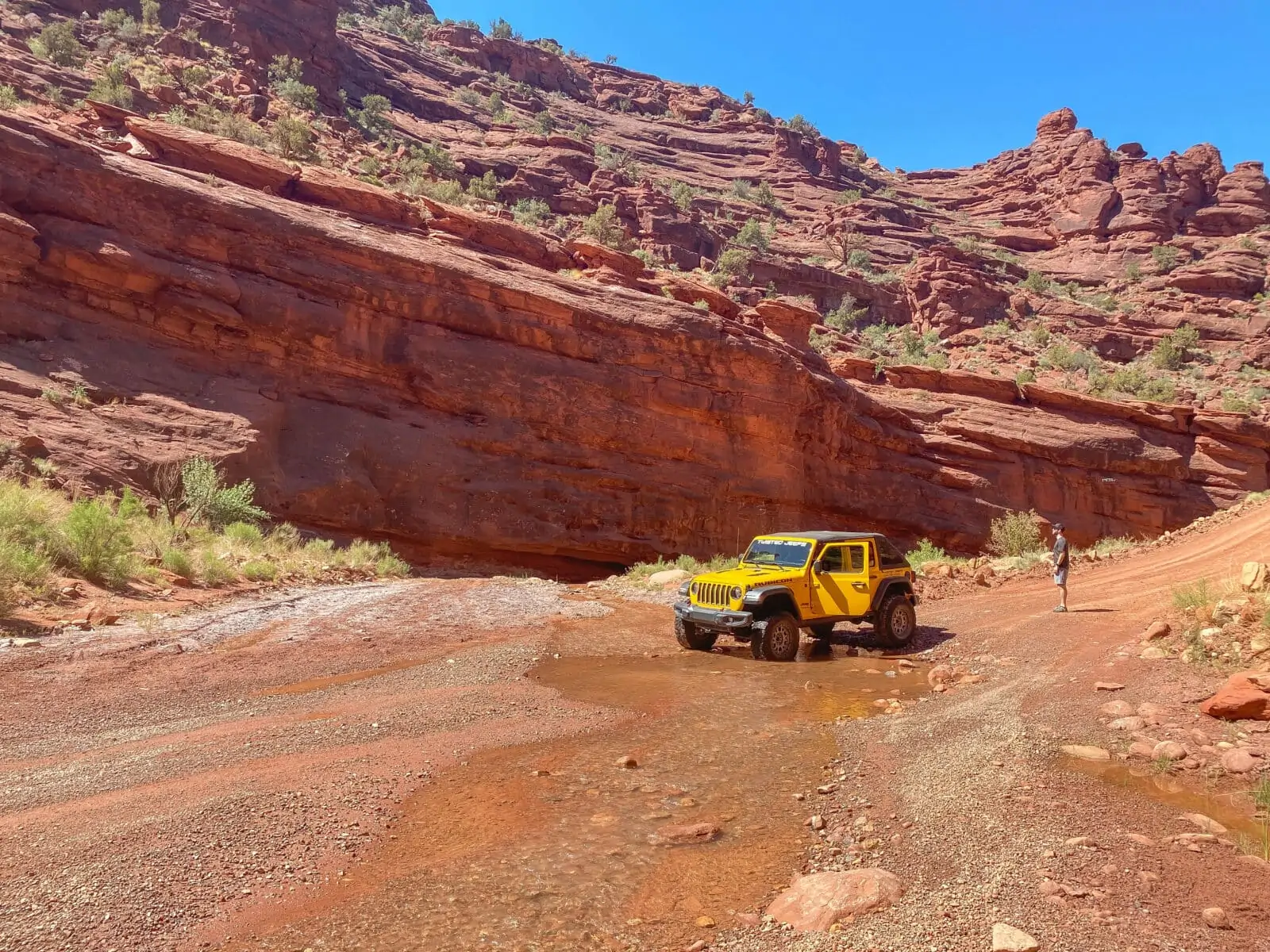 We rented the jeep for the day to do both trails. We really enjoyed the Onion Creek trail. It was EASY to drive and was pretty. We had snacks and drinks but it would have been fun to have a cooler lunch with us (and water shoes to explore some of the creek on foot). It's an out and back trail and we did have a few moments where we had someone wanting to pass us coming the opposite way... which took some maneuvering for sure. But, I'd recommend doing this trail with a jeep if you have half a day and think it sounds fun.
Onion Creek took us about three hours by the time we drove from downtown Moab to the start of the trail. After that, we decided to hit Hurrah Pass. Honestly, Greyson and I just might have been too cranky at this point, but we thought the Hurrah Pass trail was horrible. We drove about an hour in and it was super slow to drive because the off-road trail is bad and was very bumpy (washboard and potholes). We decided to turn around because we just didn't think the scenery was pretty (it's very similar scenery to quite a bit of Canyonlands) and we were just ready to be done.
All in all, there are a ton of jeep trails to do in Moab. I wish we would have just rented the jeep for half a day and that would have been perfect for us.
Visiting Canyonlands in Utah
We hiked to the Mesa Arch; and by "hike" I mean: walk the trail for about ten minutes. This is a pretty darn easy walk, and it's pretty. Overall, Canyonlands is massive and you could spent a lot of time there. We didn't feel like the terrain of what we were seeing was very pretty so we opted to spend more time in Arches National Park. That being said, if you were staying longer in Moab, then you could definitely do a few hikes in this park and have a great time. Here's a great article about Mesa Arch if you want more information before you head to Canyonlands.
I can't remember what view point this is in Canyonlands, but it's close to the visitor center. If you look over the edge, this trail is VERY steep and VERY small. You can see a tiny van on the right-hand side of the photo driving the trail. We didn't drive this (it looked scary) but it did look interesting!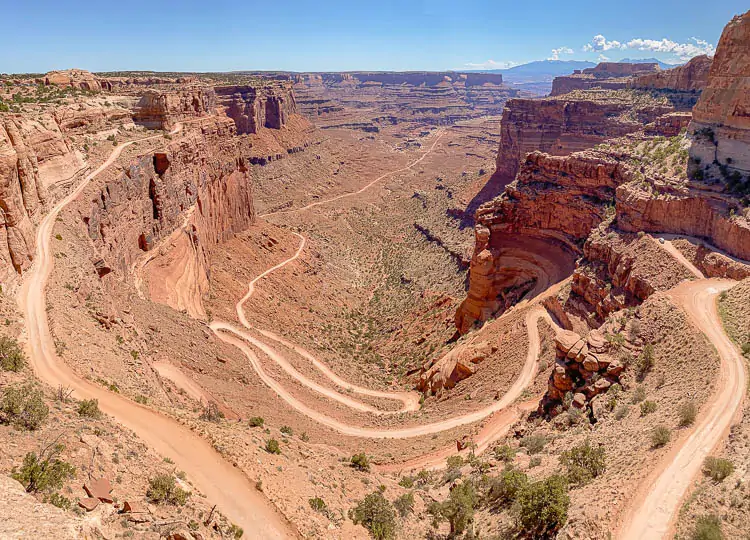 Hike the Professor Creek Trail Hike*
This hike was on the top of my list for what to do in Moab. It looks awesome! It's an 8.5 mile hike that we didn't end up doing (we were so tired on our last day in Moab). Honestly, I was pretty disappointed to miss out on this, so you should do it! Research I found about it was that it's a hard to find trailhead. Definitely read the reviews and download an All Trails Map before heading out. But, you basically cross the creek over 100 times on the trail and end at a waterfall! Sounds amazing.
Things To Do In Moab
Drive Scenic Route to Moab
Dinosaur Tracks and Petroglyphs
½ Day Jeep Rental to See Onion Creek
Professor Creek Trail* (Didn't do but looks awesome)
When planning your trip, definitely remember to look at the Moab temperature for the day. We went to Moab in May and found it to be very hot by lunchtime. You'll definitely want to start early in the day to really enjoy being outside, especially if you aren't able to cool off in some of the Moab hikes that are around water.
Downtown Moab Eats
We love to seek out amazing food options when we travel, but Moab didn't seem to be rocking many of those options. We did think that Quesadilla Mobilla was decent. Milt's Stop n' Eat is a popular burger joint that has been around forever. It's basically a no-frills burger and fries and was fine, but nothing we'd grab again.
Honestly, Moab reminded me of a small ski town in Colorado with similar amenities. We found the outdoor activities to be fun but didn't think downtown Moab or the food options were great.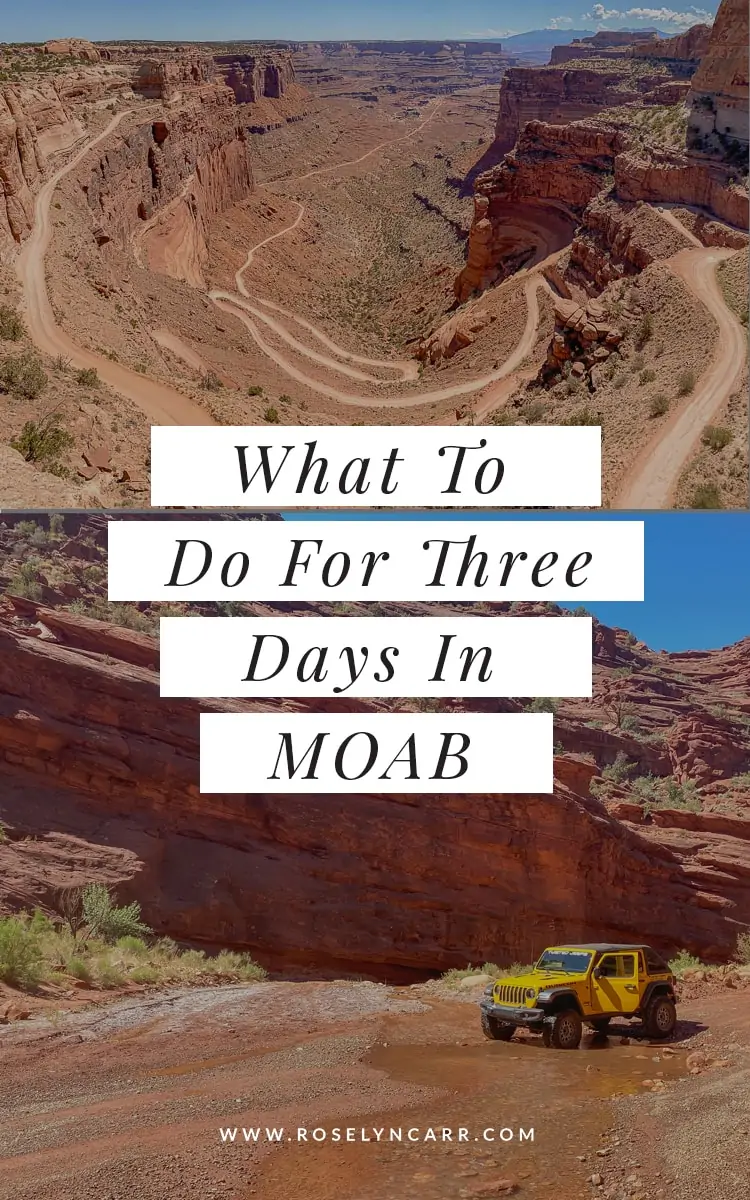 I hope this helps you plan your trip to Moab, UT! If you go and use any of our tips, let me know. I love to talk about traveling, so I'd love to hear.
Up next on our Utah adventure is hiking Calf Creek Falls!