On Monday, I showed our current patio progress. In case you missed it...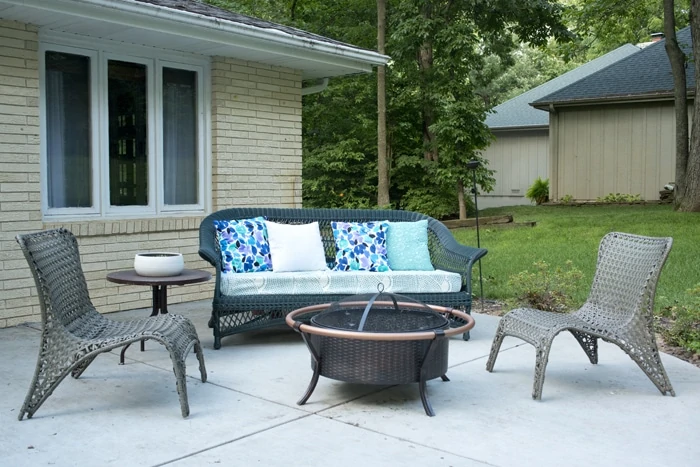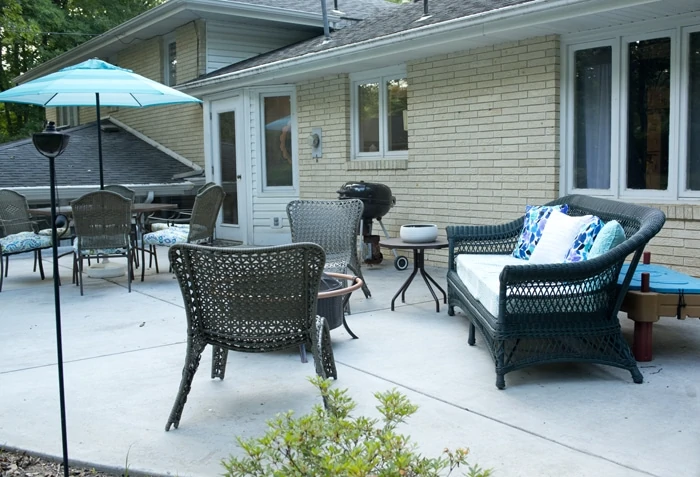 Looking much better than before for sure!
The back patio update this year started with this find at a garage sale: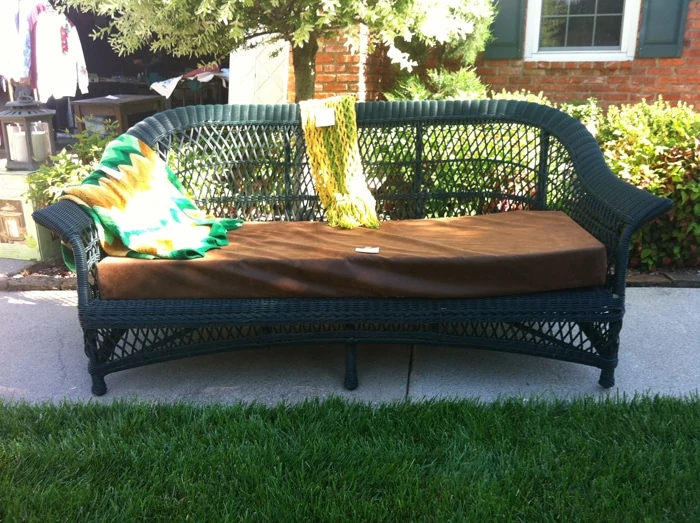 $50 - SOLD!
I knew that I could make it work for our patio. Originally, we had wanted something modern with clean lines (that's what we love), but this was the right price at the right time.
My Grandma helped me cut the fabric for the cushion and then I sewed it up. I used a curtain panel (Threshold by Target) that I had found at the Goodwill for $3.99.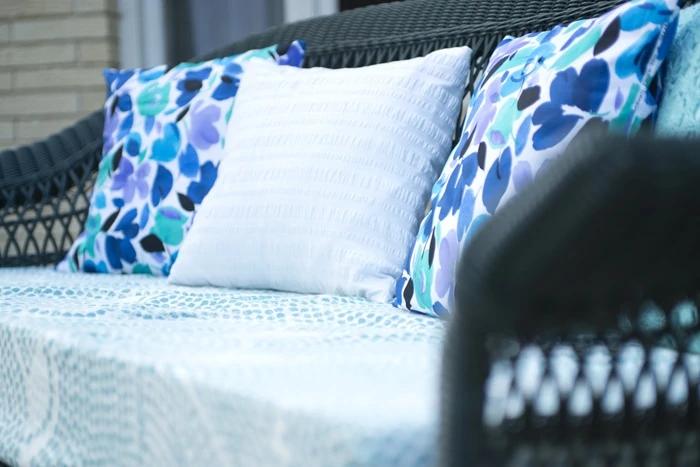 I made the pillow covers. I had picked up the striped white fabric at a Garage Sale for $1 and the floral fabric came from Joann's during a great sale. I think I paid $1.49 a yard.
Everything else was mainly bought or already owned.
Sofa: Garage Sale
Floral Pillows (Fabric): Joann's
Side Table: Already owned
Firepit: Walmart
Bend Patio Chair (x2) - Lowe's
Patio Table and Chairs: Craigslist (a few years' ago $120)
Chair Cushions: TJMaxx (last year)
Aqua Umbrella: Target (in store on sale for $34)
White Pot: Lowe's (in store)
Metal Torches: Walmart (last year on clearance)
I was going to show you my wishlist for the patio, but let's be honest. I'm probably not going to do anything more to it this year and, by next year, I'm sure my wishlist will change. =)
So, I'll save that for another time.
Here's where we're at on our outdoor to-do list for this year:
- Getting our fountain on the back porch to work (need a solar pump?)
- Adding mulch to our flower beds
- Taking out dead branches and plants (I think we have about 8 dead bushes to go)
- Beautifying the front door area (or starting on it) (DIY Topiary?)
- Making our back patio more inviting
- Finishing with the gutter guards before Fall
- Making the playset safer by adding dirt/grass to level
Summer's in full swing and we have tons more to do...eeks!