You may not have many options to change your small powder bath layout but that doesn't mean you can't create an awesome Small Powder Bath Renovation Plan and then implement it!
Today, I'm sharing our small powder bath renovation plan! It's going to be our first bathroom renovation and, because of that, I think it's a good choice to do first because of the powder bath size! At least, that's what I'm telling myself. I like to overanalyze things, so let's do that and chat all about what is going to happen in our half bath!
Small Powder Bath Renovation Plan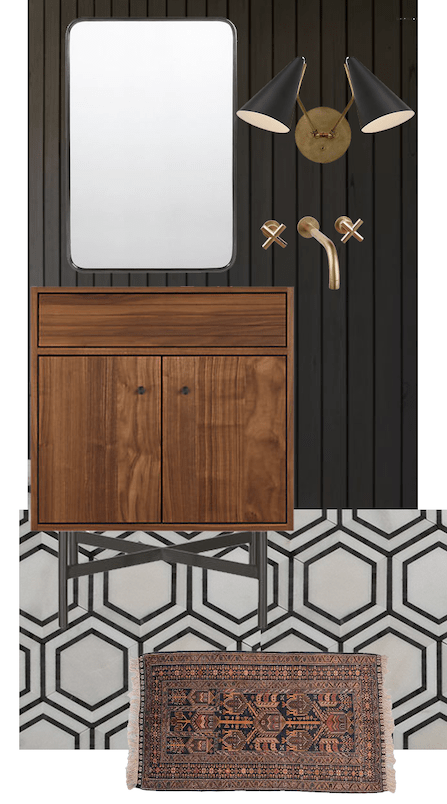 Before we jump right into the products and steps for the powder bath remodel, let me show you what we are starting with.
Small Powder Bath Layout - Before Pictures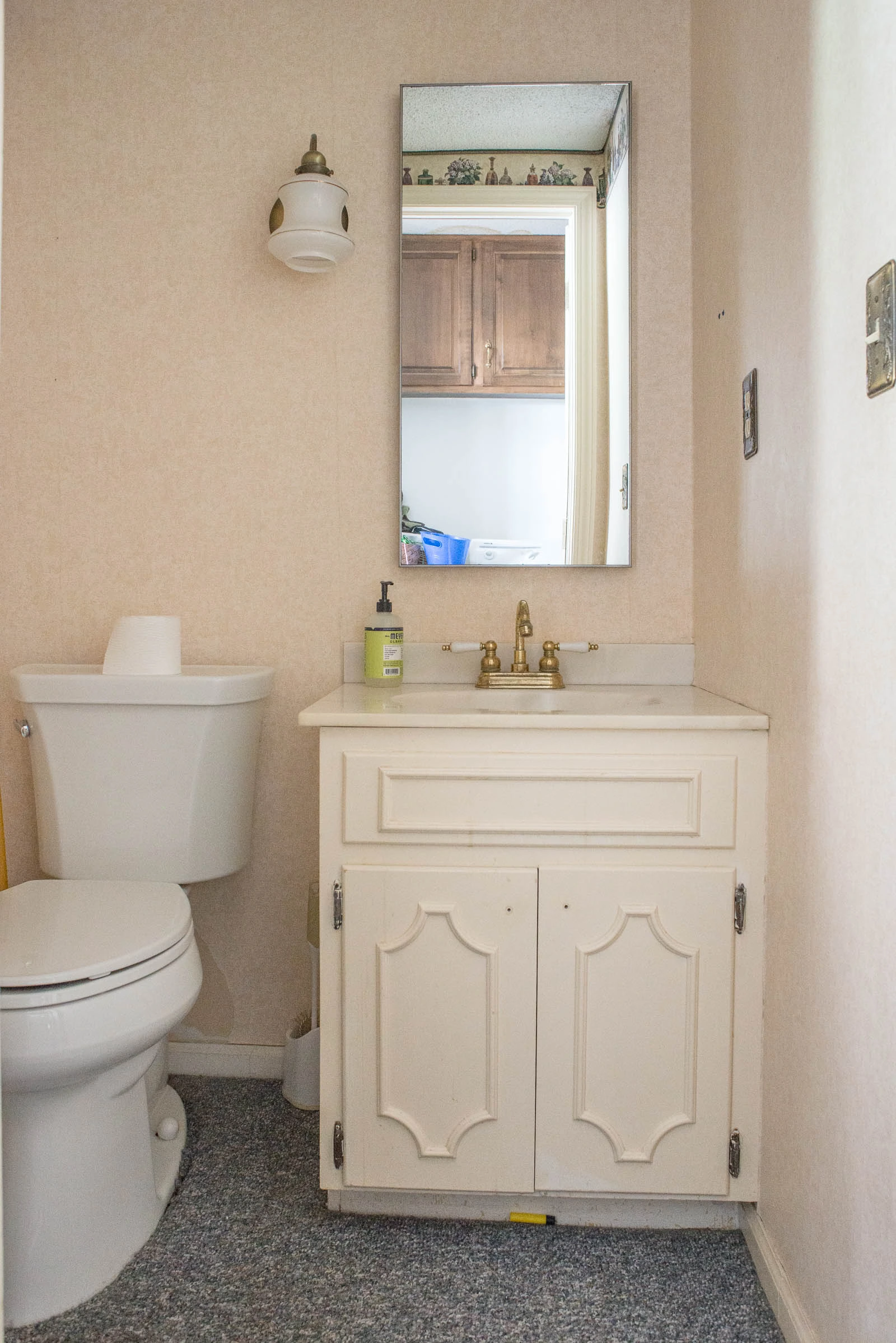 So, as you can see, it's a small space. I like the bathroom layout, so that's going to stay the same. The only slight change to the space regarding layout is that the door jam is going to move just a bit to accommodate a pocket door. The door to the bathroom has to be closed to get into the dryer and, to be honest, it's just a tight space in our laundry room between the washer and dryer and the bathroom. Here's a pulled back shot to show you the flow to the laundry room and the powder bath (the powder bath is behind the wood door on the right).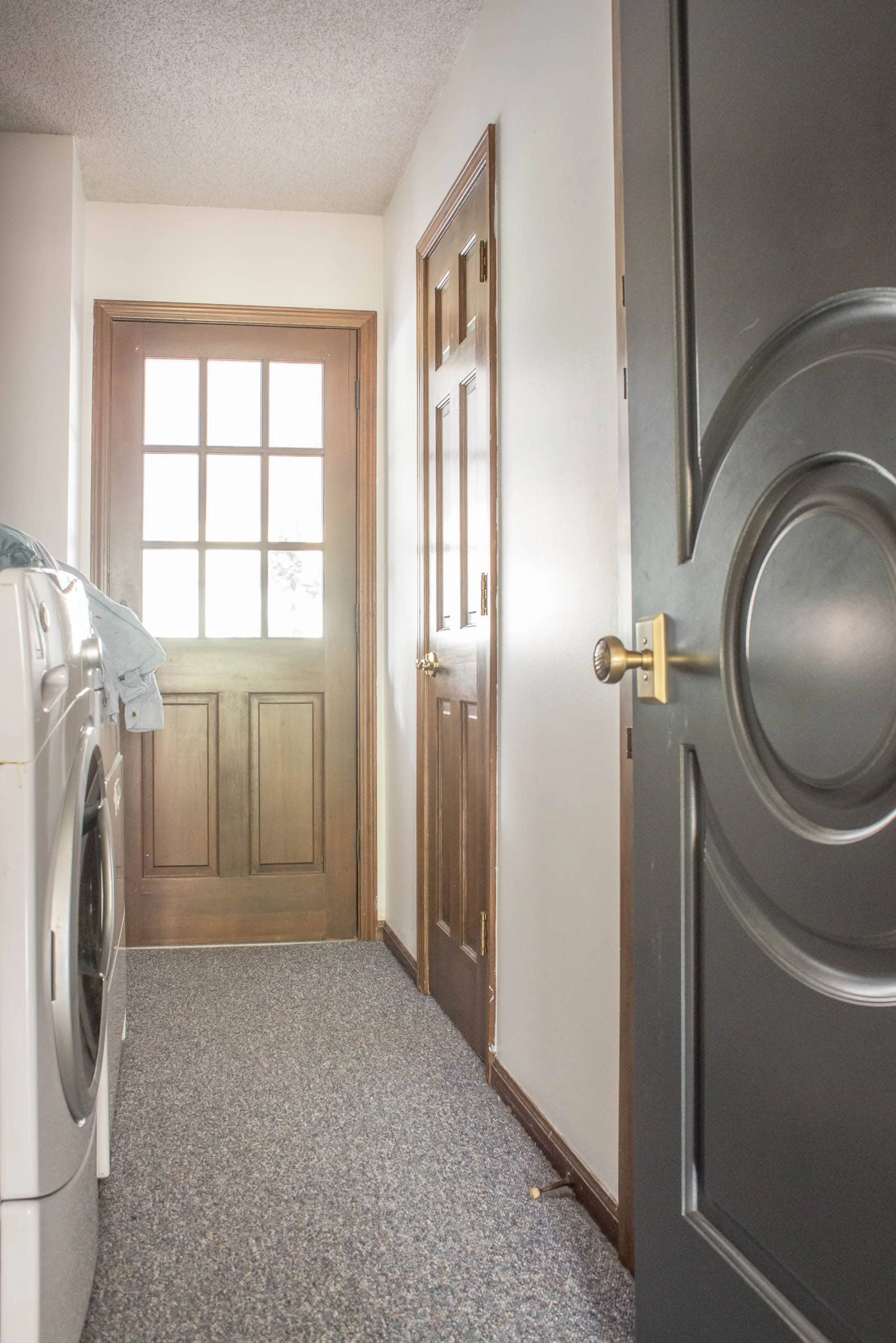 So, let's chat a bit about what the plan is, what I've firmly decided on and what I still need to make decisions on. Question for you though...
Why is a Powder Room called a Powder Room?
I was thinking about this and I know a powder room only contains a sink and a toilet but I was wondering about the history behind the term. A quick search didn't pull the concrete information that I was expecting. I thought the word, "powder", would have come from women or men powdering their faces, but I really couldn't find that anywhere. Totally random thought for the day. Leave me a comment below if you have more information on this!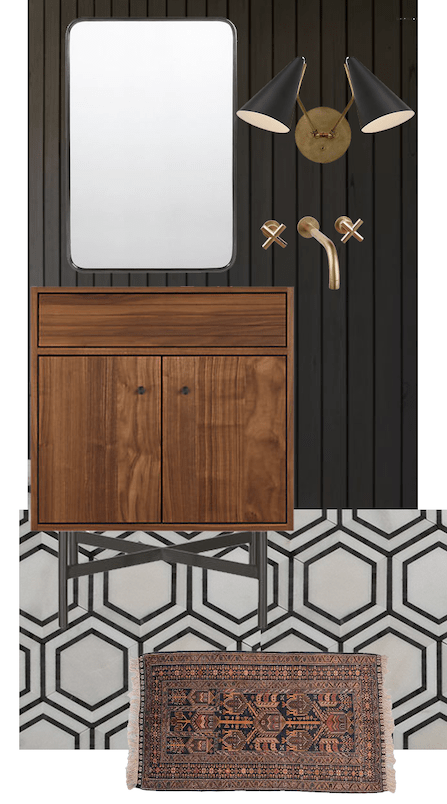 Let me give you some specifics on half bath sizing before I talk about the details.
Small Powder Bath Dimension
Our bathroom is 4.5" x 4.5"
Our bathroom is 20.25 square feet
A common size for the same powder bath layout is 3.5" x 7"
Looks like 15-28 square feet is pretty normal
Our bathroom is a perfect square and while it is small, it's not tiny. I think it always felt a little larger because the bathroom door never opened into the bathroom. With the pocket door, I think we are really going to get the most out of our little 4.5" x 4.5" bathroom.
Let's talk details about the vanity, tile, light and door! First up, the vanity because that's the one that has caused the biggest issue.
Small Powder Bath Vanities
A few months ago, I did a Powder Bath Vanity Round-up and I actually purchased one of the vanities in the round-up. The modern vanity that I bought was really nice and I really liked how it functioned. But, as I was sourcing the rest of the products, the wood grain on the vanity just didn't feel right. It's a faux wood (laminate, maybe), and although it looks nice, I wanted a deeper wood grain. I should have known this from the start, because I'm definitely drawn to walnut and stained oak throughout my house. You live and learn though and, unfortunately, I discovered that I didn't want the vanity too late to return it. So, I waffled back and forth for months about what to do. I think I even talked about this in the Your Home Story podcast on Powder Baths! Ultimately, Luke convinced me to try to sell the vanity; but, either way, buy the one that I thought would be better.
So, I purchased a modern walnut powder bath vanity from Room & Board. It arrived last week and it's so great! I'm excited to get it in our space. Small powder bath vanities in a walnut or mid-century look are hard to come by! I probably should just have commissioned a local woodworker to make me one and, to be honest, I think that's what I'll do with the next bathroom renovation we tackle. But, in the end, I'm really pleased with the vanity that I bought (well, the second vanity that I bought). *Anyone local want to buy a cool, modern powder bath vanity from me? 🙄
I haven't decided on the countertop, sink or faucet combo for the vanity yet. I'll be sure to share when I make those decisions!
Let's talk about the tile.
Modern Bathroom Wall and Floor Tile
I've had the floor tile since early this year. I pretty much knew I wanted a large white hex with either black mosaics or grey accents around the white part. I ordered a few different samples and went for the one I loved. It wasn't cheap but I get the most satisfaction out of pieces that I know I love and then go for. So, I went for it. And, you know it's going to be good, especially when this is the BEFORE...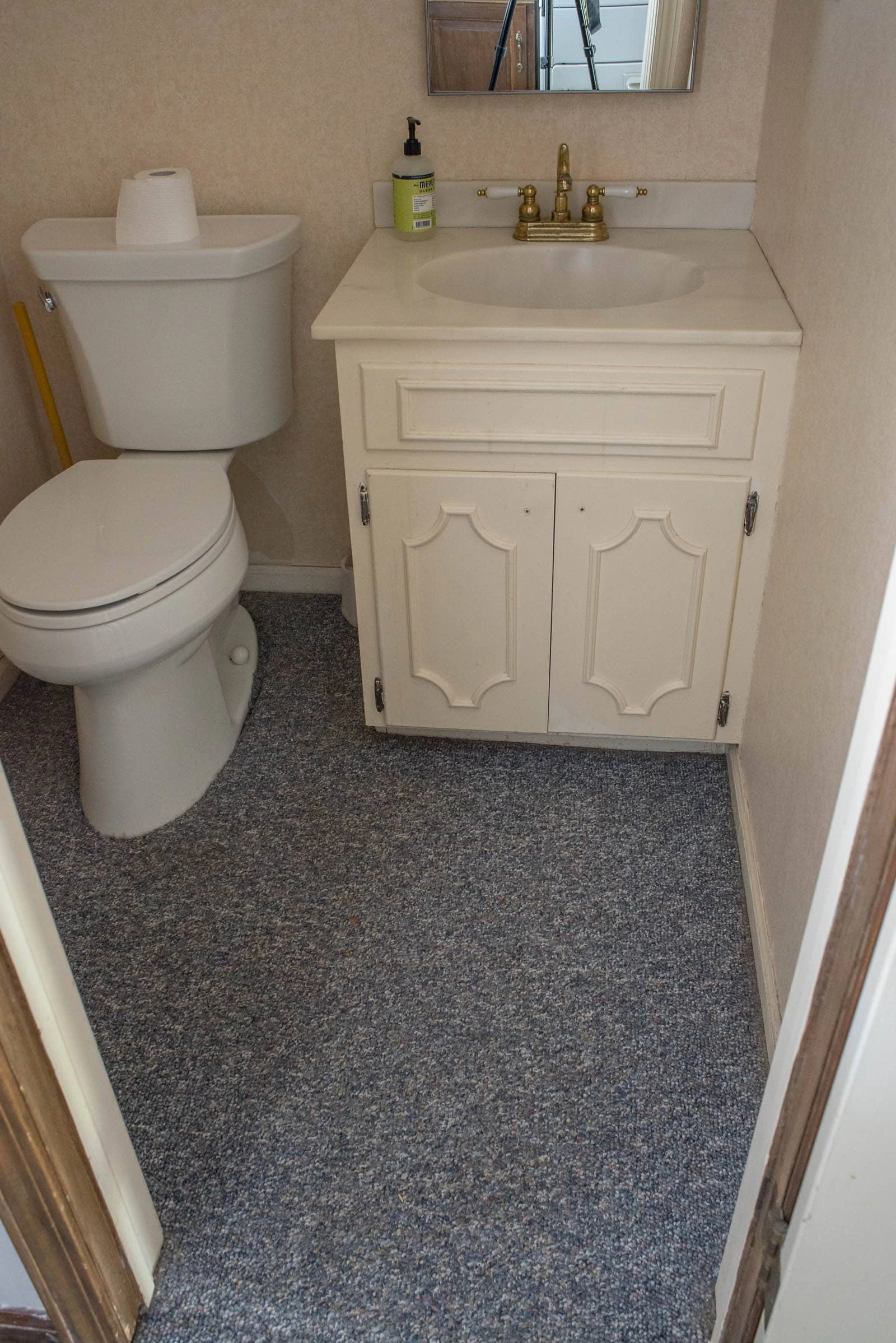 The wall tile is a completely different story. I've been waffling between doing a wood treatment like black shiplap on the walls but I really wanted black tile. The reason why I was considering the black shiplap is because the time and money investment is SO MUCH CHEAPER and FASTER than doing tile.
Just last weekend, I hadn't made a decision about it and then after talking to Luke... decided again to go with the one I love. So, I just ordered the tile yesterday morning. I went with Black Ceramic Subway Tile from Lowe's. It's absolutely stunning.
Next up, let's talk about the why of getting a pocket door.
Pocket Door for Powder Bath
As I mentioned earlier, the door to the powder bathroom didn't open in to the bathroom so the door itself wasn't an issue for the bathroom. However, the door to the connecting laundry room was an issue so it only made sense to address the powder bath door at the same time we were working on the space since they are so connected.
I'm going to be doing a whole post on the powder bath pocket door install including costs, thoughts, and products but, for now, let me just say that we purchased a privacy glass wood pocket door that is going to solve our space issues in our laundry room while allowing more light in our powder bath.
I also think that with so much tile in the space, a wood stained door is going to add much-needed warmth to the space.
Again, I'll share more details on this soon!
Let's talk about the final "big ticket" item, lighting for the space.
Powder Bath Sconces
I had my eye set on a specific brass and black sconce. Actually, it's the exact one in the design board that I shared. However, after looking at the dimensions, I don't think it's going to work. I love to fall in love with lighting. Lighting is one of the pieces that I think can make a room so I'm still on the hunt for the right sconce. I'm trying to find one that can hang vertically and have a light out the top and the bottom. So, if you see anything amazing, let me know.
Small Powder Bath Renovation - Here we go!
I think that wraps up the small powder bath renovation plan! Whew, I wrote a book here. You guys get major props if you are still reading. The only thing left to address is the timeline for the renovation.
Here's the deal guys, we aren't fast at renovation nor do either one of us enjoy working nights and weekends on it. So, that's the deal as to why projects take us awhile. Luke took off a chunk of time a few days before/after Christmas so we hope to make some serious progress during that time.
As things progress and I have fun updates to share, I definitely will!
ps. I think I'll try to track the renovation budget with this free renovation budget checklist.