Are you searching for a cool pennant frame? I'm sharing the process of framing my vintage pennant flags for our sports room.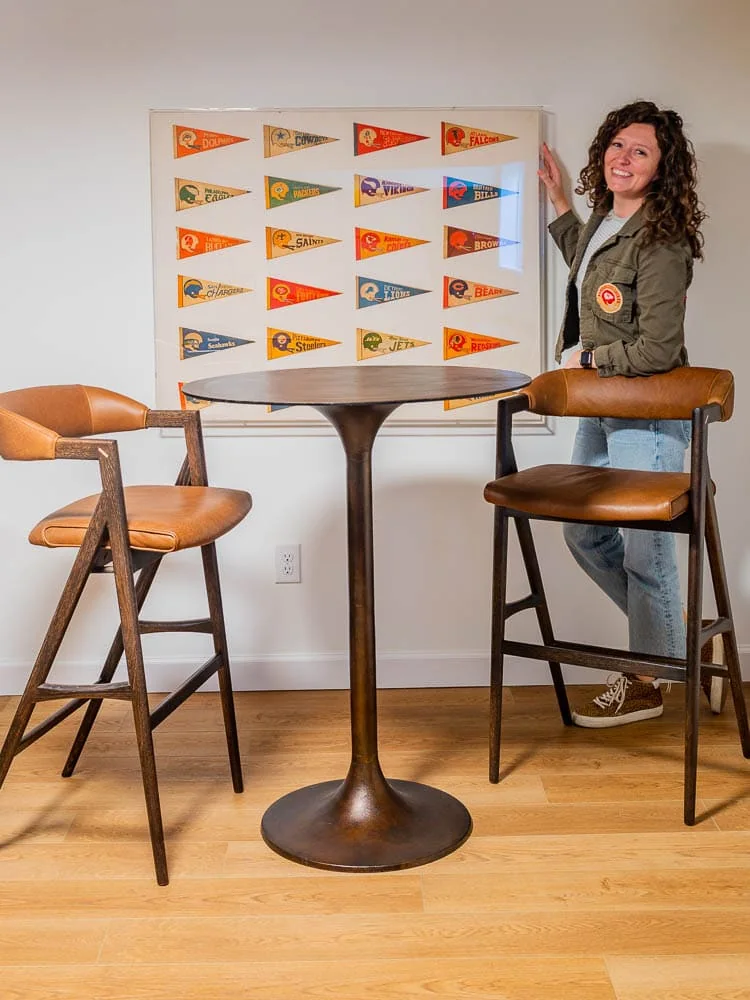 Sports flags for our football-themed basement
I'm always looking for ways to add texture and interest to a space. For me, that's key to my home style and when I stumbled across vintage sports flags on Etsy, I knew that they were going to be perfect for my space.
If you are new here, we are very close to finishing our basement renovation which includes decorating in a sophisticated, man cave, NFL-themed way. I bet you don't believe that it's possible to mesh my style with a sports themed room, but I'm going to share that it totally is possible and I'm so excited about it.
*Affiliate links below. Thanks for supporting this blog. Click to read my privacy and disclosure statement.
Anyways, back to this project. I found mini NFL flags on Etsy and knew that they would be perfect for our space.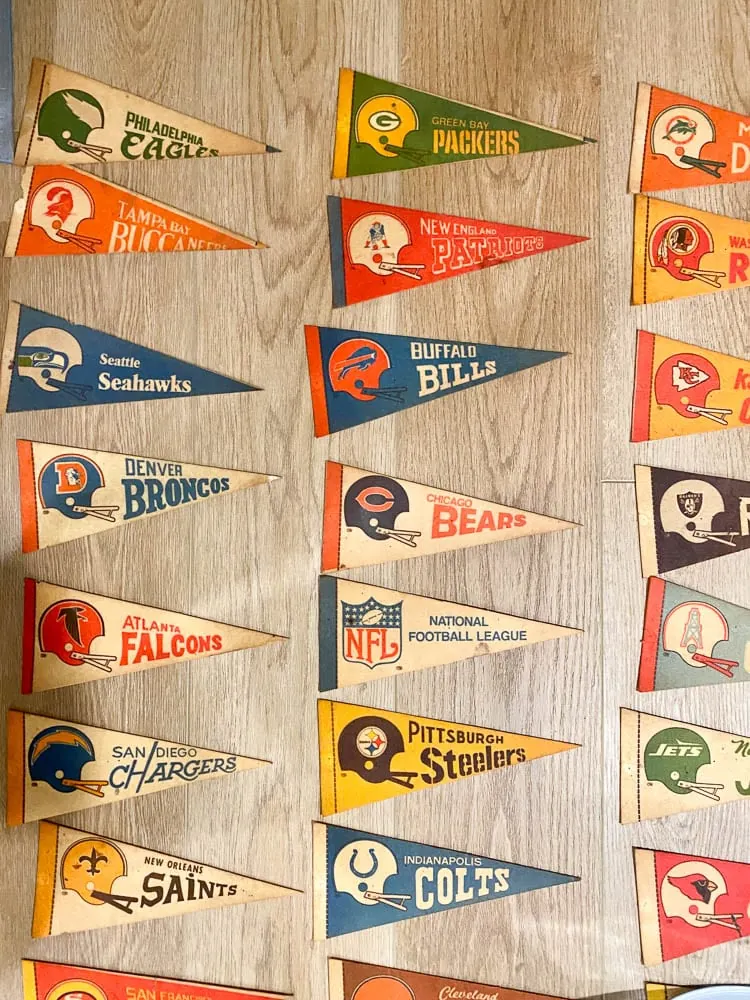 From prior experience with our Korhogo textile, I knew that elevating a textile piece with a frame over the canvas was key to making it look like a real piece of art. There are definitely quite a number of spaces that could just hang pennant flags vertically or horizontally without frames but, for our space, I knew it needed the polish of a frame.
Making a Canvas for the Pennant Frame
We started off on this project by laying the collection of pennant flags on the floor to see what type of arrangement would be best for our space. Once I had settled on the sport flag arrangement, I measured that and we decided to make a canvas to attach the pennants to.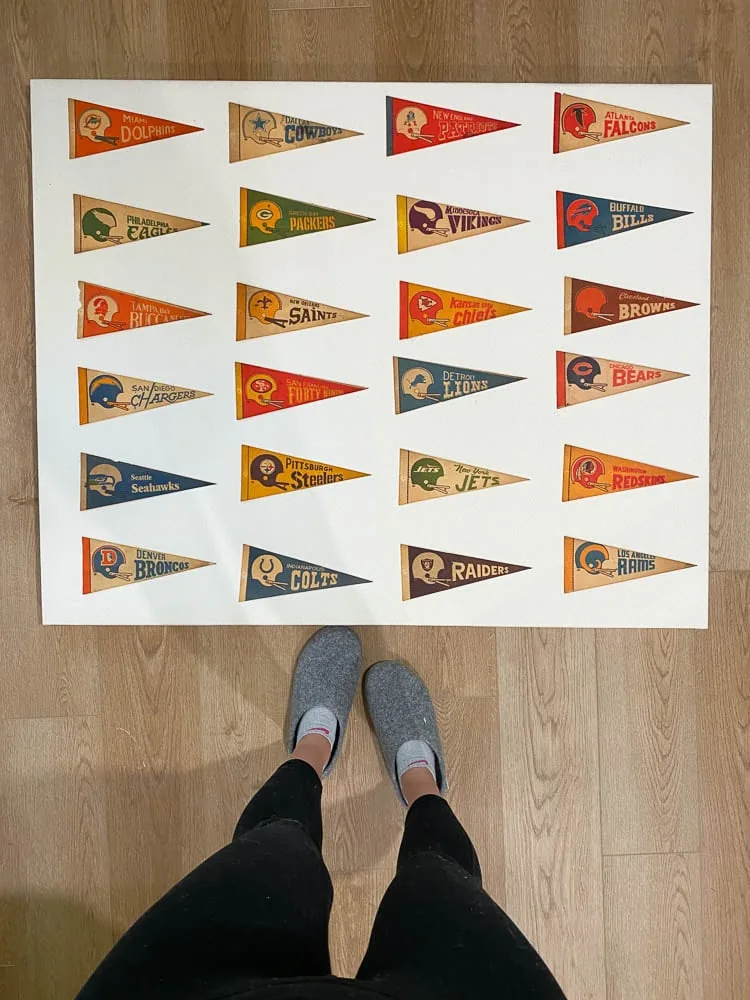 You could totally buy a pre-made canvas to do this. We had leftover unstretched canvas material from our Korhogo textile, so we wanted to use that to save some $$$ on the project.
If you want to learn how to make your own canvas, definitely check that out, but buying one is probably the way to go if you don't already own all the supplies to make one.
Attaching sport flags to canvas
To get each pennant flag to stick to the canvas, we used a small piece of double sided tape. I had measured out the placement in rows but didn't measure where each sport flag would be placed. I eyeballed placement as I attached each one.
Acrylic box for canvas
I've always loved the look of acrylic frames so had the idea to do a big acrylic box frame over my canvas. I researched a bit and ultimately decided that if I was wanting an acrylic floating frame, I would definitely DIY it.
Because I wanted more of a box frame style, the acrylic pieces cut and put together would involve more tools and precision than what I have and wanted to do.
My next step was to look for a supplier who made acrylic box frames in large sizes but I couldn't find any sources that had them larger than the standard photo sizes. I did find an Etsy shop that was able to do what I wanted and looked like they had great reviews on their work. They quoted me $745 plus shipping to make the acrylic box frame.
Someone on IG recommended that I call a few local plastic fabricators to see if they'd make one. I got lucky on the first call. If you are local, I used Regal Plastics. It was hard to explain what I was wanting over the phone, but once I sent in a few photos, it was no problem. I took my canvas in to their shop and we settled on a few particulars (¼ " acrylic sheets) and how the edges mitered and they took about 2 weeks to get it to me. I had them predrill holes in the acrylic frame to mount it to my canvas.
The total cost was $330.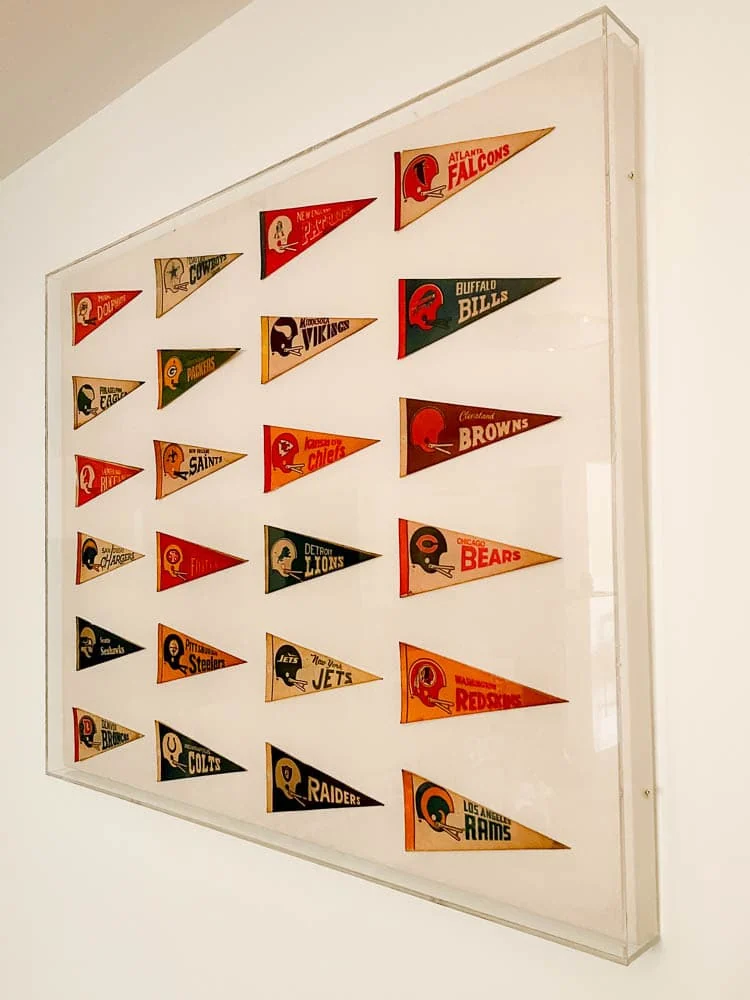 I got it home and Luke attached the frame to the canvas with screws and we hung it up on the wall! I just adore how it turned out.
The whole goal of the basement decor was to share our love of football but in a vintage-inspired sports decor way that didn't scream "ugly man cave". lol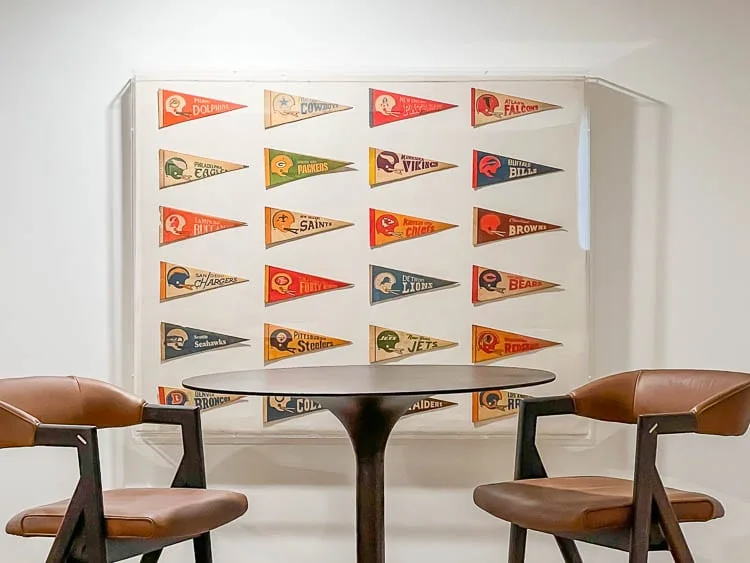 This is the second piece of art that I've shared in our basement. The first one was the NFL Stadium List that we DIY'd. I'm still so in love with that piece as well.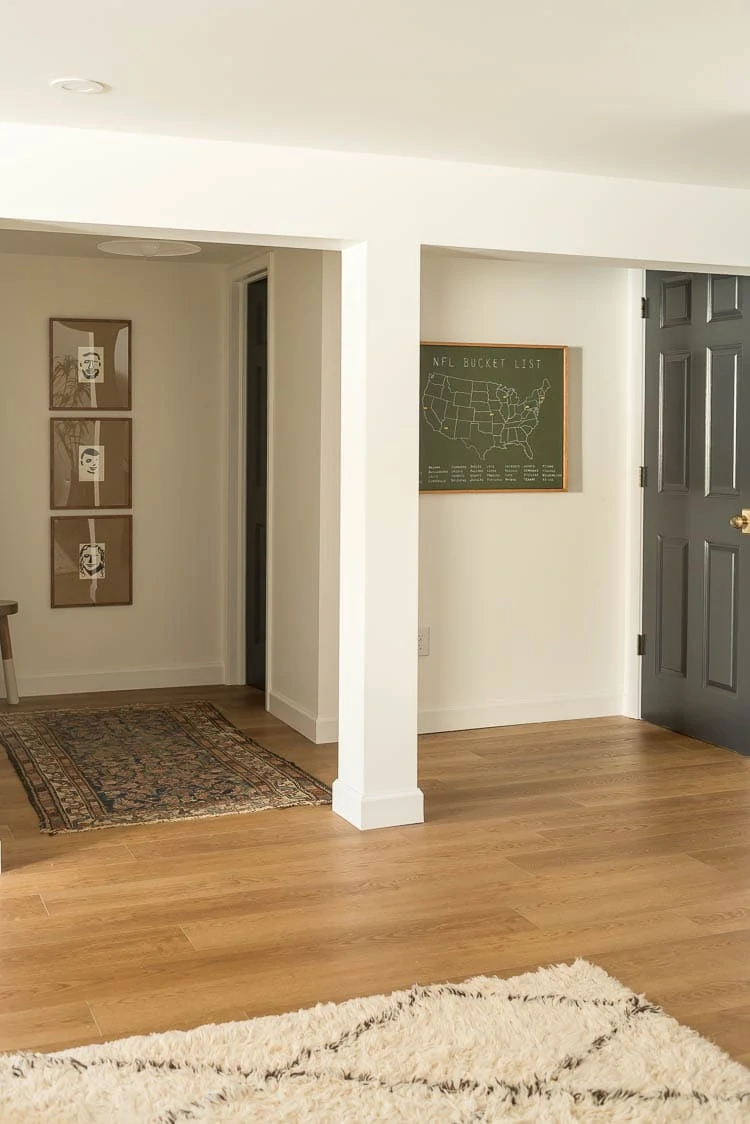 It's coming along and I'm thrilled with the progress. =) Before I let you go though, I wanted to share a few more inspiration ideas for your sport flags.
I think it's easy to get stuck on how to frame or display non-traditional wall decor so I rounded up some options that I love for pennant frames.
Pennant Flag Display Ideas
Get inspired with how to hang flags in your home, whether that be in a collection or a frame.