Consider adding a behind the couch table in your living room or sitting room to add more interest, style and function to your space!
As I was thinking about the furniture layout in the basement and what would work best for us down there, I started looking at what a console would look like behind our sectional. I thought that it might work well for us to be able to sit at the table and watch football while eating a snack.
Ultimately, we decided that a table behind the couch would work but we'd rather have a little bit more open space because we also had a large shuffleboard down there.
Anyways, I still fell in love with some of these ideas that I'm getting ready to show you and think they work so well in so many different types of spaces!
Couch Table Inspiration
Style 1: Reclaimed behind the couch table
I love this image because the size of the table is wider than most. It shows that you collect and use what you find and make it gorgeous! This one shows a collection of curiosities as well as two stools underneath which I think is always a great styling idea. Plus, the two stools can be used as extra seating in a pinch, too!
Style 2: Desk behind Sofa
With all the work-from-home going on the last few years, I love the idea of making a desk behind the sofa. I also wanted to share this sofa table behind the couch because it has two chairs styled with it. It's unusual to see chairs in this scenario but I really think it works (plus, if you have a smaller space this is a cool idea!).
Style 3: Hard to see sofa table behind couch but it adds texture
This one is hard to see but it looks like there is a skinny table behind the couch that adds just a hint of interest. The branches in the vase are striking so I'd say this couch table is more about a visual than actual function.
Style 4: Bookshelf behind sectional
You know I love to read and I love the idea of playing a bookcase behind a sofa. This is a pretty modern take on the idea and I could definitely see this working well in an apartment.
Style 5: Rustic Couch Table
Plopping a vintage trunk under a sofa table behind the couch adds even more storage to your space. The pieces in this room play so well together as they have that antique/rustic but masculine vibe.
Style 6: Farmhouse Console
This is a great example of how a simple console just adds more warmth and interest to a living room.
Style 7: Unique table for behind the couch
Matching baskets underneath a table for behind the couch, love this idea!
Style 8: Modern bench in living room
Placing a long bench table behind a couch and using it to display books, plants, etc., is another idea.
Style 9: Office desk table in living room
I love that this desk is shown as a desk behind the couch. Some of the other examples could be used as a behind the couch desk, but you can really visualize with this one how it would actually look.
Style 10: Vintage narrow table for behind couch
I love the scale of this skinny table behind the more masculine black leather couch. The juxtaposition of the pieces in this image just calls to me.
If I didn't have one of my sofas pushed up against the windows in my living room, I would totally be trying one of these ideas. Instead, I have a console against a wall and really love it there, too.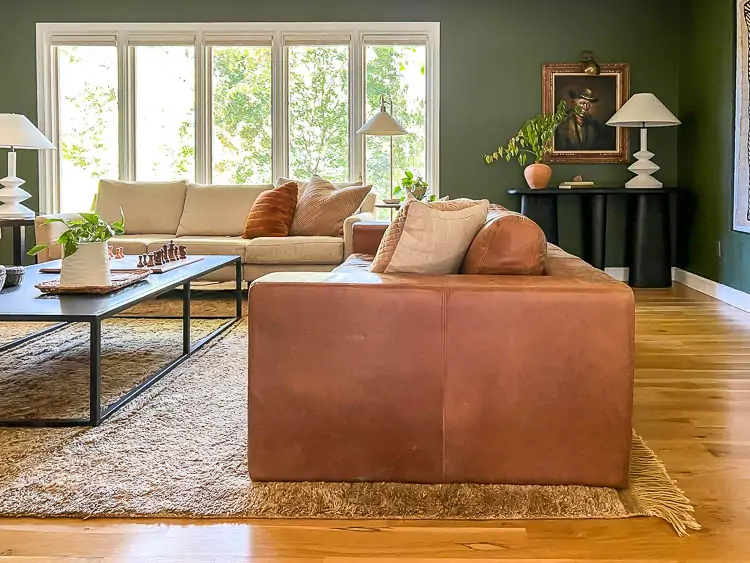 Want more inspiration for you living room? Check out: