A stair runner can add style and comfort to any home. From geometric rug runners to jute runners, there are so many different stair runners available to further make your home yours.
As we were finishing our basement stairs, I felt like the stairway lacked interest. I laid a long narrow rug runner over the stairs to picture how it would look installed as a stair runner, and quickly fell in love.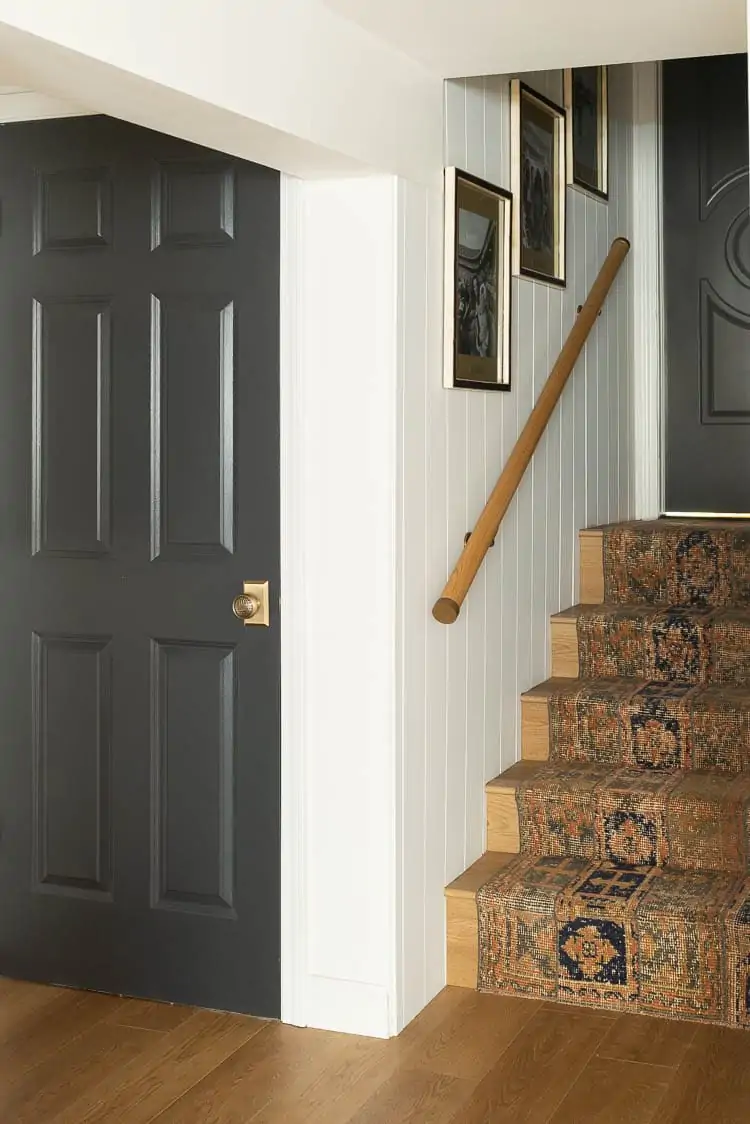 Because we have LVP flooring, installing a rug runner was challenging but we lived to tell the tale and I just adore how the vintage stair carpet looks!
I wanted to share more stair runner ideas in case you are interested in adding a stair rug to your space.
What is a stair runner?
A stair runner is basically carpet for steps. Typically, the carpet runner is installed so that you have some visible wood still showing on each side of your step.
What are the benefits of adding a stair runner?
When you add a rug for your stairs, you are adding a barrier to reduce noice as well as surface to prevent slips.
We have wood stairs throughout our home and, although I don't think all stairs need a runner, I really do like how it looks going down to our basement.
If you are curious about a runner for your stairs, check out these great stair runner ideas that I pulled together.
12 Stair Runner Options to Consider for Your Home
Style 1: Combine vintage runner rugs for a bold runner carpet look!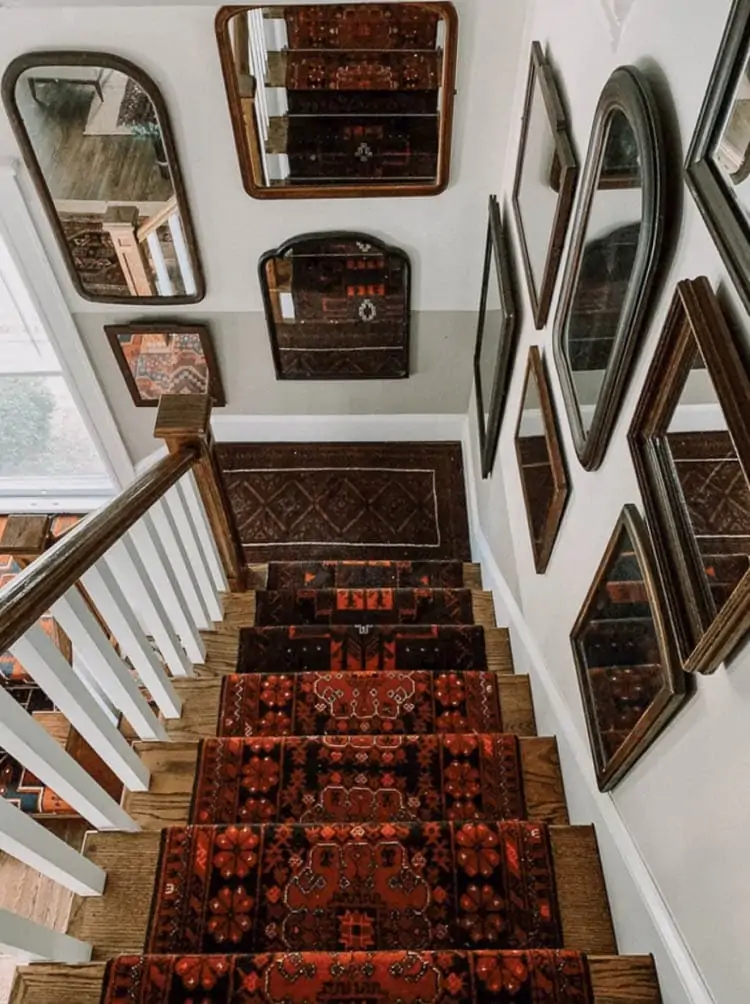 I'm obsessed with the idea of mixing a few different vintage rugs to create one long stair carpet runner like this one by The Black House on the Corner. To get a cohesive stair runner look, buy vintage rugs in the same tone as well as width.
Style 2: Take a look at Jute stair runner rugs for a budget-friendly option!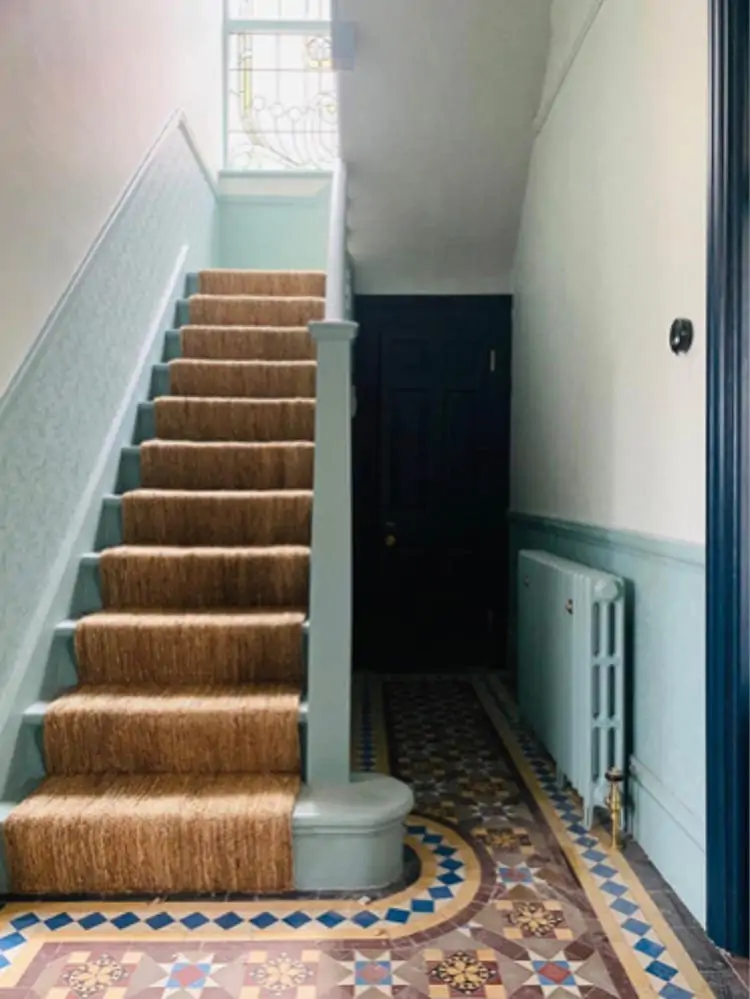 This gorgeous natural jute stair runner adds a touch of texture to the stairs and helps ground the eye. The runner is a brown-toned rug but you can get a jute in a lighter, more bleached rug style as well. In my opinion, a jute staircase runner goes with almost every home decor style.
Style 3: A sisal carpet for everyday life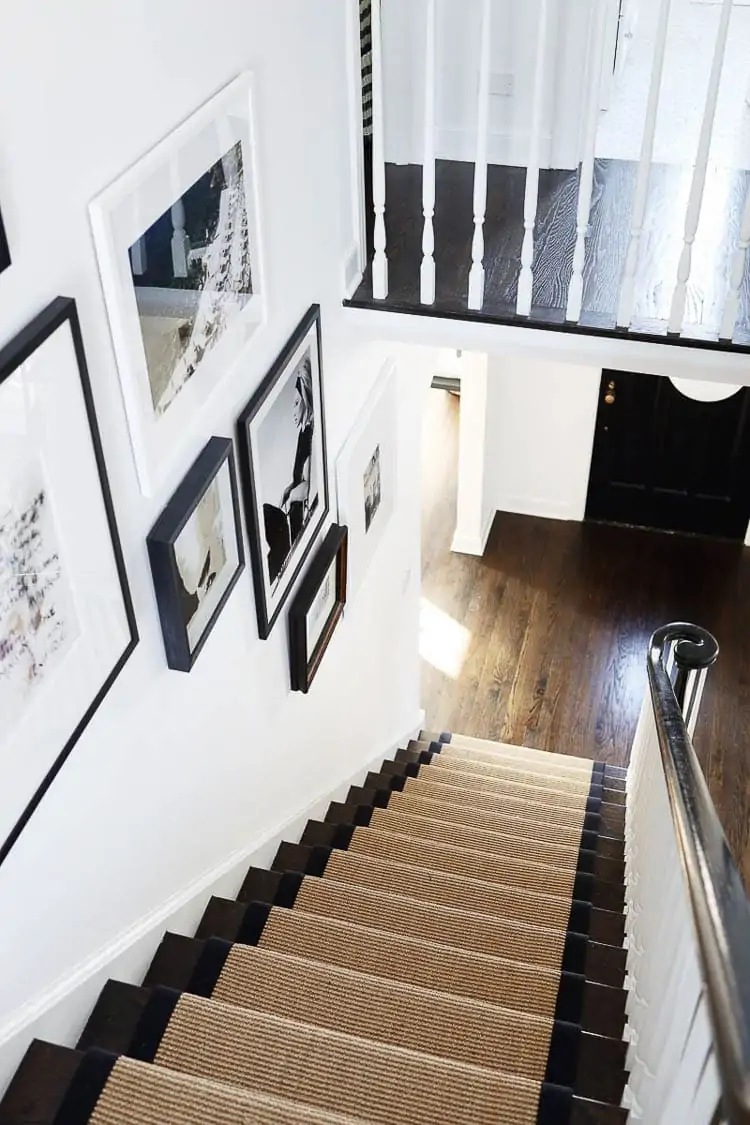 Honestly, I think the sisal rug would go with all styles but it looks amazing with a more neutral space. Danielle Moss mentioned that they added this one because she slipped on the stairs and she wanted more textures in the space. I'd say this was a win/win.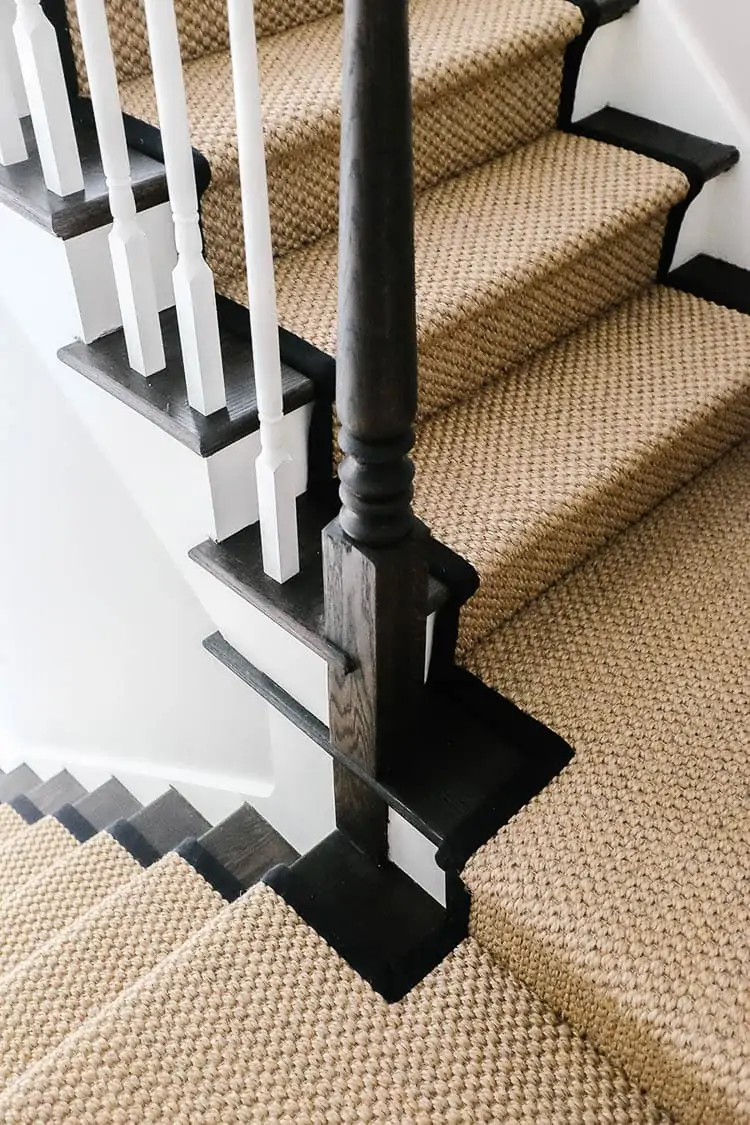 The sisal carpet really looks sharp with the black border against the dark wood stairs. You can see more before/afters over at Elizabeth Street Post.
Style 4: Antelope Carpet (or other Animal Carpet)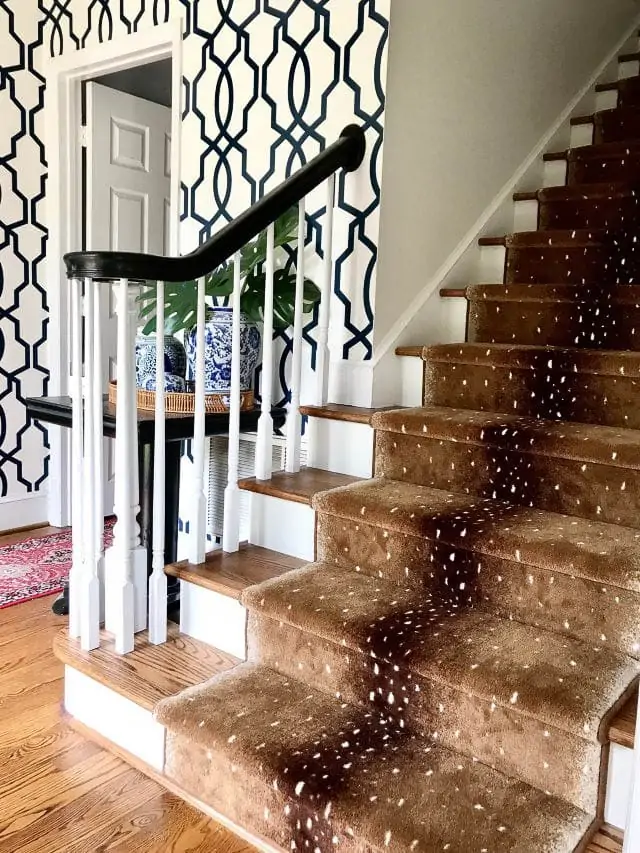 I've always been a fan of antelope fabric but never have been brave enough, like Emily A. Clark, to use antelope carpet on my stairs. The tones of the brown pattern move in a way that allows the carpet stair runner to draw your eye up but not overwhelm you. The animal print feels a bit luxurious, wouldn't you say?
Style 5: Want to go bold? Try a Geometric pattern on your rug.
Bold carpet doesn't have to have all the colors of the rainbow. This natural fiber carpet that is showcased on Rebecca & Genevieve gives off all the modern yet not busy vibes. I can see this type of patterned carpet working in houses that use different types of decor styles to create a cohesive, collected look. Also, if you are looking for a boho runner rug... this style and look is great!
Style 6: An indoor outdoor rug runner for the on-the-go family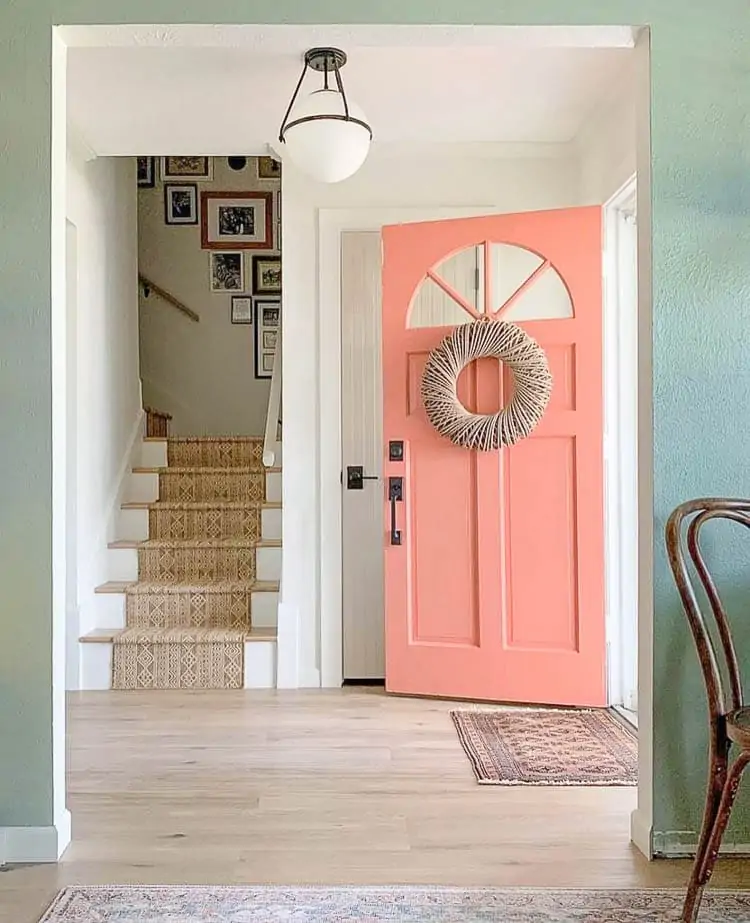 Are you wanting a textured rug but concerned about the longevity? House Homemade used an indoor outdoor rug runner on her stairs which I think is just brilliant!
Style 7: Black and white stripes are always in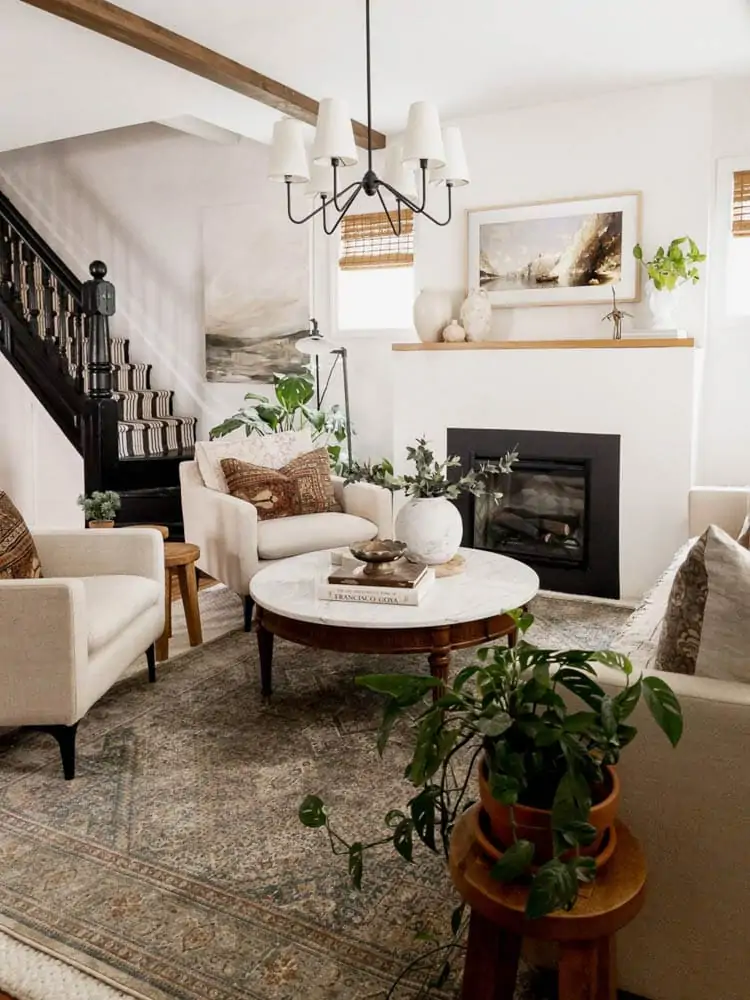 Style It Pretty Home used a classic black and white stripe rug on her stairs and it provides interest without overwhelming the eye. If you are looking for a simplified patterned stair, this might be it! On another note, how inspiring are the layers in this living room? Pattern mixing can be so challenging. I just love how it's done in this space.
Style 8: Patterned Stair Carpet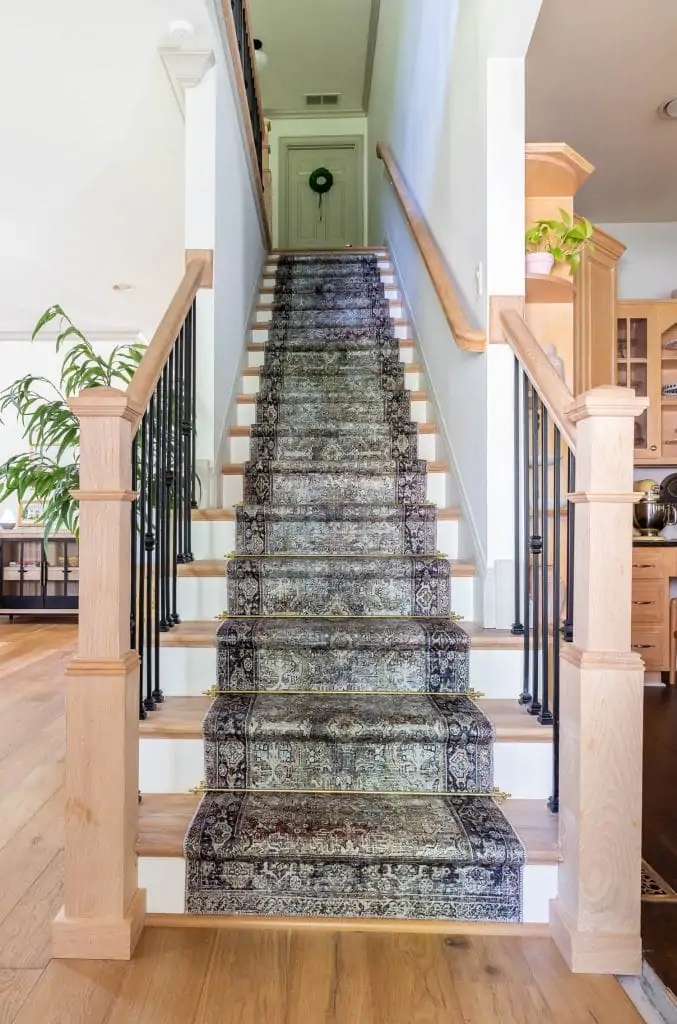 An overall patterned carpet can help hide stains and dirt. When it comes to a stairway that gets used a lot, I do think a darker carpet can be a great choice. I love how this classic patterned stairway by Jen Woodhouse looks.
Style 9: Bring in the coastal style with a blue runner rug
I don't know what comes to mind when you think of coastal style but, for me, it's blue and white stripes and lots of white. I don't think blue and white have to just give off that coastal vibe but I do think it pushes the design that way for sure.
That being said, you can add a blue runner rug to a non-coastal designed space as well but it's an easy addition if you are wanting to go with the coastal style.
Style 10: A classic striped Runner is always in style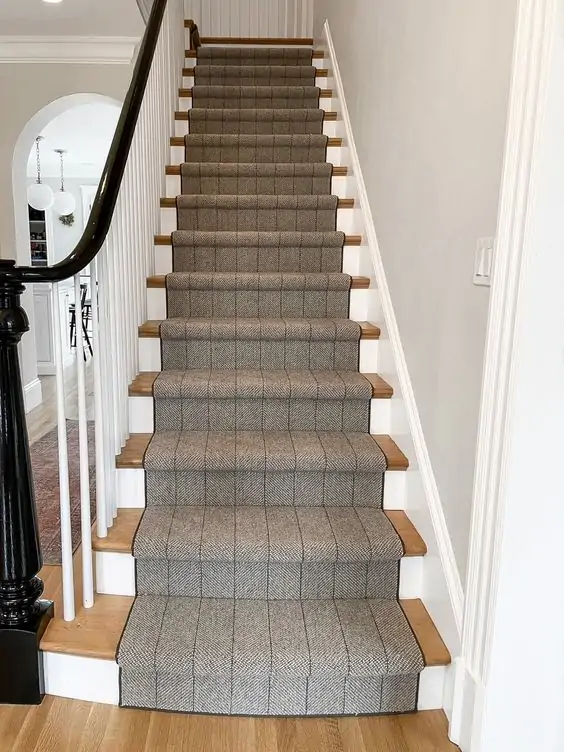 I've shown you a number of black and white carpet options but I think there's something unique about a minimal stripe that adds texture to a space. Stripes can come in all different variations in size to color but, when in doubt, I personally think that minimal is best.
Style 11: A wool stair runner can add a touch of luxury to your space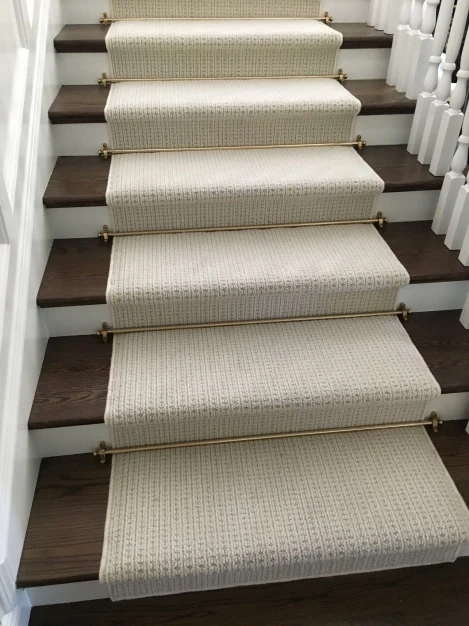 There's something about the carpet rods and the wool carpet that instantly up the luxury of a staircase. For my lifestyle, I'd be nervous about the cream carpet but for a shoes-off household, gosh... isn't this just the dreamiest?
Style 12: A modern stair runner with patterned carpet or color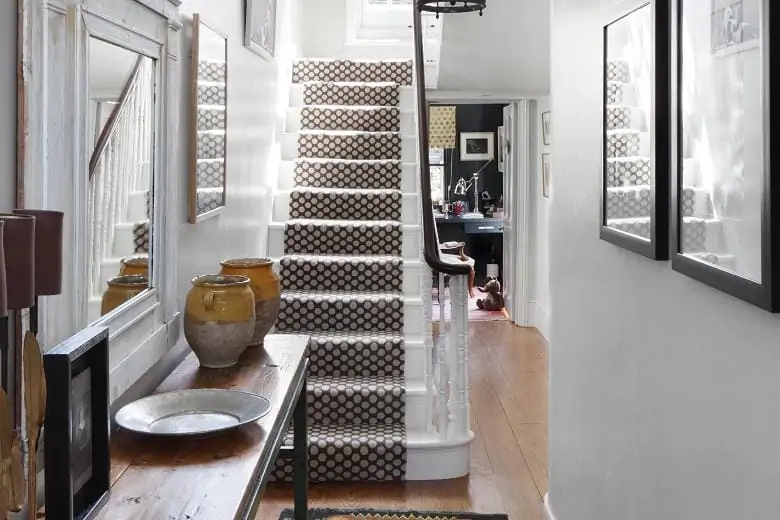 The polka dot rug featured in this space makes it look timeless but I'll put myself out on a limb here and say that it has a modern aesthetic, too. I honestly think if you peeled back all the layers in this entryway, your eye would go to the rug and it would feel bold and, to me, bold is modern. Or, instead of two natural colors in the polka dot, make it purple and white and instantly that adds the modern bold charm to it even more.
Affiliate links below. Thanks for supporting my blog. Click to read my privacy and disclosure policy.
Where to find stair runners?
You can find carpet runners at all major retailers such as Amazon, Wayfair, Ebay, etc.
I personally love vintage rugs, so have shared a bunch of information on how to find affordable vintage rugs. If you like the look of combining vintage rugs on your stairway, definitely use my tips. Or, another good thing about vintage rugs is that you can often find them in super long rug lengths. If you have a shorter staircase that you are adding a carpet runner to, then going with vintage runner rugs might just be the thing!
Shop my Favorites

How to install a stair runner?
Rug runners can be custom made to fit your stairs and, if you go that route, then you'd want to hire a professional to install your stair runner. On the other hand, there are lots of tutorials sharing how DIYers have installed a stair runner themselves and, honestly, it's not that hard.
John and Sherry from Young House Love have installed a few, so take a look over there to get started on the DIY route. I was also impressed by the amount of photo step-by-steps on this install by Love Lilly.
I also liked this explanation on how to work with stairway landing pads and the options for installing over them.
The pros and cons of a stair runner
Stair runners can help protect your stairs from wear and tear and reduce noice on the stairs as people come up and down the stairs.
A con of having a carpet runner would be keeping it clean. I'd use common sense when picking your runner fabric, color and pattern.
How to clean a stair runner
Because stair runners can be made from different types of materials such as wool, cotton, and polyester, it's helpful to know what type of rug runner you have installed before trying to deep clean it.
In general though, you can usually vacuum the rug runner or brush it.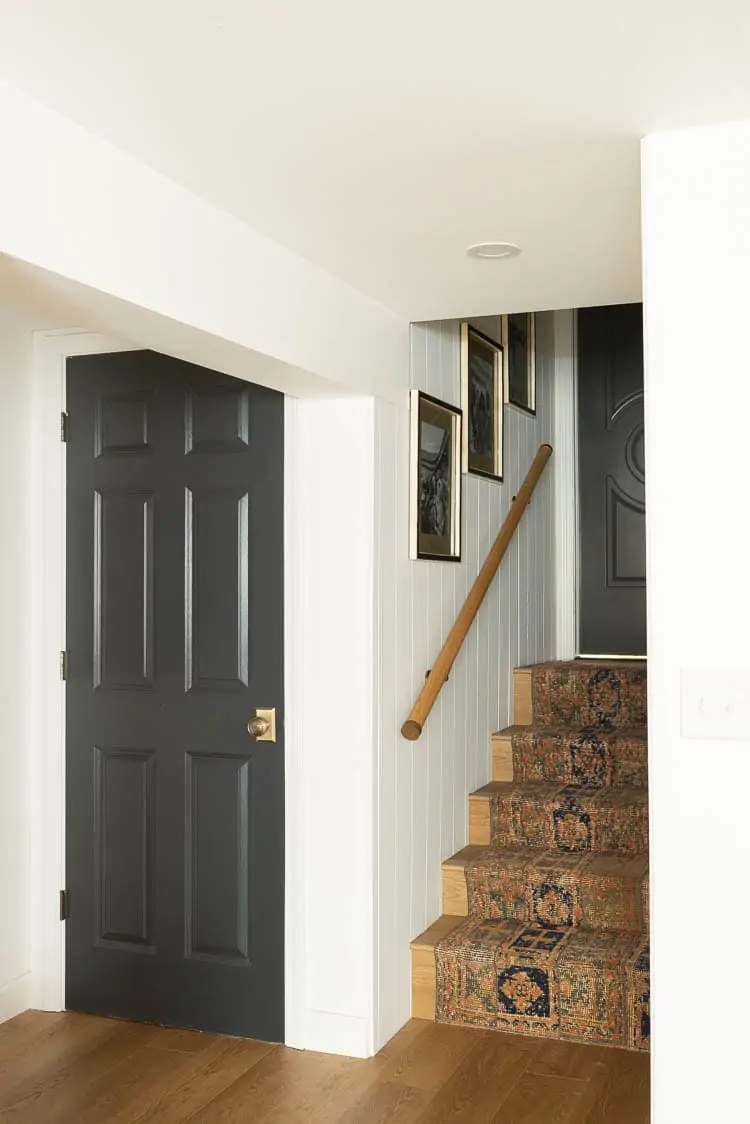 What is the cost?
The cost of the stair runner depends on whether you hire out the install or do it yourself and what type of rug you buy for the stairs. If you have a longer staircase, your price will definitely go up because of labor cost and the actual rug itself.
We DIY'd our basement stair rug installation. Even though our staircase going to our basement is shorter, we still paid around $600 between the rug itself, the rug pad and the installation.
I hope this was helpful! Curious to know... do you have a staircase runner?