No green thumb? Try out these houseplants, that are easy to take care of, to develop your skills and brighten the inside of your house with the benefits of indoor plants!
I'm pretty often asked about my houseplants and, I'll be honest, and say that I don't claim to be a plant guru. I've killed my fair share of plants; especially when I first started decorating with them.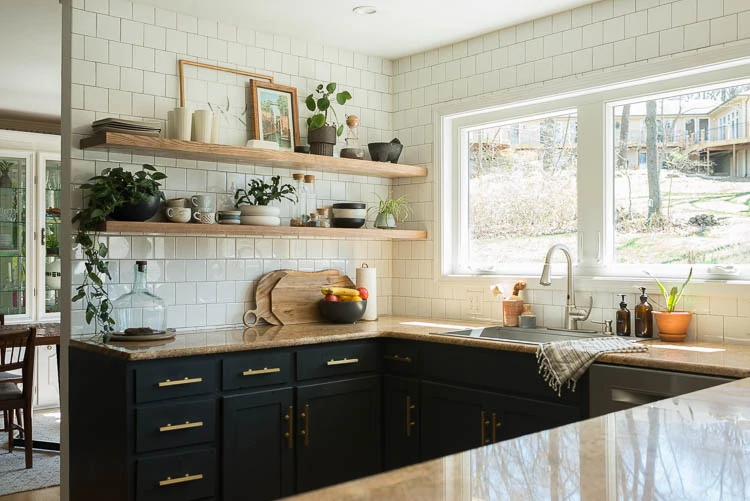 That said, over the course of the last five years or so, I have had success with indoor houseplants more often than not.
Today, I'm going to stick to talking about some common house plants that are easy to keep. But, honestly, once you start developing your green thumb with one plant and see success... be confident and branch out to a new type of plant.
I think that people who are "green thumbs" actually just really pay attention to their plants. So, watch the leaves on your plants, check the soil levels for dryness, wipe the leaves if they are dusty. Soon, instead of asking what "easy care houseplants" to buy, you'll be confident to buy that Fiddle Leaf Fig or Weeping Willow that you've wanted forever but just haven't felt confident to buy.
Easy Houseplants
If you are brand new to indoor plants and are looking for the best indoor plants to buy first, here's a few that I really like!
Snake Plant
ZZ Plant
Pothos
Philodendron
Pilea
Let's talk about the snake plant first.
Snake Plant Care
Commonly referred to as Mother-in-law's Tongue or Sansevieria.
There are lots of different varieties of snake plants. Some, with leaves that have some yellow on the edges and some with leaves that are darker green. There are also hybrid snake plants that are a bit more similar to a cactus.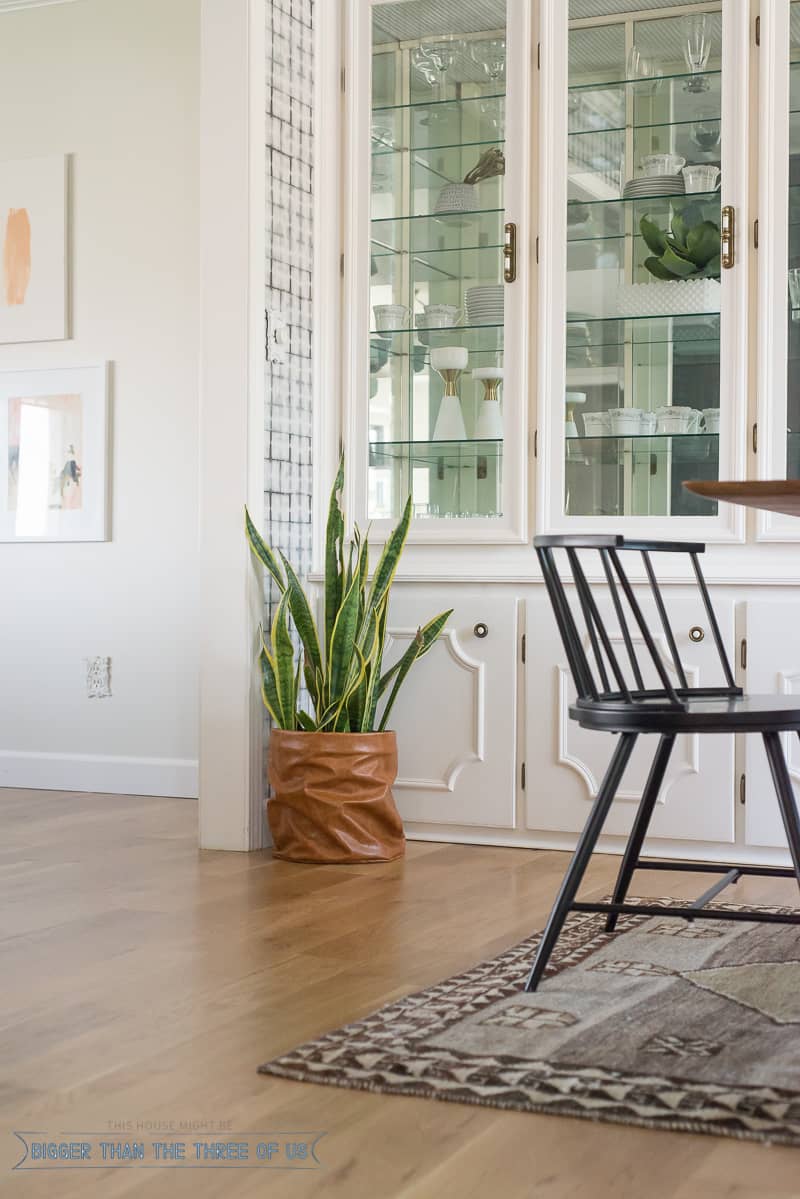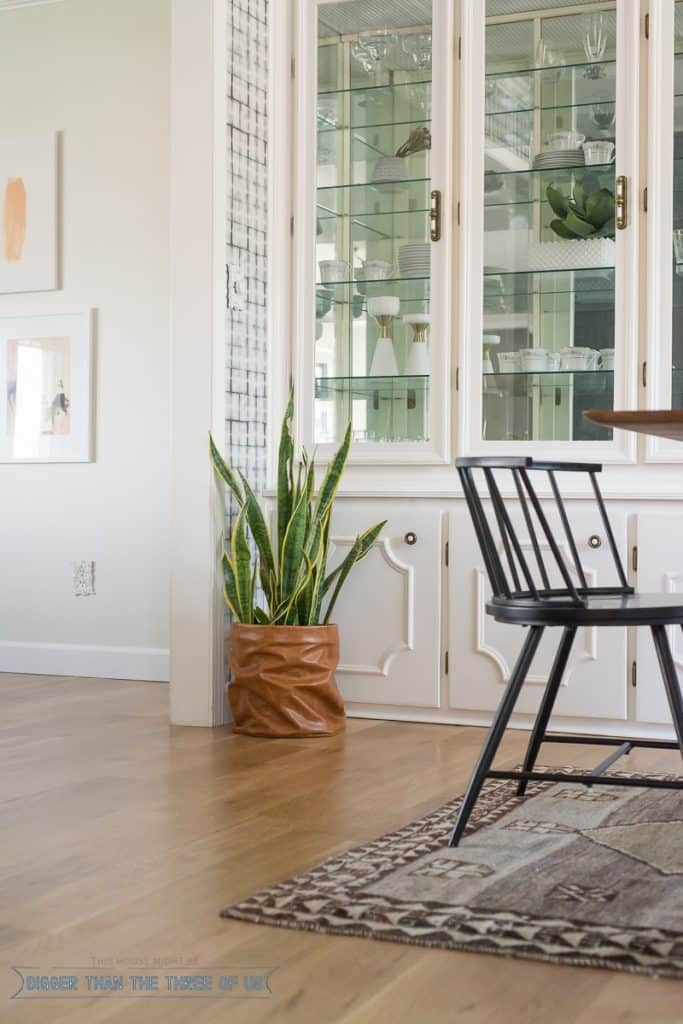 How to Care for a Snake Plant Indoors?
Honestly, they love to be ignored! You don't have to have these on a watering cycle, you can water once every three weeks and, in most cases, they will thrive.
They are a great low-light indoor plant and are easily found at hardware stores during the spring months.
If you are a plant newbie, I'd definitely recommend buying a snake plant as one of your first plants. I honestly think they are the easiest houseplants to own!
Let's talk about the ZZ plant next.
ZZ Plant Care
This plant is known as the Zamioculas Zamifolia. I tend to the ZZ plant just like I tend to the snake plants. I usually ignore it and then every three weeks or so, I'll water it. It does well in all light situations and is an air purifier, too.
ZZ plants are often found at the same time as snake plants, at your hardware store in the Spring but tend to be a little bit smaller in size when compared to a snake plant.
The ZZ plant is shown (below) in the small brass plant stand.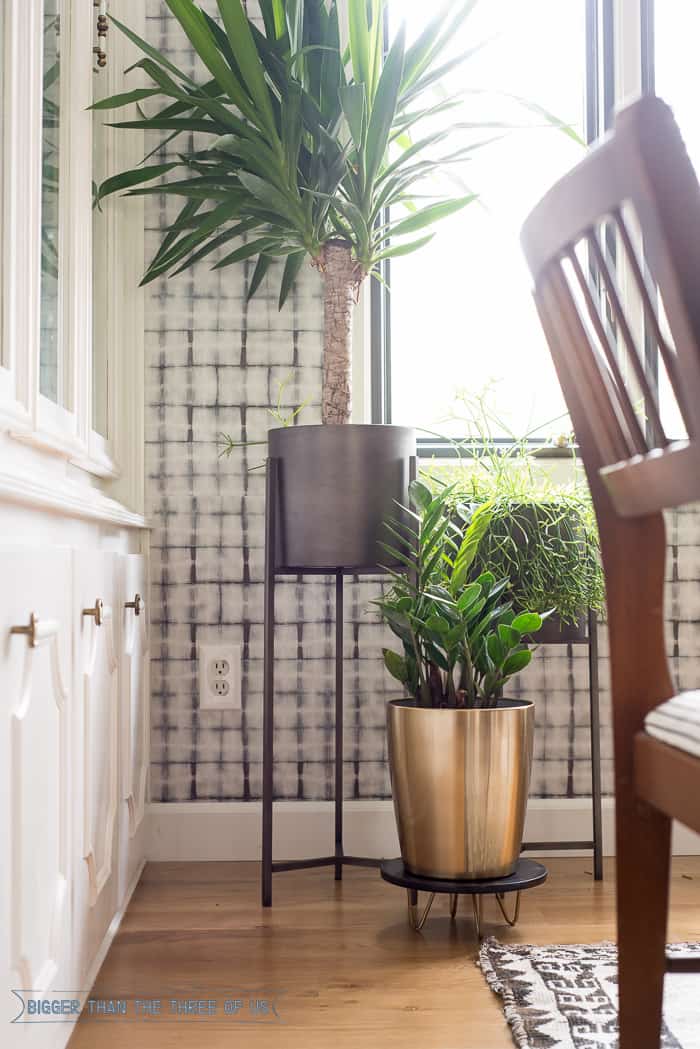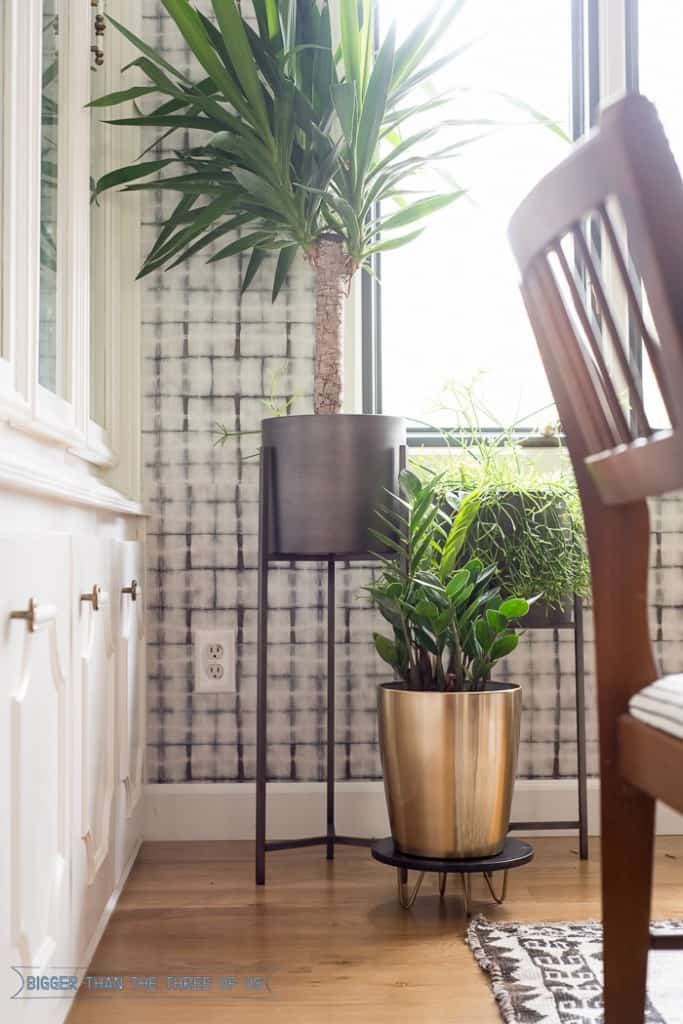 The pothos and philodendron are both easy house plants to take care of and I've found them to be similar so I'm going to talk about them together.
Pothos & Philodendron
Pothos and Philodendron are often mistaken for each other. From what I know, Pothos are usually lighter in color and the philodendron leaf shapes closer resemble a heart.
The leaves come in all different colors but my absolute favorite are darker silver/green varieties.
Both will grow with different light conditions and, honestly, really do well in bathrooms! I often have have them in just about every room and love them because you can split them easily. Meaning, you can make new starts off the plants that you have.
You can hang them from the ceiling and let the leaves cascade down or place them on a shelf or a stand. The leaves will trail around where you place them which is a fun benefit.
My favorite philodendron with the darker green leaves and specs of silver is on the bottom left side of the shelf in my kitchen (shown below).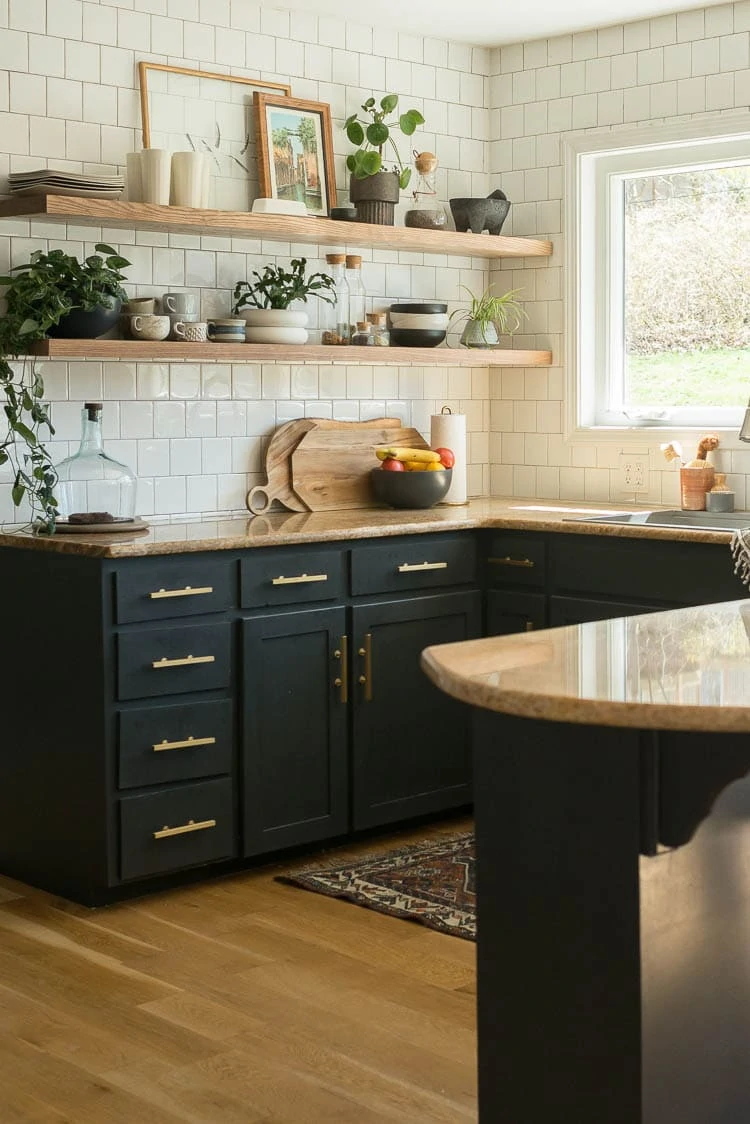 Let's talk about the pilea next.
Pilea Peperomioides
This plant is also know as the Chinese Money Plant. As far as the plants on this list all being low-light indoor plants, this one does a bit better with some dappled natural light.
Think about putting a pilea on your kitchen table or desk where you get a nice amount of sunlight but it definitely doesn't need full sun.
My pilea likes to have dry soil in between waterings so water when it's dry (I do it about once every 10 days or so).
Pilea plants are really neat because they make babies off of the main stem. If the Pilea is thriving, then you will have baby shoots of the main plant that you can cut and propagate. My money plant (shown below) has about five baby shoots coming off of it.
I hope you feel more empowered to try some easy houseplants in your home. There are definitely spaces that benefit from articial houseplants (hard to reach, high shelves or a corner of the bedroom where you just don't get enough light but want some greenery), but overall, the benefits of indoor plants are great.
Not only do indoor plants help purify the air and act as decor but they add a sense of life to corners and shelves that were otherwise lacking.
If you want even more plant help, my friend Amy has a huge list of plant care tips for different types of plants.
Where to Buy House Plants
I like to shop locally for houseplants when I can and you can always Google "indoor plant nursery near me" to find good local options.
If you are a Springfield, MO local, I love Schaffitizel Greenhouse. Don't let their website fool you, they have the best greenhouse in town.
If you want to shop online, I've had success buying plants on Etsy. (Affiliate links below. Click to read my disclosure policy)
Etsy HousePlants

Now that you are on a mission to have a green thumb, you might be interested in some plant-related DIYs.
Here's a few of my favorites:
Let me know if this helped you feel more ready to tackle being a plant person! I hope it did because I get so much joy from my houseplants. I want you to feel that joy, too.