Looking for emerald green bedroom ideas? I'm sharing five bedrooms with great color combos that include emerald green to help inspire you!
As someone asked me the other day about my bedroom paint color, I was thinking about other bold paint colors that could work in bedrooms. I'll be the first to admit that I typically go for more muted and deep paint colors, but my Tricorn Black bedroom walls are anything but muted.
Because I love the color green and used a forest green paint in my living room, I was curious to dive in to a vibrant green - more like an emerald green - to see if there were options that might work for bedrooms. Spoiler: I found a few emerald green bedroom ideas to share with you!
I've been able to track down some of the exact paint colors for you (such as Rainforest Canopy by Sherwin Williams, Hunt Club by Sherwin Williams and Westhaven by Sherwin Williams). The two other bedrooms that I wanted to share, I was not able to track down the emerald green bedroom paint but I think they'll still provide inspiration to you!
Emerald Green Bedroom Paint Ideas
HGTV HOME by Sherwin-Williams Rainforest Canopy Hgsw1261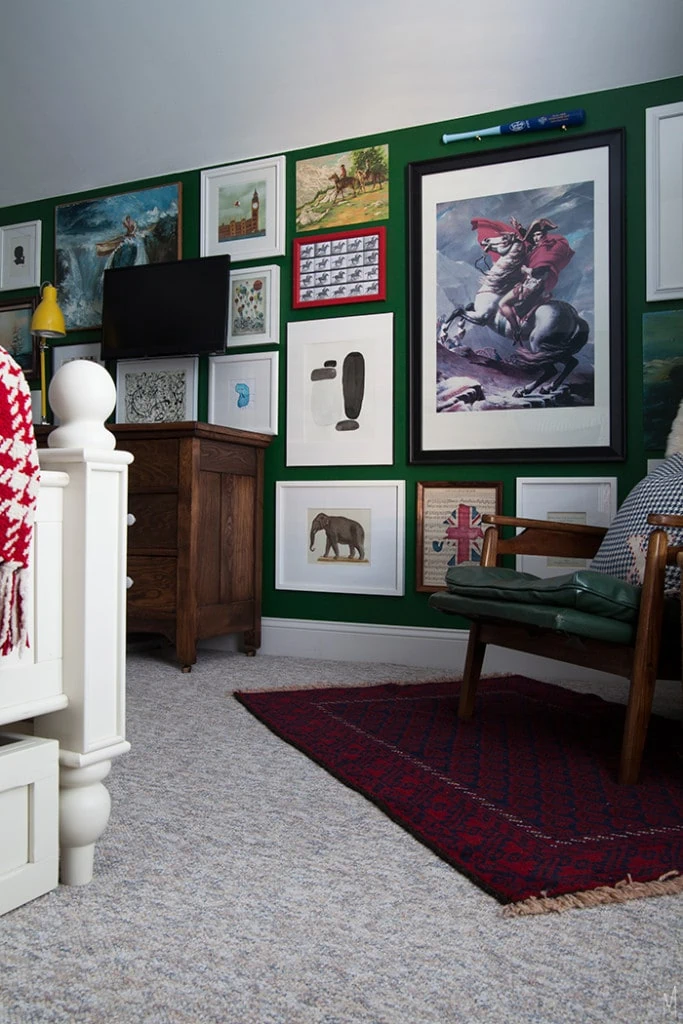 This color has been changed by Sherwin Williams to Espalier. If you are wanting to get it now, the actual details would be Espalier HGSW6734 by HGTV Sherwin Williams. Here's more information on the paint change to check it out. Anyways, it's a great, vibrant green. I love the playfulness of the color in this bedroom.
This green paint pairs well with red and black but I also think you could easily use it in a non-kid space and pair it with brass or bronze.
SW 9756 Westhaven Paint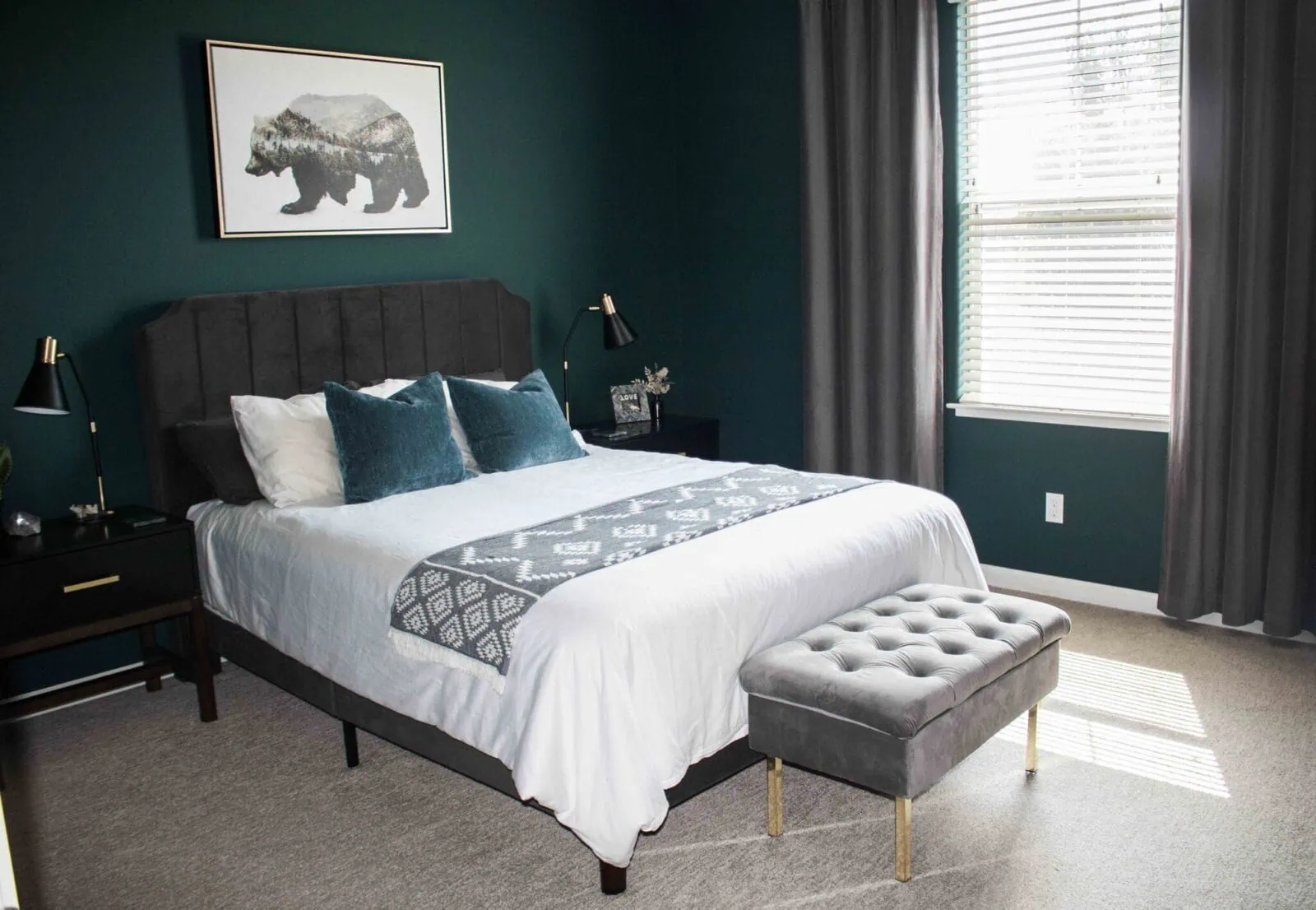 Westhaven by Sherwin Williams definitely pulls more of an emerald green color in this bedroom! If you are looking for that deeper, jewel-toned paint color in the green paint family, this is probably it. As you can see, it pairs nicely with black or black and brass, but I also think it would pair really nicely with a warmer cream.
Sherwin Williams Hunt Club SW6468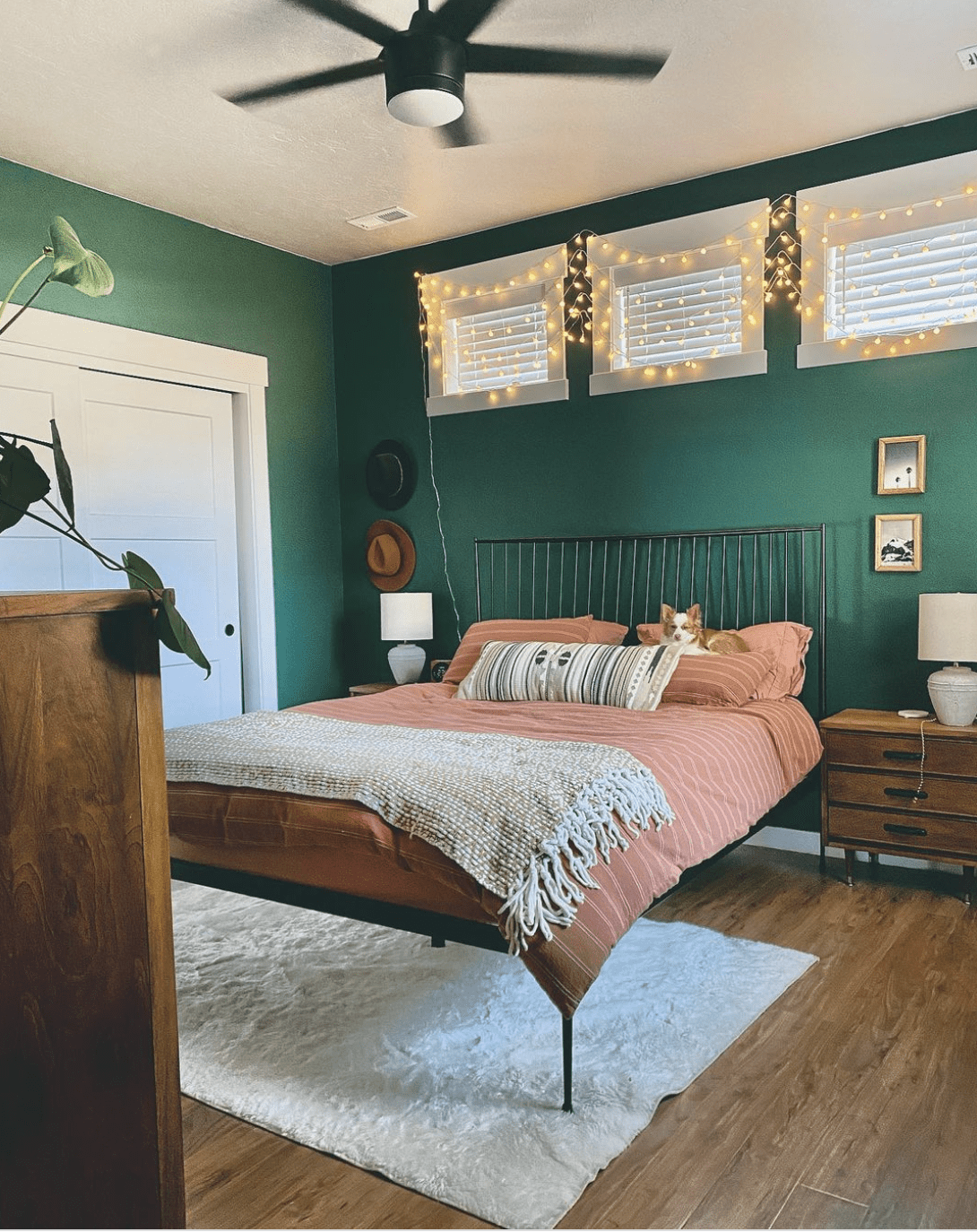 This lighter-toned green looks so nice paired with a lighter, warm-toned wood. Look specifically at the light-colored wood frames on the wall by the bed. Don't you just love the pairing of the light wood and the green? I think it's really nice.
Jewel-toned Nursery
This nursery is such a great example of how emerald green can pair with lots of different colors. This nursery is pairing green with black, gold, cream, blue and a lighter wood tone. The tones of the colors are different, so that's something to take in when you are considering your color combos.
Brilliant emerald green bedroom walls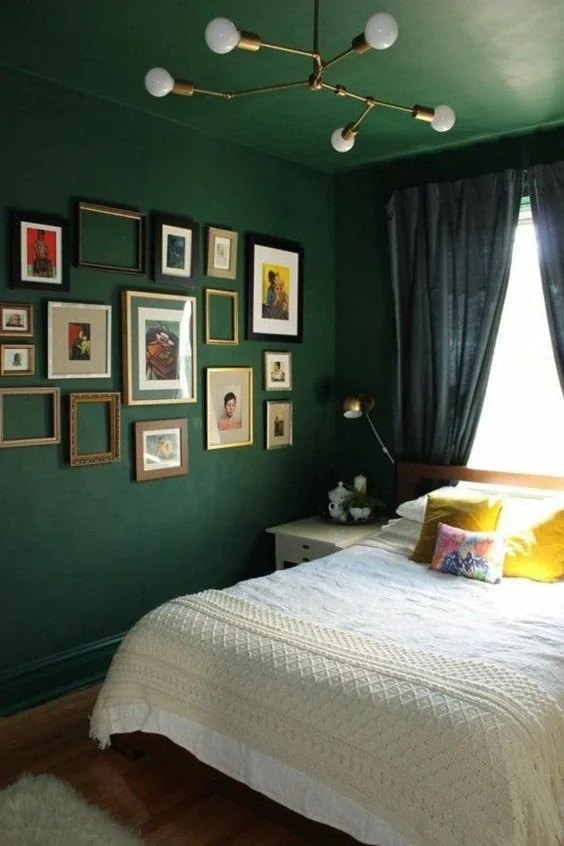 What do you think about the ceiling paint? I love it! We still have quite a bit of asbestos popcorn ceiling in our house but, if we didn't, I'd jump on the chance to paint a bedroom ceiling. Also, this color is a nice step in the direction of deeper paint colors, if you are wanting to dip your toe in.
Did you have a favorite? I'll be honest and say that I really like the last image. I wish I could have found a paint color for that room but I couldn't track it down. Anyways, I hope you feel excited to start thinking about using colors that you weren't immediately drawn to.
And, if you want my tried and true, less jewel-toned colors that I've used, take a look at this post about my favorite interior paint colors.