I feel a bit funny showing you pictures of our modern formal dining room again, but I never shared the space with the new leather-upholstered chairs without Christmas decor. Do you remember right before Christmas, when I reupholstered the mid-century chairs? Well, when I shared the new chairs, the room was decked out with a Christmas decorations so I wanted to share the room how it looks day in and day out.
Hilariously enough, our modern formal dining room is one of my favorite rooms because it's NEVER dirty. That being said, it's one of those rooms that hardly ever gets used and so that's a negative to the space. Well, I guess it's never dirty because it never gets used but when we use it... it's DIRTY. Right now, we are utilizing the table for a week-long Monopoly game. It's neck-in-neck but I think I have this game in the bag.  Monopoly was a serious game in our house when I was a kid. Was it in yours?
My cousin, Ryan, and I would play for daysssssss at a time during the summer. I swear he cheated every single time because he'd almost always beat me. So, for once, I'm winning and soaking it up. And, don't worry about my little guy, Greyson... he's holding his own. That kid has game.
Anyways, now that you know way too much about my Monopoly habits, let me share the updated dining room with you guys (or the way it looked before we busted out the epic game of Monopoly that we are currently in). =)
Modern Formal Dining Room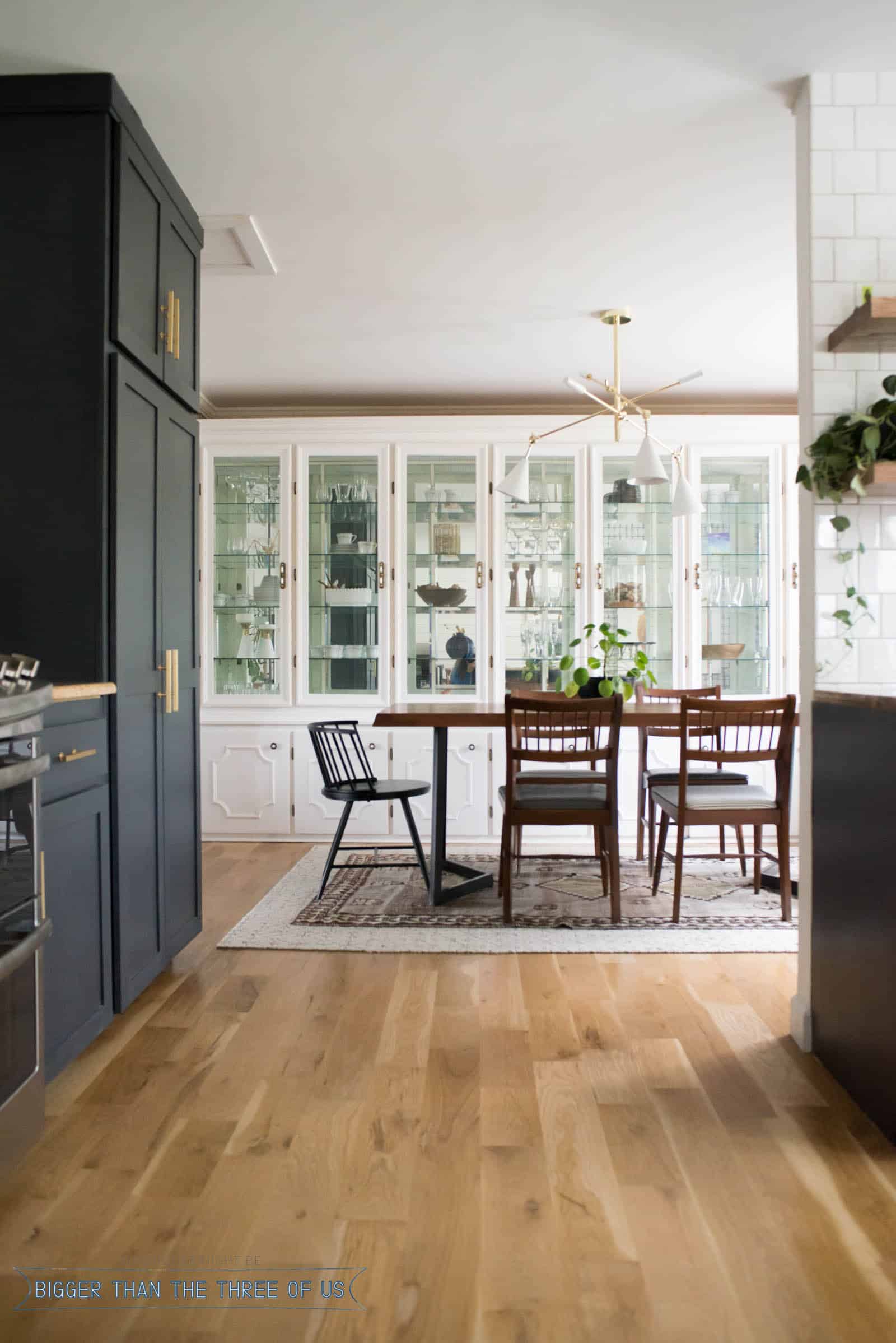 At first glance, the space doesn't look that much different than it did when I first revealed it back in 2016. But, if you take a look at the mid-century dining room reveal and compare it to now... it's quite a big difference.
I think the plants have tamed down a bit in this new iteration of the space. Although, to be fair, the plants that are in there now have been in there for at least six months.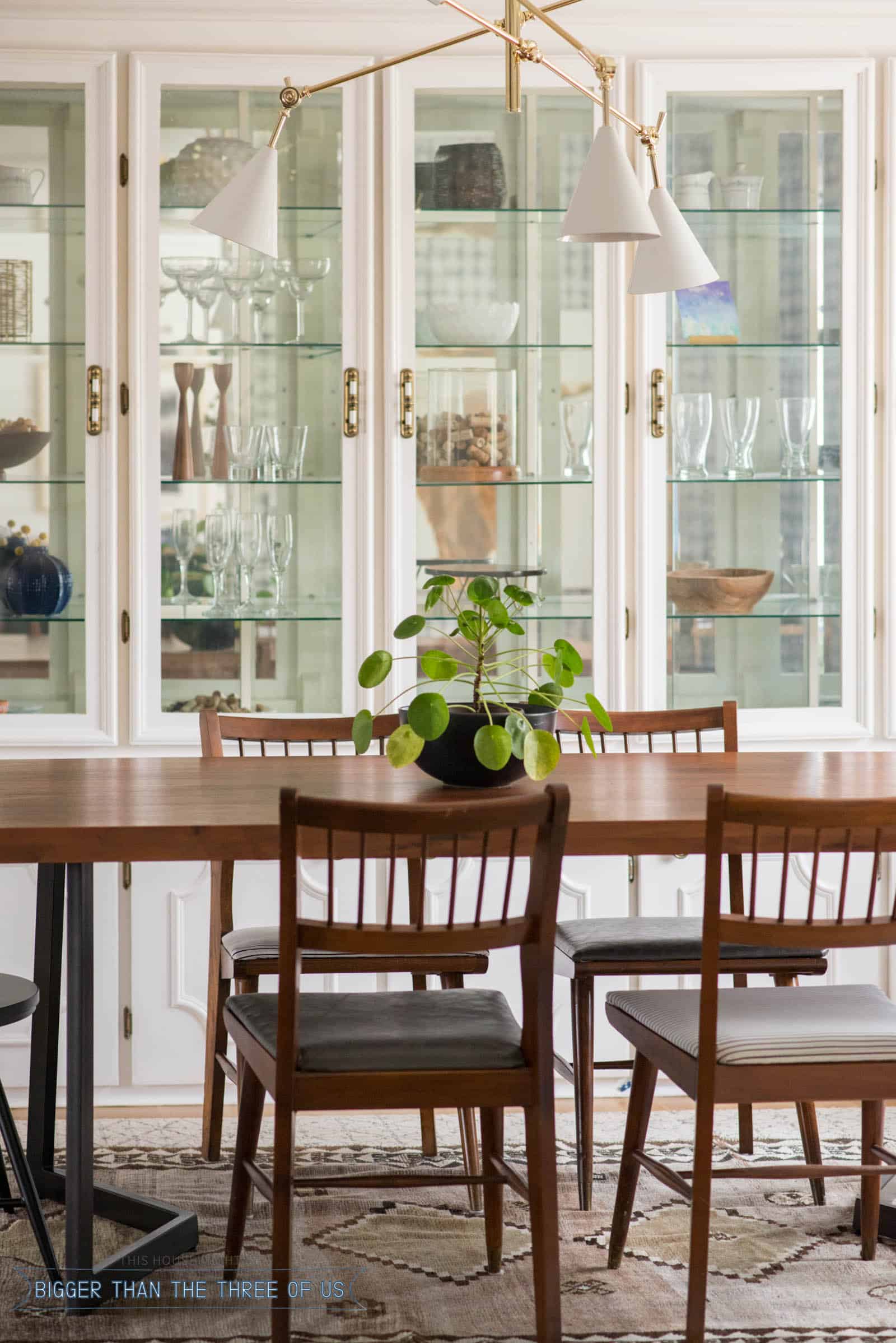 I think a bigger difference is that the furniture and rugs feel just "right" for the space. I got rid of the bench that I used to have on one side of the table (who wants to sit on a bench without a back for a dinner party anyways?).
In place of the bench, I put the remainder of the two mid-century chairs that I had in the basement. I hesitated bringing them up before because I didn't have any more of the vintage striped black and white fabric that I used to recover the first two seats with. I wanted all the seats to match because I loved that vintage fabric. I was just being stubborn, hoping I'd eventually find more of that vintage fabric, but I never could find any.
I finally gave up before Christmas last year, and recovered the dining chairs in leather. If you need a tutorial for how to recover dining chairs, I made a video tutorial and it's a good one.
Anyways, once I recovered the chairs with leather, they felt "right" for the space.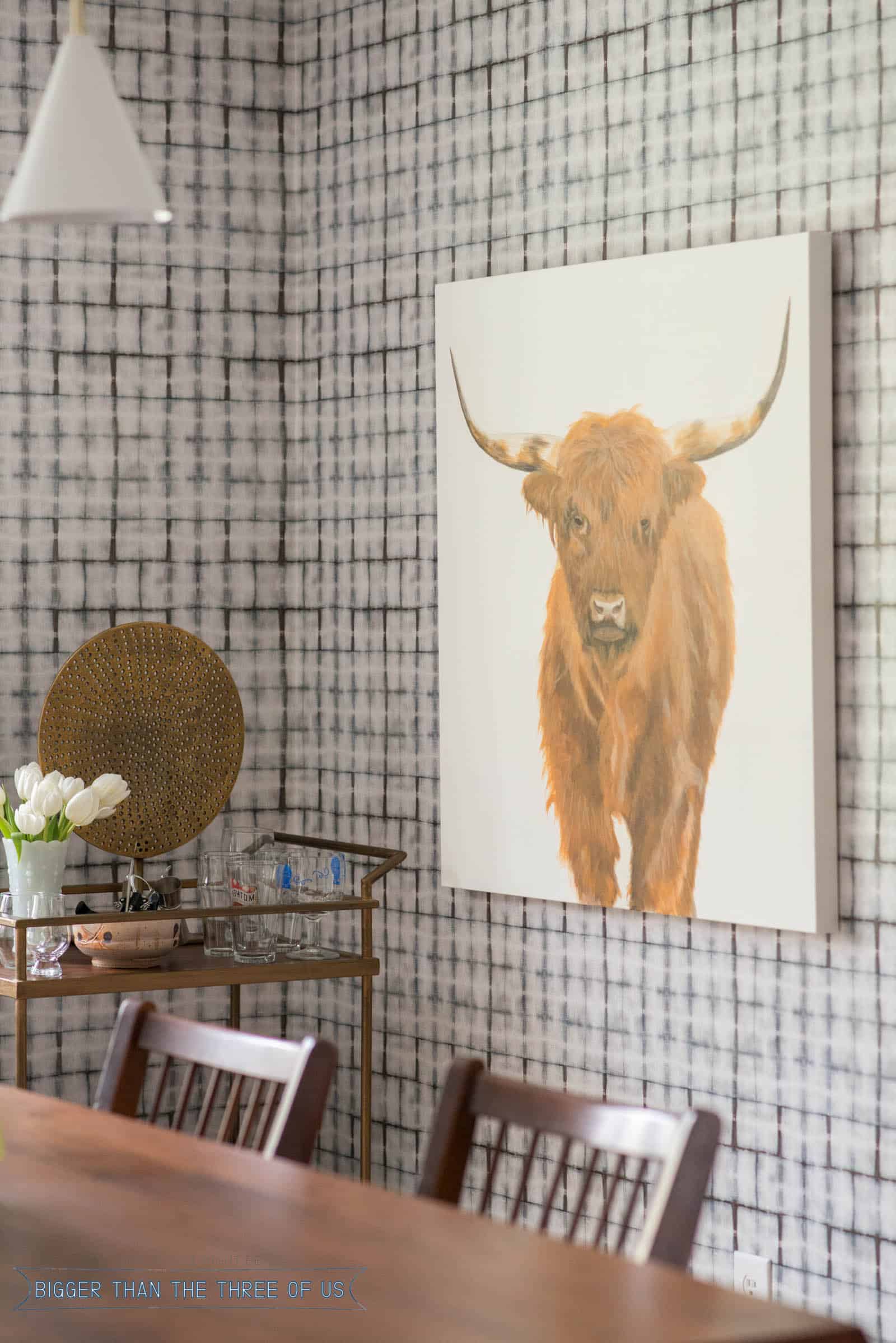 I moved the Highland Cow painting that Luke painted for me into this room. I'm sure it'll float back to the eat-in kitchen eventually, but I'm liking it in here right now.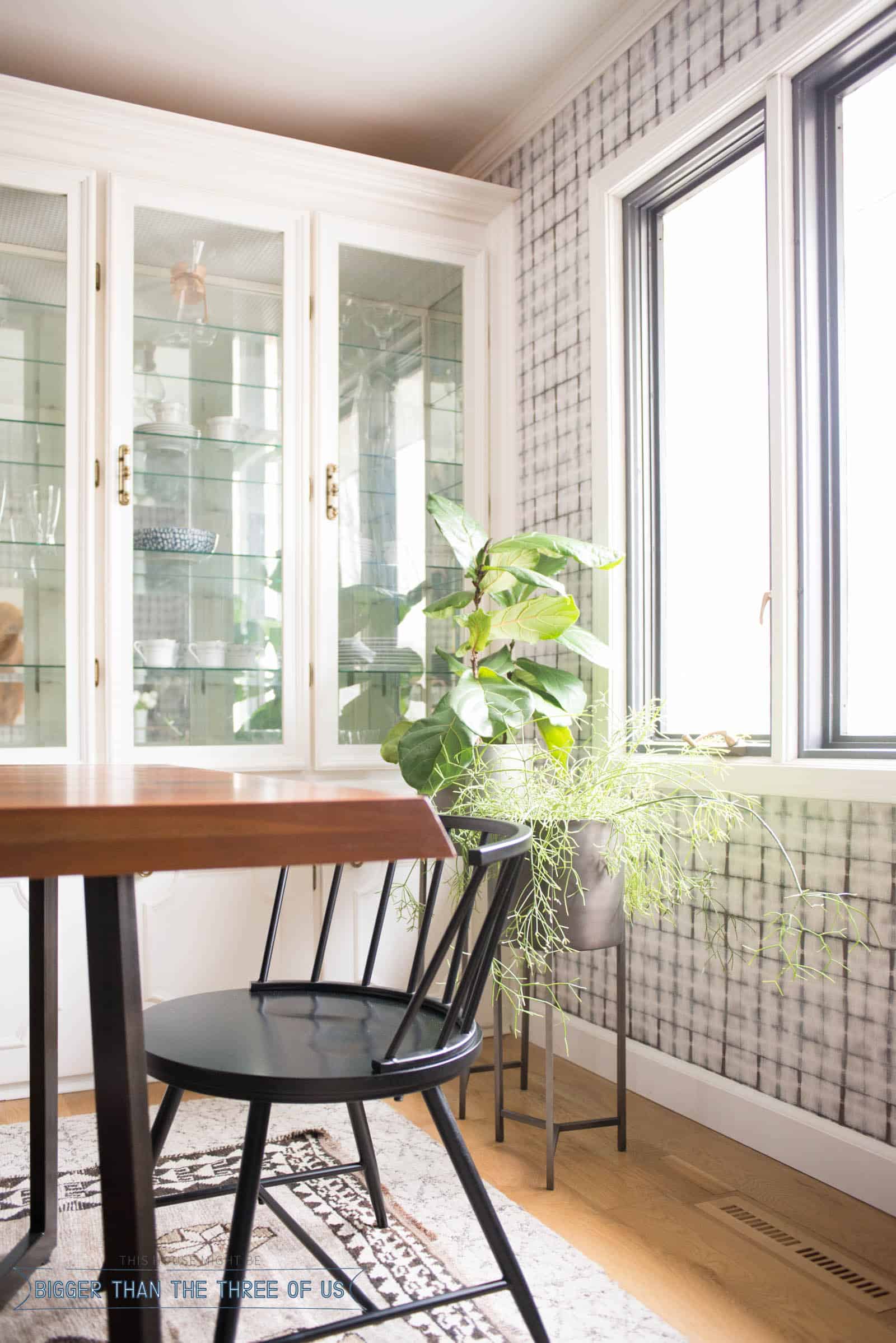 My fiddle leaf fig just LOVES that corner location. Actually both of my plants really love it up high and close to the window. They are majorly thriving.
Oh, and random advice here but, do you see the wood floor vent above? If you ever consider putting hardwood flooring in and you buy it from a local mill or have the opportunity to have inset wood vents put in and stained... YOU SHOULD DEFINITELY DO IT. I seriously consider that one of my better design decisions even though they were a bit pricey ($30 a pop).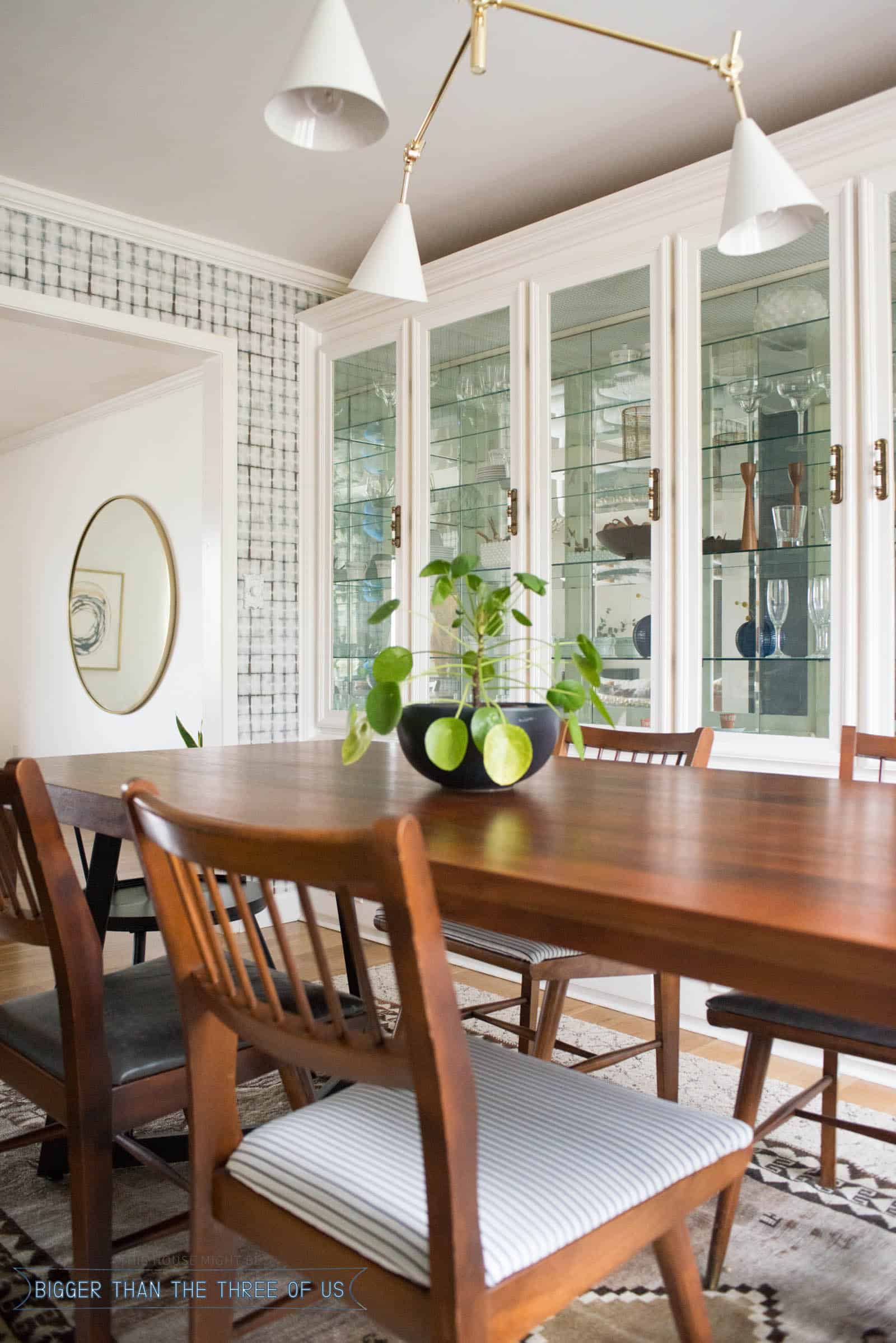 I know I'm going to get asked about the plant on the table. It's called a Pilea Peperomioides and they are a bit hard to find, therefore a bit pricey BUT I absolutely love mine. The "planter" is actually just a serving bowl from Target. I fell in love with it two years ago and eventually ended up with two of them. Unfortunately, they aren't available any longer but I love this large black planter if you are looking for a similar type planter.
Last year or year before last, I did a round-up of non-planters that you could use as planters. Thinking outside the box when you are considering vessels for plants can always be a good thing. Just another tidbit for you.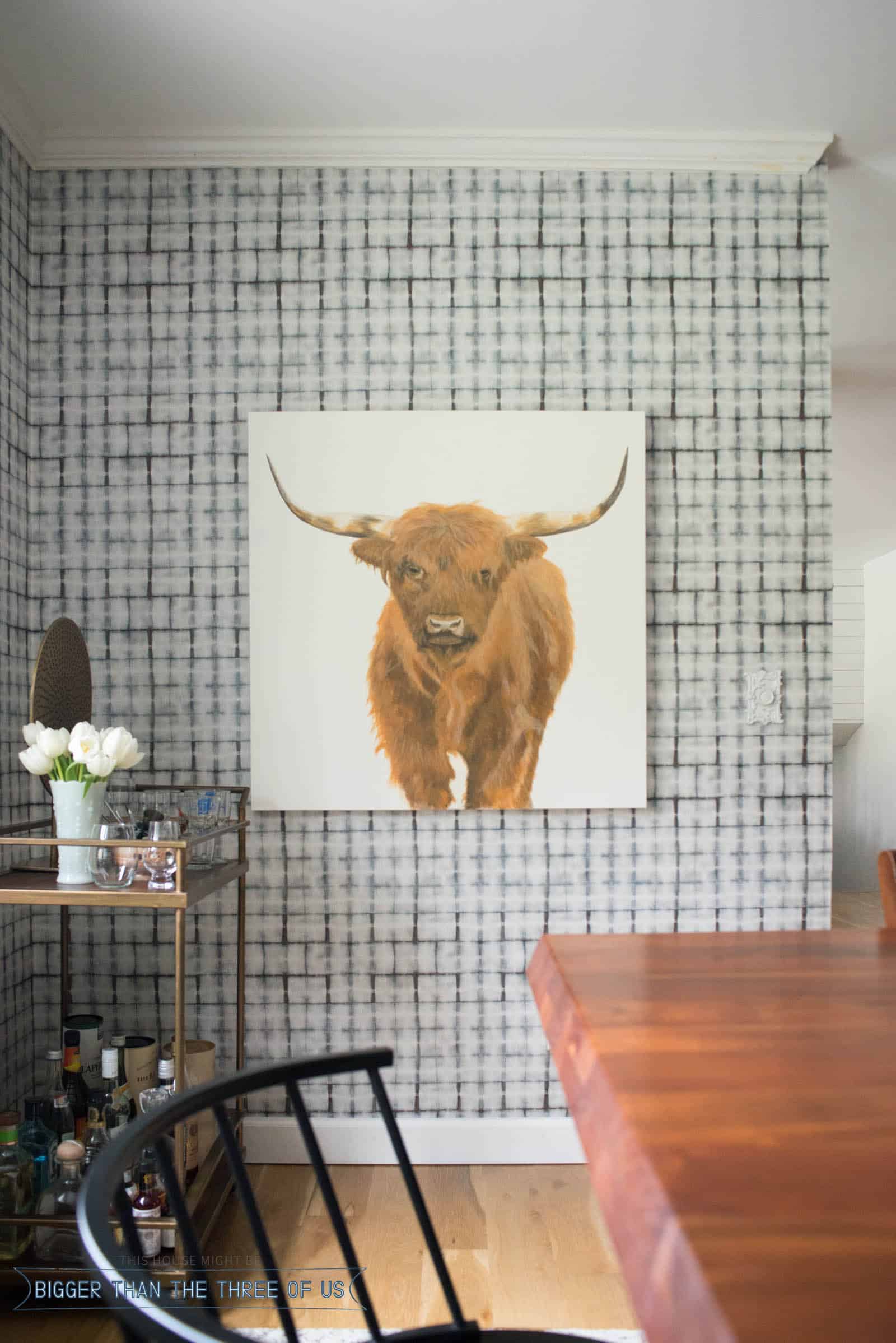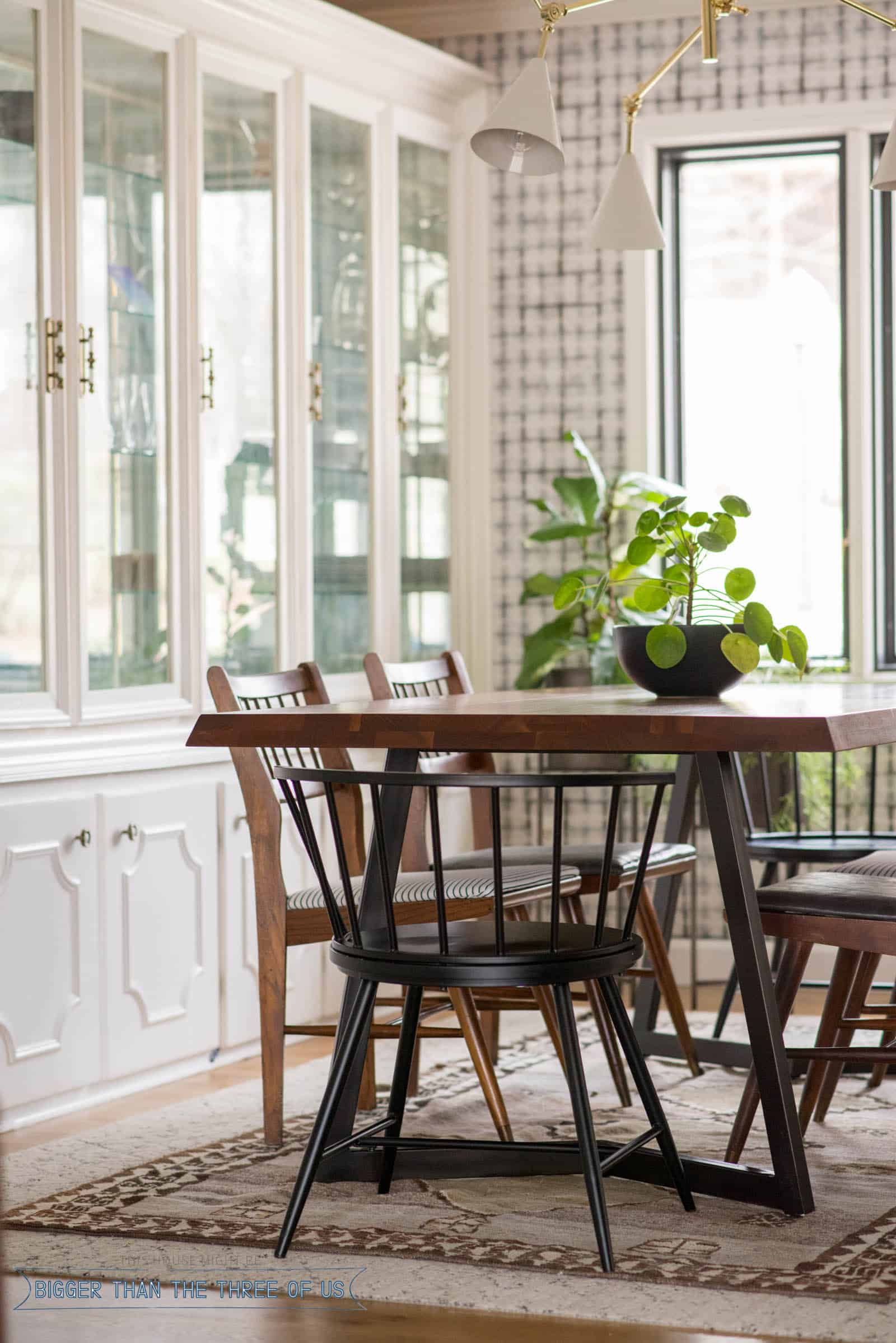 When I first revealed the space, I just had the vintage rug underneath the table. It's a tad small to be under there but I absolutely adore it. Last year, I added the Flor carpet tiles underneath the rug and that just made the whole thing work. I love the pairing.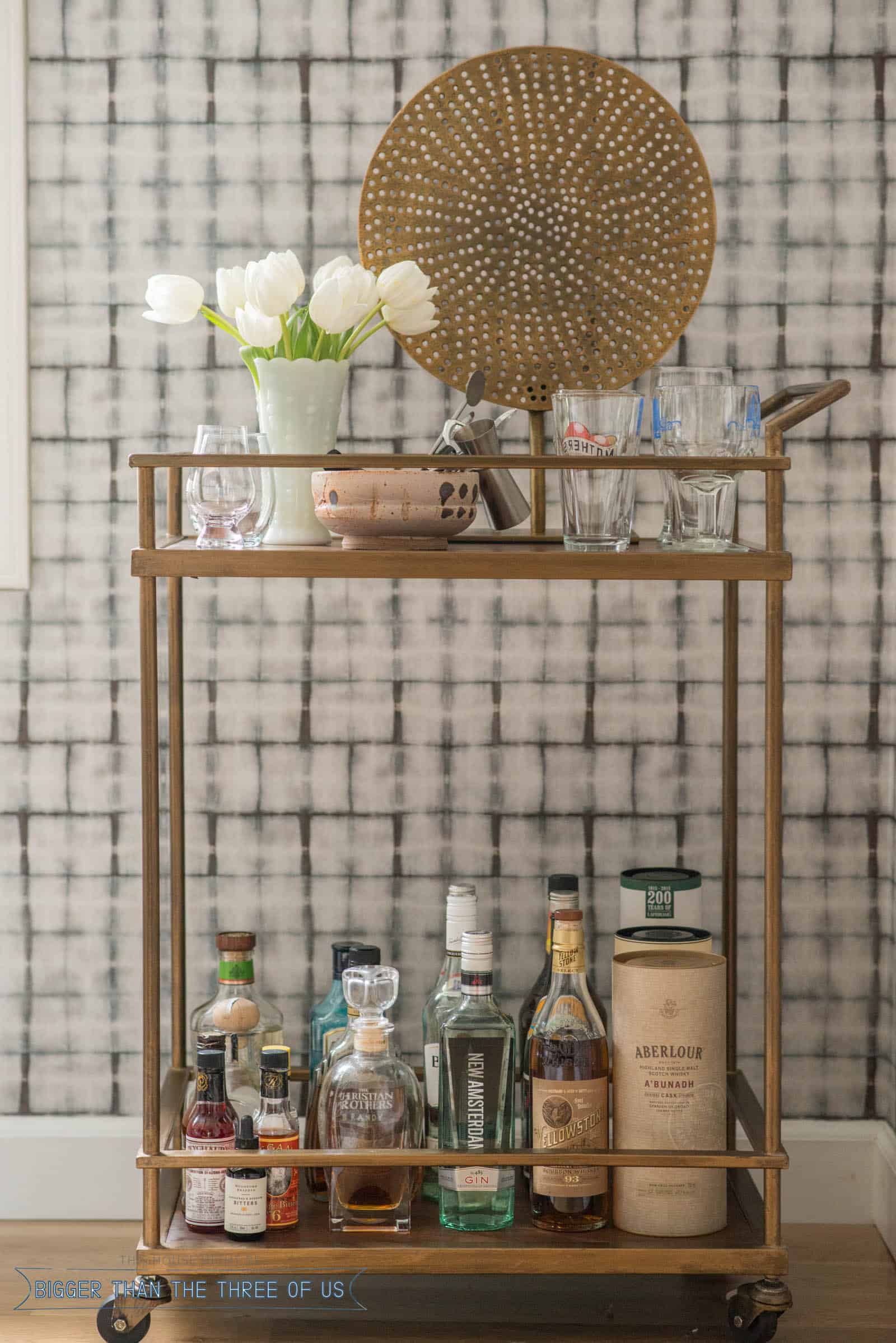 I know I'll get asked about the dining table, but the exact one that I have is no longer available. I did source a few that are VERY similar though, which I will include for you below.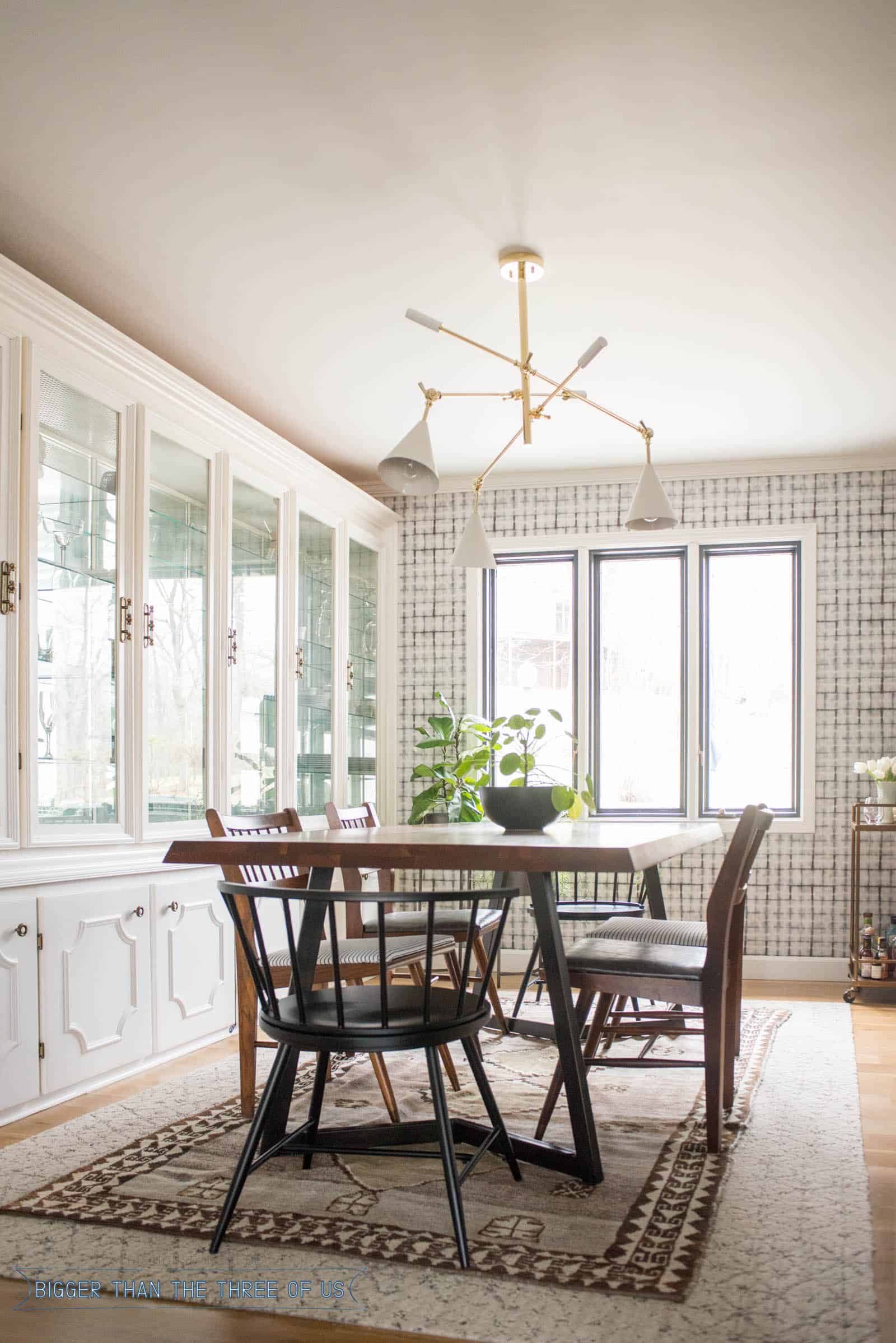 So, that's the modern formal dining room. I really love the space right now. Sure, there are a few tweaks that I'd love to make... I mean, who doesn't want to make a few tweaks in every space they have?! But seriously, overall... the space just flows so well and fits with my style.
I've tried to give you exact sources on everything but a few items are either vintage or discontinued. I did the best I could with finding similar items for you instead.
Modern Formal Dining Room Sources

Here's a video tour if you'd like to watch it:
SaveSave
SaveSave
SaveSave
SaveSave
SaveSave
SaveSave