Did you guys have a good weekend? Ours was eventful to say the least. Luke started burning leaves early Saturday, and I got super stressed about it… like usual. After about 15 minutes, he called it quits and we decided to just have our neighbor (who has a lawncare company) help 'Spring Clean' the rest of the yard. I walked over to talk to our neighbor and he decided to come and give us a quote. $300 and it will be done and taken care of. It would have taken Luke and I two full Saturdays to get all the rest of the leaves and limbs taken care of and having the peace of mind of not fearing that we will burn down the neighborhood… PRICELESS. Anyways, we got all the outside stuff cleaned up and went inside. Then, we decided to see if we could get our bird bath water fountain pumping again. A few minutes later,  I tried to go back inside and realized that we locked ourselves out of the house. No keys, no tools, no nothing on us. After seeing if there was any open doors or cars, we realized that nope… we were out of luck. So, what does the smart person do? Oh, we decided to kick in our basement window. Replacement windows are so much cheaper than calling a locksmith, right? lol. One step forward in house renovations and two steps back. A trip to Home Depot fixed that and now we have a nice new window.
Anyways, so I mentioned last month (or was it the month before?) that we splurged and bought a loveseat from West Elm. Well, to my annoyance they have had issue after issue getting it to us. It was supposed to be here by 02/14 and yep, we are now thirty days past that. However, their customer service has been helpful (they have comp'd a large part of the purchase) and it's supposed to arrive today. I'm excited!
I thought I would revisit the mood board that we've been working off of for the living room and then show you an updated one.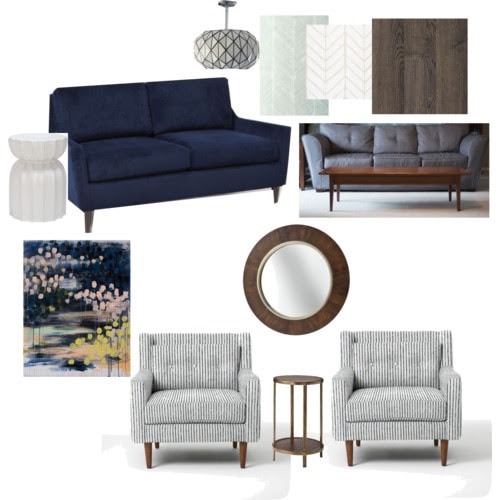 So, we have the two couches (or will today when I get my shipment!), the side tables, the art and the light. The two matching chairs, wooden mirror, floors and chevron wallpaper are all things that I would love to have eventually.
But, I made this mood board last year and as with anything in life… you evolve and change. The mood board has evolved a bit, so I thought I would share.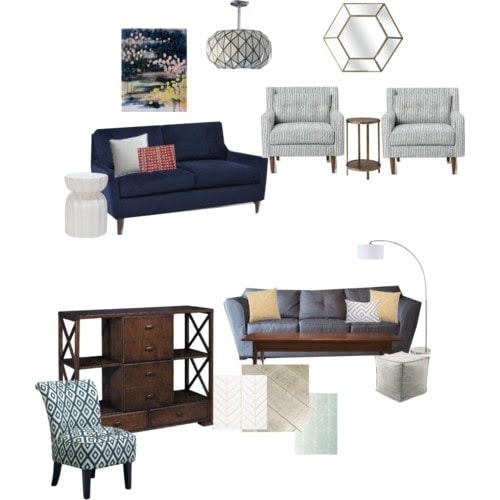 As you can see, we've added more layers and furniture. The buffet used to be in our kitchen, but I switched the table around in there so the buffet had to go out. Our living room is super long, so I decided to place it behind the slipcovered sofa and it works ok. I don't love it, but it's ok.
Back in the fall, I found the Ikat Target chair at Goodwill. I snatched that baby up fast. The floor pouf was a clearance find at Target that I got for Greyson. He loves to sit on it while watching tv. The arc lamp we've had for awhile and it just plays musical rooms.
The mirror changed from the first to the second. Target no longer carries the mirror in the first board, so I changed it to a mirror that kinda looks like one we already own. Again, I don't love it, but I'm trying to work with what we have.
The flooring changed from the first board to the second. Right now, we have cream carpet, but within the next two months we are going to put in hardwoods. This is seriously a dream come true. =) I had always thought I wanted dark hardwoods, because they are just gorgeous. But, I know myself and the maintenance to keep them clean with a toddler and a cat would just be impossible. We have an older house with a split floor plan and I know I would never be able to keep it dust-free. So, I started browsing inspirational images for lighter floors. Luke and I have fallen hard for a wide plank matte white oak. We still have a few kinks to workout around the install (mainly we need a kick in the butt to get a few other reno things out of the way), but new flooring is coming soon.
Other than that, I added pillows. We have lots of pillows currently, but I have always picked them up on a super-great clearance deal. Meaning, I haven't thought about scale, patterns, colors, etc. I will probably make a few of the pillows and then buy one or two to save money.
The two matching West Elm chairs are a total splurge and something we will not be getting unless they majorly go on sale. But, I LOVE them, so they get to stay on the board.
So, Wednesday I will show you what the real-life looks like… the good, the bad and the ugly. =)
Linking up to:
C.R.A.F.T., Rain on a Tin Roof, Project Inspire(d), The Makers, The Winthrop Chronicles, Home Stories A-Z, Work It Wednesday, Making Home Base, Fry Sauce and Grits, Liz Marie Blog, The Inspiration Gallery, Creativity Unleashed – The Bold Abode, Remodelaholic, Whipperberry, Tatertots and Jello, Spotlight Saturday, Link It or Lump It and Frugal Crafty Blog Hop.