If you guys read many blogs, then you know that blogs all over the place are doing a "Tour through Blogland". It's a fun tour enabling you to get introduced to new blogs and read more about the person behind the blog. Well, I have two blogging friends that have asked me if I would like to be involved and I said sure. So, I'll introduce you to both of them and then I'll get to my part at the end.
First up is Chaney, from May Richer Fuller Be: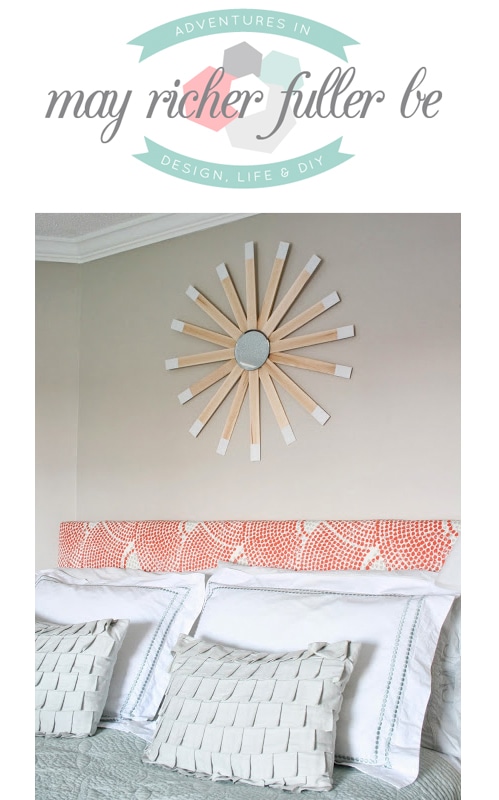 I 'met' Chaney a few months back in a Facebook group for bloggers. Since that time, I've gotten to follow along as she has decorated her space. Chaney uses some of the same colors that I use in my house, but she has a great sense of texture and pattern. Like the above picture, I love how she effortlessly mixes wood, pattern, colors and texture. It all blends so well! She just started on a new adventure with living in a new space… a row house in Philadelphia. I can't wait to watch as she transforms the space to make it her own!
Next up, is Carrie from Lovely Etc.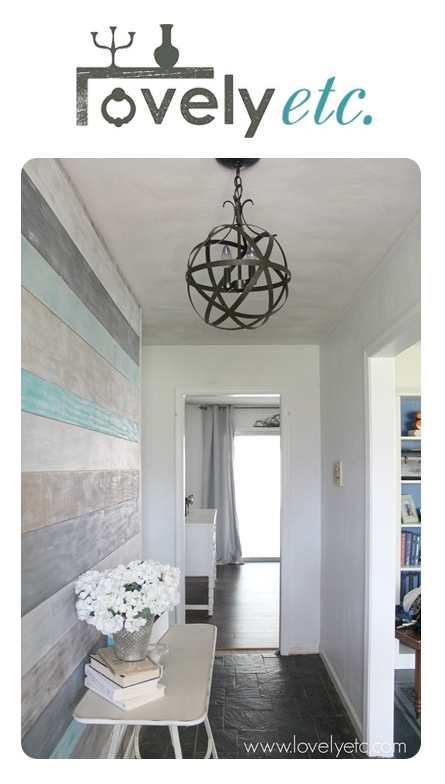 Most of you have probably seen some of Carrie's tutorials, because she and I are in the group who do the "Repurpose, Recycle and Reuse" projects every month. Carrie has a unique voice, which I love. She manages to not only blog about house projects and crafts, but also has great ideas on how to do things on the cheap. As far as projects, she has recently finished a beautiful plank wall in her entryway as well as a DIY light update. I love both and can't wait to see how she transforms the space even more!
So, I have a few questions that have been passed to me that I need to answer. =) Ready?
What am I  working on?
The better question is, what am I not working on? lol. In all seriousness, we have quite a few projects "in the works". Our biggest project that we are working on is our kitchen renovation. We started here back in April: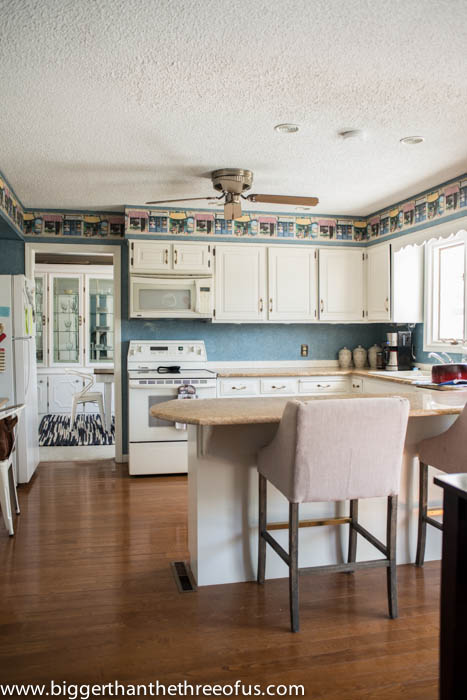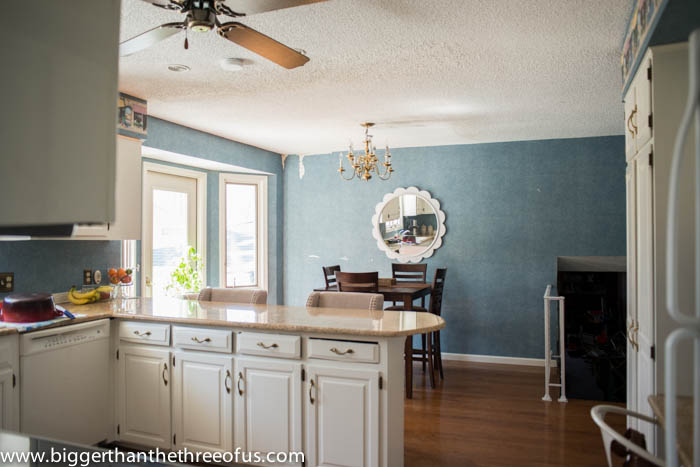 We plan on this renovation being a stepping stone to a future kitchen. We would love to have new cabinets (ours are in terrible condition) among a few other things, but those things aren't in the budget right now. What is in the budget is DIY cabinet removal, wall removal, new lights, cabinet painting, desk removal, wallpaper removal, etc.
Currently, we are here: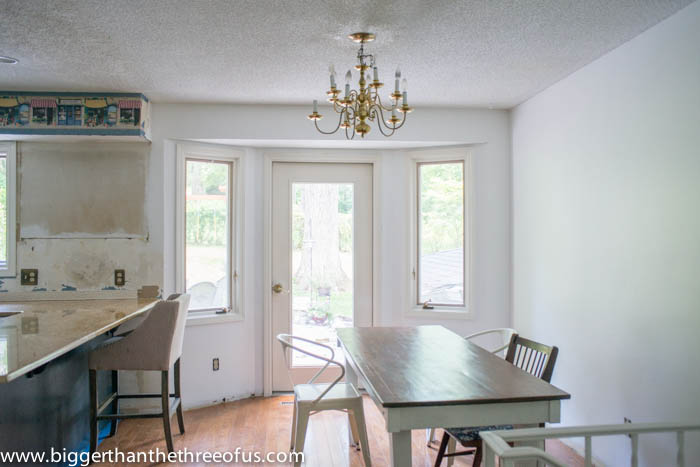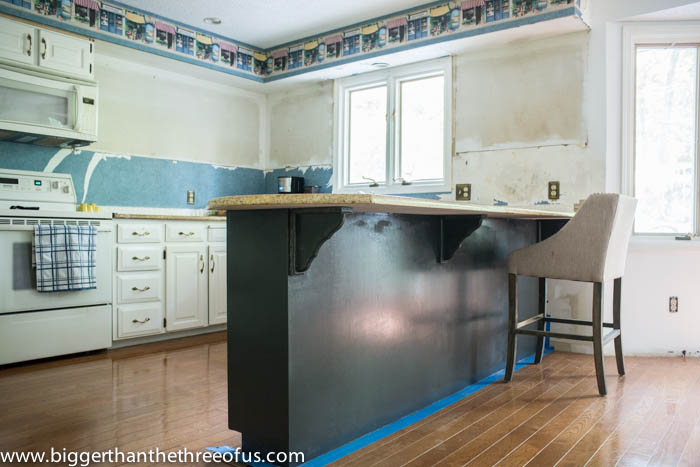 We would love to have you follow along on our process. If you would like to see more of where we are headed, then you can reference this post.
How is my work different from others of its genre?
I think that we are in an unusual circumstance for our age. We bought our 'forever' house and are trying to make it us in ways that we can afford, but yet, maintain the integrity of our house. In lots of ways, we are updating the cosmetics, learning construction, tiling, electrical as we do those things. We are trying to make choices in certain things that can be forever pieces. For example, long-term we would love to expand our master bathroom by taking over space from our hallway bathroom. We have recently tiled, painted, added new sinks, faucets and more details to the hallway bathroom knowing that the ten year plan is to break in to that space and make it smaller. With that in mind, we choose tile (and bought extra) that will be our forever tile. With that also in mind, we choose to keep our cream/yellow tub, because we know that eventually (5-10 years) we will replace it and relocate the tub location in general. I think having a husband/wife team (with a toddler in tow) and trying to keep all of that in perspective makes us a bit different.
This is the almost finished hallway bathroom that I just referenced: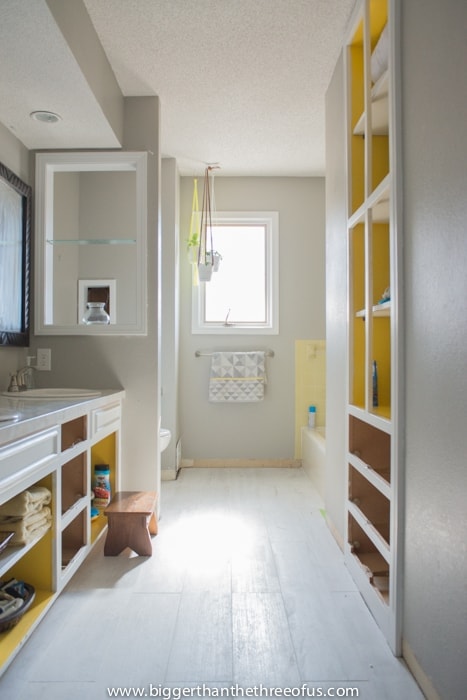 Why do I write/create what I do?
I love high-end looks, but not at high-end prices. I create because I want those looks but can't afford it. Take our Master Bedroom for example: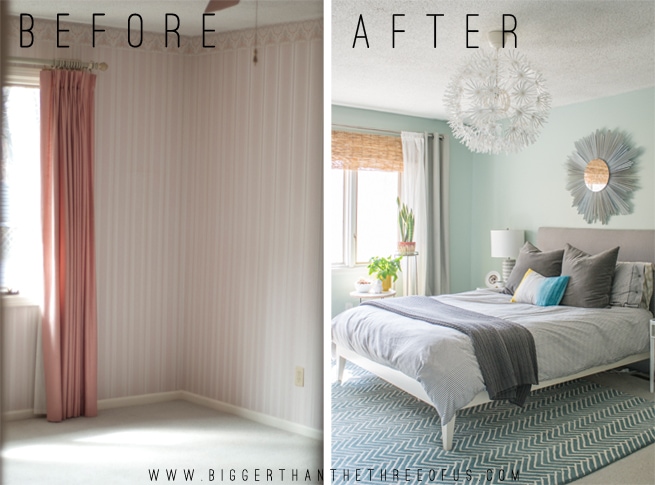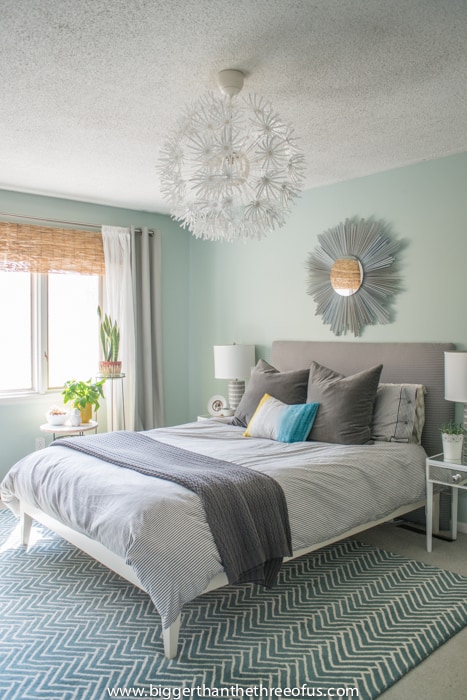 The headboard, sunburst mirror, plant stand and "bamboo roman shades" were all DIY which saved us TONS of money. The nightstands, large plant stand and gray curtains were all thrifted.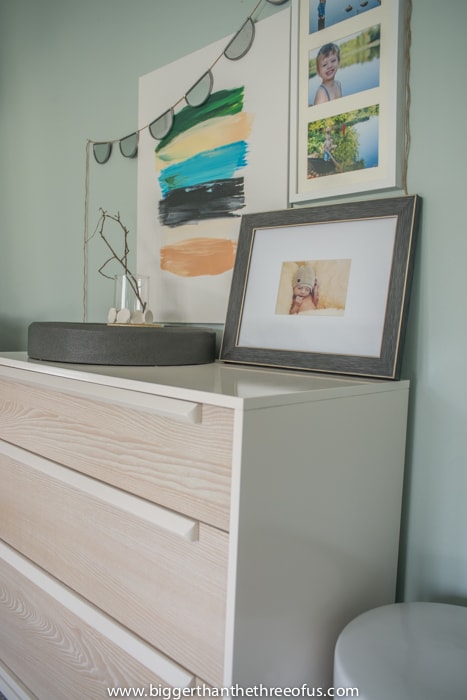 Going the DIY route, enables me to have the look I want but for a price I can afford.
As far as writing about it, I love connecting with people that are interested in the the same things that I am. I don't know about you, but I don't have a lot of "real-life" friends that DIY on the weekend. Connecting with other readers, bloggers and companies interested in what I'm doing is so much fun. I love being able to share tutorials and pictures of our projects and get feedback, so that's why I write (or blog).
How does my writing/creative process work?
We try to plan out what we are working on. Sometimes that works and other times not so much. One thing generally snowballs into another and projects just keep piling up. I have to reign it in and put myself on a posting schedule to actually finish a project to write the tutorial and get pictures for it.
Thanks for letting me share more about myself (and the Three of Us!).
I would like to point you in the direction of two blogs whose styles I just adore. I have quite a few blogs that I love reading, but these two design their homes in a way that makes my heart pitter patter. Seriously.