Drywall mud, also known as joint compound, is a crucial component in the construction and repair process of drywall installations. This gypsum-based paste is used for finishing drywall joints, smoothing corners, and repairing cracks and holes in existing drywall and plaster surfaces.
With a variety of types to choose from, selecting the right drywall mud is essential for achieving a professional finish and ensuring long-lasting durability in your project. Today, we are going to do a deep dive into drywall mud and I'll be sharing what we use and in what instances we use what.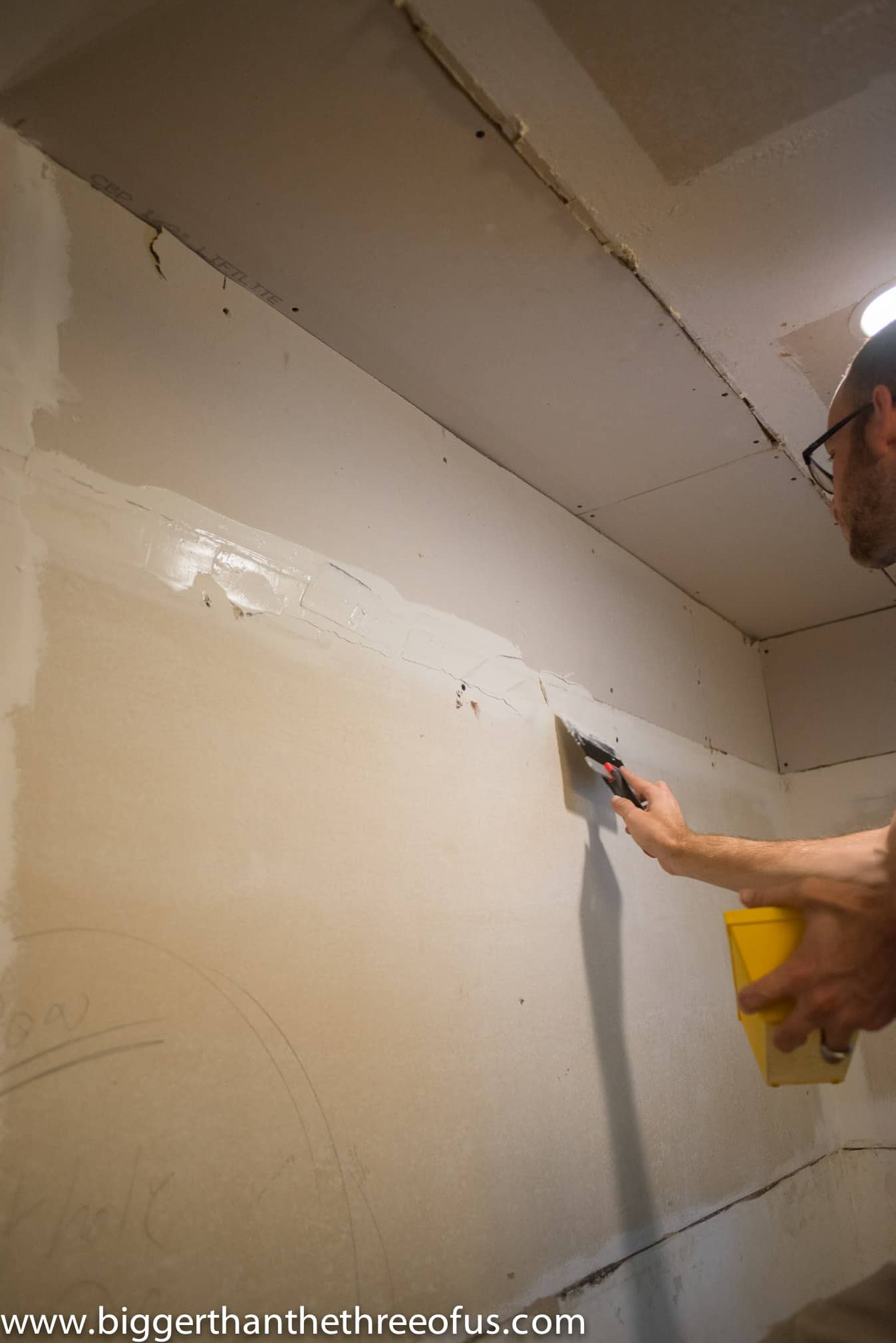 Before we jump right in to all things joint compound, I wanted to share that we've done a lot of drywall projects. So, whether you are learning how to tape drywall, finish drywall corners, wanting to know the cost of drywall or even how to paint drywall; definitely check out my guide to all things drywall!
Ok, lets get to the nitty gritty of choosing drywall mud!
Understanding Drywall Mud
Each type of drywall mud has specific advantages and drawbacks, which are important to consider when deciding on the best fit for your project. The most commonly used types include all-purpose, lightweight all-purpose, topping, and quick-setting mud. Understanding the unique properties and applications of these types will help you make an informed choice for your drywall project, whether you are a seasoned professional or a beginner tackling your first home improvement task.
Types of Drywall Mud
In general, there are two main categories of drywall mud: premixed and setting compounds. Within these categories, there are various types to suit different purposes and applications. I'm going to share the most common types of drywall mud, which include all-purpose compound, topping compound, taping compound, lightweight all-purpose mud, lightweight compound, and quick setting mud.
If we are doing a small project, we generally like premixed containers, but for larger projects, you definitely want to mix your own.
All-purpose compound is a versatile mud that can be used for all phases of drywall work. It's suitable for taping, filling, and finishing joints and corners. We've used all purpose compound a bunch and it's a good product to get started with learning how to drywall with! This type of mud can be bought pre-mixed, meaning it comes ready to use and doesn't require any additional water to be added.
This compound is resistant to dents and scuffs, but it is also the heaviest type of compound available.
Some advantages of All-Purpose Joint Compound include:
- Great for first-time users
- Sands to a smooth finish
- Resists dents and scuffs
I would say that we use this type of compound the most when we are mudding drywall.
Lightweight all-purpose mud is a variation of the all-purpose compound with a lighter consistency and weight. It also can create less dust compared to a regular all-purpose compound.
Topping compound is specifically designed for the final coat after taping and filling drywall joints. It is thinner and smoother than all-purpose compound, providing an easily sandable surface. Topping compound is usually pre-mixed but might require a small amount of water to be added for the desired consistency.
Some benefits of Topping Compound include:
- Lightweight and easy to sand
- Ideal for final layers of application
- Provides a smooth finish
Taping compound is intended for use during the initial stage of taping drywall joints. Its thicker consistency allows for better bonding between the drywall sheets and the paper tape. Like the other compounds, taping compound is typically available in pre-mixed form.
Setting compound, also known as "hot mud," comes in dry powder form and needs to be mixed with water before use. This type of drywall mud is available in different setting times, typically ranging from 5 to 150 minutes. It hardens quickly, making it an excellent choice for patching holes, filling gaps, and completing repairs. The faster setting times of hot mud can significantly increase the speed of a project.
I would say that this type of compound is probably best used by people who are very familiar with this type of project.
When we had our solar panels installed, they had to cut into our newly finished drywalled basement. The person who came out to fix the holes in the drywall used a hot mud in a super fast setting form. It set so much faster than what we have traditionally used ourselves.
Here are some key advantages of Setting-Type Joint Compound:
- Fast-setting times
- Can be used for embedding tape
- Suitable for taping and applying the first coat on seams
In conclusion, the various types of drywall mud cater to different project requirements and preferences. Choosing the appropriate mud for your specific needs can make a significant impact on the quality and efficiency of your drywall work.
Application and Consistency
There are three main areas to focus on when applying drywall mud: taping seams and joints, finishing corners, and applying texture.
Taping Seams and Joints
For taping seams and joints in a smaller area, we prefer to use pre-mixed compound. I shared a post on how to mud drywall where I shared pricing and more information on this! I do know that a lot of drywall companies will mix their own to achieve their desired consistency, especially for joints; but they do this everyday, so they are able to be consistent and precise with their mixing.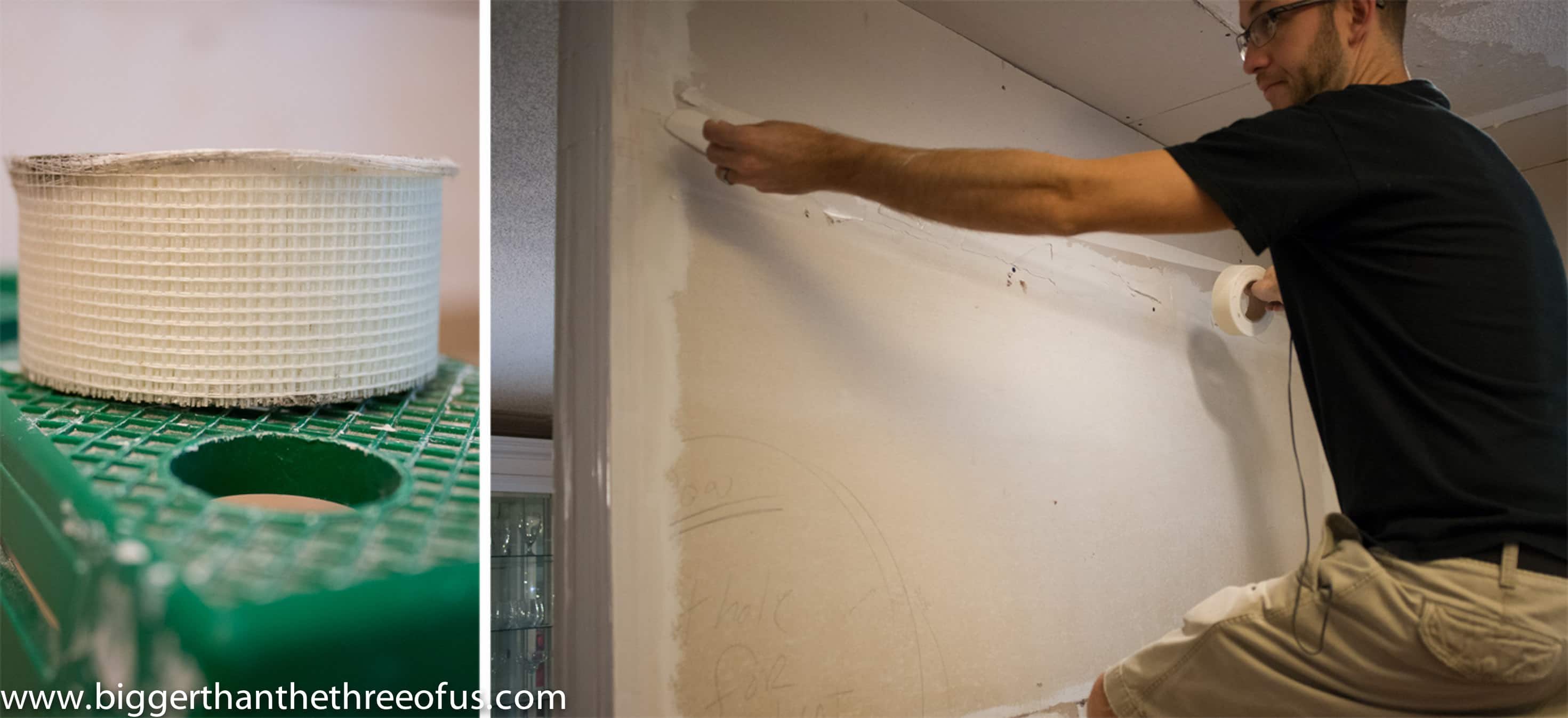 Finishing Corners
To finish corners, both paper and metal corner beads are used along with joint compound. Learn how to install a corner bead on a drywall corner in another of my blog posts! For the projects that we've finished drywall corners with, they have been small, so we've definitely used the pre-mixed mud.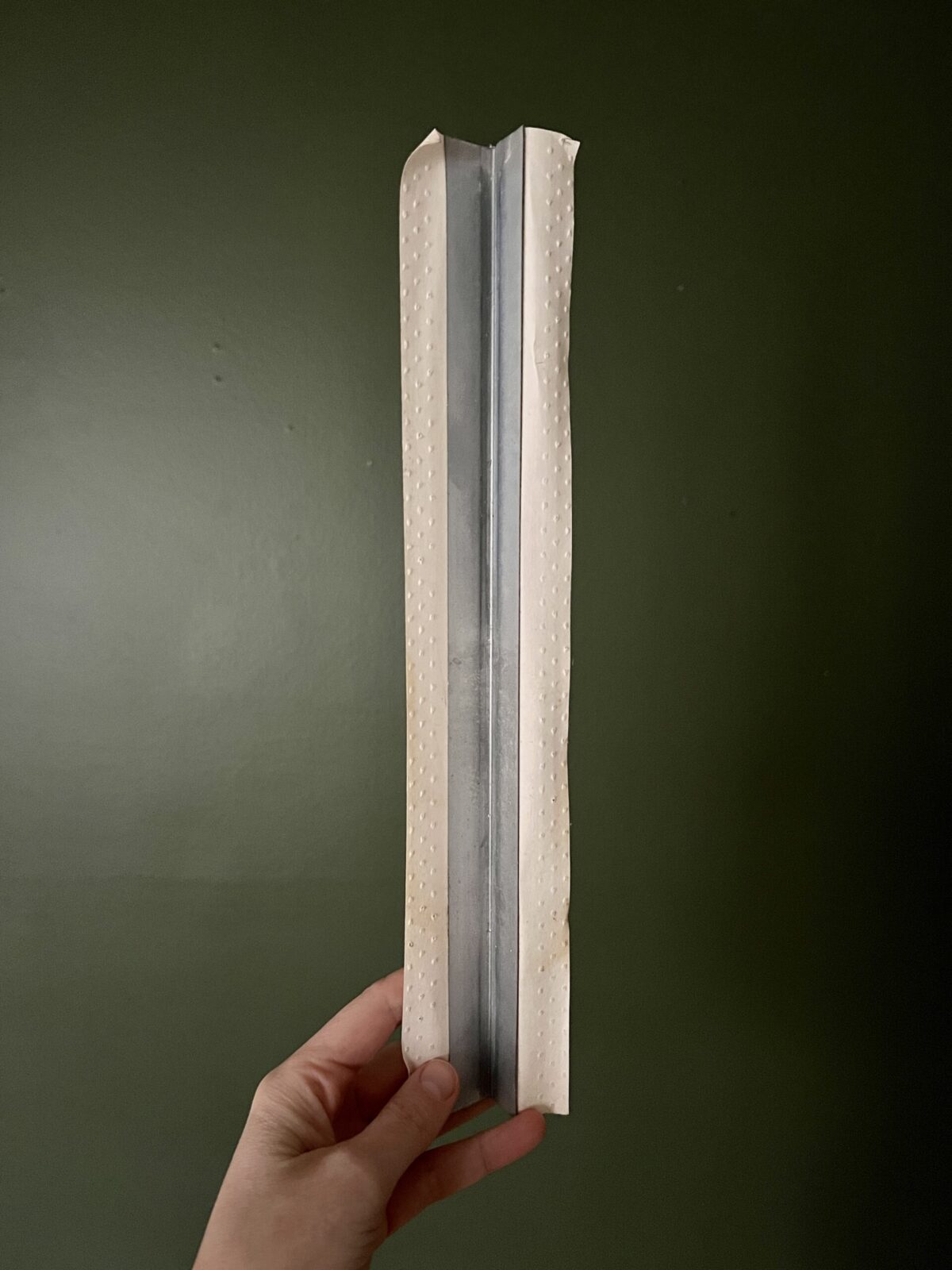 Tools and Techniques
Taping Tools
Drywall tape is essential for drywall installation. It comes in paper and fiberglass mesh varieties. Paper drywall tape is more common and is used to cover joints, while fiberglass mesh tape can be used to reinforce corners and edges. To apply tape smoothly, it's crucial to use a taping knife.
Knives
Knives come in different sizes and shapes for specific purposes. A standard taping knife is typically 6 inches wide and used for spreading mud on joints and seams. A wider knife, around 10-12 inches wide, is useful for feathering out and smoothing the mud on larger areas.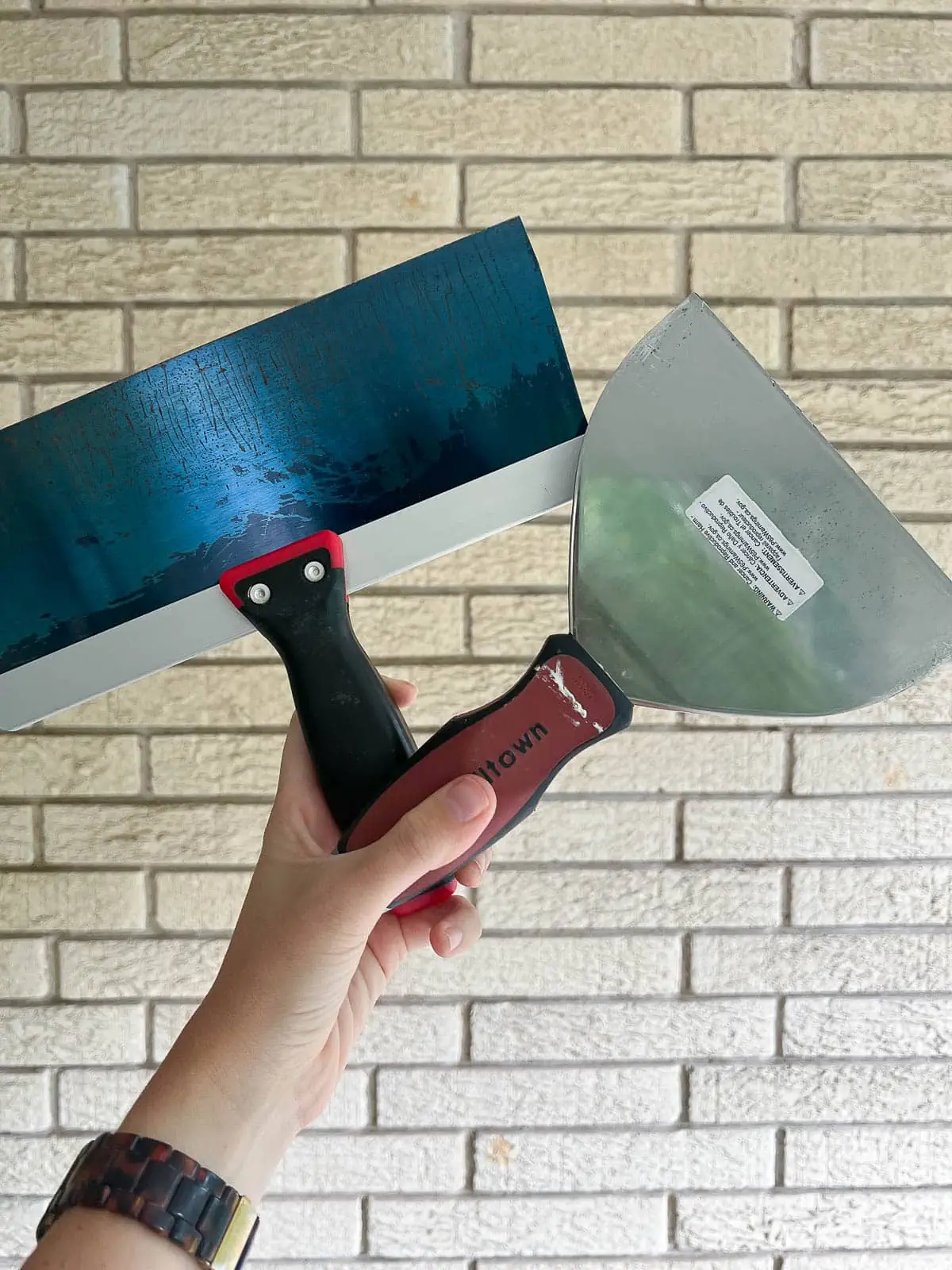 Luke, my husband, says that he prefers applying mud to the wall with a smaller knife. Then, as the mud is spread over a wider area, the wider knifes become necessary for getting a smooth surface.
Sanding Screens
Sanding is an important aspect of drywall finishing, ensuring smooth and even surfaces. A non-abrasive sanding sponge is useful for sanding joints and feathering out mud on drywall seams.
We've found that drywall screens are helpful/necessary when you end up with a larger buildup of drywall that needs to be sanded down. But, they leave a lot of dust that will spread everywhere. So, you should use a sponge first and only break out the screen when the sponge isn't getting the job done.
Drill with Mud Mixer Attachment
The easiest way to mix mud is to use a drill with a mud mixer attachment. This video shows what it looks like. It's easy to use and, really, there's no way to mix large amounts of drywall without it.
Drywall Mud Best Practices
Working Time and Hardening
When working with drywall mud, it is important to consider factors that affect its working time and hardening process. If your area has cold temperatures or has higher humidity, it's likely that your mud will take longer to set.
Different types of drywall mud have varying working times and hardening properties. Just think about the area you are working in and the timeframe you have in order to decide which type of drywall mud is right for your job.
Avoiding Cracks and Mold
To prevent cracking and mold growth in drywall mud applications, adhering to best practices is crucial. First, ensure that the gypsum-based compound is properly mixed to achieve the right consistency. This will help you apply it evenly on drywall joints and corners, as well as on ceilings, where the mud may need to be slightly thicker for better adhesion.
Next, take care to properly install and secure the drywall panels, using screws or nails, and making sure the screw heads are countersunk.
Once the panels are installed, remove any excess mud to avoid issues later on.
In humid or moisture-prone environments (our basement bathroom is one of those!), considering mold-resistant drywall mud options can provide additional protection. Also, ensuring that the space is properly ventilated can help prevent mold growth in the long run.
Different Drywall Types and Their Mud Requirements
Drywall is commonly made from gypsum, which is sandwiched between two layers of paper or fiberglass. Different types of drywall require specific muds to provide a seamless finish and ensure the project's success.
Standard drywall
The most common type of drywall is regular or standard drywall, which is primarily used in homes and offices. This type of drywall typically requires a pre-mixed, all-purpose joint compound to fill the seams between panels and cover nail or screw heads.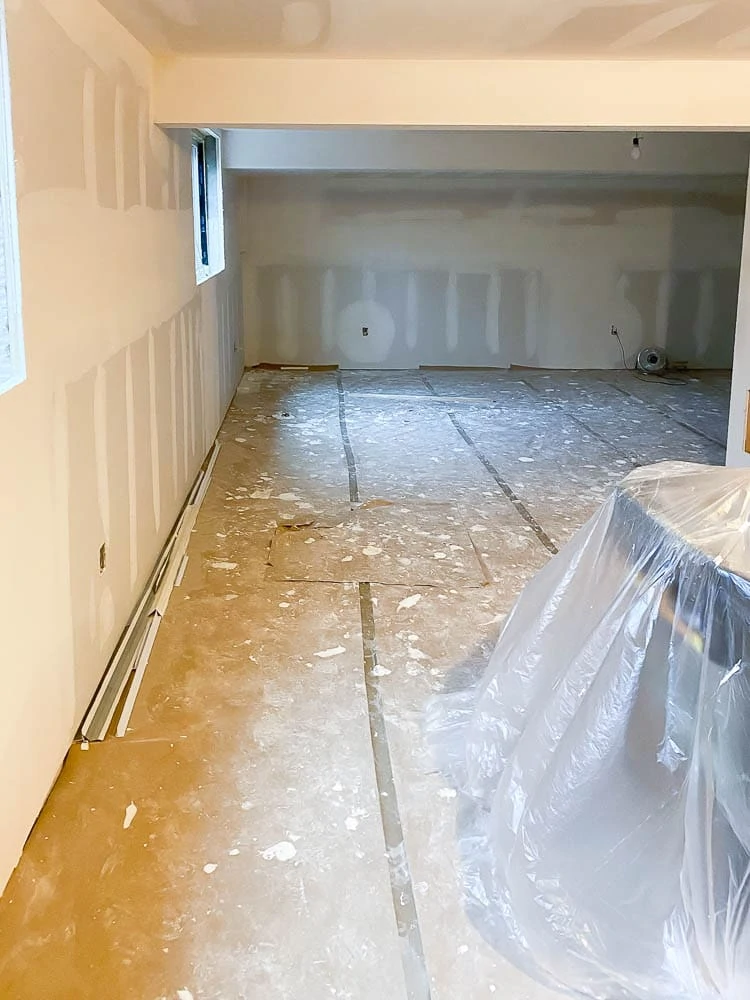 Green board (moisture-resistant)
Another popular drywall type is moisture-resistant drywall, also known as green board. This type is specially designed for damp areas, such as bathrooms and laundry rooms. Although it is more moisture-resistant than regular drywall, it still requires a mold-resistant joint compound, which can help prevent mold and mildew growth in a damp environment.
Fire-resistant drywall
Fire-resistant drywall, or Type-X drywall, is designed to slow down the spread of fire. It's commonly used in commercial buildings and residential structures that require a higher level of fire protection. When working with fire-resistant drywall, it is best to use a setting-type joint compound, also known as hot mud. This mud features a faster setting time and provides a strong bond for better fire resistance.
Soundproofing Drywall
For applications where soundproofing is a priority, such as in home theaters or shared living spaces, soundproof drywall is the most suitable option. These panels are made up of a combination of gypsum and other materials designed to reduce sound transmission. Working with soundproof drywall requires the use of a specialized acoustic sealant in addition to the all-purpose joint compound, ensuring gaps are properly sealed to maintain soundproofing performance.
I wish I would have considered soundproof drywall when we had our basement done! I honestly hadn't heard of the product before. We spent a lot of money upgrading insulation and adding extra soundproofing insulation in so that we could cover some of the noise.
There are a couple other speciality drywall installation types but these are the main ones. Just make sure to know which mud works with your product, especially if you are using a speciality drywall.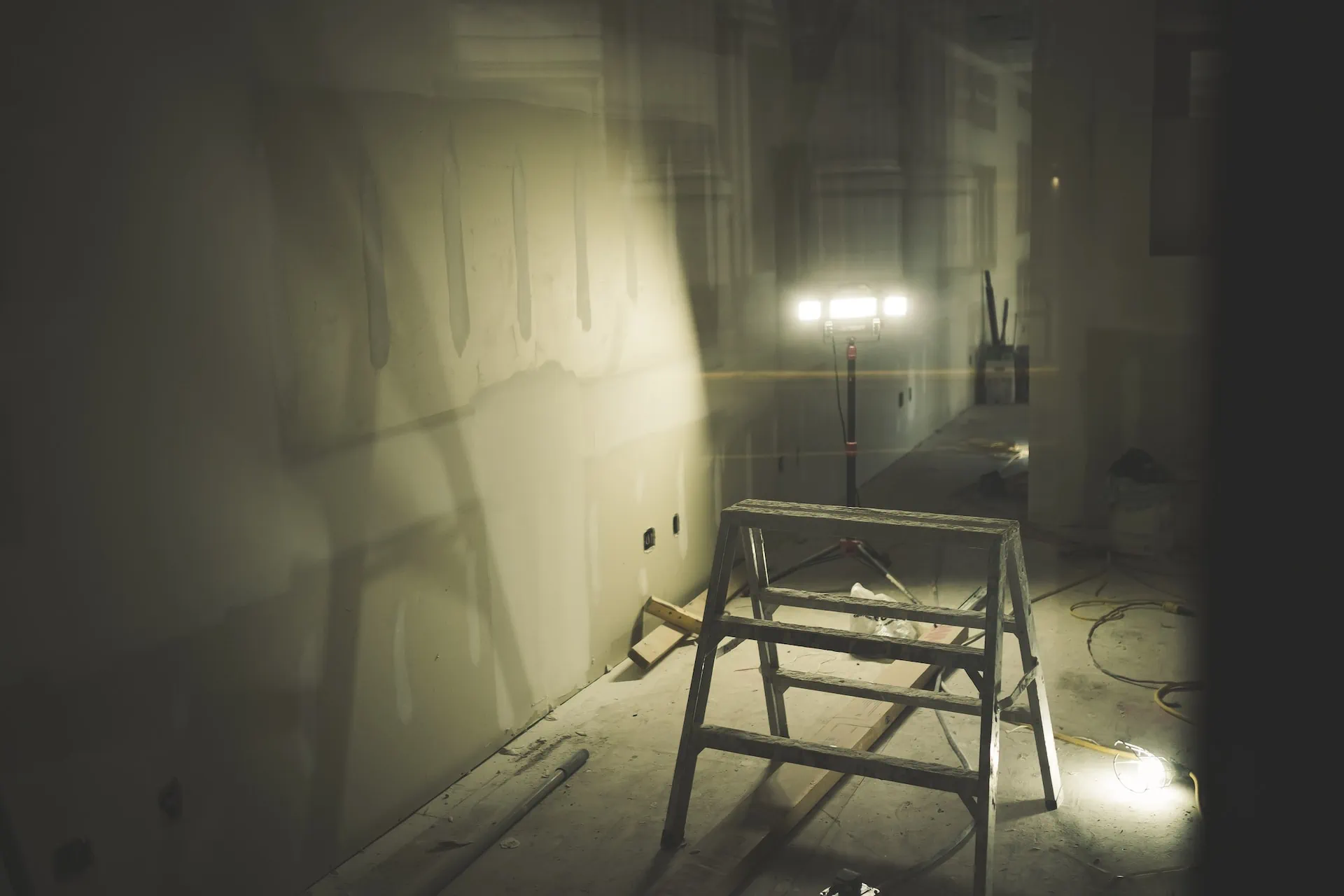 Frequently Asked Questions
Which drywall mud is best for beginners?
All-purpose compound in either pre-mixed or bagged is great for beginners.
What is the difference between drywall mud and joint compound?
Drywall mud and joint compound are essentially the same product with two different names.
How does hot mud compare to pre-mixed compounds?
Hot mud, also known as quick-setting mud, is a dry, powder-form compound that requires mixing with water before use. It dries faster but is also a bit harder to work with. Pre-mixed compounds are easier to use because the consistency is perfect out of the container. They also have longer dry times between coats.
I hope this was helpful for you! Make sure to check out my ultimate guide to all things drywall for more drywall questions!