Are you considering pocket doors for a bathroom, laundry room or some other room? Get the scoop on how to fix a pocket door, what the cost to install a pocket door is and all the exact sources on what I bought for our bathroom pocket door! Plus, a DIY door installation how-to (linked at the bottom) and even more inspiration from others!
Almost two years after revealing our modern powder room, I thought it was finally time to do a Q&A post all about our soft-close pocket door. I'll be taking you through why to consider a pocket door, what installing a pocket door looks like, what our door installation cost, what we think of our glass pocket door and how to adjust a pocket door (and fix it when it falls off its track).
Now that we've had it a few years, we definitely have all the thoughts on living with a bathroom pocket door and want to share it all so you can make an informed decision on whether you want to install one for your bathroom (or any other space!).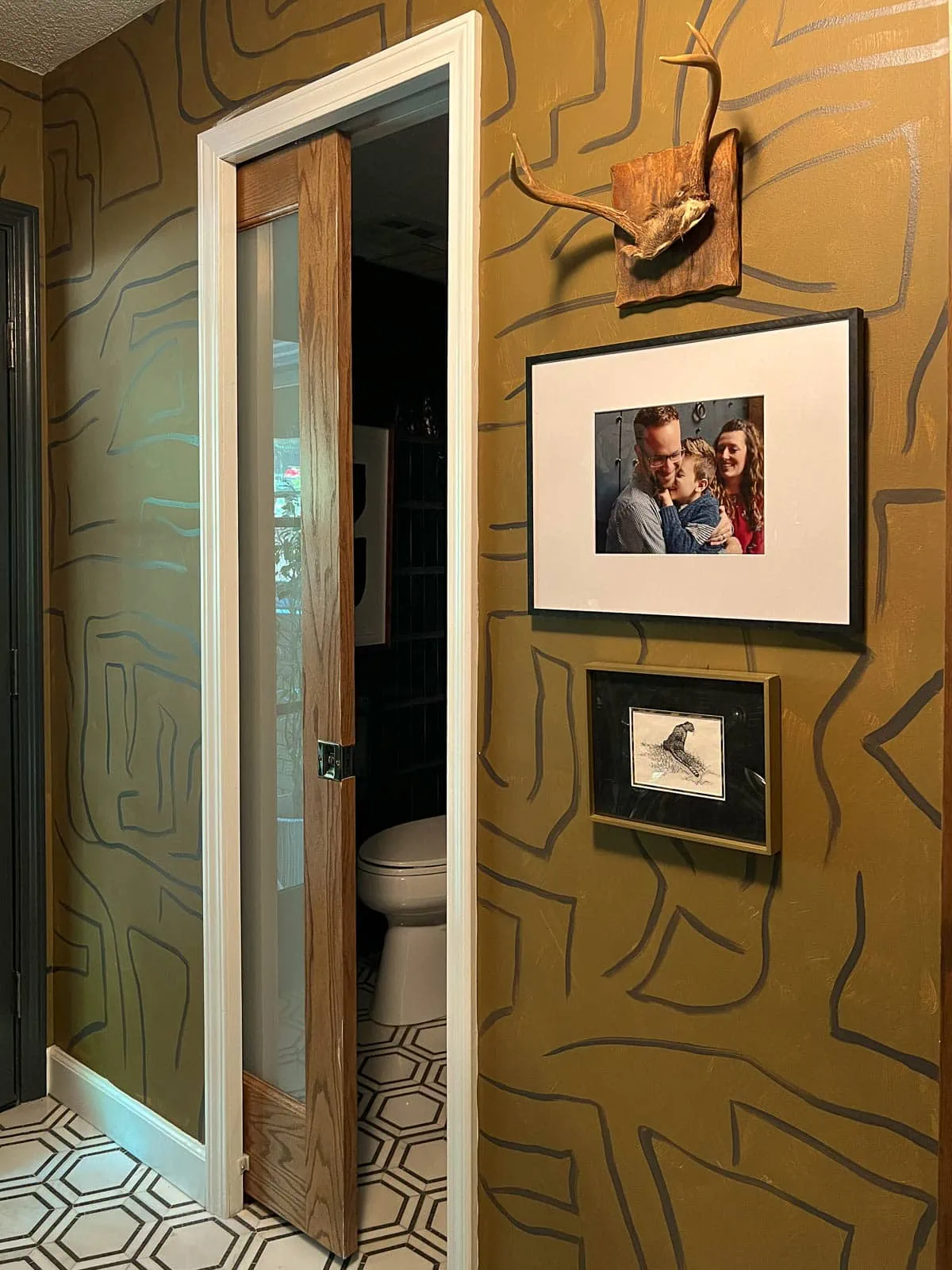 Let me back up for a bit and show you the details of the space we are talking about so you can see why we put in the glass pocket door to begin with!
Considering a bathroom pocket door
As we started talking about the powder bath renovation plans, we realized that we needed to really address how the space functioned. The small bathroom is right off of the laundry room (it's the brown door without glass below).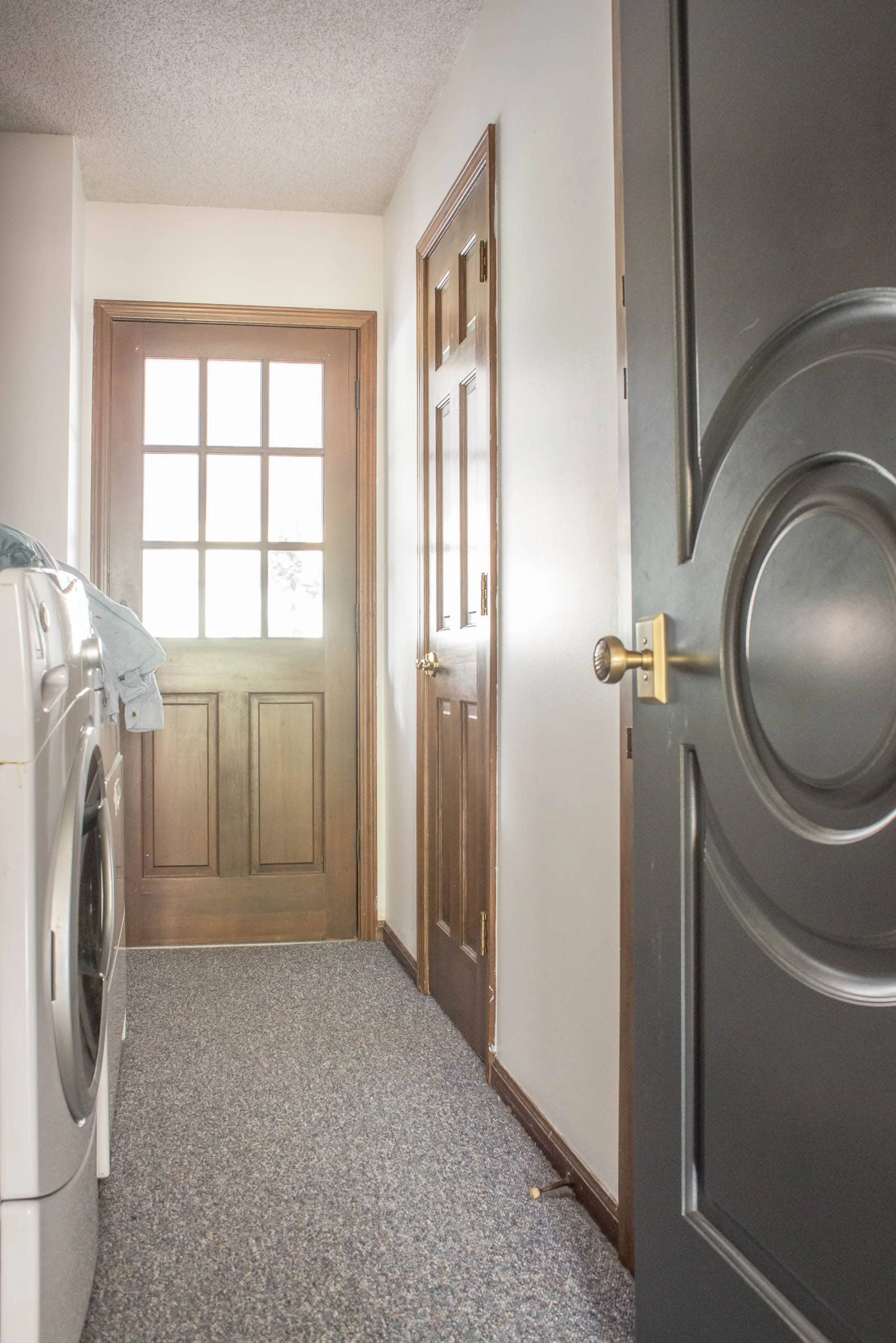 To get into the bathroom, the dryer had to be shut and if someone was in the bathroom and someone else had the dryer door open, the two doors would hit. On top of that, the door to the sunroom would open over the door to the bathroom. To say that we had space constraints was putting it mildly.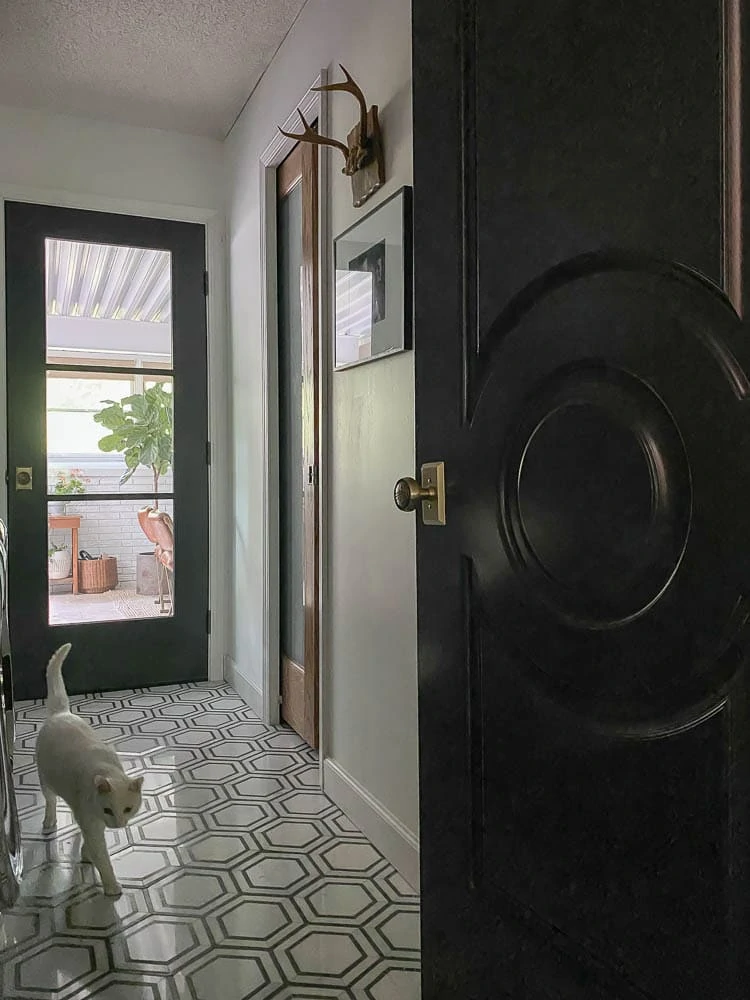 Small space constraints
We have a small laundry room and there's nothing we can do to enlarge it. To gain more usable space in the laundry room, we decided to replace the traditional bathroom door with a pocket door. This project was part of our powder bathroom renovation which made sense since we were demo-ing the bathroom anyways.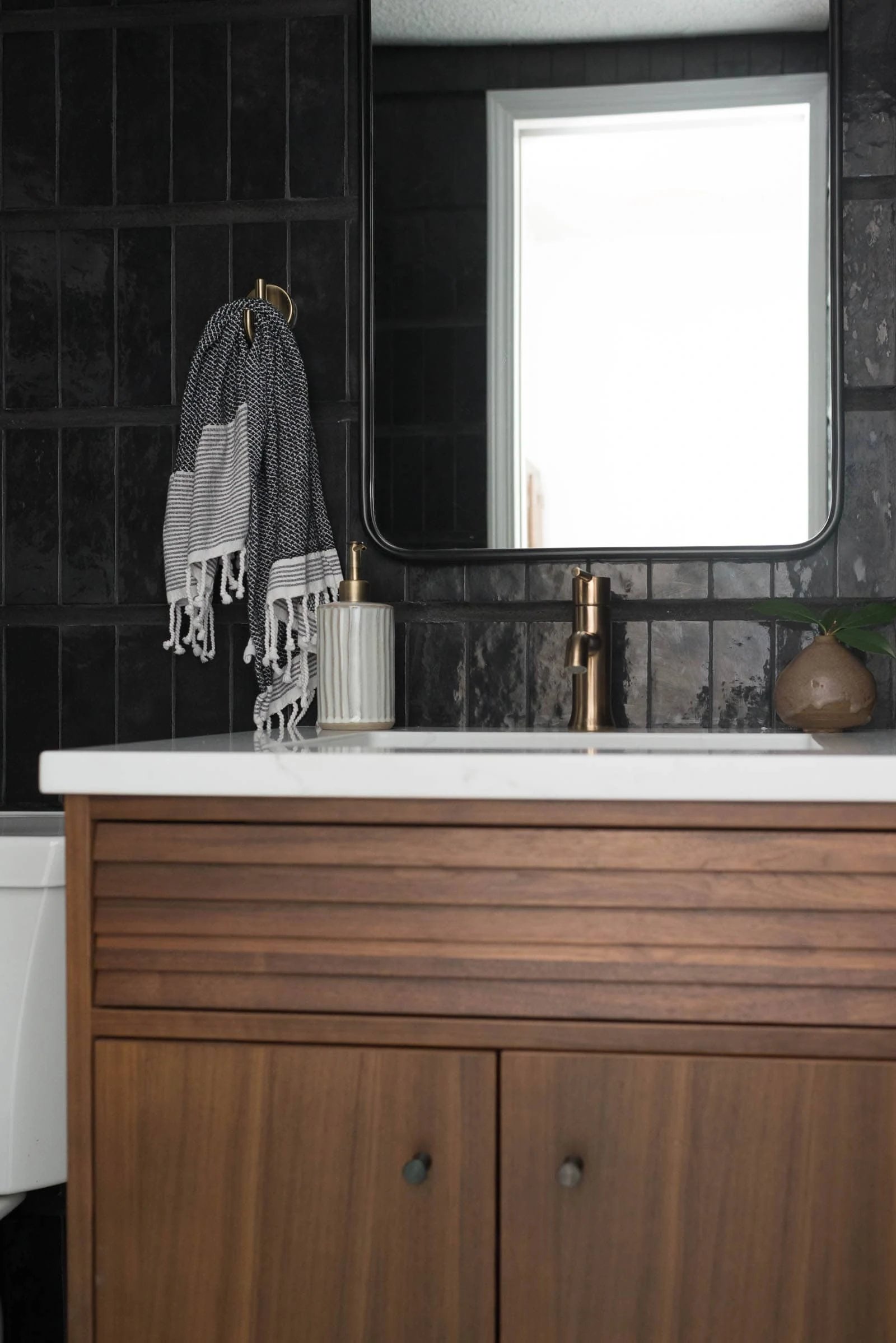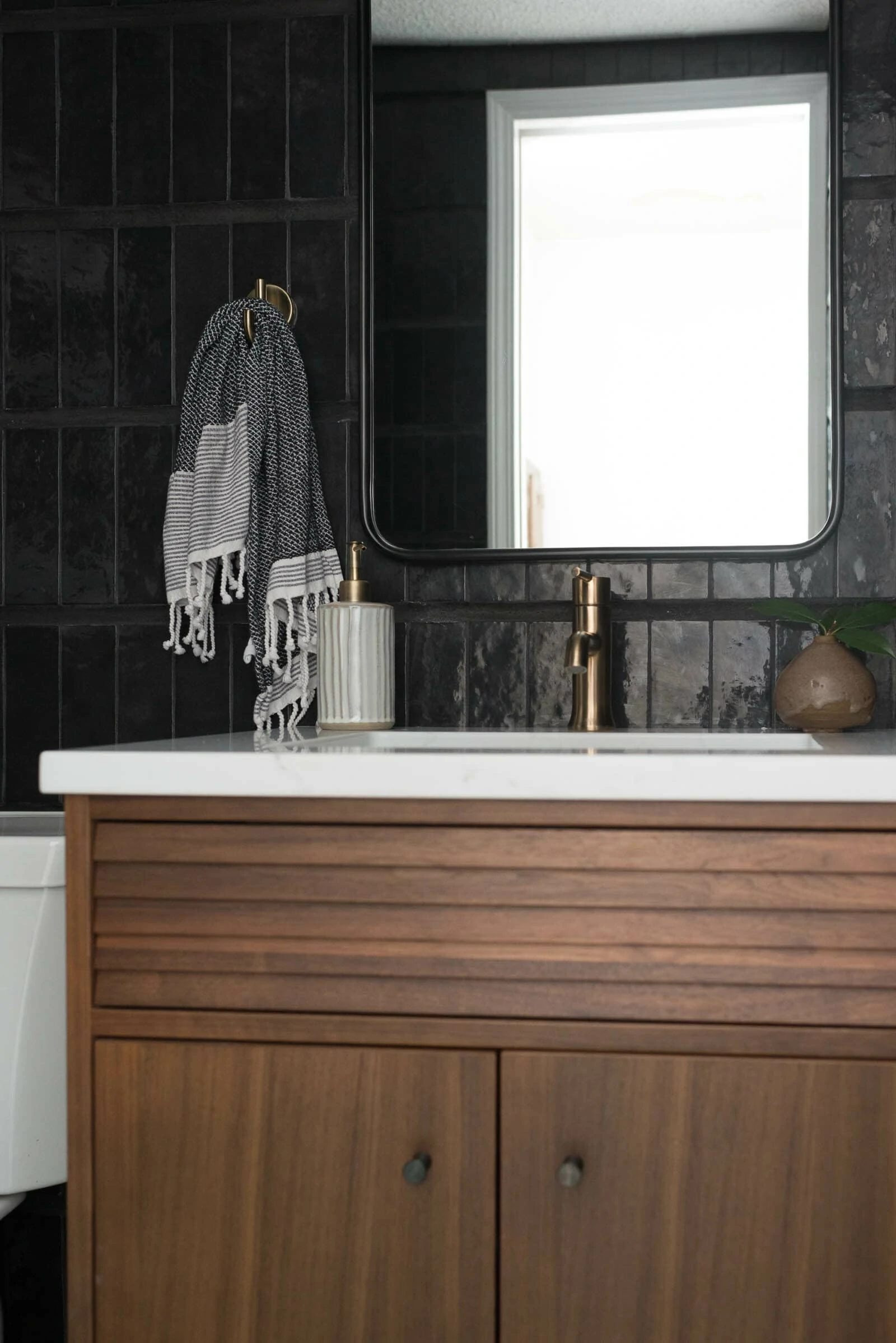 As part of the bathroom planning process, the first thing I did was look into door kits. After that, I checked on hardware and then priced out the door installation cost.
Affiliate links below. Thanks for supporting this blog. Click to read my privacy and disclosure statement.
Door kits for installing a pocket door
There are lots of different pocket door kits available. Big box stores sell kits in common sizes such as 24x80, 30x80 and 32x80. There are a few different styles that you can choose from. We ended up buying this pocket door frame. Basically, what the frame does is it allows the pocket door to slide inside the wall.
The main thing to consider about the frame is what size you are wanting your space to accomodate. We went with a 24x80 pocket door so that meant that we had to buy a frame that was 24x80. You can choose your size based on what sizing you have available in your wall for your door.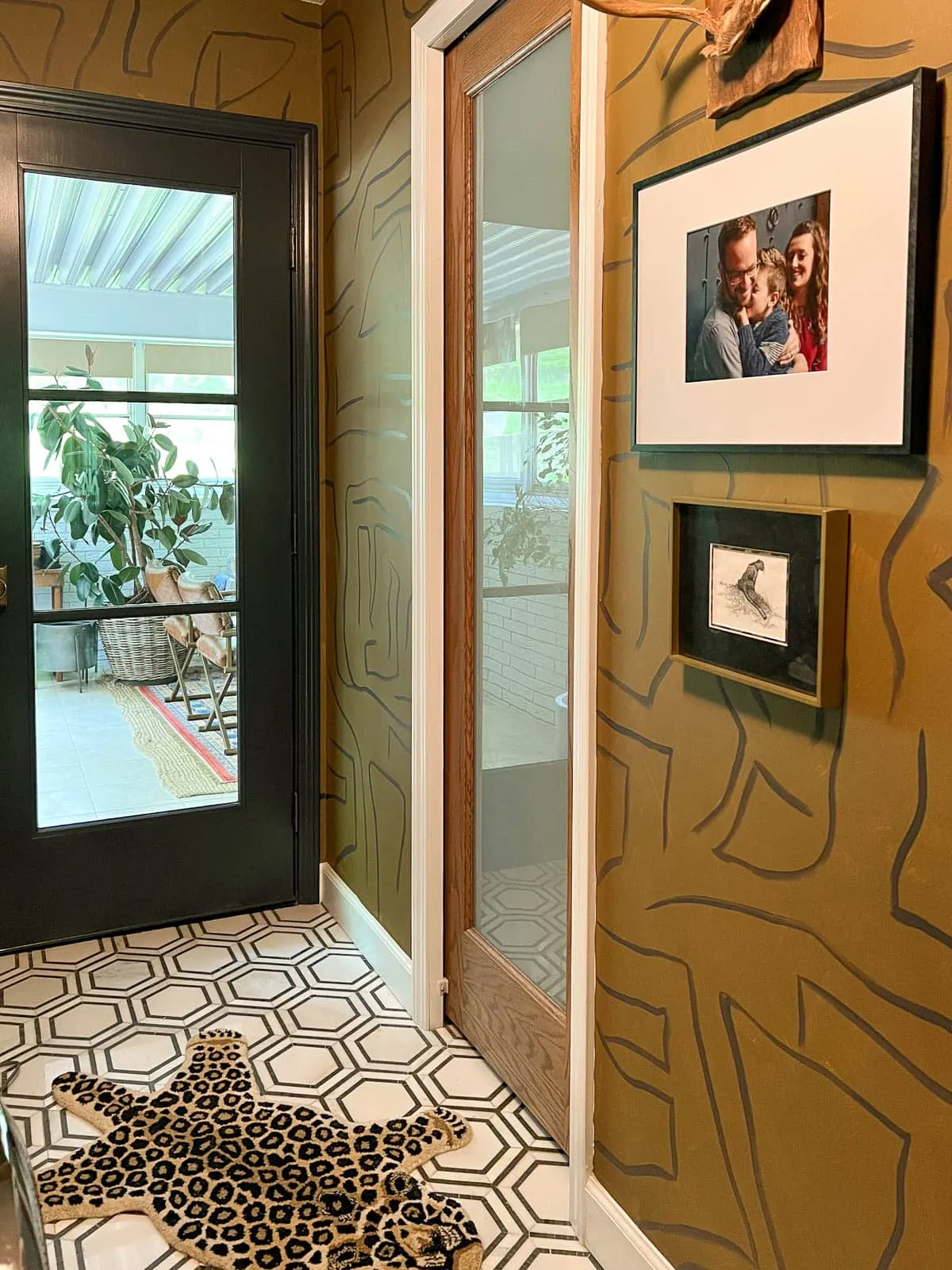 Privacy with light filtering
We went with an oak privacy interior slab door. Meaning that the pocket door has glass but was coated with a privacy film. If you are wondering about a glass pocket door for a bathroom, we wondered about that too, but it's works fine. You can see shadows through the glass but you can't see what the person is doing behind the glass. If the glass door was in front of big windows (with lots of light coming in), this style pocket door in a bathroom probably wouldn't be a good choice. For our situation, an interior room with minimal light, this setup has been great.
To save money on the pocket door installation cost, I stained the door myself. I used Minwax Stain in Weathered Oak. It was a simple project because the door was ready to stain. So, I applied one coat of stain on all sides and followed that with a few topcoats.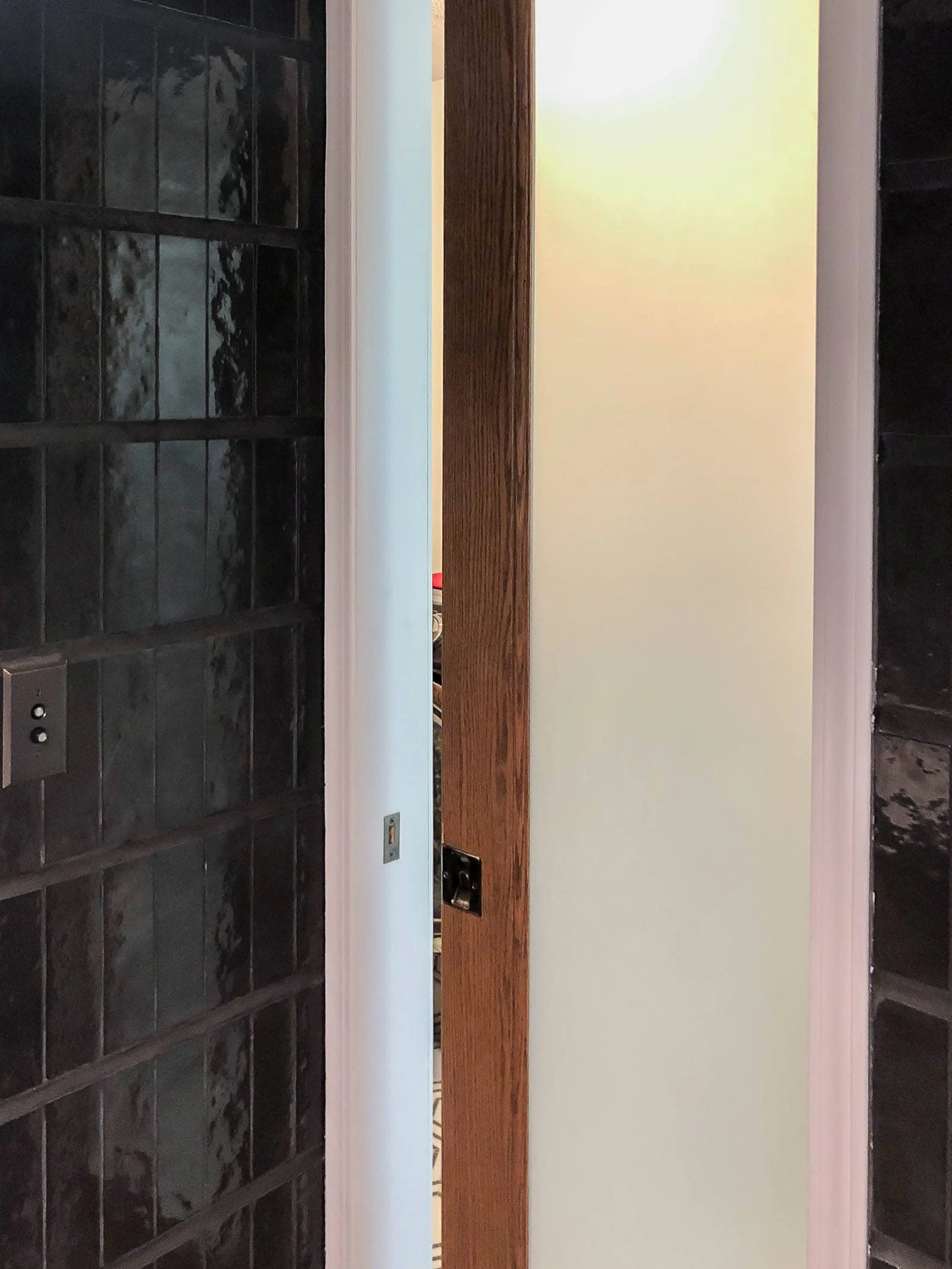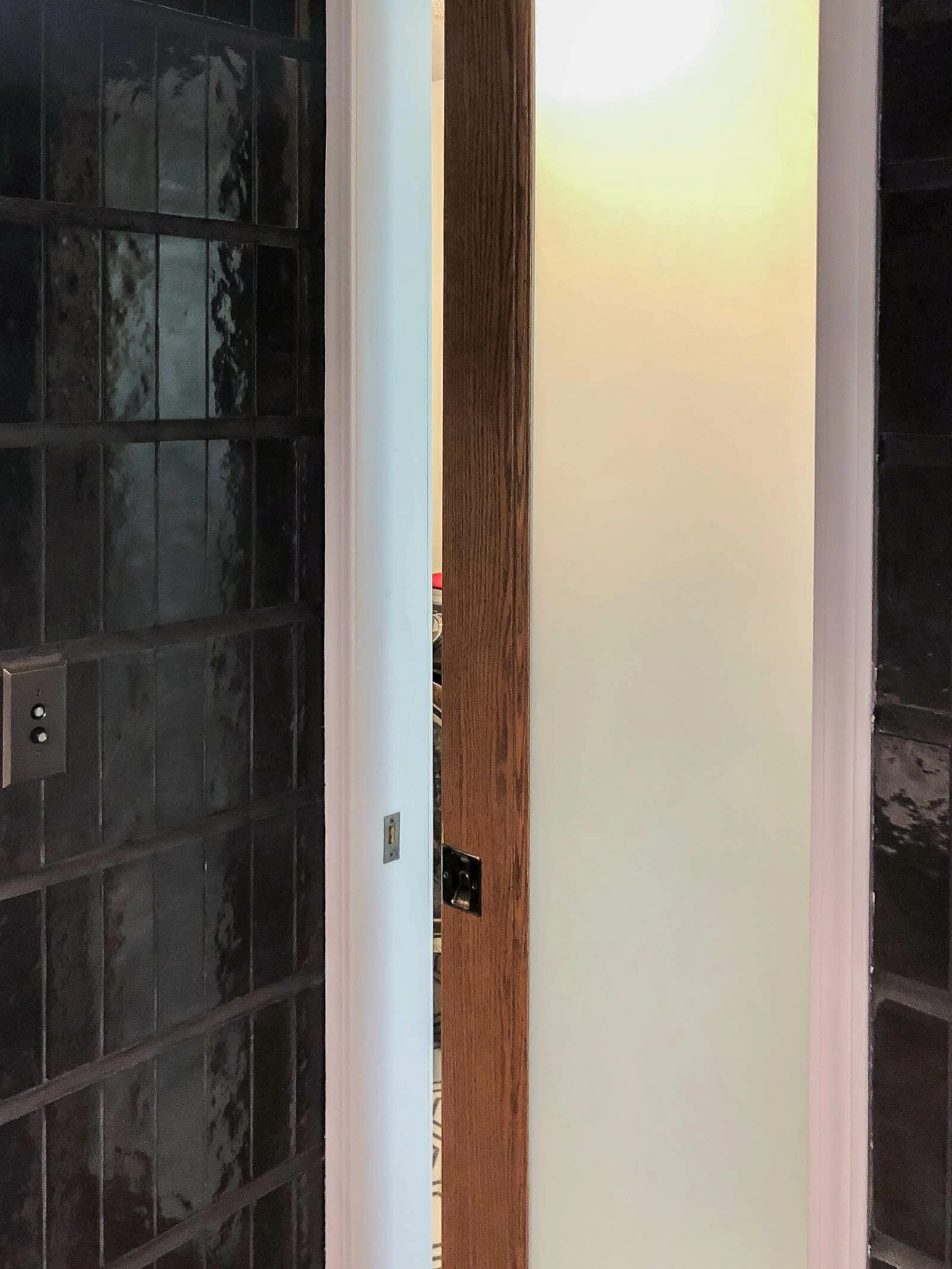 Soft close mechanism and privacy lock
There are two types of hardware to talk about, one is the soft close mechanism that makes the door shut softly and the other is the actual hardware on the door to make it lock.
You don't have to have a soft close mechanism, but I thought it was a good idea so the door wouldn't get slammed. Basically, with the soft close, the door glides to a close instead of ramming the doorframe.
For the lock, honestly there weren't that many choices. I bought this antique brass pocket door privacy lock with pull. It's not the best antique brass color or weight, but it's fine. I wouldn't hesitate to recommend how it works, it's just not exactly the color or heaviness that I would have wanted in an ideal situation.
I know you are all curious about the pocket door cost so I'll break that down for you. We hired parts of this project out so our cost may be different than yours, but this will at least give you a baseline.
Cost to install pocket door?
We paid $650 for the installation that included removing the old door, exposing the drywall, adding studs to reframe around the door, installing the door and lock, hanging and refinishing new drywall, adding trim work where needed and disposing of any construction waste. The $650 did NOT include supplies.
We paid the contractor another $85 for a few random supplies that we didn't supply.
We bought:
Prices have been fluctuating but we spent $450 on the supplies. In total, the cost of installing a pocket door in an existing wall in our house was $1185.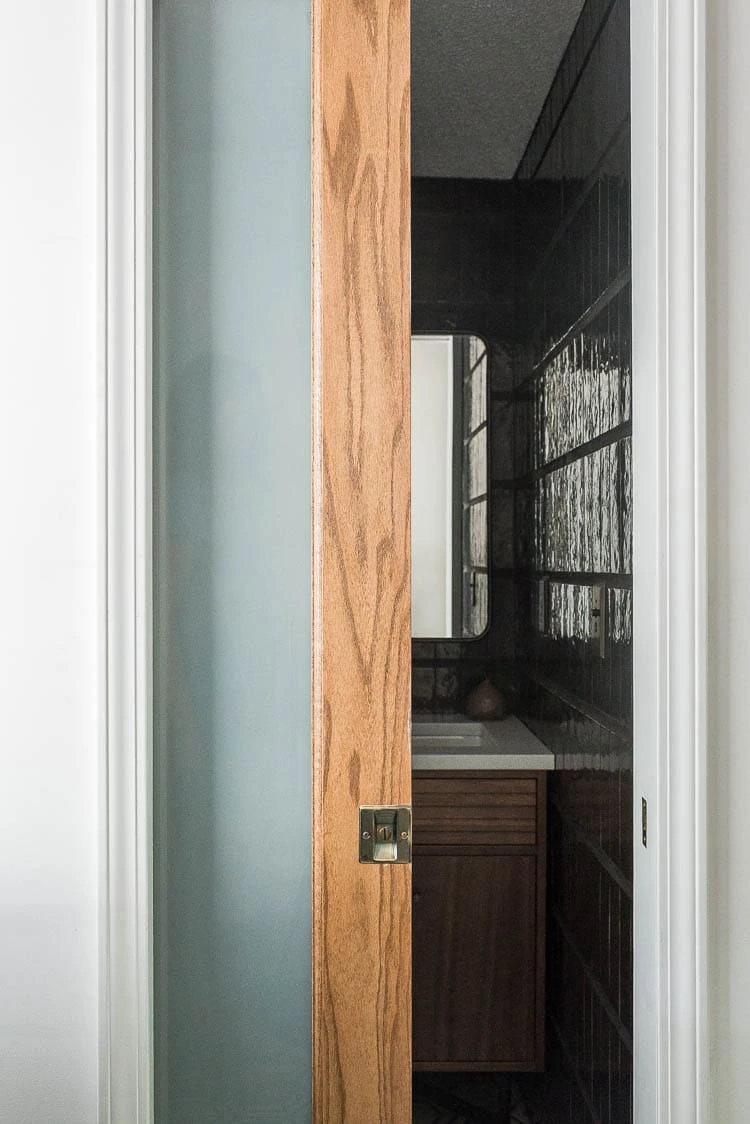 Ok, since we've had this installed for two years now, we've dealt with the door falling off the track once so I thought I'd share what you have to do when that happens.
How to fix a pocket door?
Depending on the style of track that your pocket door uses, you will have two different options. If your door uses wheels to run along the track, you should be able to close the door, pull it out towards you (from the base), and then lift it slightly to get it to come off of the track.
Many modern pocket doors uses a track with built-in rollers. This is how ours is. For these, you have a couple nuts that you can tighten or loosen to raise or lower the door. If you lower the door as far as you can, the door will drop off of the track. For our door, we have to remove the trim to get access to those nuts, but some doors come with special, bendy wrenches that allow you to do this without removing the trim.
Pocket doors for bathrooms?
When you are considering a pocket door vs. regular door, I think you really have to key in on function and design. In my opinion, if you have room, I'd prefer a regular door because they don't ever fall off of tracks and are definitely cheaper to install. That being said, for us, a regular door just wouldn't work so we are happy we chose what we did.
How-To Install Bathroom Pocket Doors + Hardware Details
It's always nice to see a few other's do a project before deciding to embark on one yourself. Here's some inspiration to help you decide if a bathroom pocket door is right for you.
Photo Credit: cassmakeshome
Cass shows that installing a pocket door can be a doable job! There's alot of photos with the step-by-steps for this pocket door installation. So, if you are thinking about adding a soft close pocket door yourself, definitely check it out.
Photo Credit: sawdustgirl
Love the idea of a mirrored pocket door! This is another bathroom pocket door tutorial so check it out if you want even more inspiration.
Photo Credit: chrislovesjulia
If you need hardware advice for your soft close pocket door, this is the post for you. I love the finishings they choose for their doors and also love the explanations of those pocket door accessories.
Renovation Costs
I love doing these deep dives into cost, supplies and contractor bids. I've realized throughout owning this house that it's hard to find out exactly how much things cost by reading blog posts. I wish more bloggers would share their cost for projects because it's so beneficial to everyone.
For more projects that I share complete costs on, check out:
p.s. Want bathroom inspiration? Check out my bathroom design board on Pinterest.