I'm finally posting about the last half of our week in Spain. If you missed the first post, make sure to check out our kid-friendly tips for Madrid. Today, is going to be all about Barcelona! To catch you up, I found a great deal on plane tickets so we headed to Spain for a week over spring break. Greyson had never been outside the country, so the goal of the trip was just to let him have a cultural experience.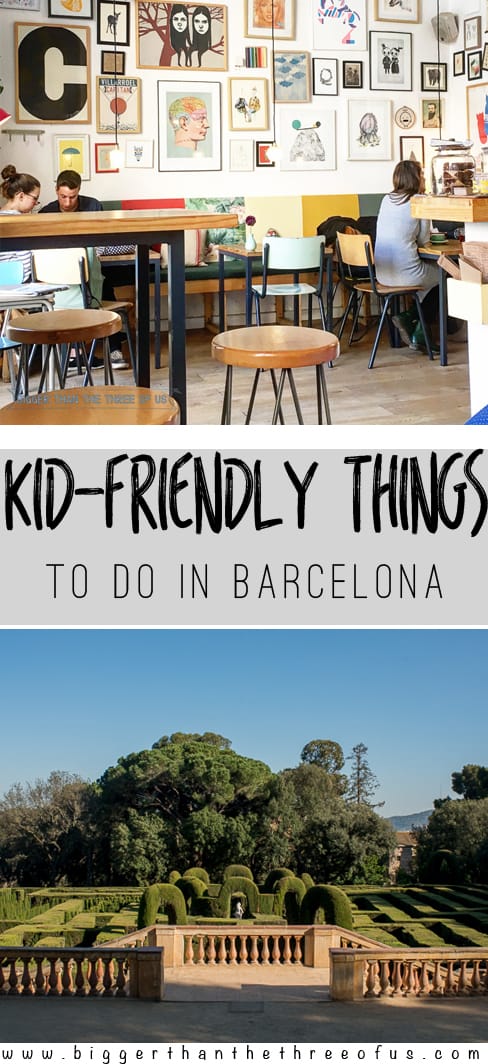 Picking up from the last post, we booked on Rail Europe and took the faster train from Madrid to Barcelona.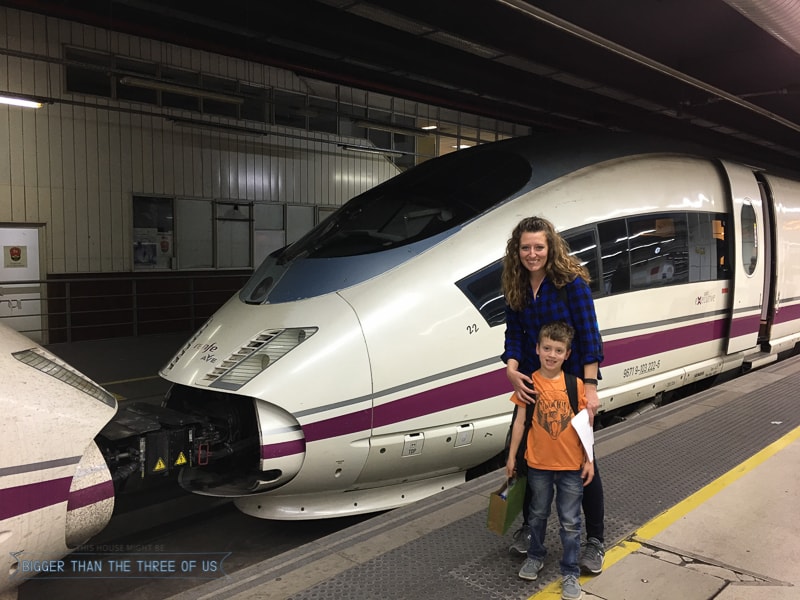 The train took just over three hours and was quite pleasant. We'd definitely recommend this if you are trying to get between the two cities.
Once we got to Barcelona, we took a taxi (they are everywhere) from the train station to our apartments.
We stayed at the Bas Apartments Barcelona. We had a two bedroom, one bath apartment that overlooked a small playground (which was PERFECT for Greyson) and was right around the corner from most of the sights. It was a really ideal location if you wanted to be in the older part of Barcelona. If these are things that you are looking for then I'd definitely recommend this apartment. We enjoyed our stay and the location.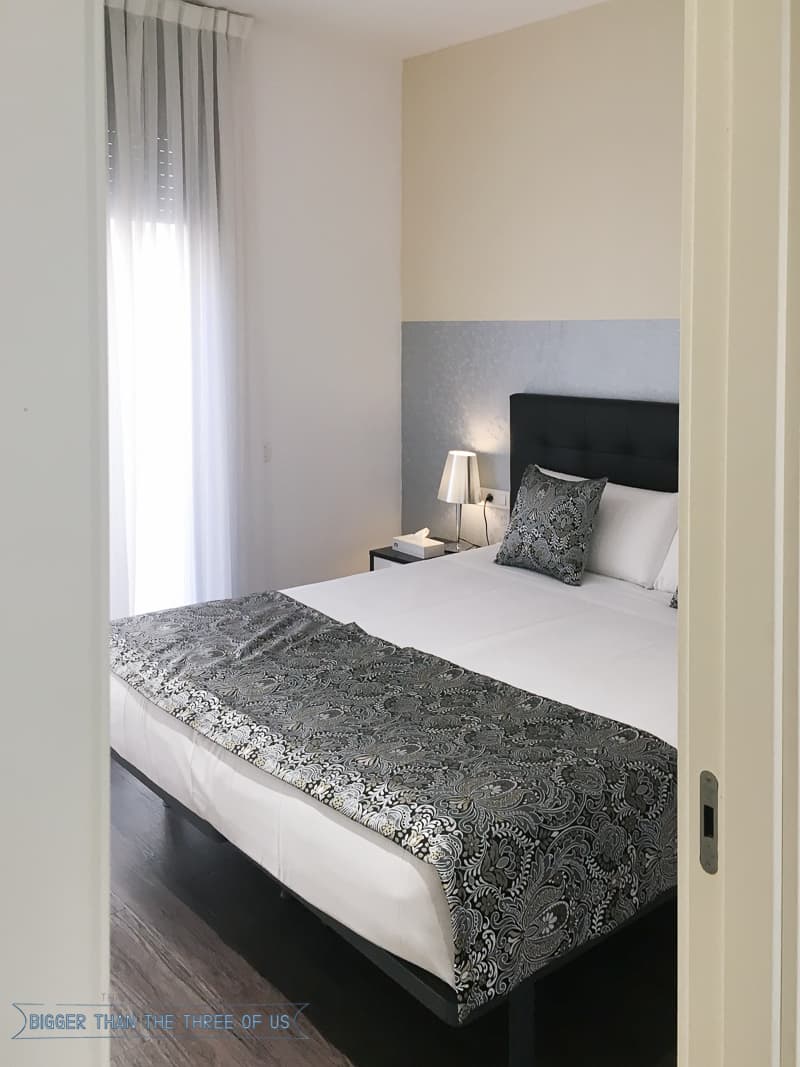 This was the master. I didn't get a picture of it, but there's a wall-to-wall closet and Greyson's room had a smaller one with two twin beds.
*Affiliate links below. Thanks for supporting this blog. Click to read my disclosure policy.
Before I get any further, a reader recommended a great book for kids when traveling to Barcelona. It's called Mission Barcelona and it's a fun scavenger hunt type travel book. Greyson seemed to enjoy it, and even Luke and I had a good time reading about the history of some of the places we went. I'd definitely recommend it if you have 7-11 year old age kiddos.
After we got checked in, we relaxed for awhile and then Luke went on a running tour. He booked a running tour with Running Tours Barcelona and during the tour he ran most of the city. He said he learned a lot of history behind certain buildings and just got a good layout of Barcelona. He hadn't ever done a running tour before so he didn't really know what to expect. Overall, I think it was a positive experience.
Greyson and I stayed at the apartment while he did that and then went to the park right outside for awhile.
Once Luke got back, we walked to Cathedral de Barcelona.  It was a minute walk from our apartment, which was great. We didn't do a lot of research on Barcelona so we weren't sure whether to pay to get in or just view it on the outside. We ended up paying to get in and this was well-worth it. You'd miss so much if you didn't go in. The history inside the church, the courtyard and everything was just beautiful.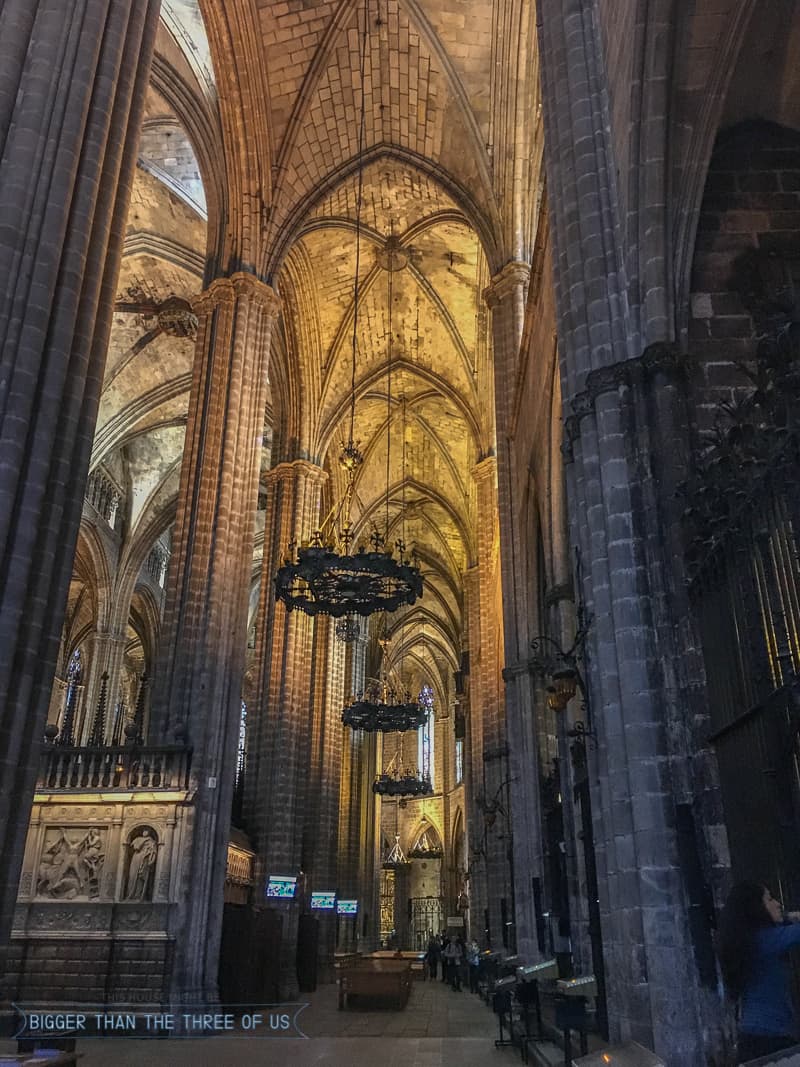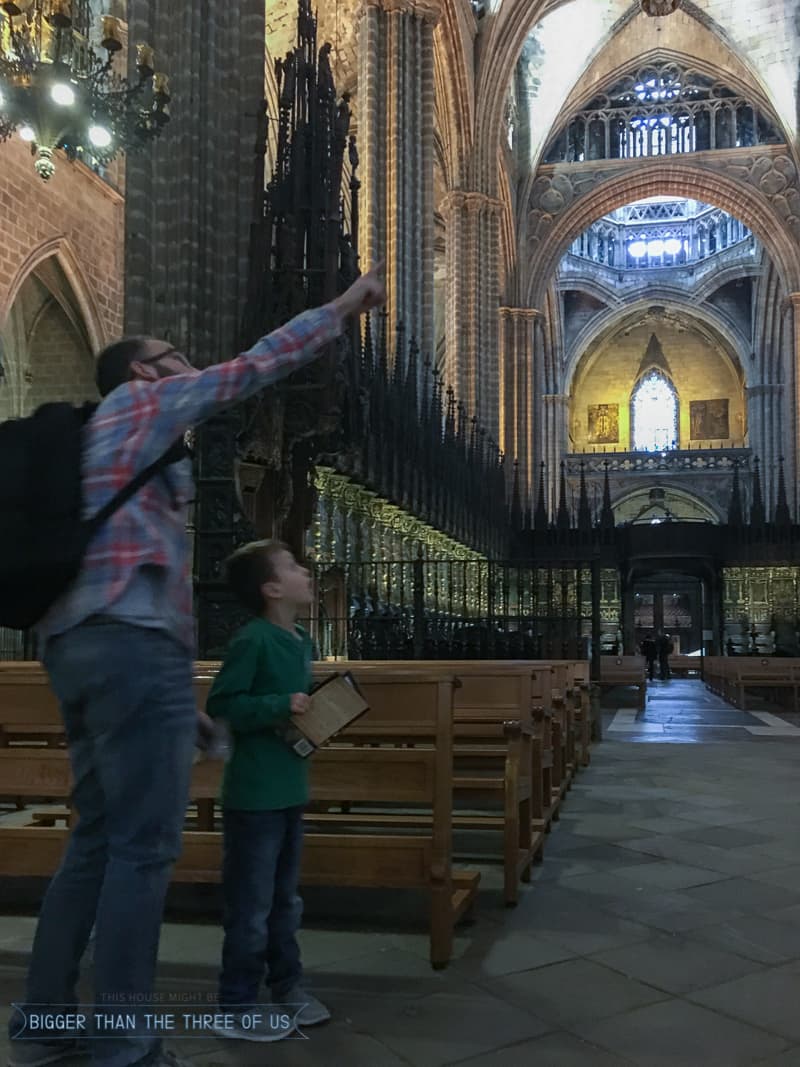 Greyson really enjoyed trying to find everything in his book that he was supposed to find.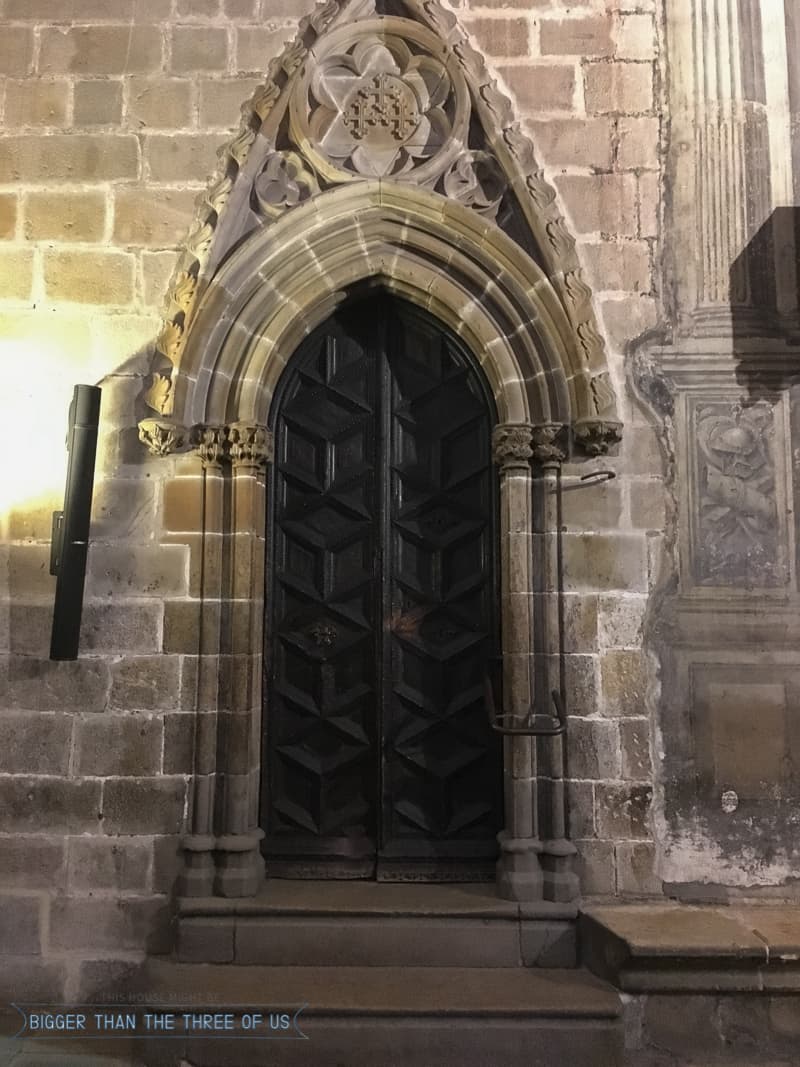 The catedral had the most beautiful courtyard and it was huge. We roamed it for awhile and then we took the elevator to the roof.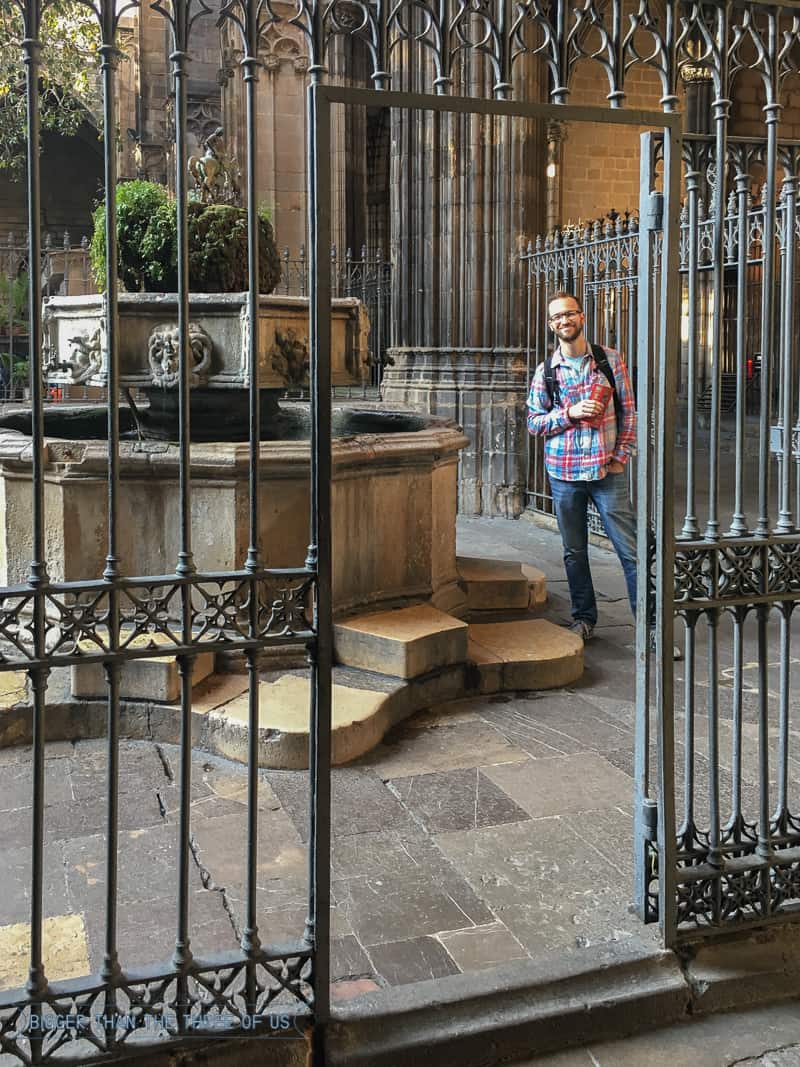 There was a pretty good view of most of the city.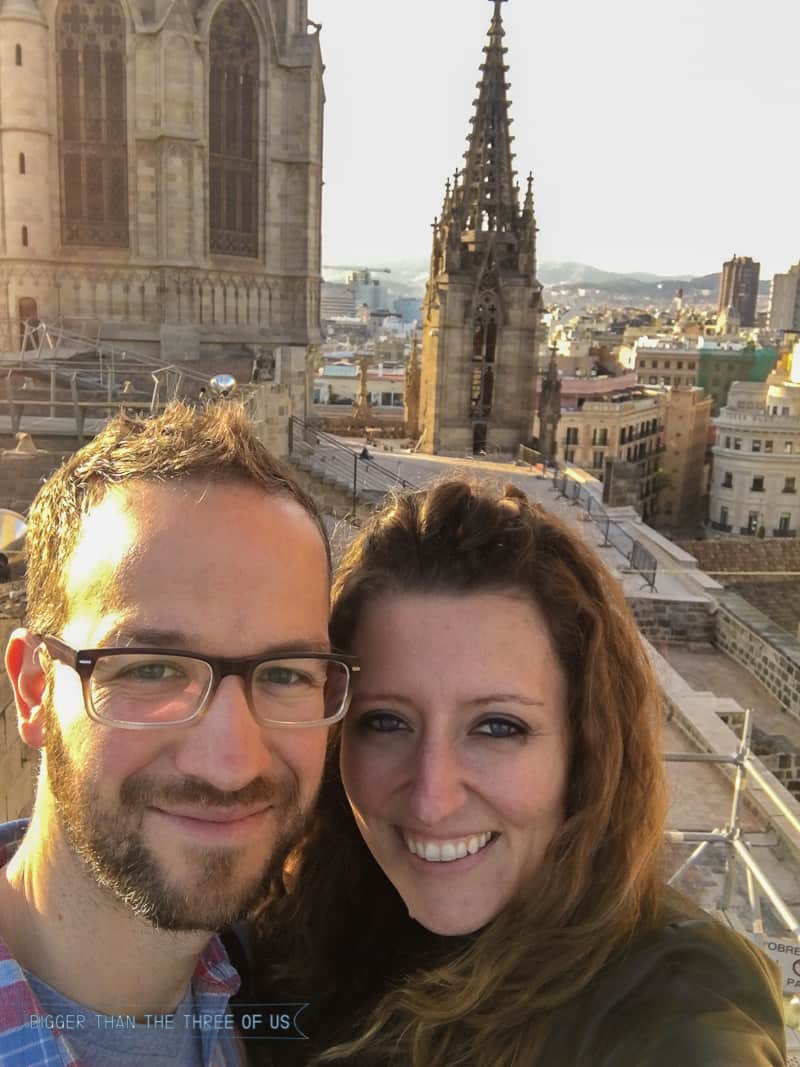 Greyson wouldn't pose for a picture, so we ended up with this: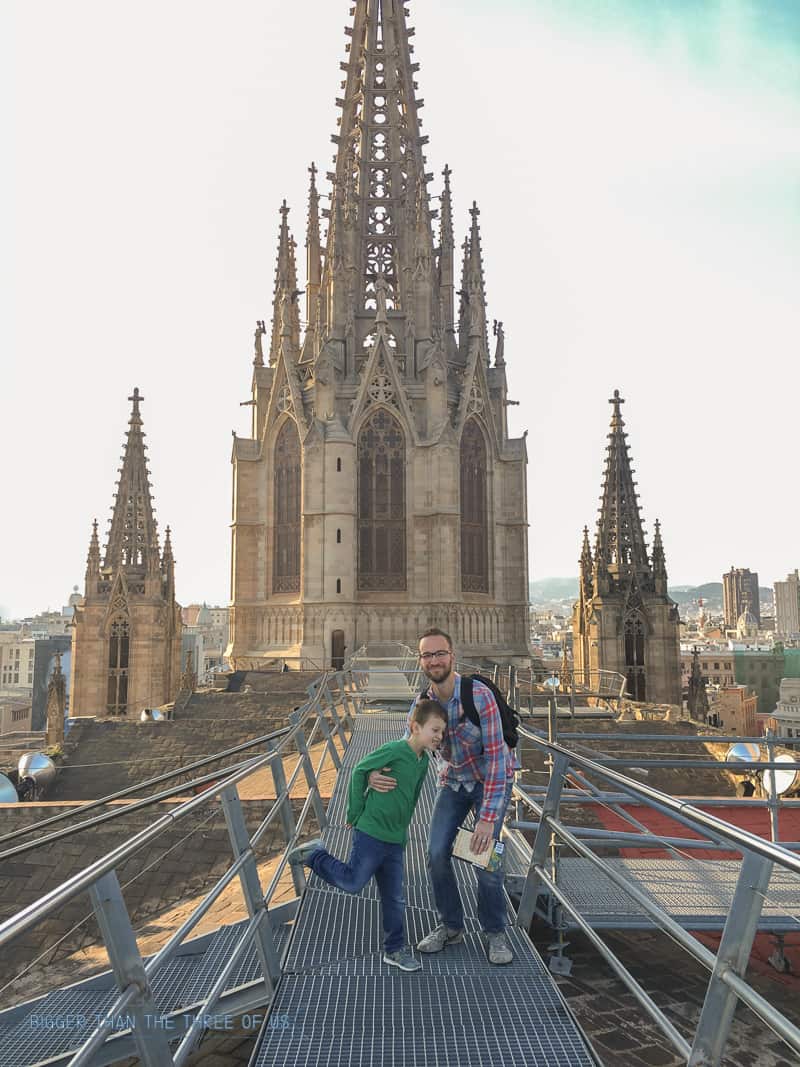 =)
After we were done, we looked for some food that was close. In our experience, you don't find good restaurants (even when they are rated ok on foursquare or yelp) next to high tourist spots. But, the little man was hungry and sometimes, you just go somewhere to get food. So, we ended up eating at Bilbao Berria which is in the square right in front of the cathedral. Do yourself a favor and skip this place. Ha!
On the way back to the apartment, we stopped at Chocolat-box. They have pretty good gelato. We actually got gelato here a few times during the trip.
After that, we headed back to the apartment for a good night's sleep.
On Thursday, we got up early because we had booked a family photo session with Carolina Sainz. We walked around to some of her favorite places to take the pictures. It was all super easy and she was great with Greyson. I've been wanting to have family pictures while we travel for awhile now and it finally worked out to do it.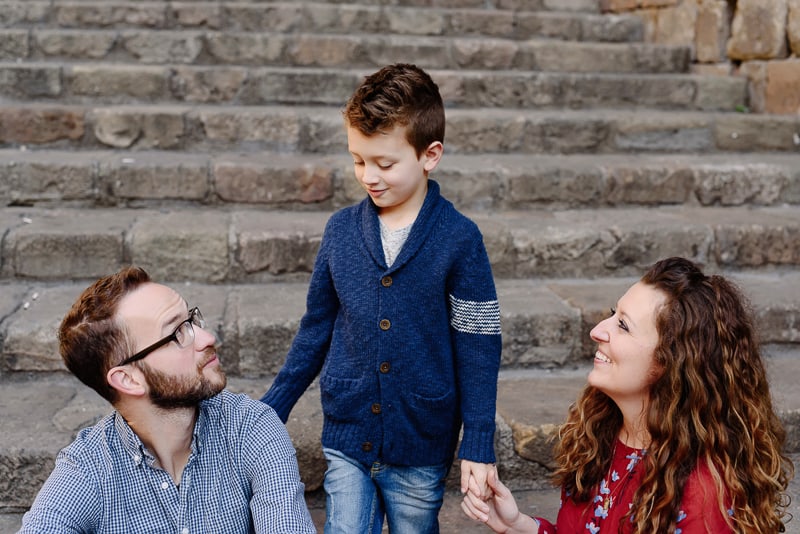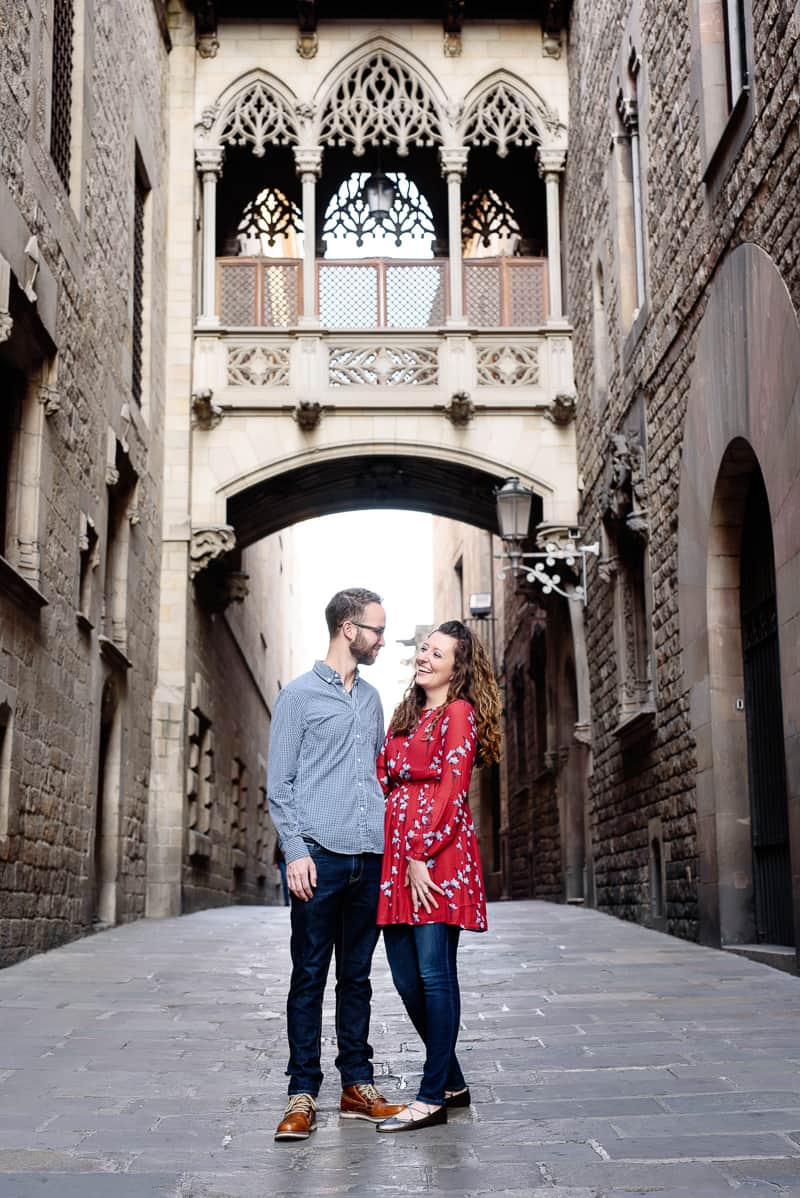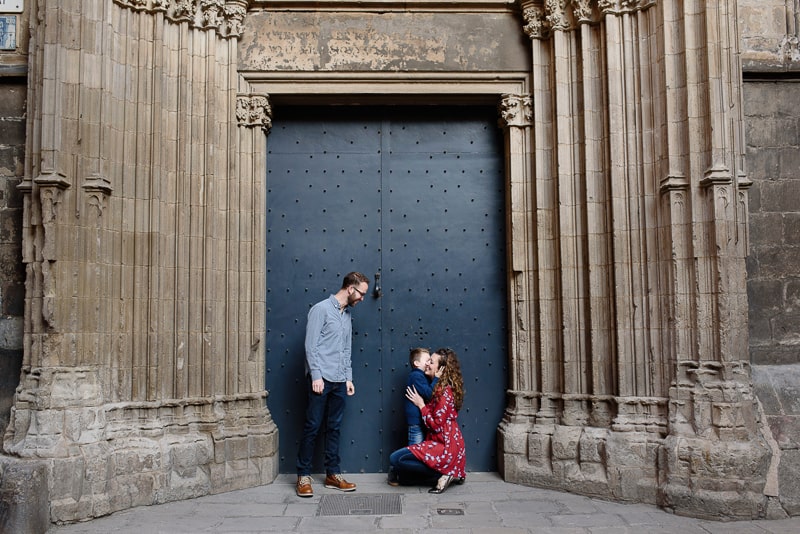 I did a gallery wall in our entryway reveal with some of the photos from the session. There were so many good ones that it was hard to pick!
During the photo session, we got to hear more about different parts of the city. For example, we heard the story about Christopher Columbus and actually got to see the building where he asked for funds to find a route to Asia. I thought that was pretty neat.
Anyways, the photo session was low-key and just perfect for us.
After the session, we let Greyson pick what he wanted to do. He decided that he wanted to take the cable car (Teleferic de Monjuic) to the castle (Castillo de Monjuic).
We took a taxi to the cable car but realized that with the language barrier, we had difficulties figuring out where exactly we wanted to be dropped off. This part was a bit confusing, there are three points that you can get on and off the cable car. One is closest to the water, one is at Parc Montjuic (this is where I would recommend) and one is closer to the castle. The cable car goes by all three but you will have way less walking if you start and end at Parc Montjuic.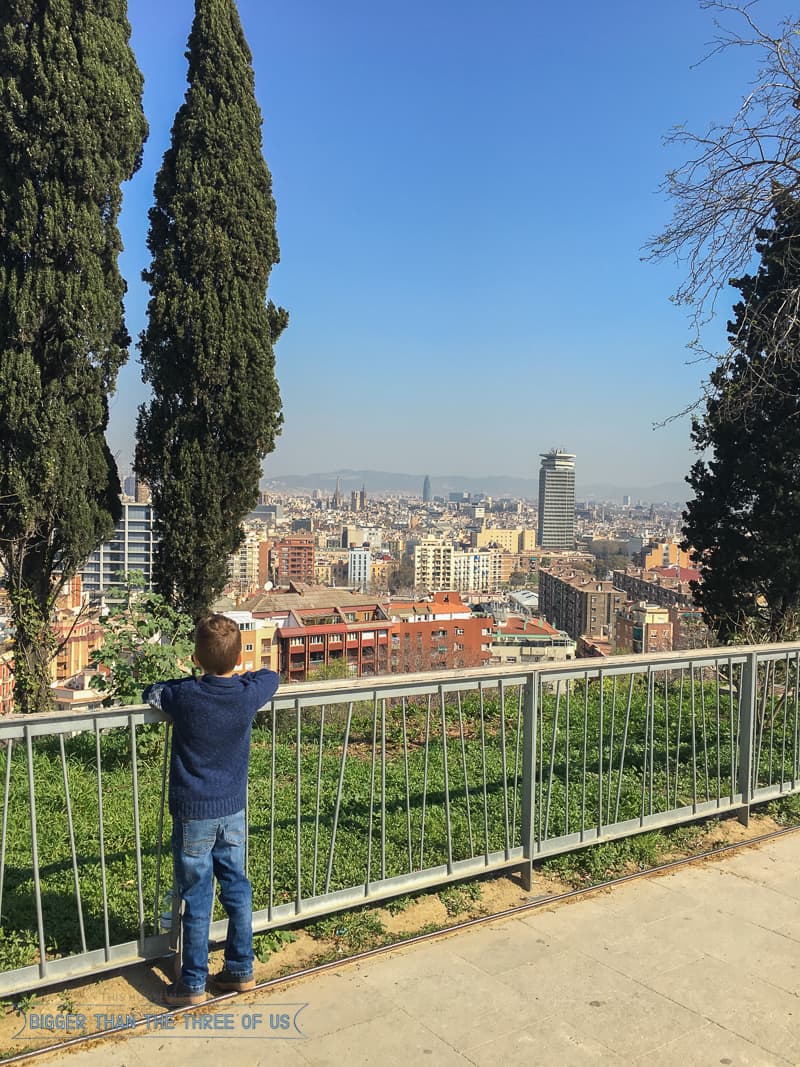 The views from our extra 20 min of walking were pretty nice though.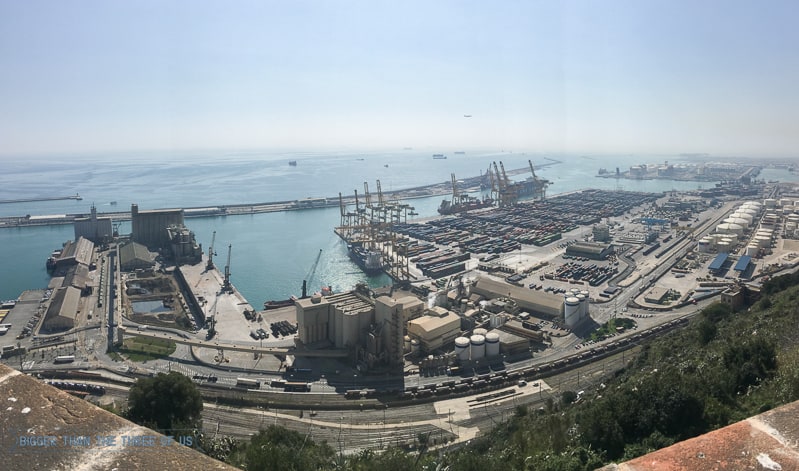 Once we finally got on the cable car, it was fun but just the same as any cable car you've been on before. However, with a young kid this was a win.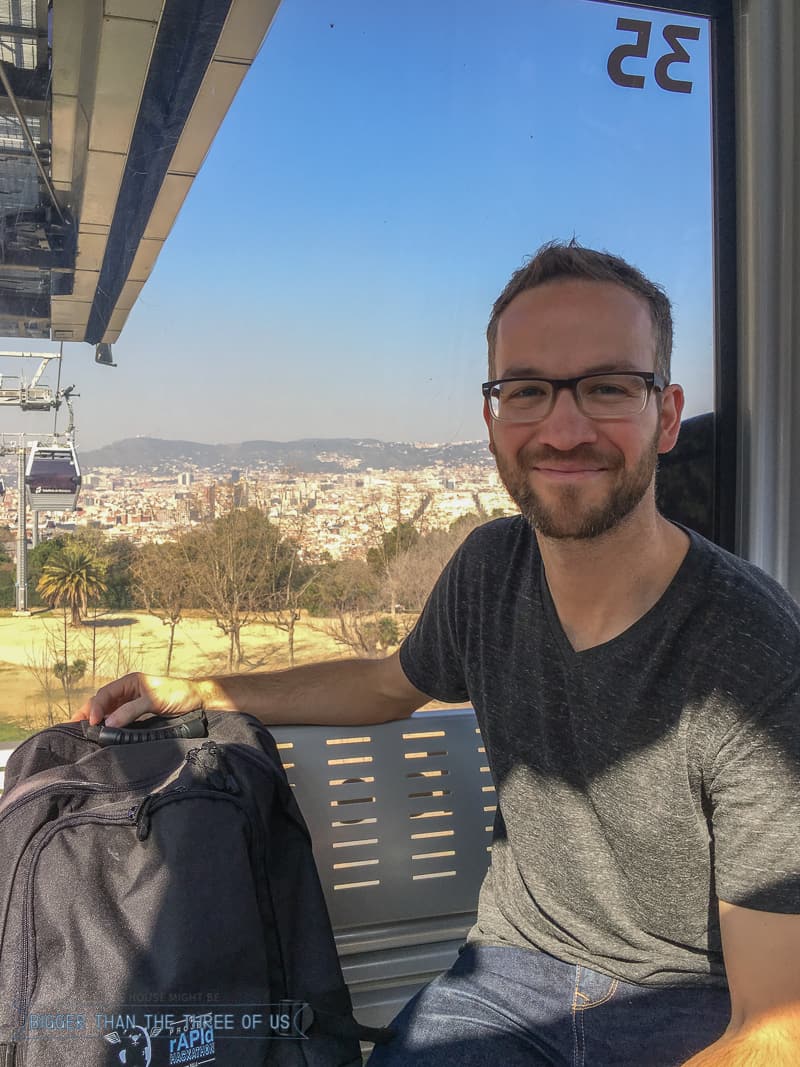 I was hoping Greyson would love touring the castle and hearing about the history and he did!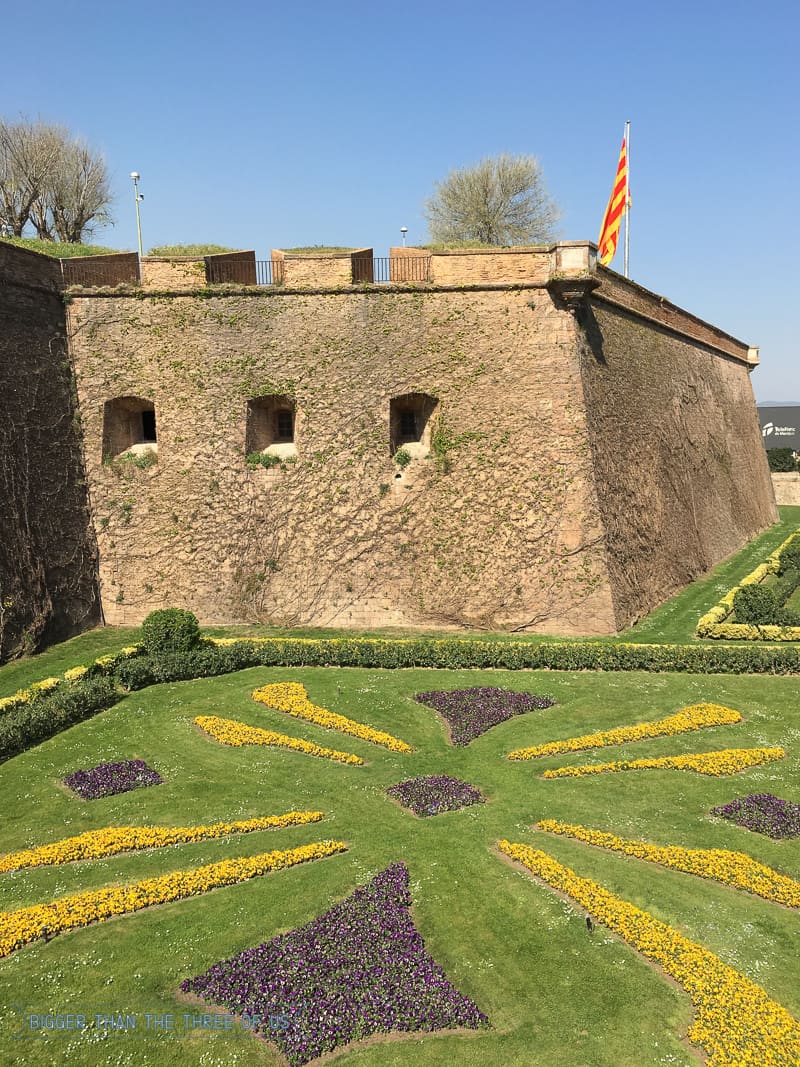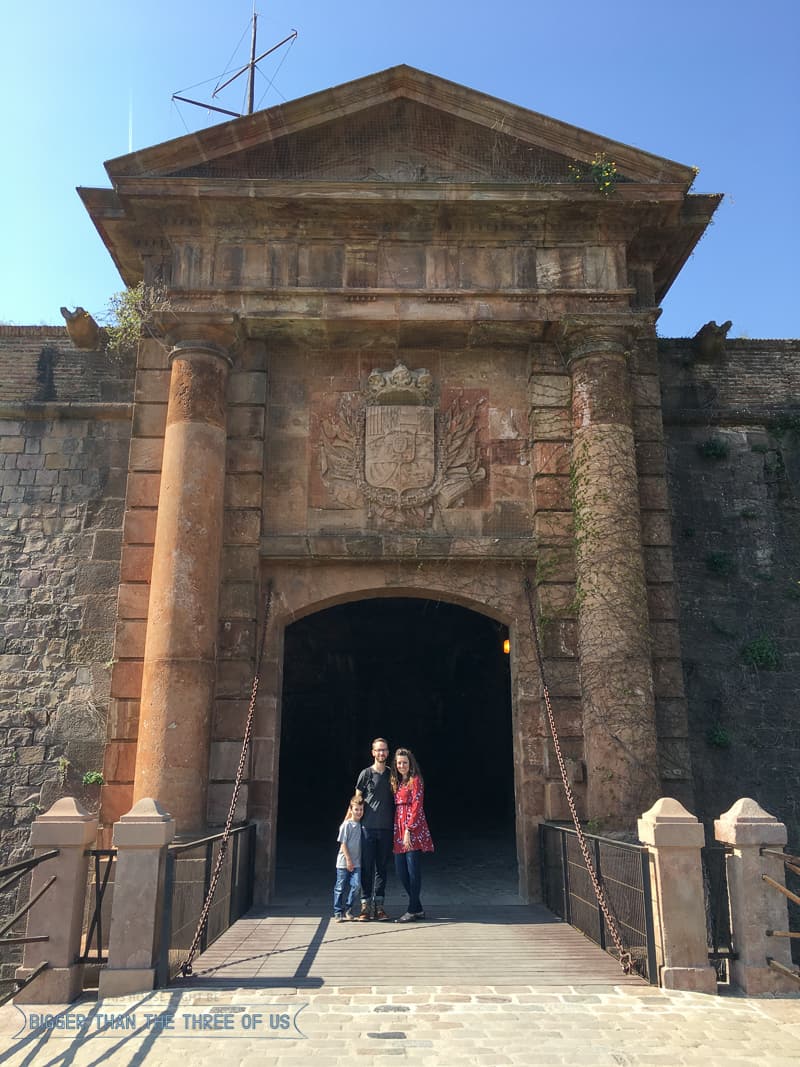 The castle is very much "do at your own pace" but I'd say two hours is plenty of time to spend.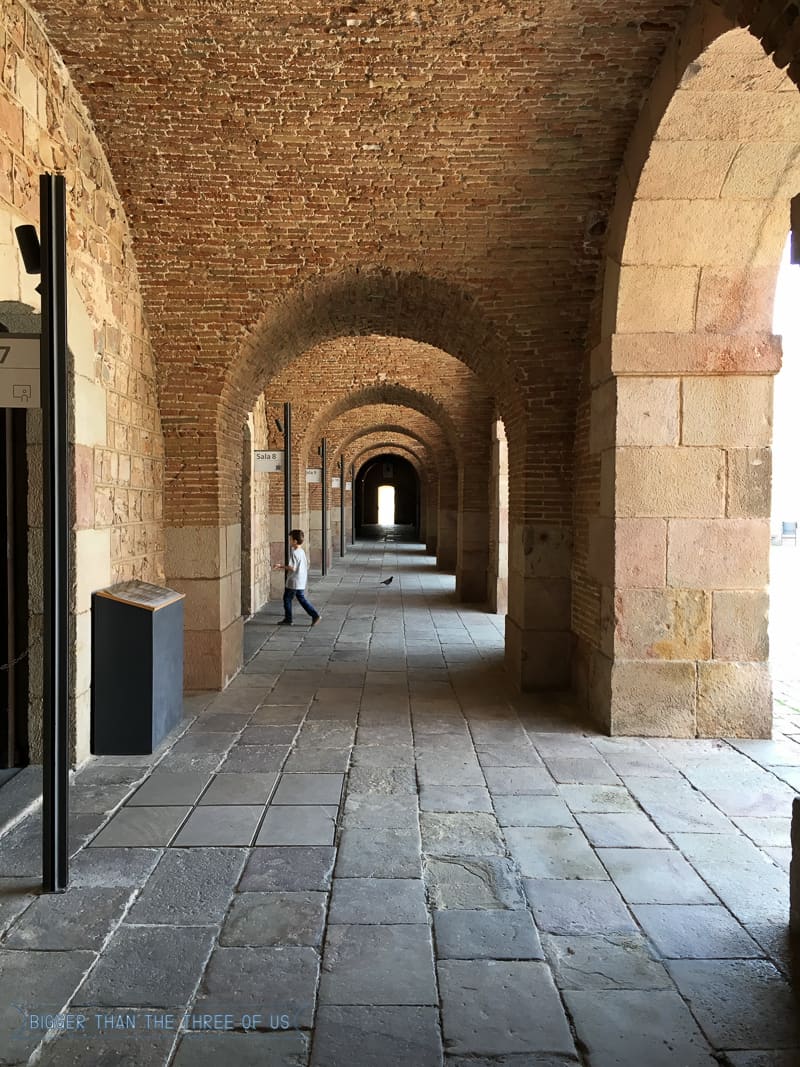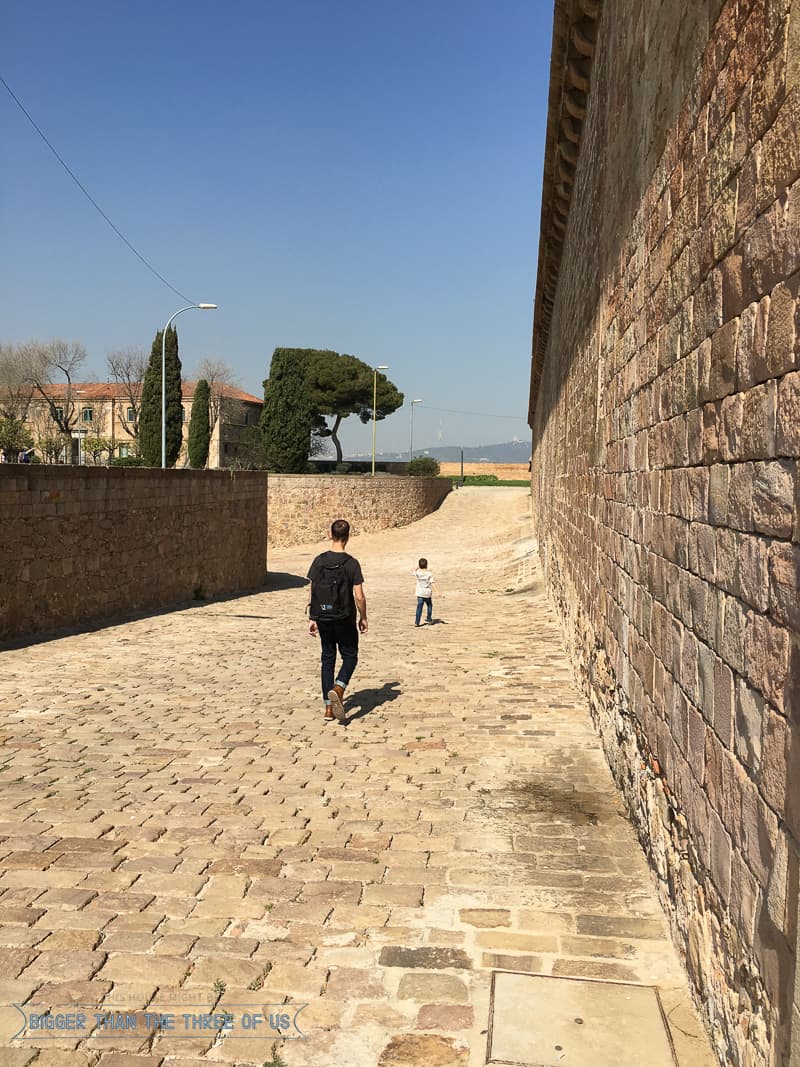 There are lots of places within the castle that have plaques and pictures that you can read. We browsed some of them but, mostly, we just let Greyson explore.
After the castle, we walked to the park that we spotted from the cable car. We played at Jardins De Joan Brossa (Parc De Monjuic) for awhile while Luke found a good late lunch option. It's doesn't have a huge playground but it has a few things that we'd never seen before so it definitely worked for a good, casual stop.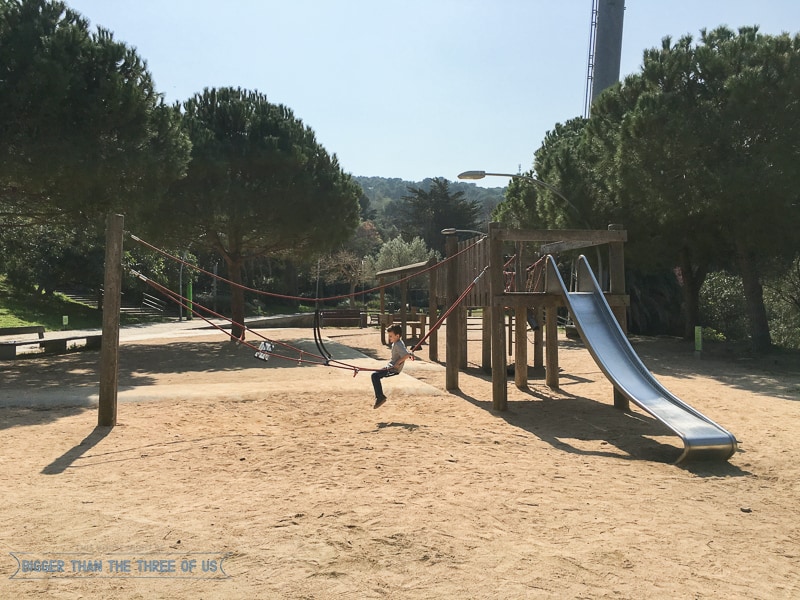 We had lunch at A Tu Bola and you HAVE to go here! It was delicious! It's casual, small and cheap (definitely a lunch-type place). It's a tapas restaurant that has fresh ingredients and mostly Mediterranean food.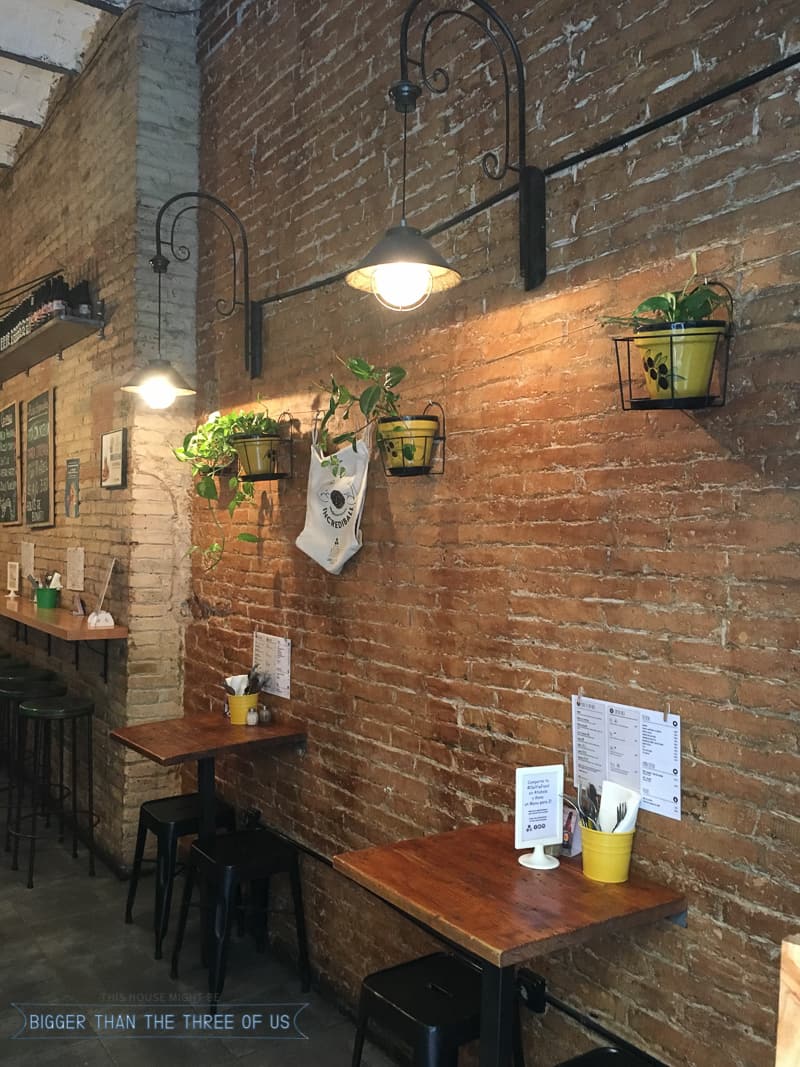 We explored more of the city by foot and then ended up at Chok. It didn't blow us away but what we had was good and the place was just the cutest.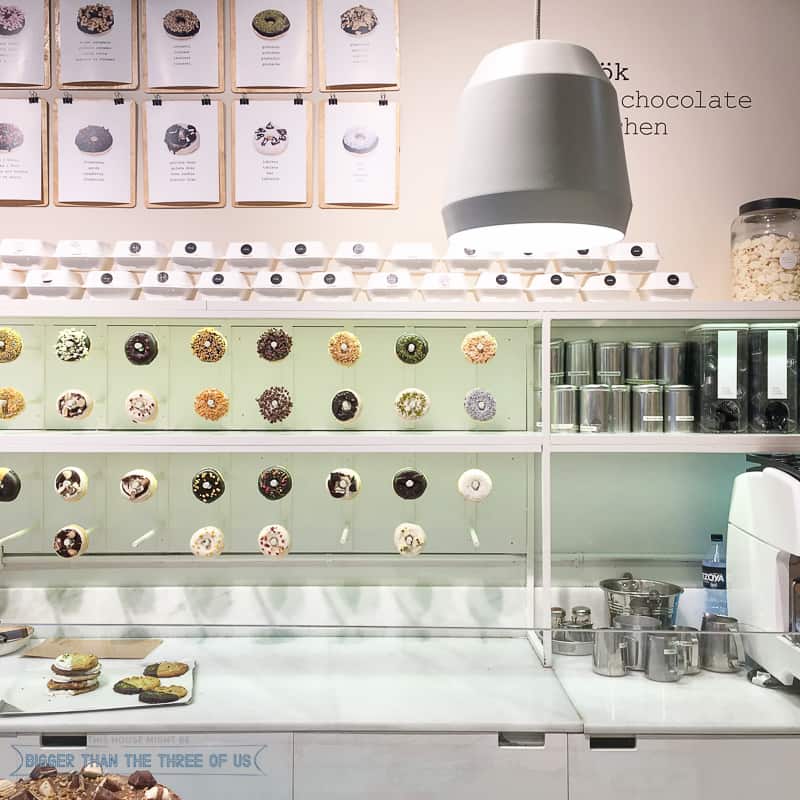 We had been out most of the day, so we headed back to the apartment to relax for awhile.
After relaxing for a bit, we headed to Mercat de Sant Josep - La Boqueria. It's basically an open-air, many-stall food market. We got there about an hour before closing so some of the stalls were closed but it was very interesting! Lots of fresh juice options, seafood, wine, tapas bars, etc. We had fun walking around it for sure. I'd add this to your list but try to plan it so that you go when everything would be open.
 The next morning, we got an early start and I made the boys go way out of the way to hit this cafe that I wanted to go to. Luke is always game and is usually the ring-leader on this type of thing.
We went to Cafe Cometa. Not only is the decor adorable (let's be real, I saw pictures of this online and had to go) but the food was good too.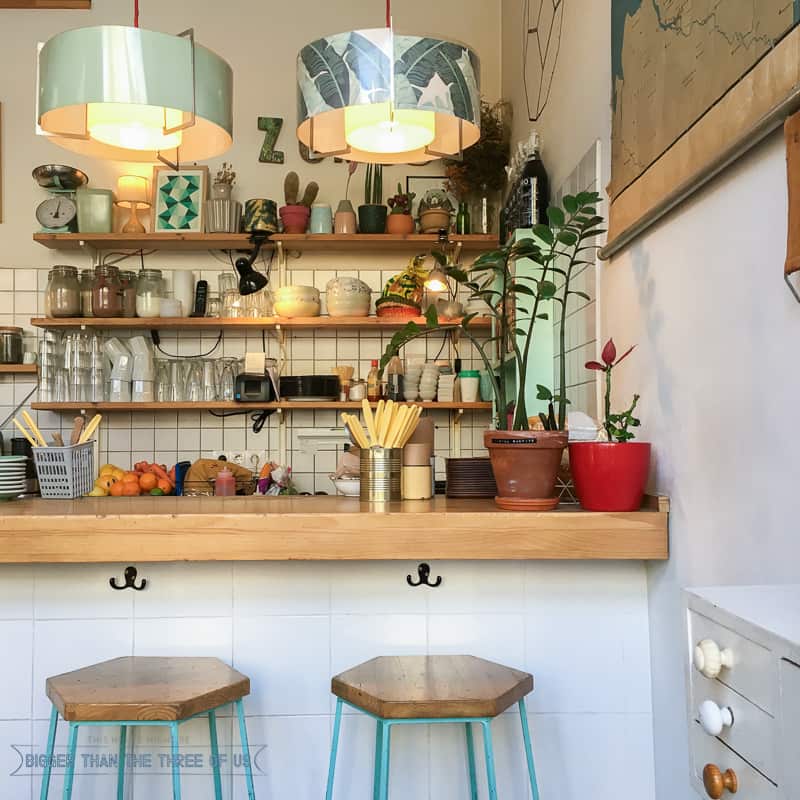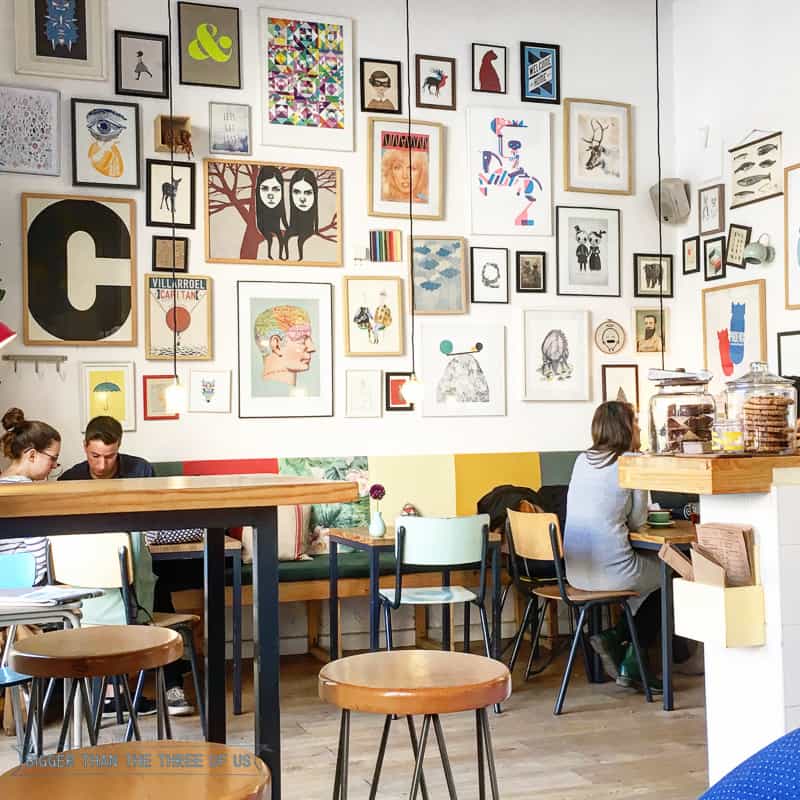 After that, we went to Palau Guell. You could spend quite awhile here but with a younger kiddo, there's not a ton to do. We enjoyed it but it probably would have been a bit more enjoyable if Greyson was a few years older. There's lot of history here and it just didn't capture his attention.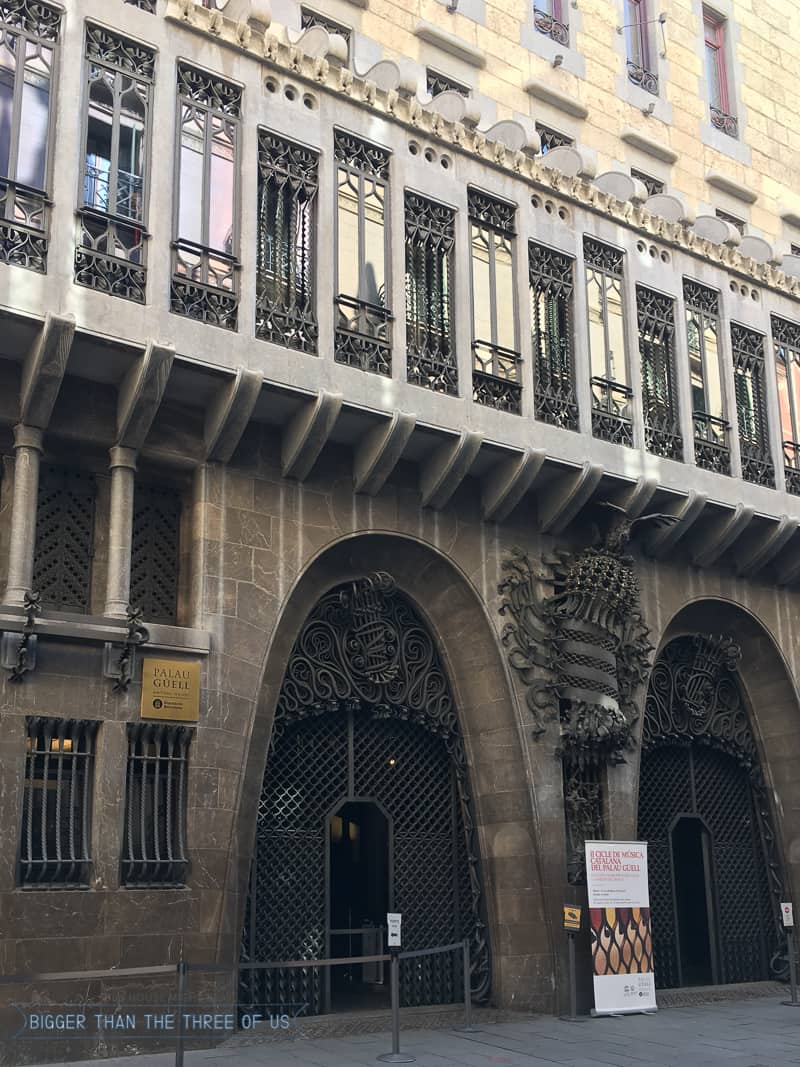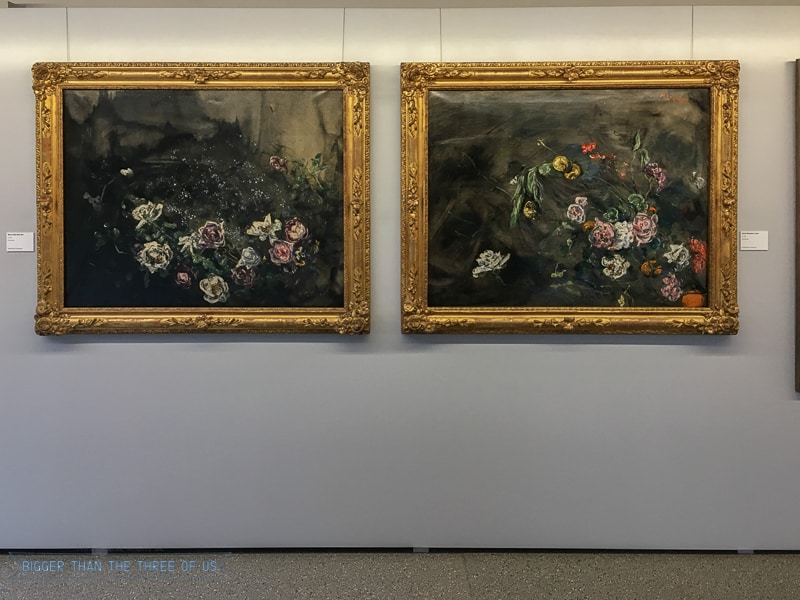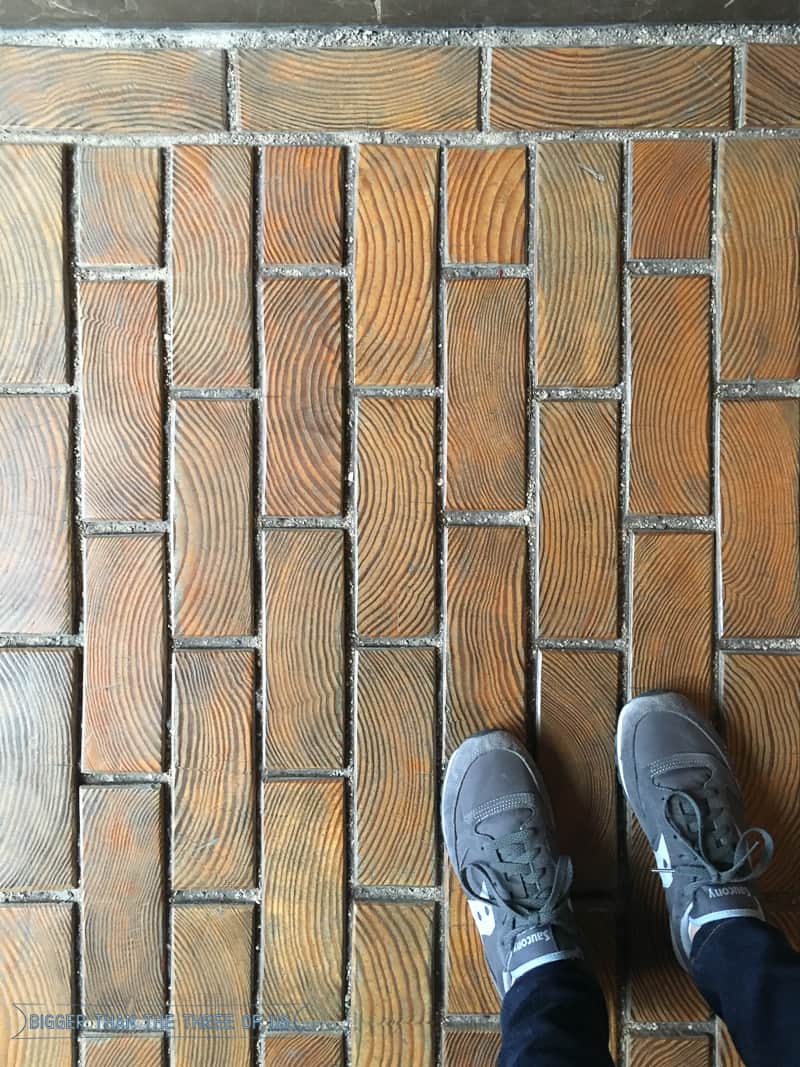 How crazy is that floor? That's WOOD!
We stayed about an hour and listened to some of the audio but really by that time, Greyson was done. We took a break for awhile and then went over to the Sagrada Familia. The outside was just amazing but the lines were super long so we decided to skip it.
We walked some more and then decided that we needed a dessert break. We went to DelaCrem and enjoyed this place.
After our batteries were recharged we took the subway to Parc del Laberint d'Horta. It doesn't go right to it but, from the subway, there is about a ten minute walk. This was a highlight for sure! There is a playground and concession stand right in front of the labrinyth. Luke and I enjoyed happy hour while Greyson played for awhile.
After we all relaxed, we headed into the park. One of the things that we had talked about was the "maze" and it didn't disappoint.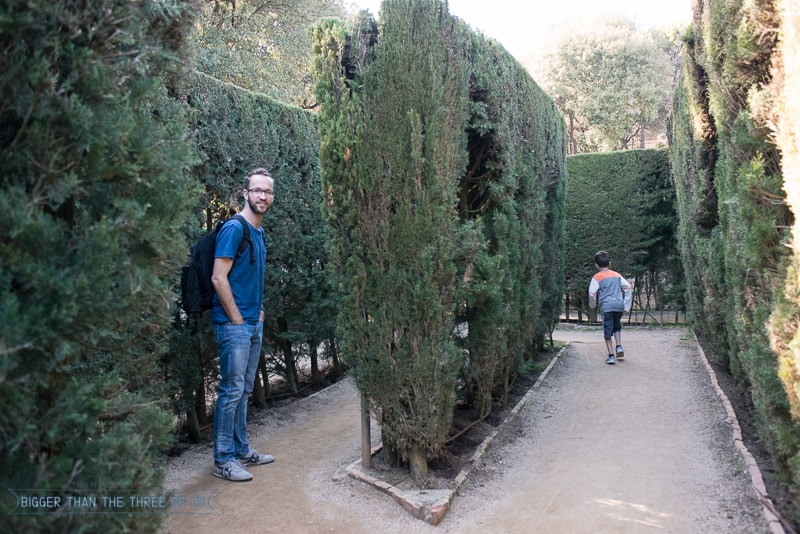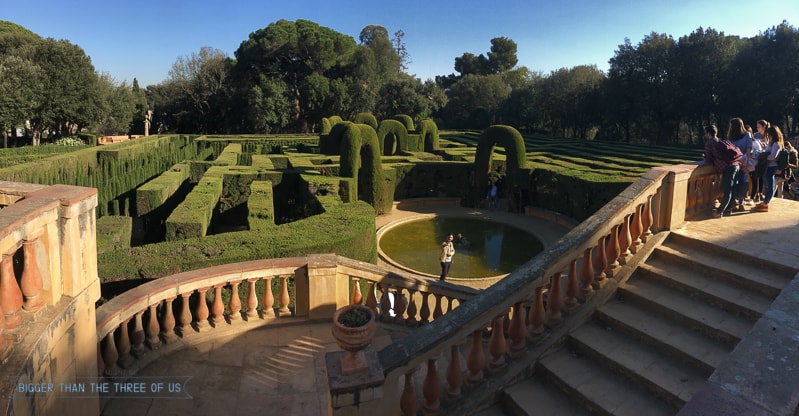 We all did it together the first time, then Greyson led Luke the second time and then by the third time, he did it all by himself.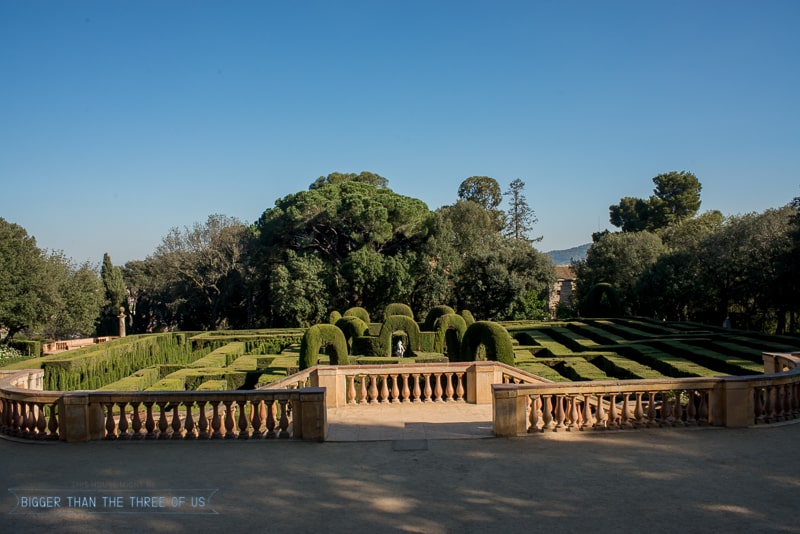 I can see this activity being a hit for all different ages.
The park itself was just gorgeous. I bet we didn't walk even ¼ of it.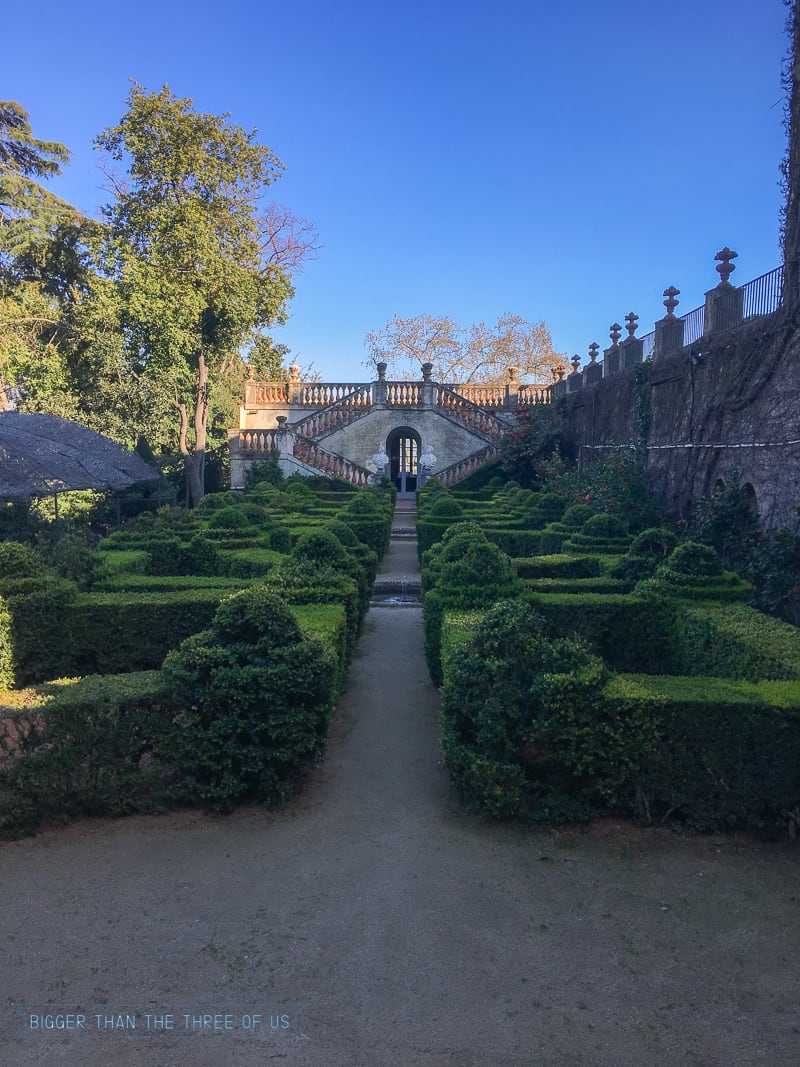 I could have definitely spent longer exploring all the little walkways.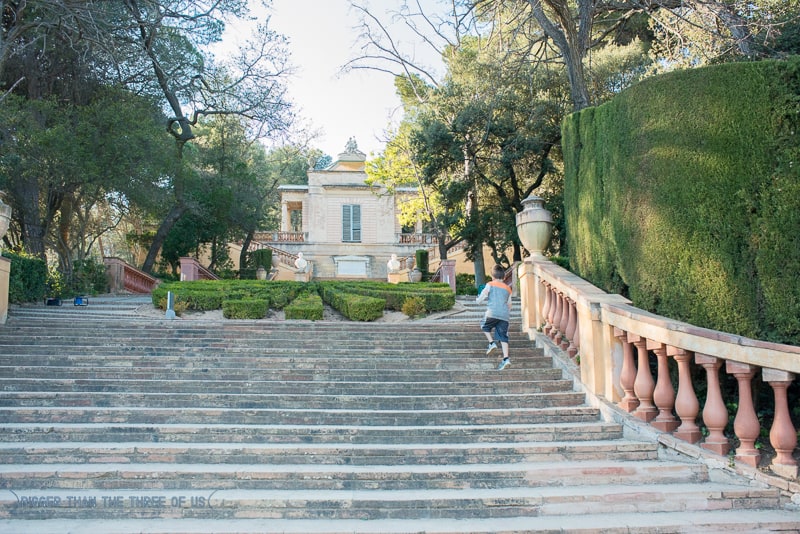 On the way back to our apartment, we stopped to eat at Tucco which was highly rated online. If you are looking for an Italian restaurant then it was pretty good. It didn't blow us away, but it was kid-friendly, well-priced and casual. After a long day of exploring, sometimes those types of places are just perfect.
If we are completely honest, this day was hard. It was a ton of walking and, for some reason, there were no taxis anywhere ever to be found on this day. We couldn't figure it out. It was almost like there was a strike or something. It was strange. Taxi rides here and there would have broken up part of this day and helped for sure. I think we logged about 12 miles, and for a little one, that's a lot!
The next day, we were up and back at the train station to take our return trip to Madrid.
We had about half a day left in Madrid when we got back and Greyson begged to go back to the Madrid Rio park. It was such a fun place so that's what we did.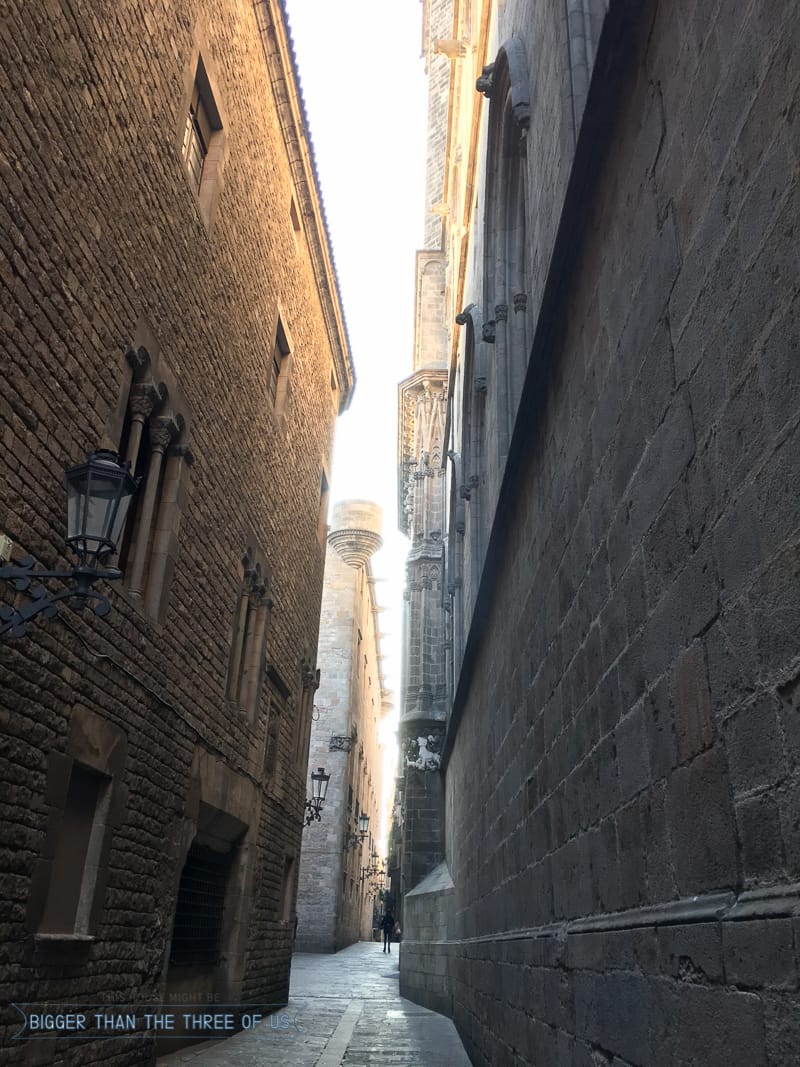 Overall, we had a great trip. When you ask Greyson what his favorite part was, he always says the food. He loved the bakeries that were along each little street.
We did a TON of walking on this trip, so we got to see a lot of each city. Lots and lots of cafes were visited, coffee at all times, dessert whenever, playgrounds were played at (you happen across little playgrounds every few blocks or so) and much more. This trip was definitely geared to be kid-friendly so if there were just adults going, you would probably have a different itinerary.
Two store recommendations that I wanted to go to but they were closed the two times that I walked by:
It Reminds Me of Something (cute little home store)
Home On Earth (home store with plants)
PIN FOR LATER: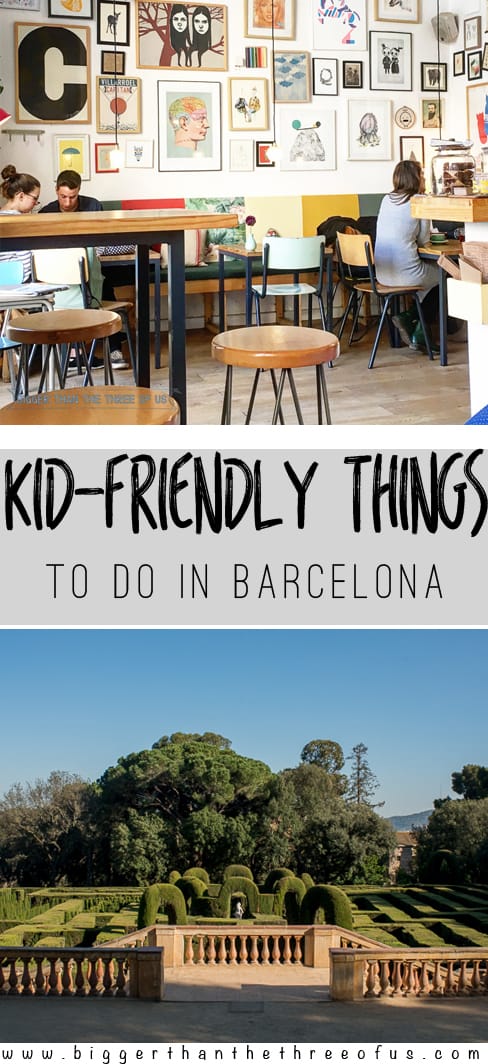 Looking for more kid-friendly trip recaps?
You might like: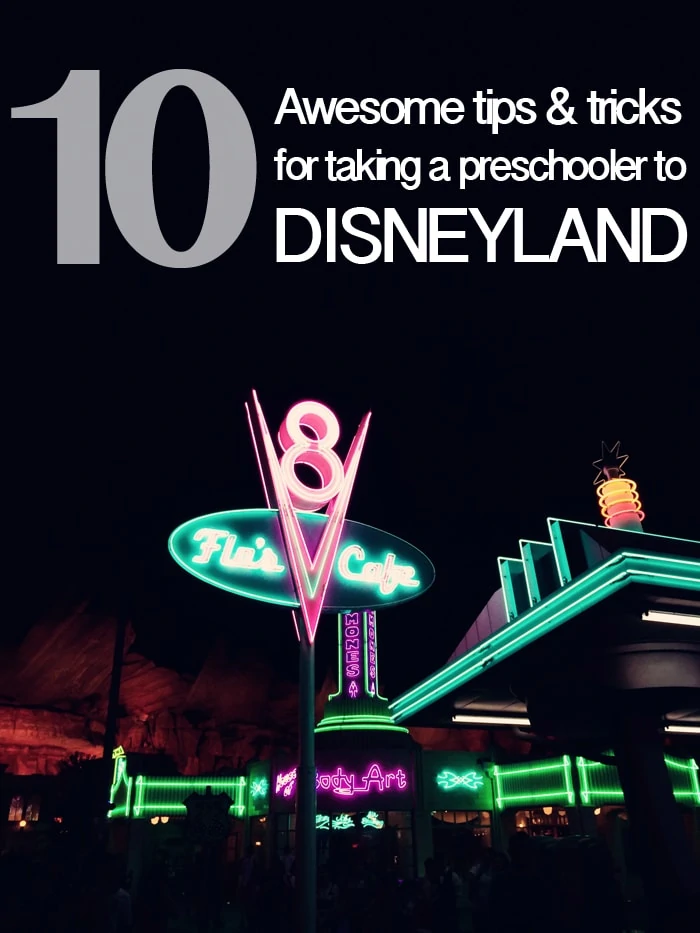 Tips for Traveling to Disneyland with a Preschooler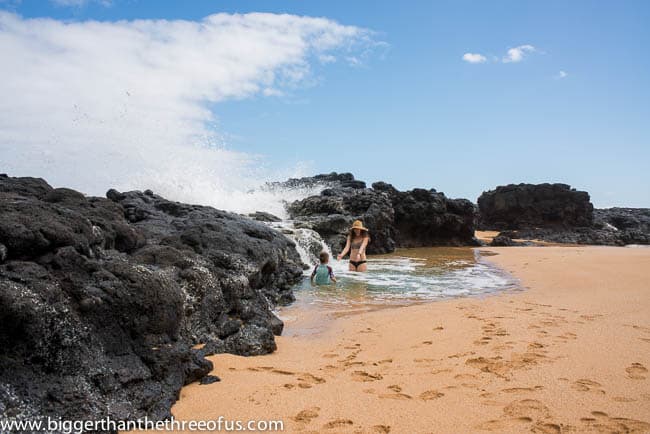 What to See and Do with a Young Kid in Kauai