A color-infused bedroom featuring Farrow and Ball Light Blue and a hand-painted ombre wall created a tween bedroom design that will hopefully last for years!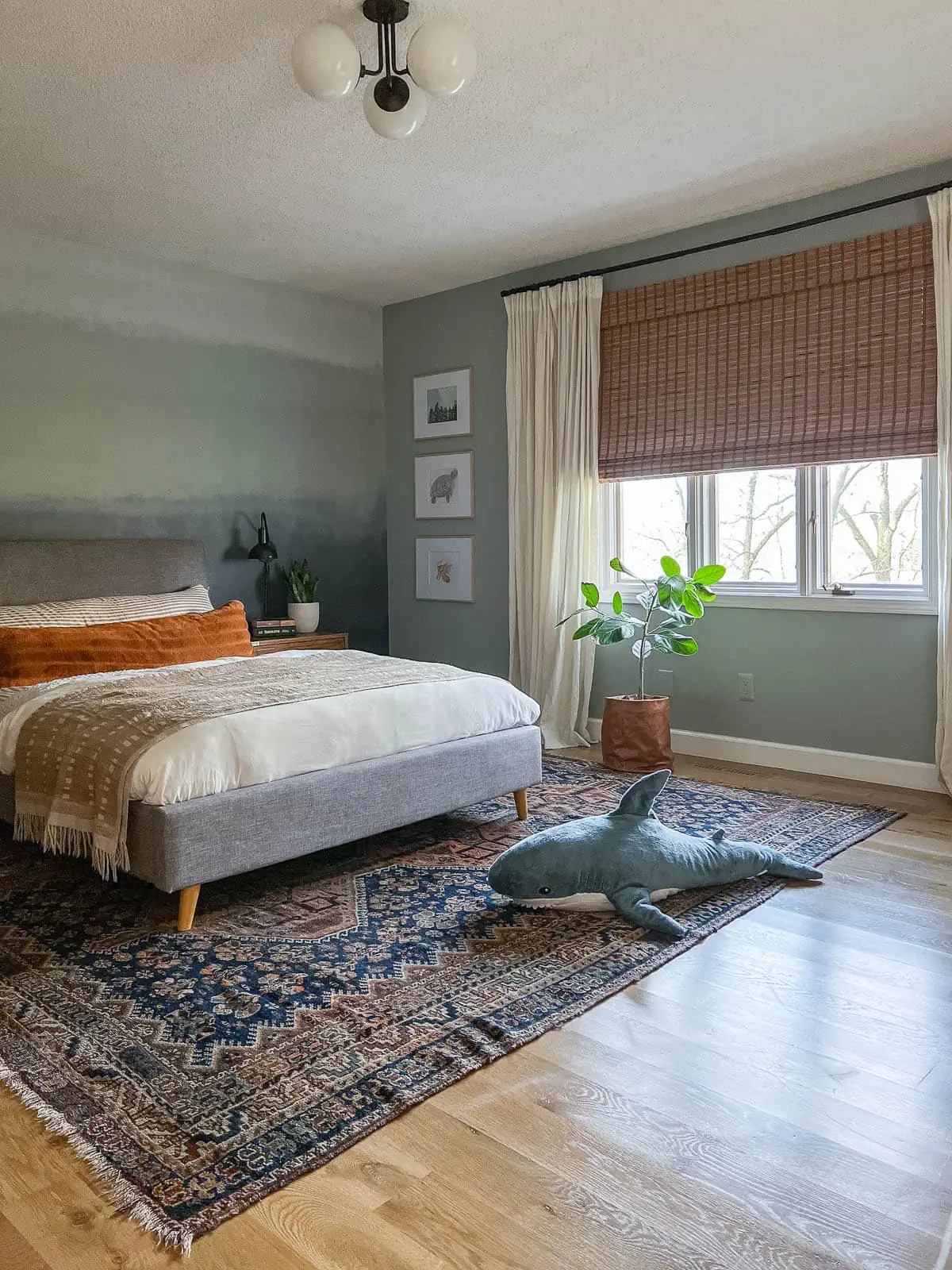 From white walls to a blue gray paint (the backstory)
It's been three years since we made over our son's room. Three years ago, we took his space from a disorganized, but cute, kid's room to a young preteen bedroom. Although the space was still functioning well for him and he liked it... he was wanting more color in his room.
We had originally painted his room white and it was really lovely. But as kids get older, they start to develop their own style and wants. I was happy to help him make his room more him and focus on bringing in color and interest in a way that he helped envision.
Before photo of the bedroom painted white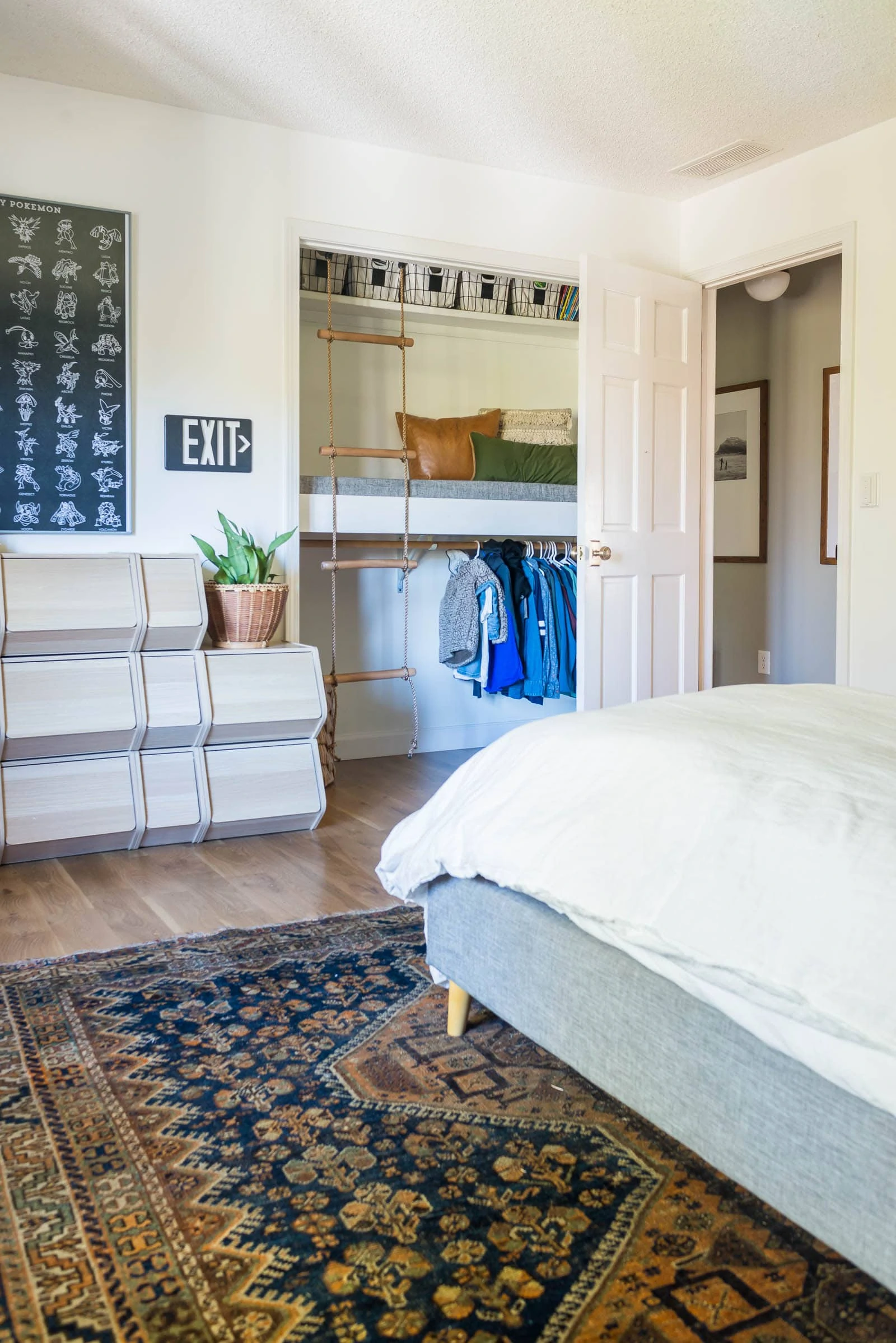 He liked his room but was itching to make it more his own and kept calling out how boring the white walls were. He wanted more of a blue green paint color in a saturated hue.
We had to brainstorm quite a bit to find a balance in how our house feels and how that translates to what he wanted. I think we got there though, which is fun. I'll chat more about the space as I show you more photos to explain.
Affiliate links below. Thanks for supporting my blog. Click to read my privacy and disclosure policy.
Farrow and Ball Light Blue Bedroom
The first thing we did was try to find a good green blue paint. My son was inspired by the northern lights and so, that was a jumping off point for the space.
After many internet searches, I came to the realization that a northern lights mural was just not going to cut it. They were expensive and none were the right color combos to really go with most of the other decor items that we owned.
We eventually landed on a compromise by trying to recreate the northern lights (or what I'd be apt to call an ombre wall) with a mix of light blue gray paint and green blue paint.
Finding the right green blue paint for the main space was tricky though! I went through a few options before finding light blue by Farrow & Ball.
Painting the room a light blue color that changes with the light
We went for the biggest impact in the space by painting it. We used Light Blue Farrow and Ball but color matched at Sherwin Williams. The color is so interesting because it changes with the sunlight and time of day. Sometimes, it definitely pulls more of a gray blue paint color but other times, it's definitely very light blue.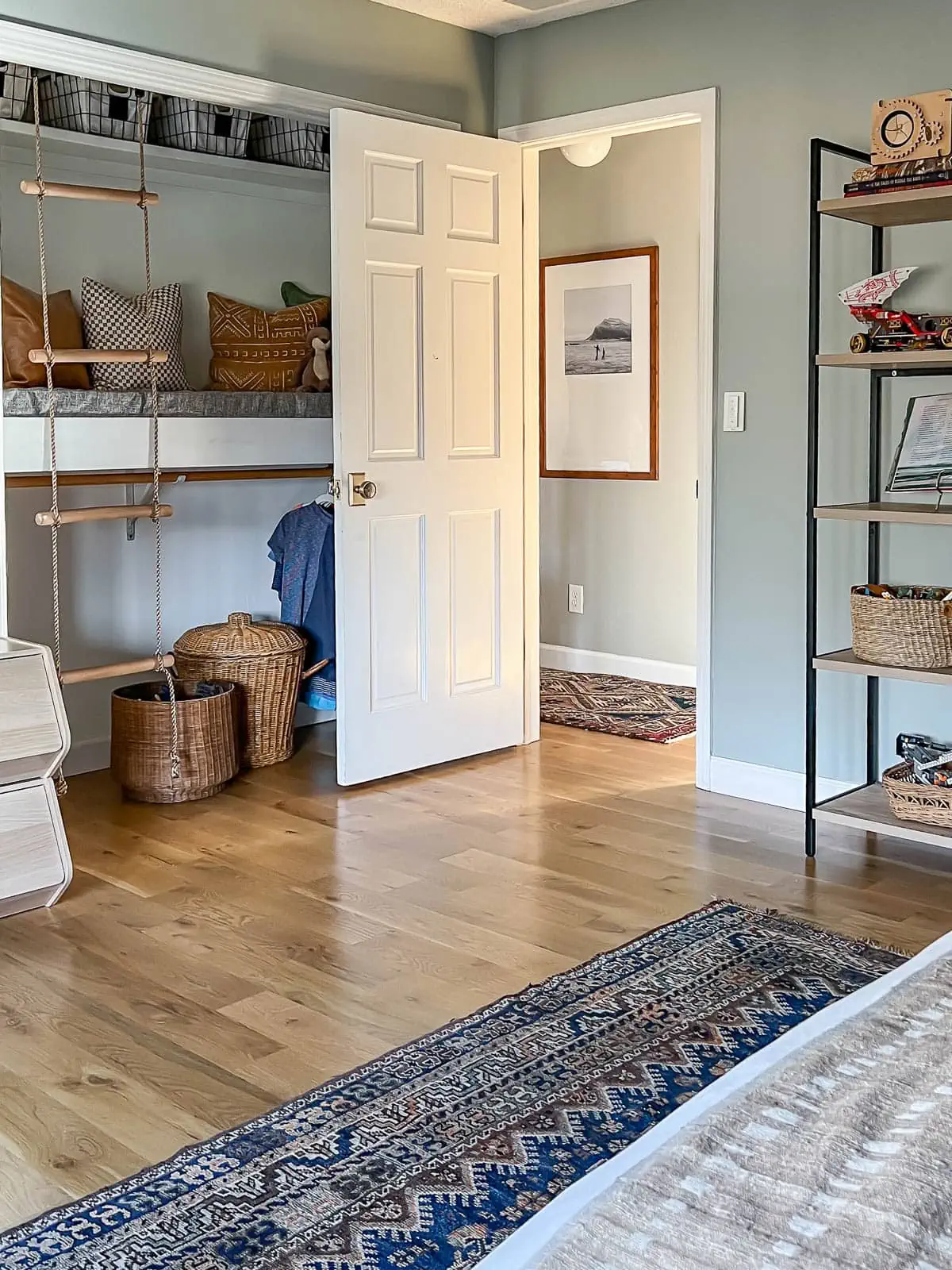 I've long been a lover of colors that change with the light as our go-to Cracked Pepper paint colors is like that! Check out my favorite house paint colors if you want to see more.
Because we weren't sure how to paint a northern-lights-inspired ombre wall, we set out to make a few other additions to his room before embarking on more painting.
Teen Bedroom Ideas
When it comes to teen bedroom ideas, the goal is to embrace their interests with unique wall decor, textiles, and styling.
Large bulletin boards
Side by side bulletin boards are an inexpensive large scale art idea for a space. They are easily customizable and are a fun way to bring in personality and change in a space.
Kids are going to have clutter so we just decided to lean into that with this wall display idea.
We picked up another bookcase (these are inexpensive) and decided to flank the dresser with them. The two cork boards give a lot of space to whatever Greyson wants to hang (artwork, ribbons, photos, etc.). The key to keeping this all looking decent is the woven baskets. They help create a resting place for the eye even though they are filled with legos and other toys.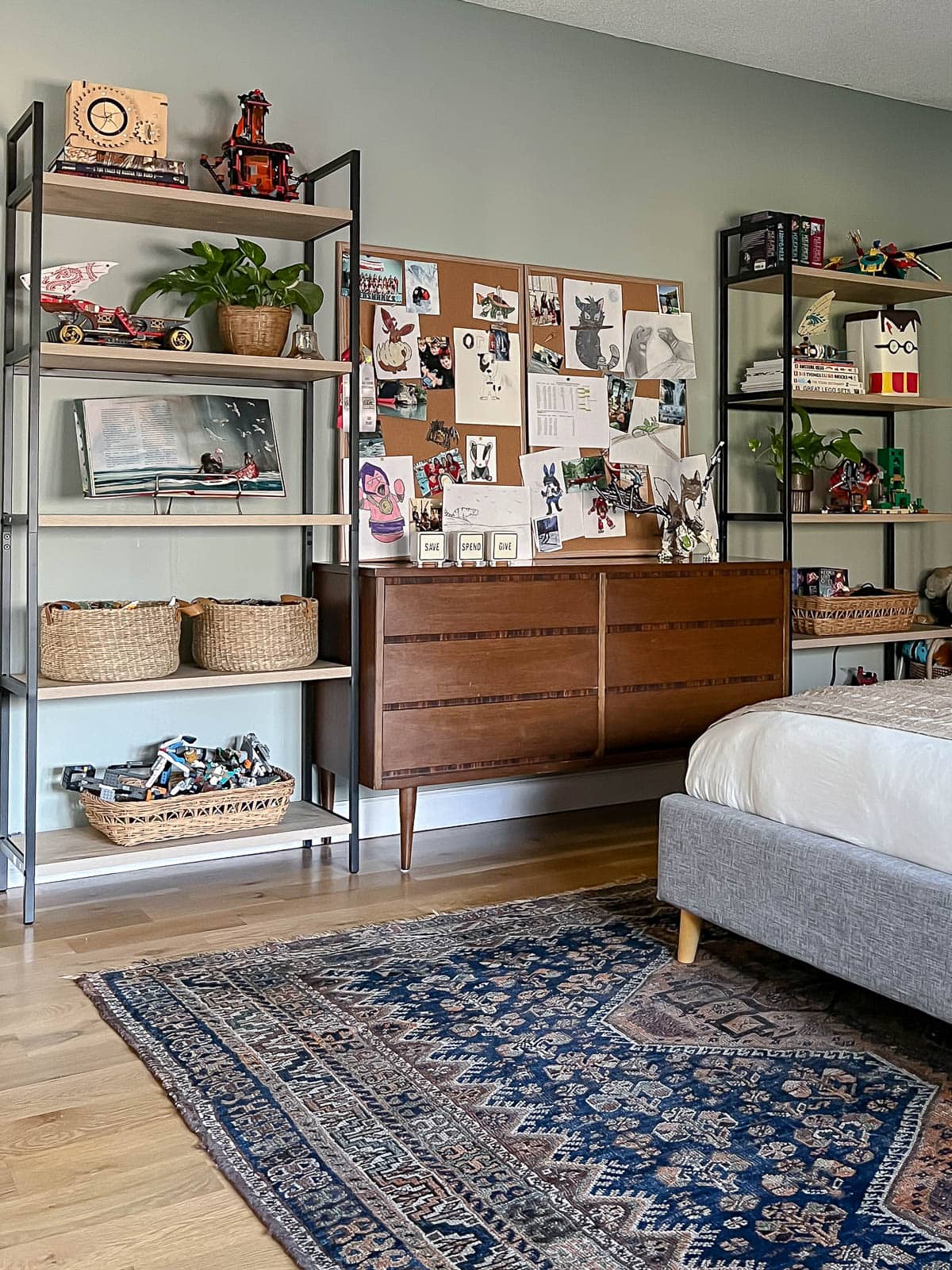 Lego storage and book storage
Closed toy storage is key in creating organization and also, a calming vibe to any kid's room. Years ago, I got lucky in finding these stackable bins that are able to be closed or opened. They have been the perfect fit for legos, books, and other small items,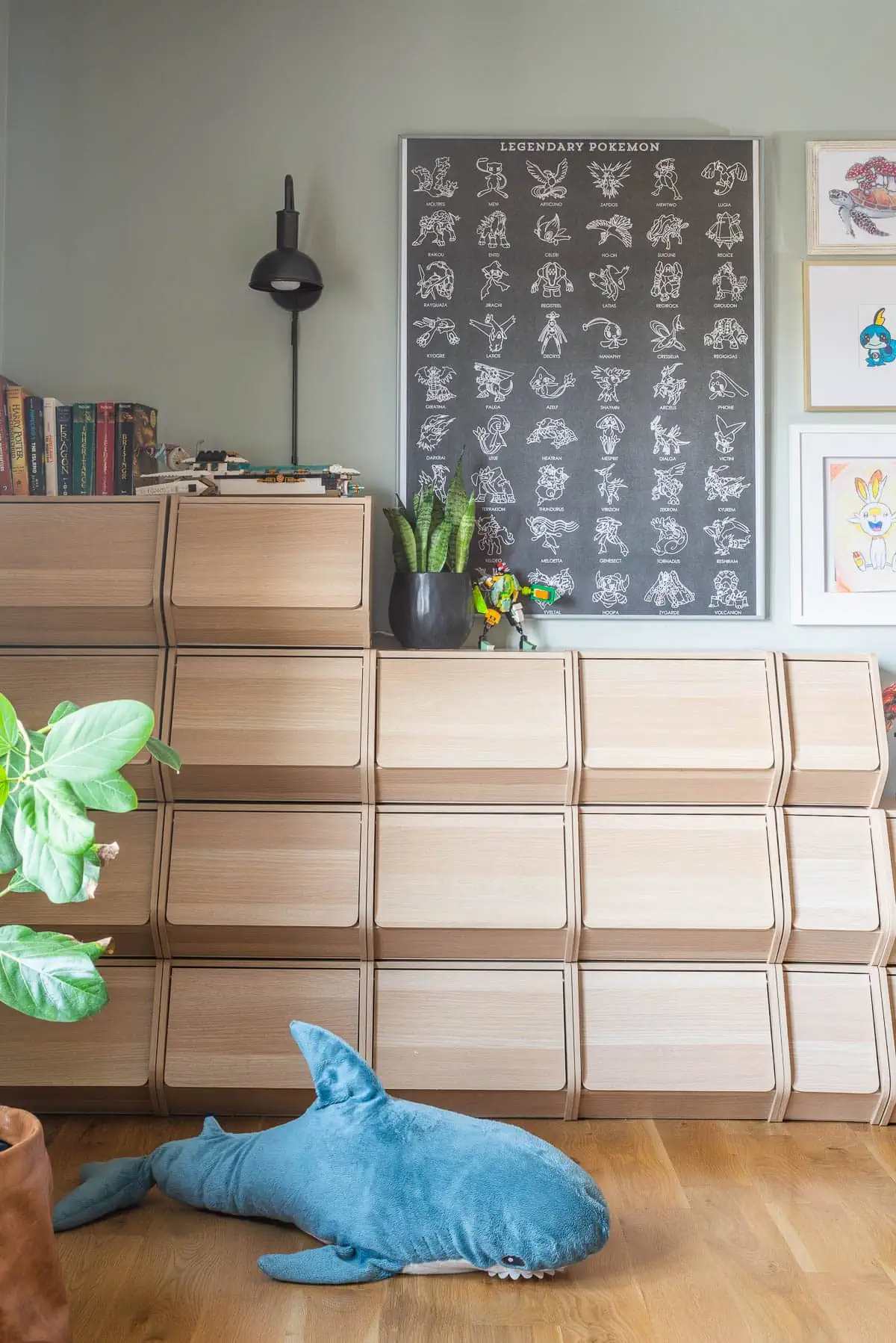 Our modular storage is no longer available, but I did a blog post on closed Lego storage for similar options.
Framed wall art
You don't have to get fancy with framed wall art in a teen bedroom! Etsy has great inexpensive prints that you can download and print yourself. Or, if you have a budding artist yourself, then frame their own artwork.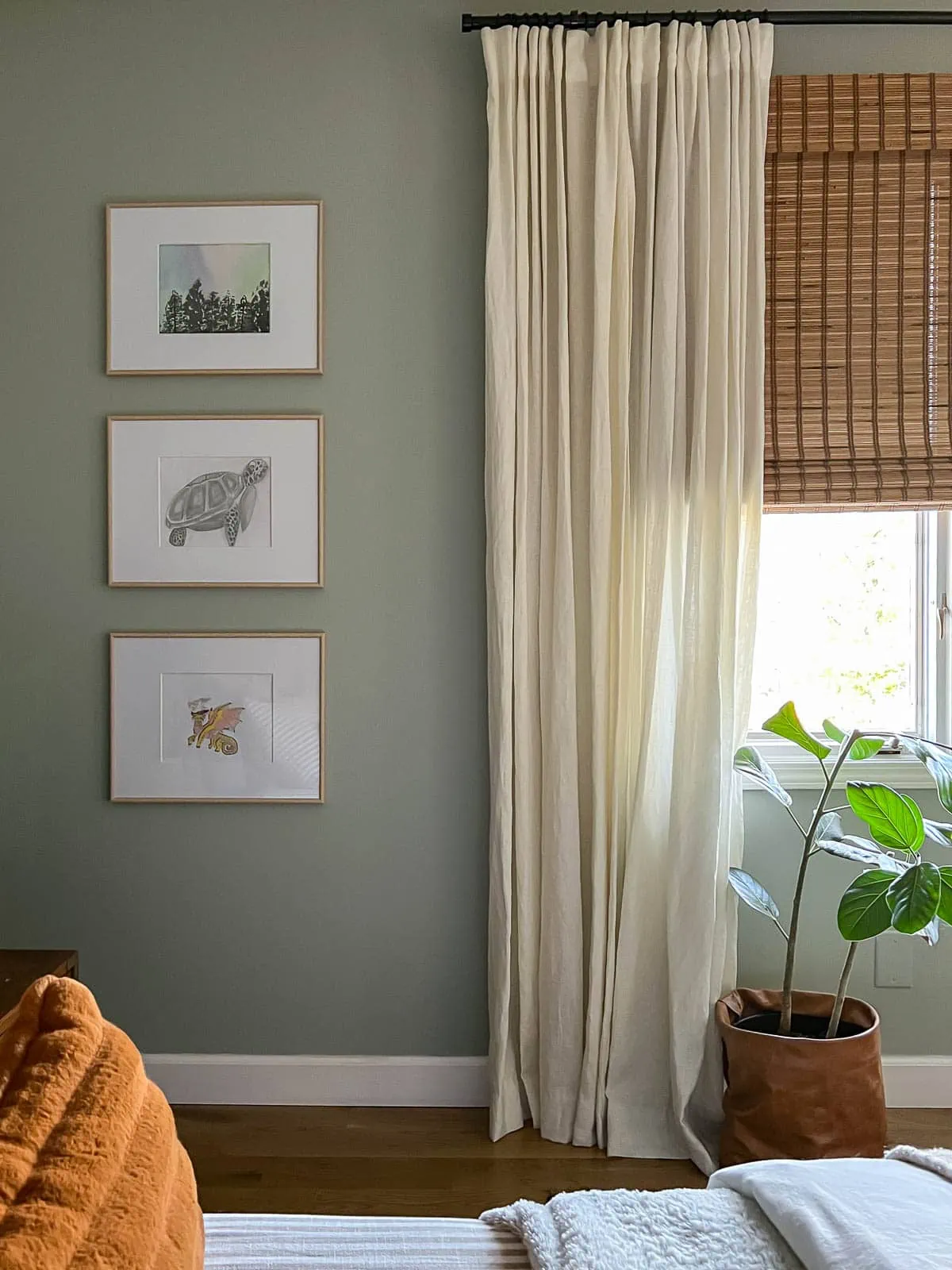 My son loves art and seeing the art pieces that he is proud of on his wall is such a rewarding way to see him to express his own personality.
Ombre wall with blue gray paint colors
Creating an ombre accent wall with blue gray paint is a project that you can tackle in one weekend.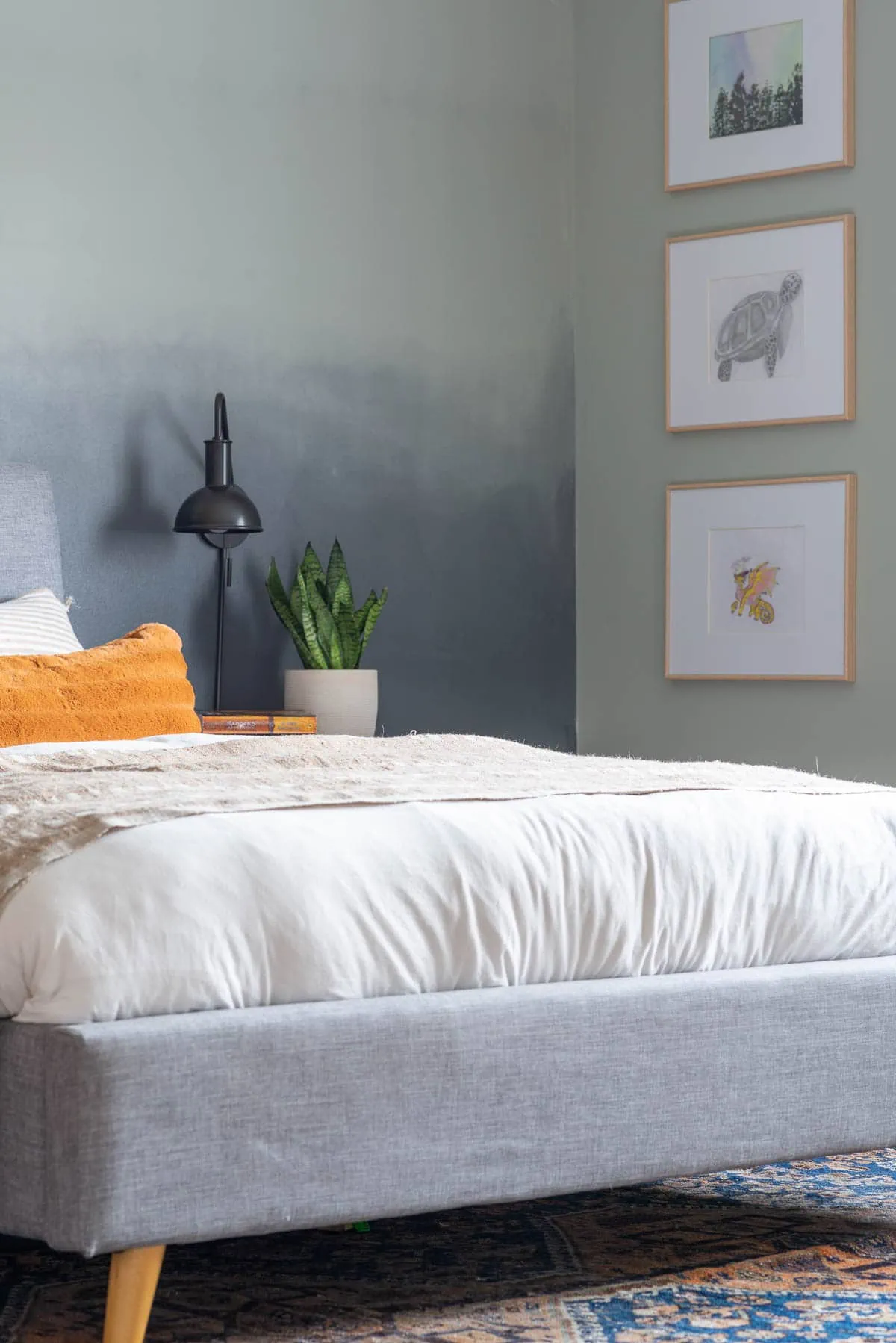 This project can be done using minimal gray blue paint cans because you are adding white to the paint to lighten as you continue up the wall. We found that rolling horizontally and then dry brushing as you combined two colors worked best. I put together a video so that you can see the process.
Anyways, I hope the video was helpful! As we were diluting the blue gray paint and going up the wall, it definitely felt like the ombre wall wasn't going to come together. When the paint was wet, it definitely looked like it was going to be a fail. Once it dried completely, and you take it in... it feels nice!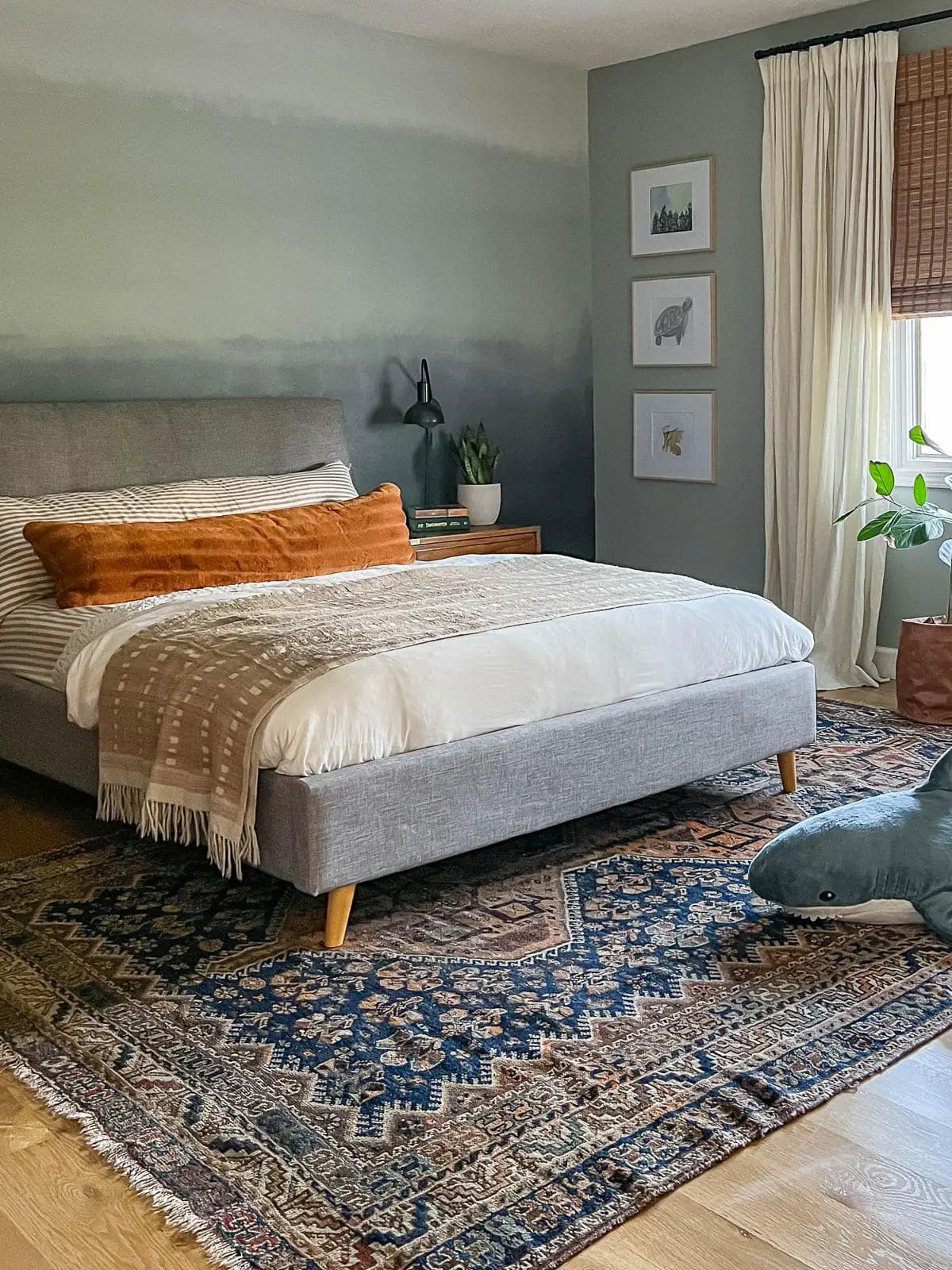 I'm typically not an accent wall type person, but I think in this case, it works.
Shop Teen Bedroom Decor