To be completely honest, I'm scared to even talk about this. But, I want to be real; to be authentic; to be transparent. So, this is me striving to do just that. Let's talk about The Struggle Between DIY and High-Quality, or how I feel about it in regards to DECOR.
When Luke and I bought this house, we were overwhelmed by how much we wanted to change. From the carpeted bathrooms to having rooms with no overhead lights… nothing was how we wanted it to be. Slowly, over the last few years, we have tackled a lot of those things. We aren't close to being done, but the house, as a whole, no longer feels like there's something to be changed everywhere you look. When we first bought the house those needs needed to be addressed first. Because of that, DIY projects that focused on decor and crafts just evolved. We didn't have the money to spend on decor, side tables, etc., because we were spending it on house renovations (tile, electrical, overhead lights, working lights, etc.).
So, to make our house feel more like us at that moment, I started getting into DIY decor projects. Once I started doing those projects I quickly found out that you could make things for a fraction of the price of what you can buy them for.
Take, for example, this Anthropologie Inspired Lotus Mirror DIY.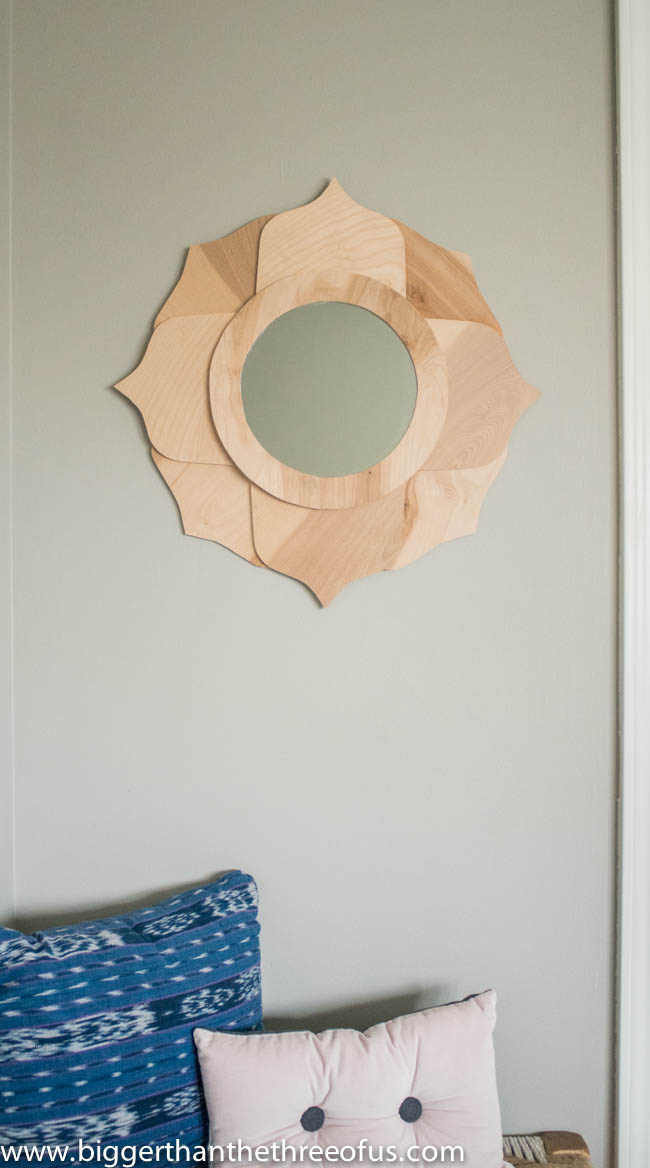 The inspiration for that DIY was over $400, yet my DIY cost around $13. Crazy difference right?!
Would I have ever spent $400 on a mirror? When I did that DIY the answer would have been, no. Heck, no. Now, the answer has changed a bit. Let's talk about why and how it changes my perspective on DIY decor projects/crafts.
About a year ago, I came across something somewhere that was talking about clothing. It talked about how this person would rather have 25 high-quality pieces of clothing that they just loved rather than 150 items that they had to sift through to find something that they felt good in. That sparked something in me. I used to be that person that would buy clothing just because it was a good deal (the clearance section was my best friend). But, all the pieces of clothing just piled in my closet and I had "lots of stuff" but nothing that really spoke to me (or hardly any pieces that were pieces that I loved). So, over the past two years, I've gotten rid of probably 3/4 of my closet. Nothing stays unless I love it or I look great in it, etc. This has freed me to switch my mindset. When I do go shopping, I want to buy something that I love. I no longer just go through the clearance because, with my new guidelines, I hardly ever find something that I just love (on clearance or regular priced).This seems like it would be annoying; and it can be when you go shopping and don't bring anything home. BUT, when I actually bring something home, I want to wear it all the time because it feels perfect for me. Because I no longer buy things all the time, I end up splurging on most pieces I do buy. Splurging, to me, is probably different than splurging, to you, and so on. But, the base line is, when you cut the extras out, you can pay a bit more for one item or two because you've saved it by not buying all the other items that were just ok.
I know I was talking about clothing there, but that philosophy has morphed to our home. Over the past year, I feel like I have, un-naturally, pushed myself to DIY decor projects. Somehow, I just got in the mindset that I wanted to do them. The thing is, DIY decor projects don't come naturally to me. You will probably think I'm crazy when I say this, but I'm not crafty. I don't enjoy craft projects. I can do them, yes, but that doesn't mean I enjoy them. When I do complete them, half the time, I compare them to the original and find them lacking. I don't always do this, but I do it some.
For example, this DIY medallion that I did for knock out knock offs: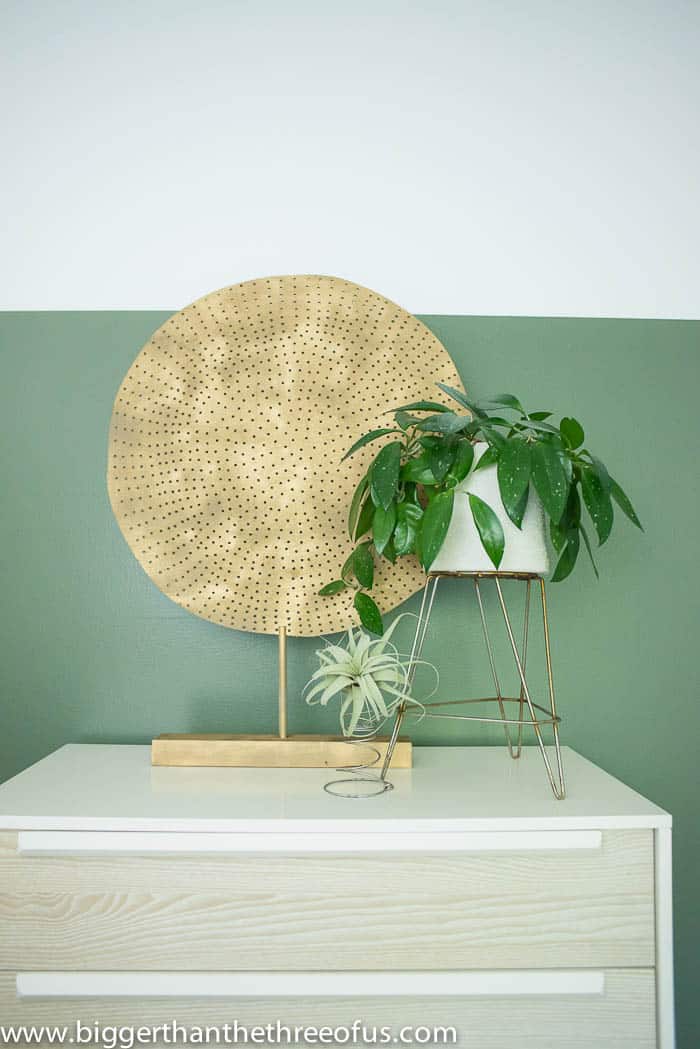 In all honesty, I think it turned out really well. It looks really similar to the original and it was really inexpensive to make. BUT, I really, really, really, wanted the original. I loved it. So, I tried to recreate something that I loved in the first place. When I compare the DIY to something I absolutely love… it just doesn't hit the same note. I still like it, but I love the original piece.
There have been a few DIY decor pieces that I feel like I did really well and I love them just as much as the originals (mid-century hanging planter, painted umbrella and bullet planter). So, where does this take me? Well, I'm going to try not to get sucked into DIY decor as much – especially if I could afford the original pieces that I love. That's not to say that I won't create decor projects, but I want to be much more choosey. Sometimes, it's just better to pay for the item that you love – and really love it – than it is to try to recreate something similar.
I hope all of this makes sense. Basically, I want to implement my closet philosophy with our house. Less is more. Love what I have. If that means saving for items that I could probably DIY,when I love the originals, then that's what it means. If it means doing a DIY decor project because I'm truly interested in it and think I could do it well, then that's what it means. Ultimately, I want to be choosier on the things I create and the things that get brought into our house.
Thoughts? What's your take? Seriously, I'd love to know!