Updating a storm door can be a simple project. Today, I'm sharing how to paint an exterior door and how to update window muntins.
I hope you all agree that sometimes, it's worth a bit of effort to "pretty up" a piece that you already have rather than discarding it for a new piece. Don't get me wrong, I love bright and shiny new home renovation items but there's something great about making something better within your home by using your skills and being budget-friendly too! Today's project, on updating the muntin bars on the storm door and refreshing the door with paint, is hopefully a project that really resonates with you. I'm sure most of us have doors or windows that can use a little love and you'll see how my storm door got some much-needed love and modernizing; and, hopefully, you'll be inspired to tackle a similar project of your own.
This post is sponsored by HANDy Paint Products. I'm very lucky to be able partner with them on house renovation projects and hope you guys love their products as much as I do!
How to Paint Exterior Door & Update Muntins
Before and After Exterior Door Makeover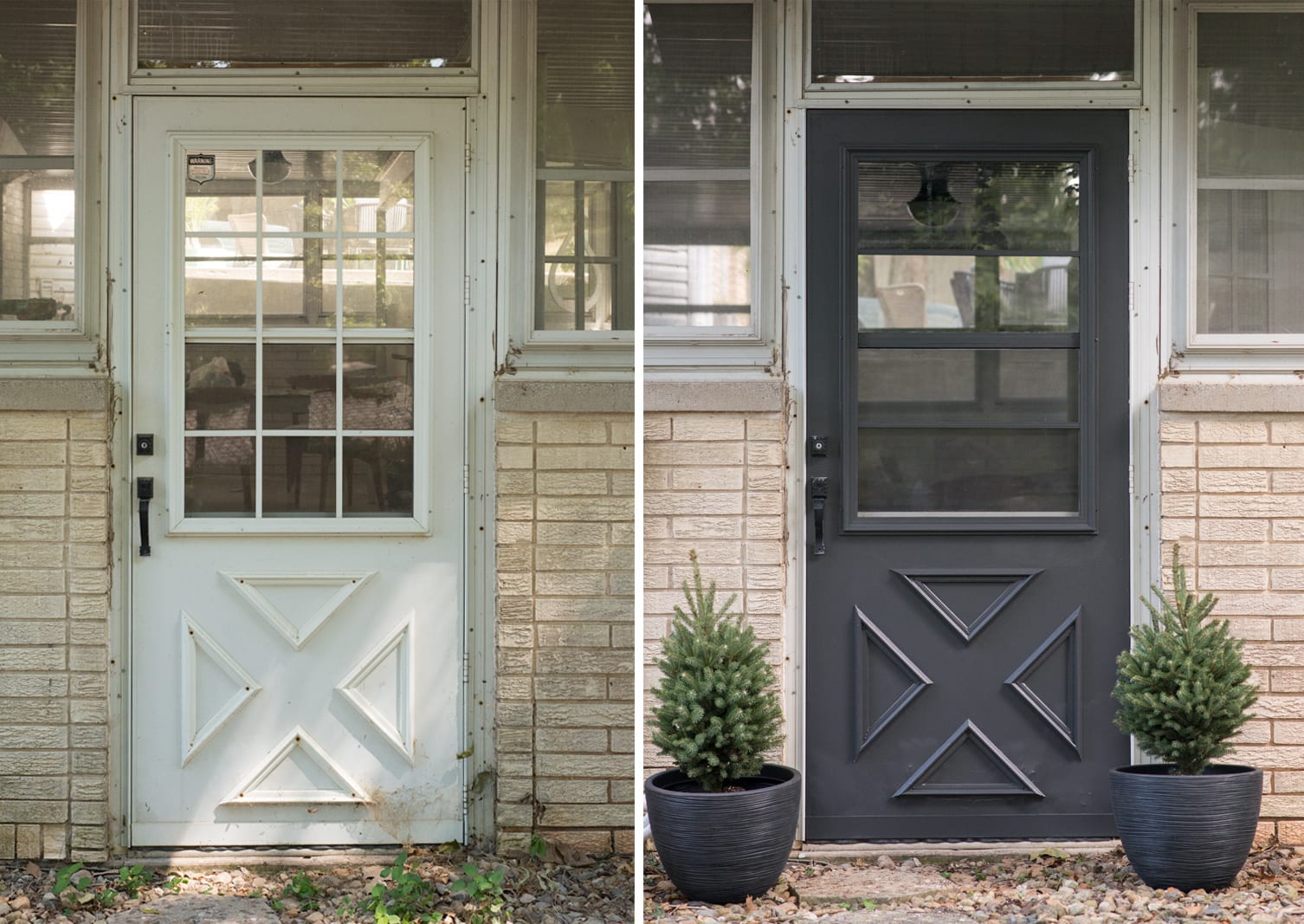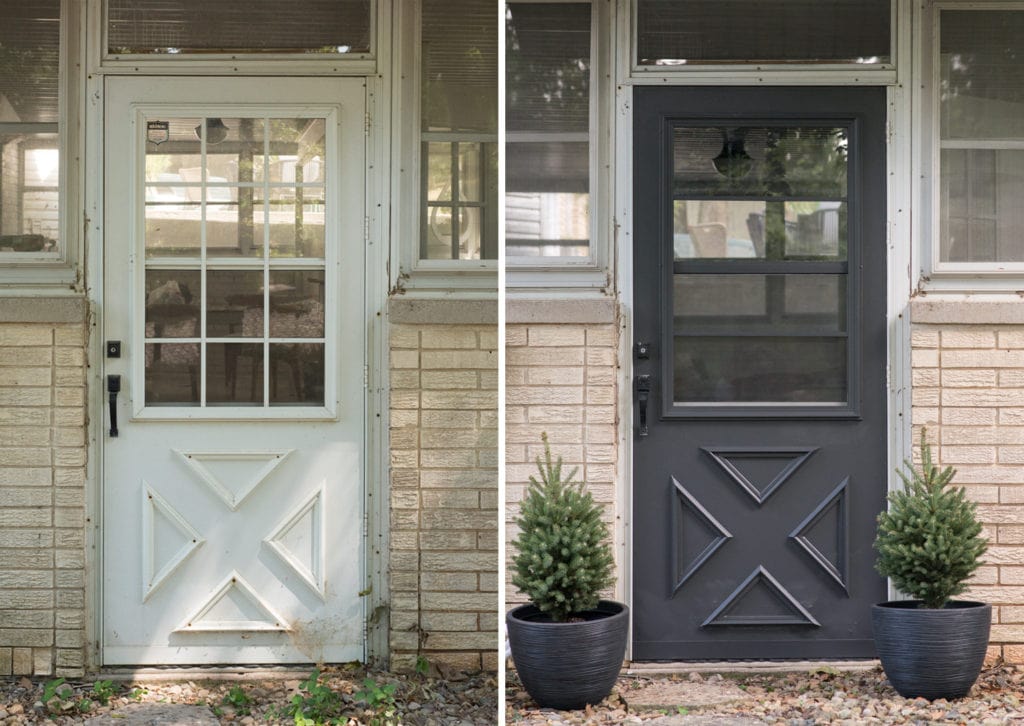 What do you think of that makeover?! It's good, right?! Seriously guys, I want you to know that there are tons of mini projects that you can do around your house that can have these same results. In the past, I've modernized my wrought iron handrails and replaced my doorknobs to give spaces a fresh new vibe. Don't just think about the big renovations (I mean those are great, but not always realistic), think about the little things that can add value, style or just put a smile on your face.
Ok, I'll get off my soapbox on trying to encourage you to try a new small project! I hope by seeing how easy it is to paint a door and change the window muntins, you'll just be inspired to start small projects of your own.
p.s. If you want to see more of the how-to in a video format, you are in luck! At the bottom of this post, I've included the how-to for the storm door makeover that we shot as I was doing the project. Just promise not to judge my outfits or lack of makeup. 😉
How to Update a Storm Door with Muntin Bars (Before Picture):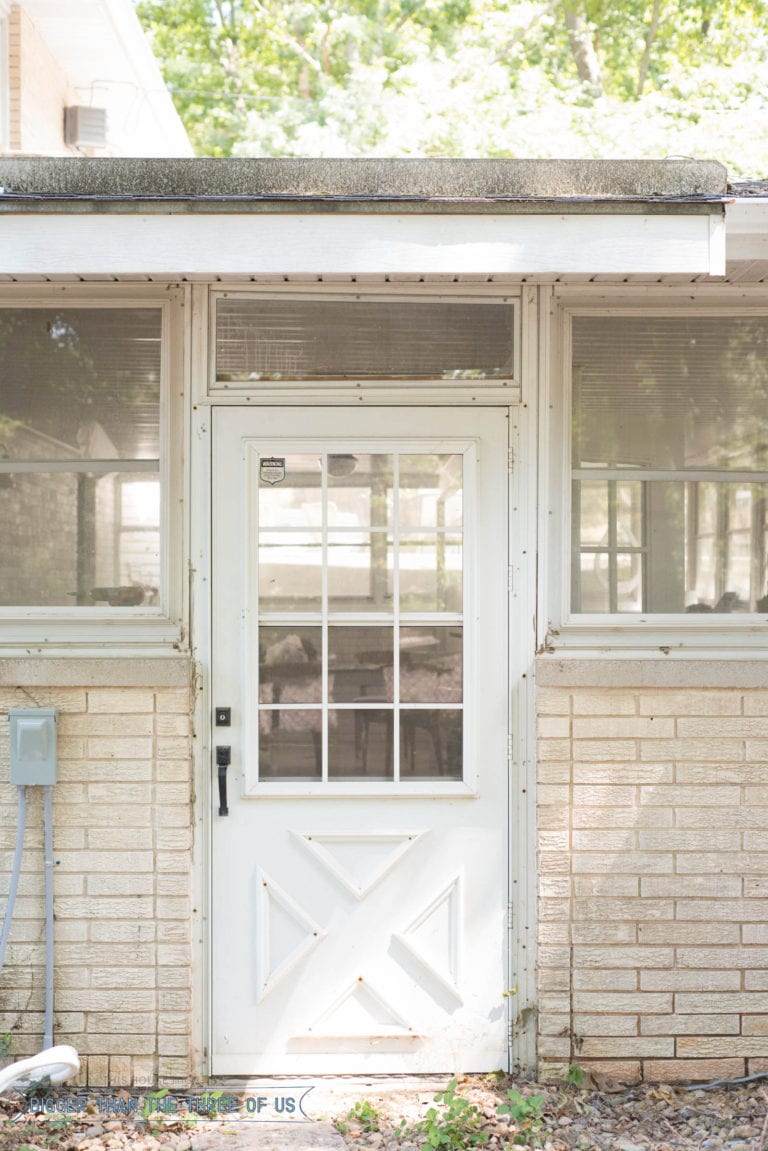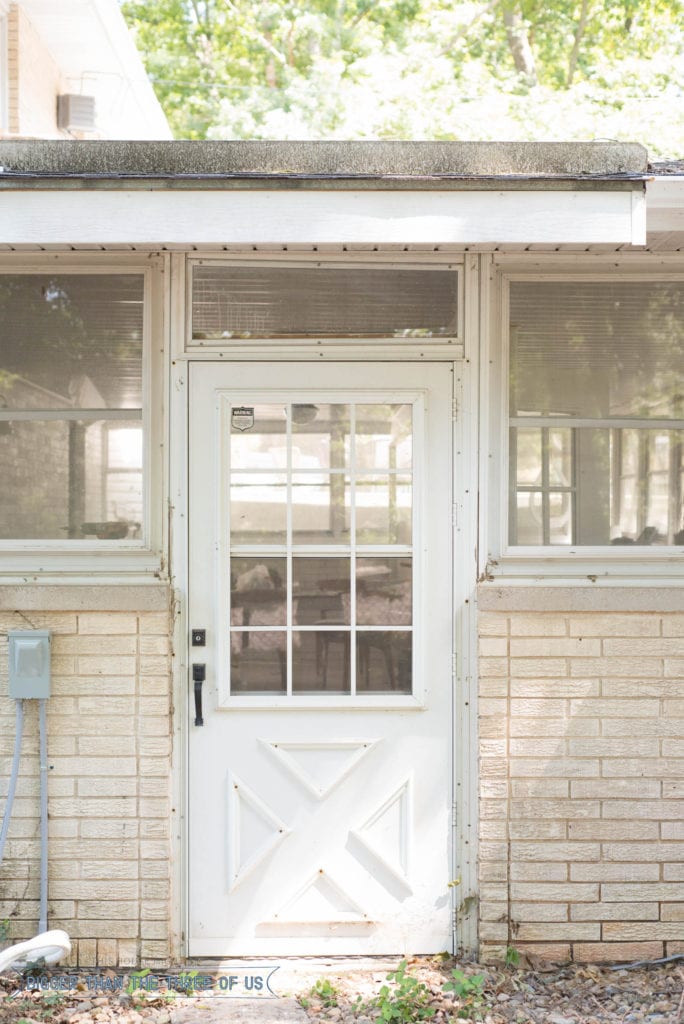 Let me just say that, in this image, it was bright and sunny and the door looks 85% better in the picture than it does in real life. In real life, it's dirty, has some chipping or weird finish issues and basically just looks like it's been on the house for 35+ years and not thought about during that time.
*Affiliate links below. Thanks for supporting this blog. Click to read my privacy and disclosure.
Supplies needed for Exterior Door Paint and Muntin Bar Updating

Let's get started with the muntin bars, first!
To start the project, I first had to determine how the window grilles (sashes, muntin bars, etc.) were attached. We have three different doors in our house that each have a muntin frame. All three of those doors have the window muntins attached in a different way.
For this particular storm door, the muntins looked to be attached to a frame and the frame looked to be attached to the storm door itself.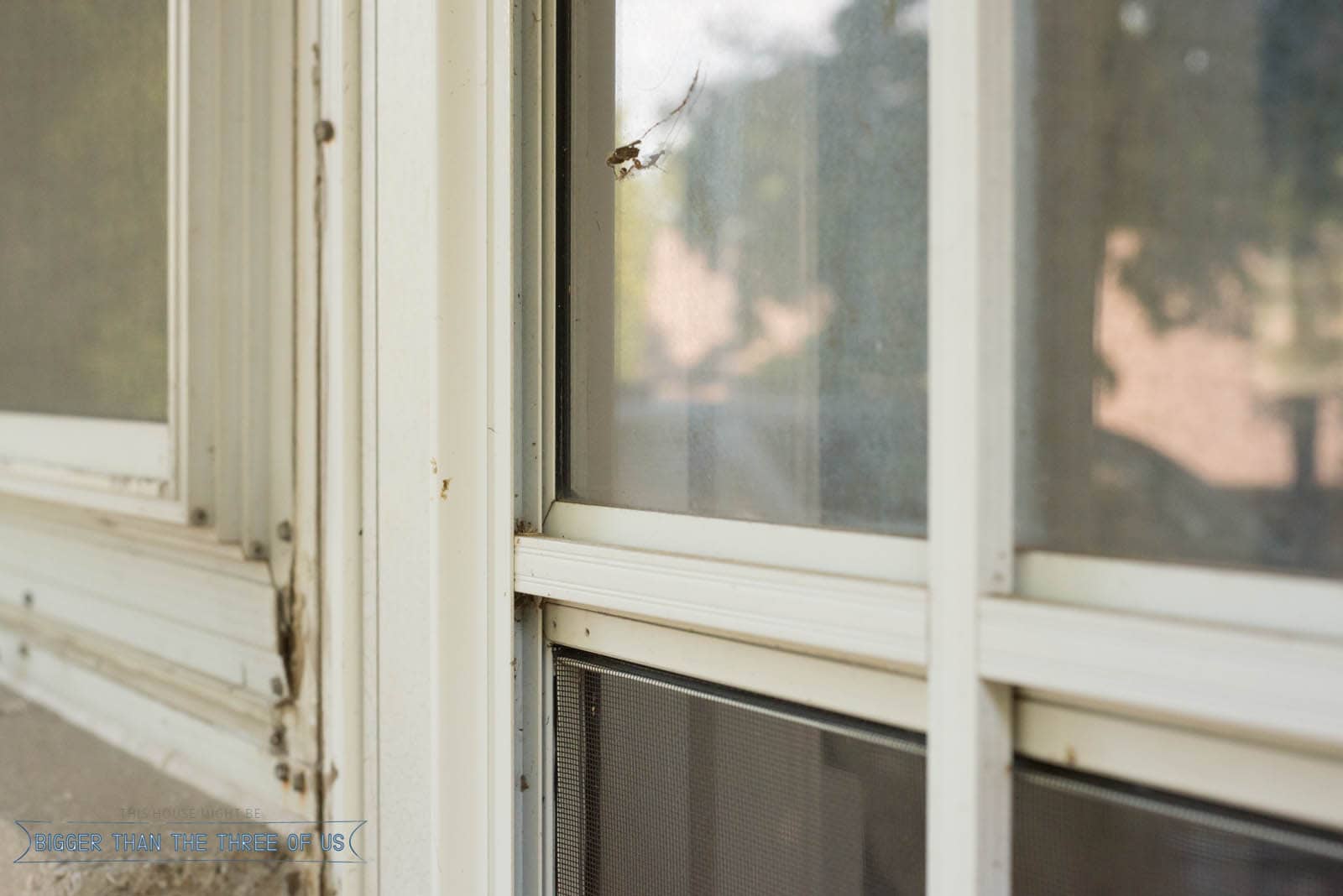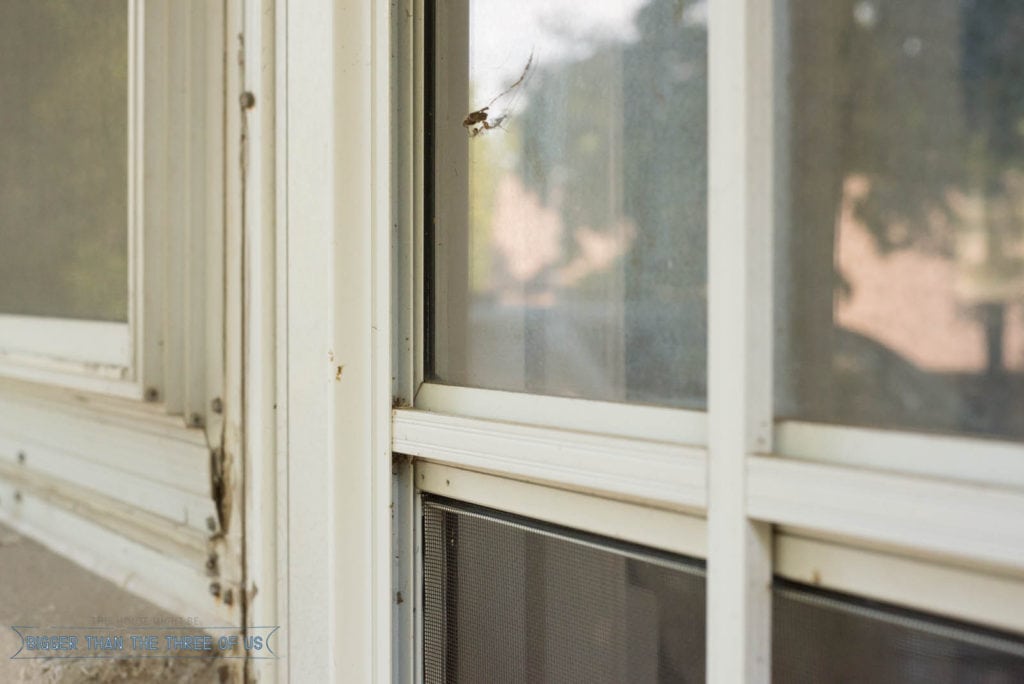 The first real step was then to take off the frame that held in the muntin bars. I used a drill and just unscrewed the whole frame from the door itself. Our frame was decorative, meaning that it didn't hold the glass panel in, it was just there for aesthetics.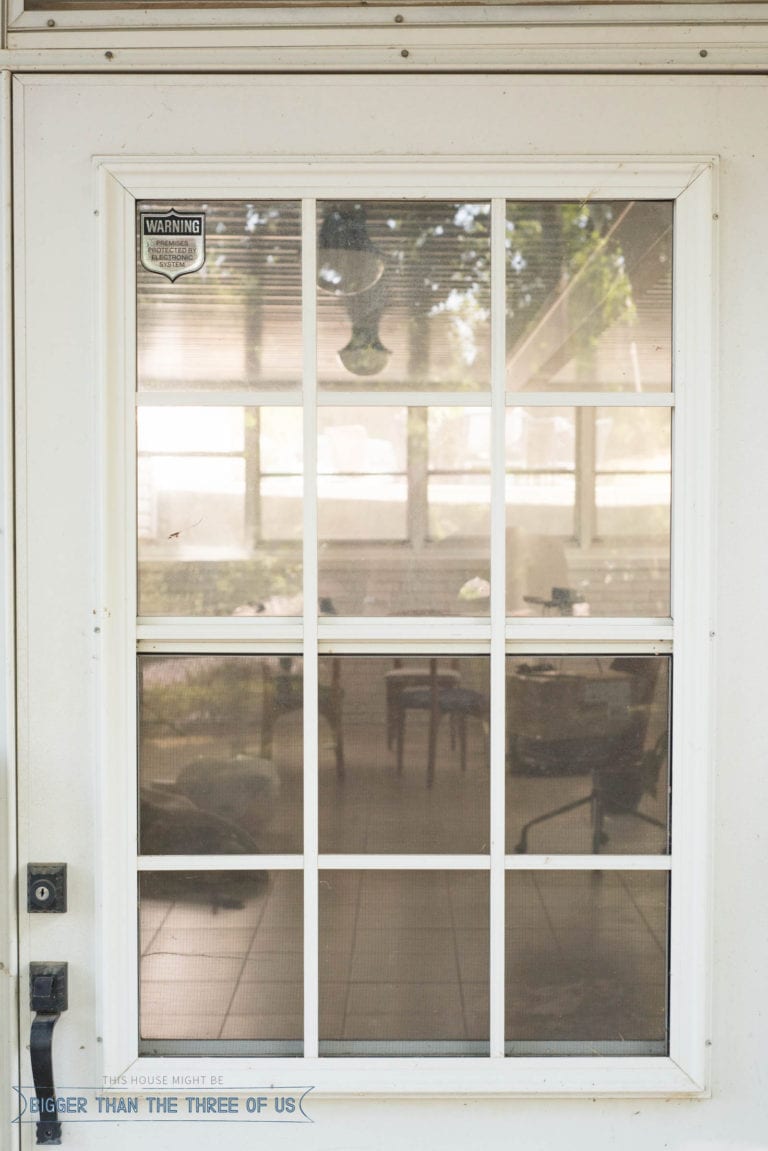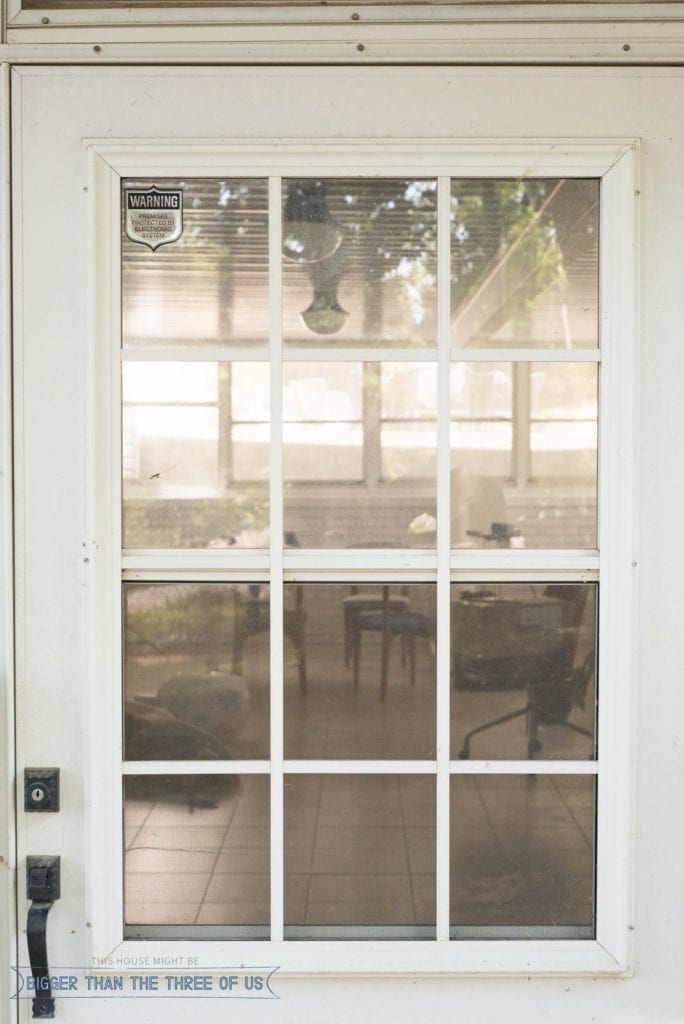 Unscrewing the frame was really easy. The next step was to figure out how to get the bars out of the frame. To be honest, they really didn't want to come out! I knew the general design of the bars that I wanted (I wanted to replicate the window grilles on our front doors).
Here's a picture of our front doors for reference: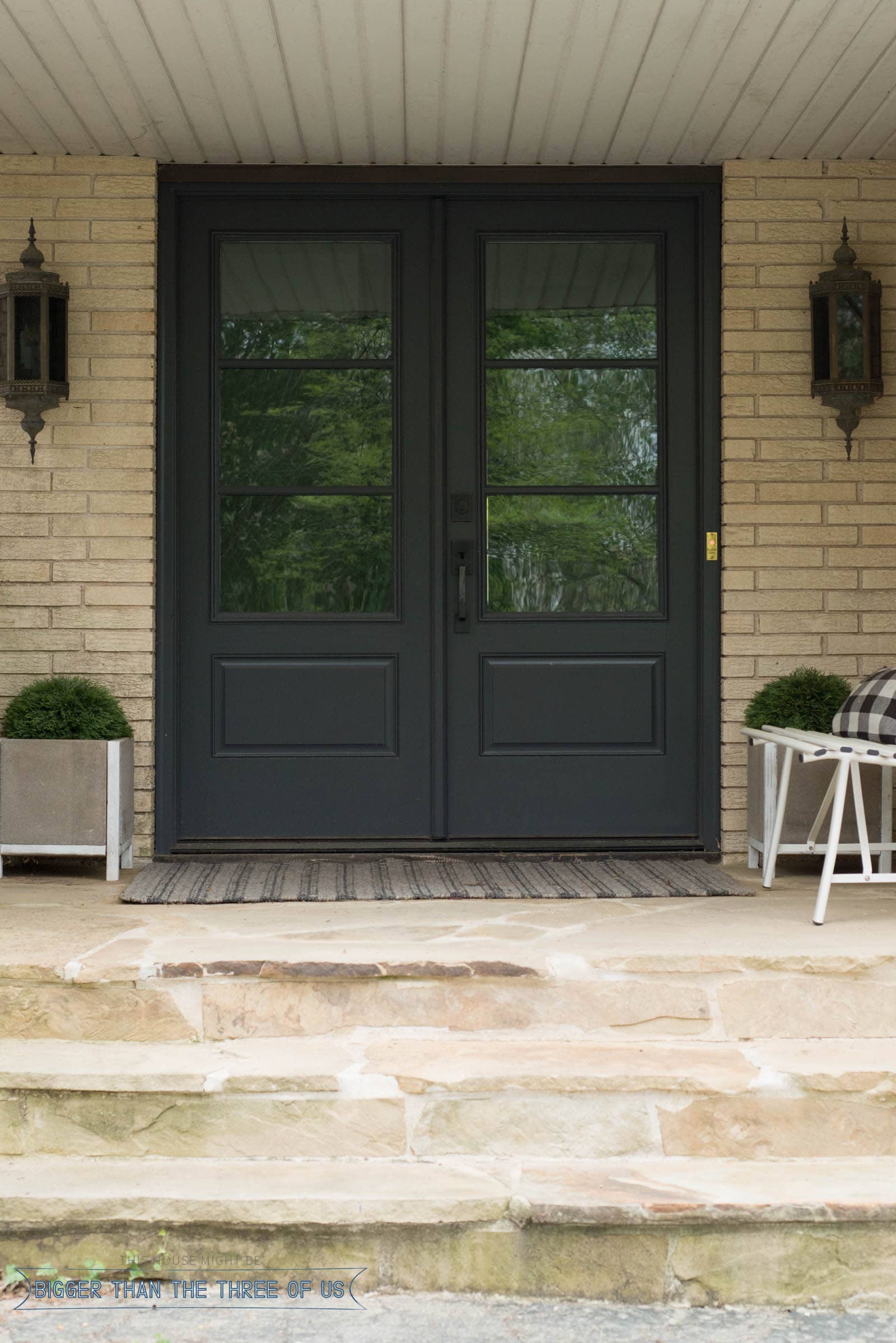 After a bit of trial and error, I ended up using bolt cutters to cut the muntin bars that were originally going horizontal on the window frame. The reason I did this was because those bars were connected to the longer vertical bars and where they were connected, they weren't seamless pieces of aluminum. I was careful to not damage the two vertical bars because I knew that I was going to use them in my makeover.
After I got the horizontal bars cut with the bolt cutters, I used a mallet to tap the vertical bars out (you can see more of this process in the video below).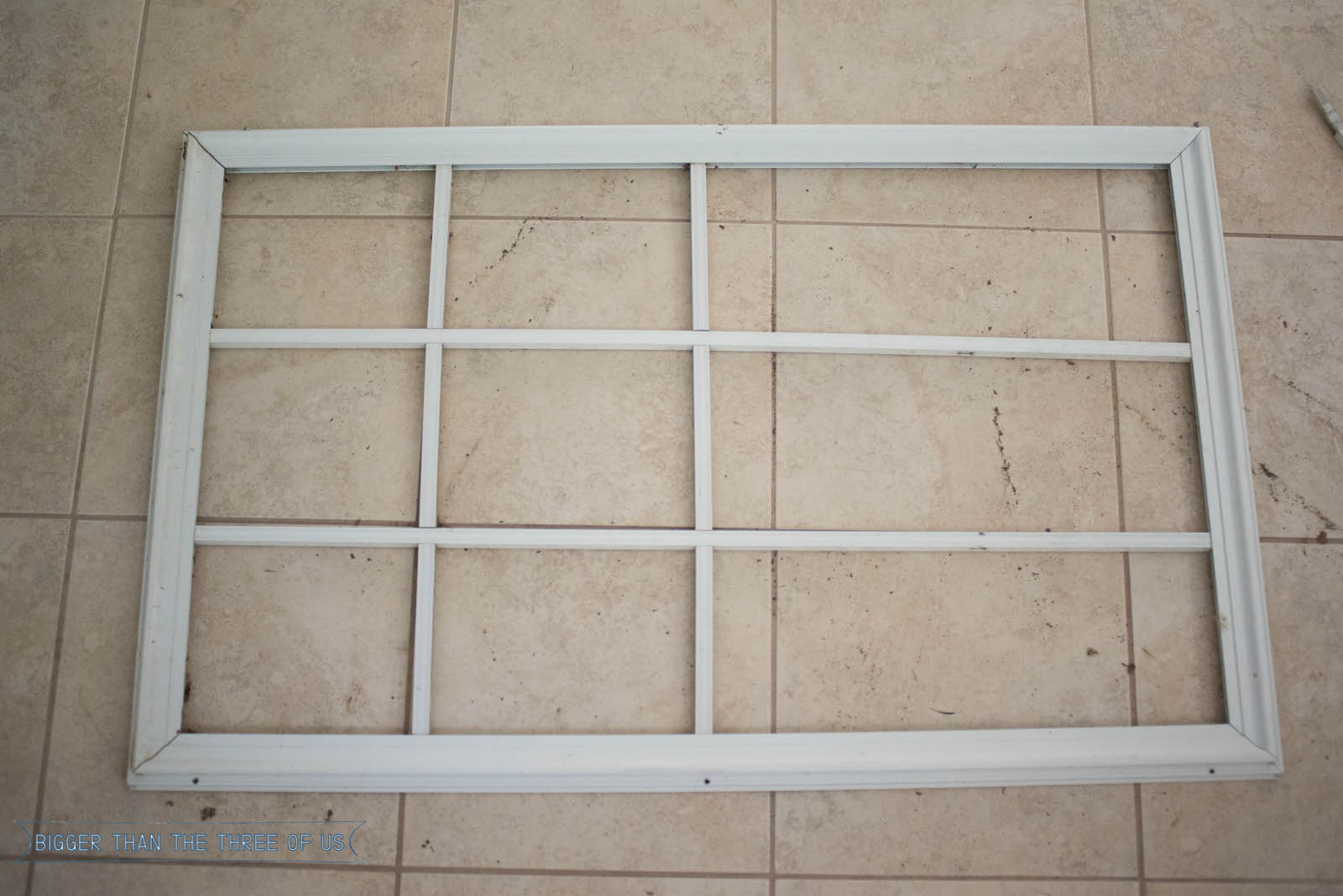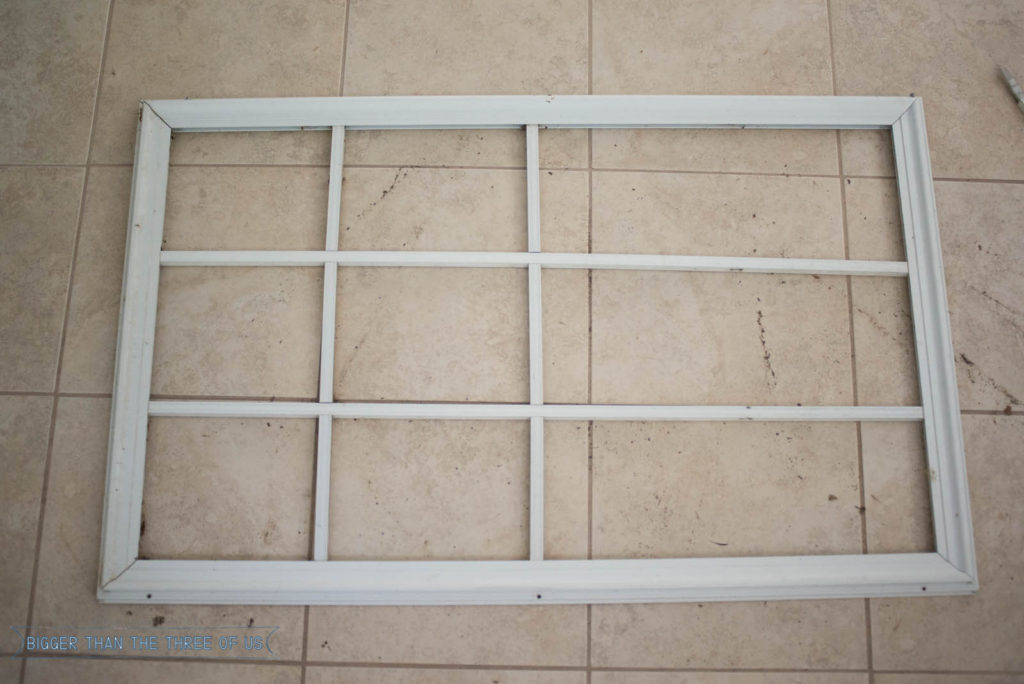 Ok, now that you have the frame pieces out, you want to measure from left to right on the window frame. Use that dimension and then use a hack saw with a metal blade to cut the remaining two aluminum bars to size. From there, all you have to do is slip them back in the frame.
Next up is the fun part! You get to paint your door! I'd recommend painting the door and frame separate and then, once they are dry, adding the frame back to the door. I was going to do it all together until I realized that if I put my frame across my screen in the door then I'd have to be VERY careful not to get paint on my screen. So, save yourself the trouble, just paint the frame and the door separately. Also, you definitely want to use exterior door paint (or in general, paint for exteriors!).
How to Paint a Storm Door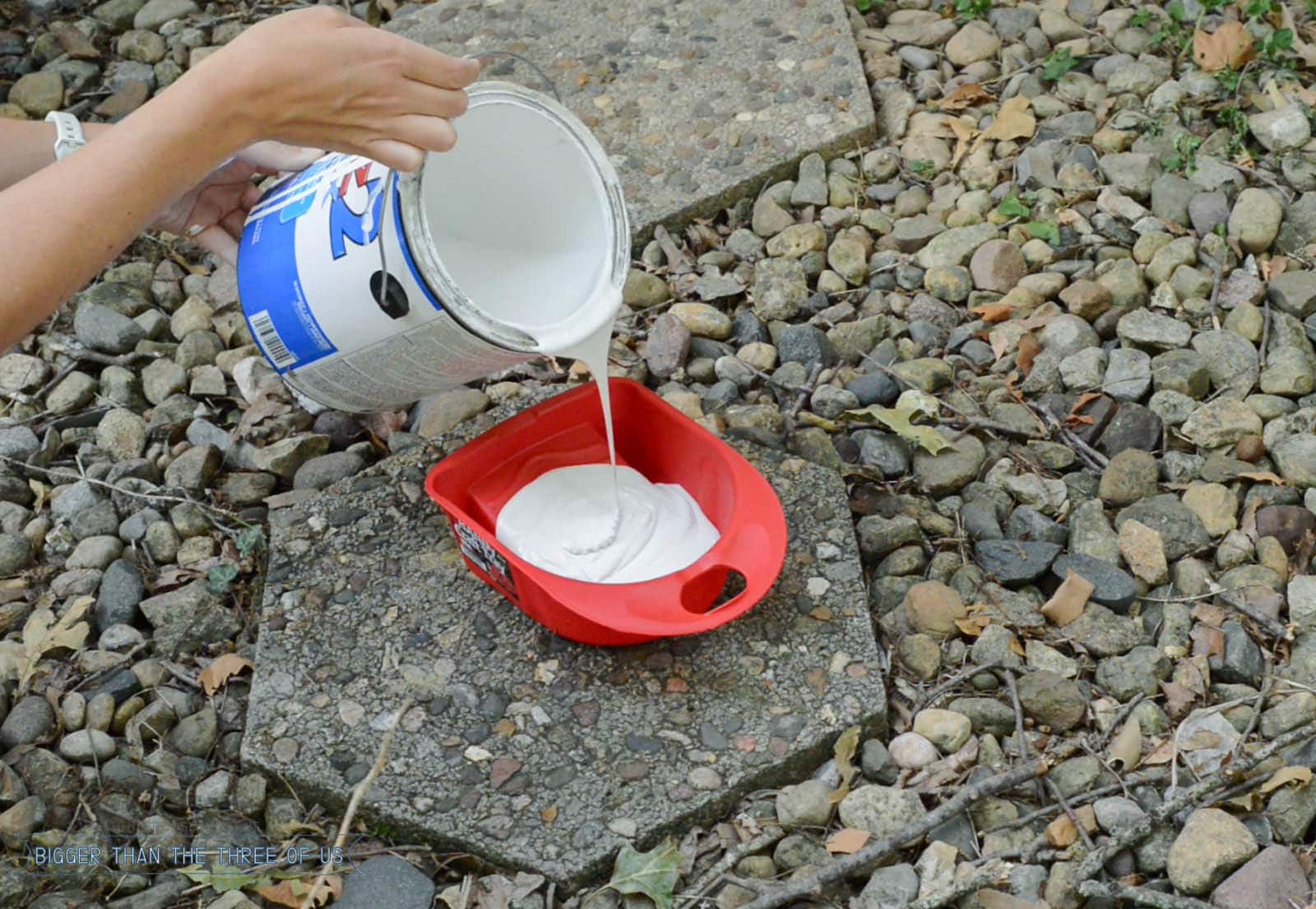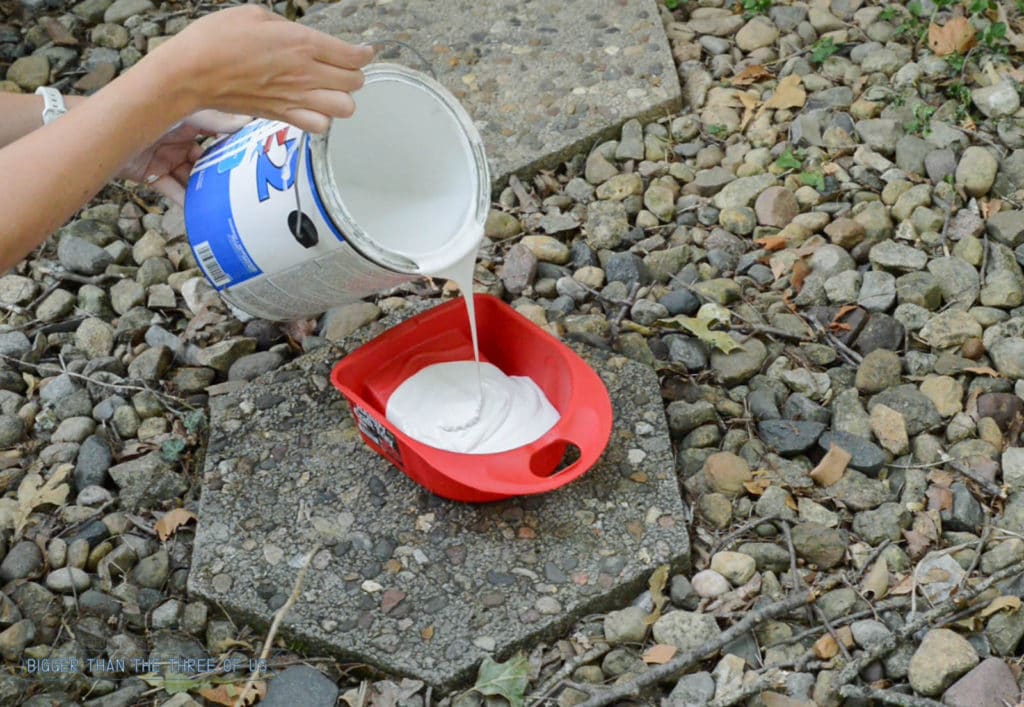 Before you paint, definitely use an all-purpose cleaner to clean your door, screen and grille!
For painting, I used a good exterior primer, a HANDy Craft Tray (which was so perfect for this job) and a small paint brush. I brushed the paint on lightly and then let it dry.
Look (or don't look – it's kinda gross) at this close-up!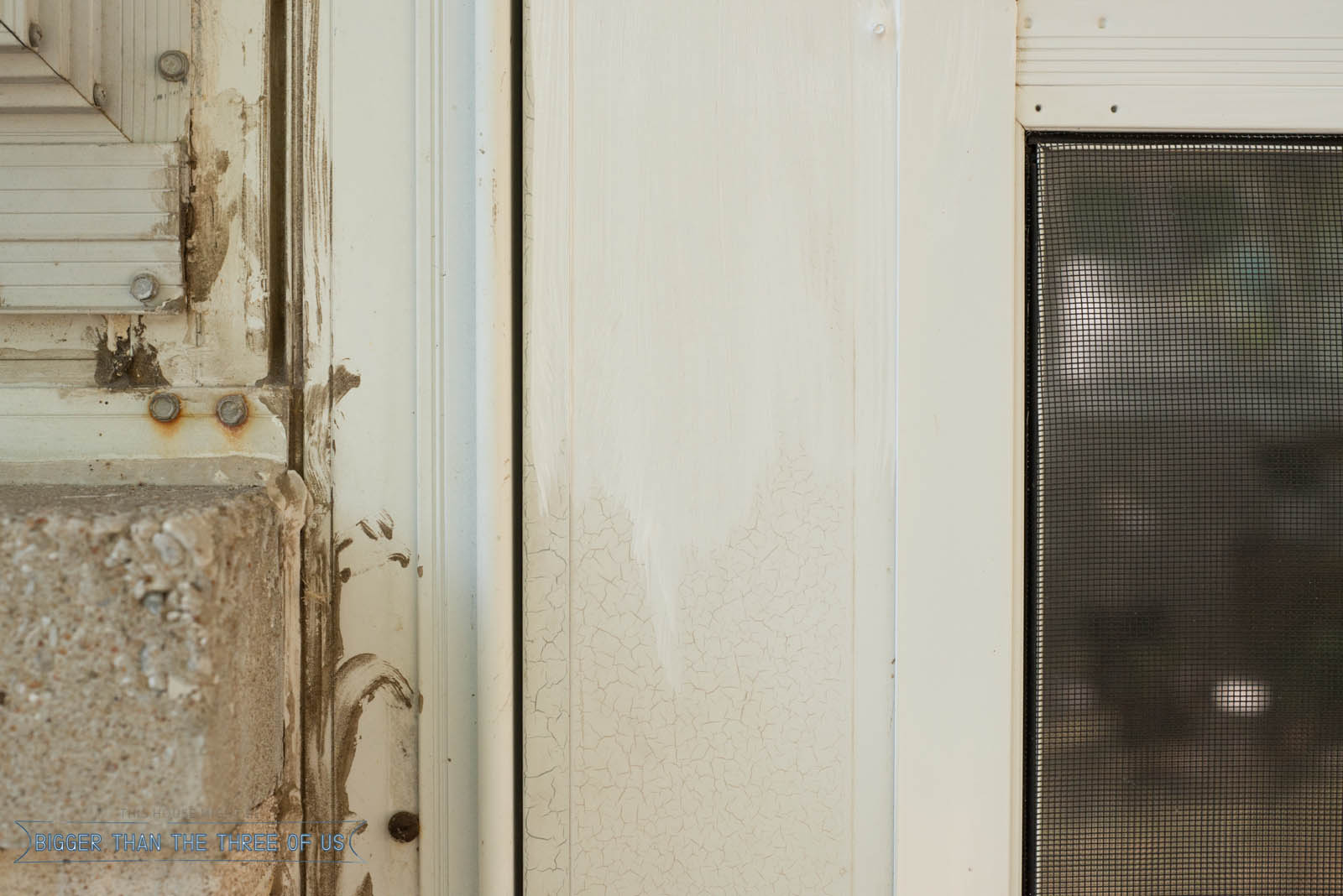 After priming, I got to painting. I used an outdoor enamel paint and the same HANDy Craft Tray and brush just like I did with the primer.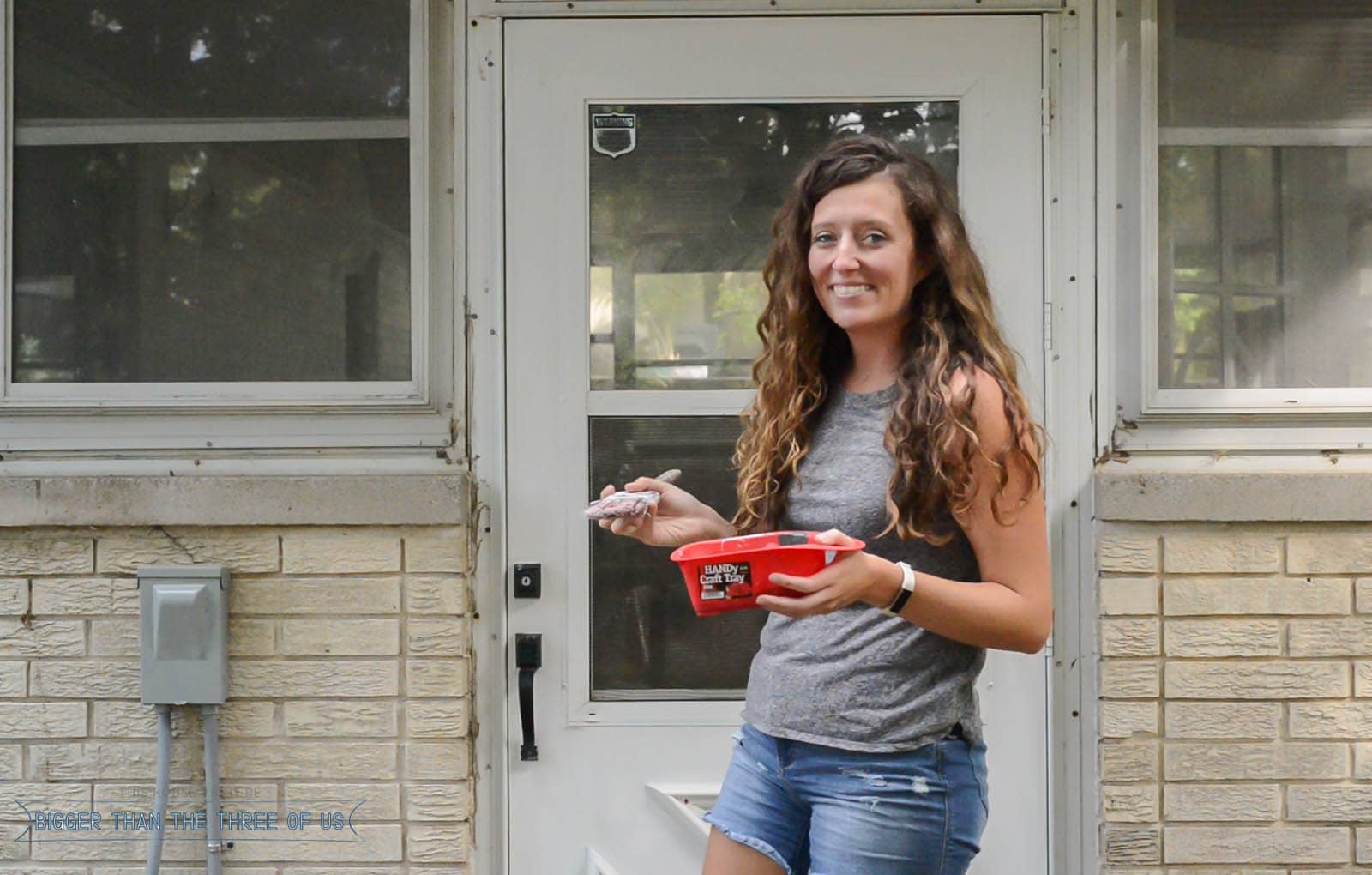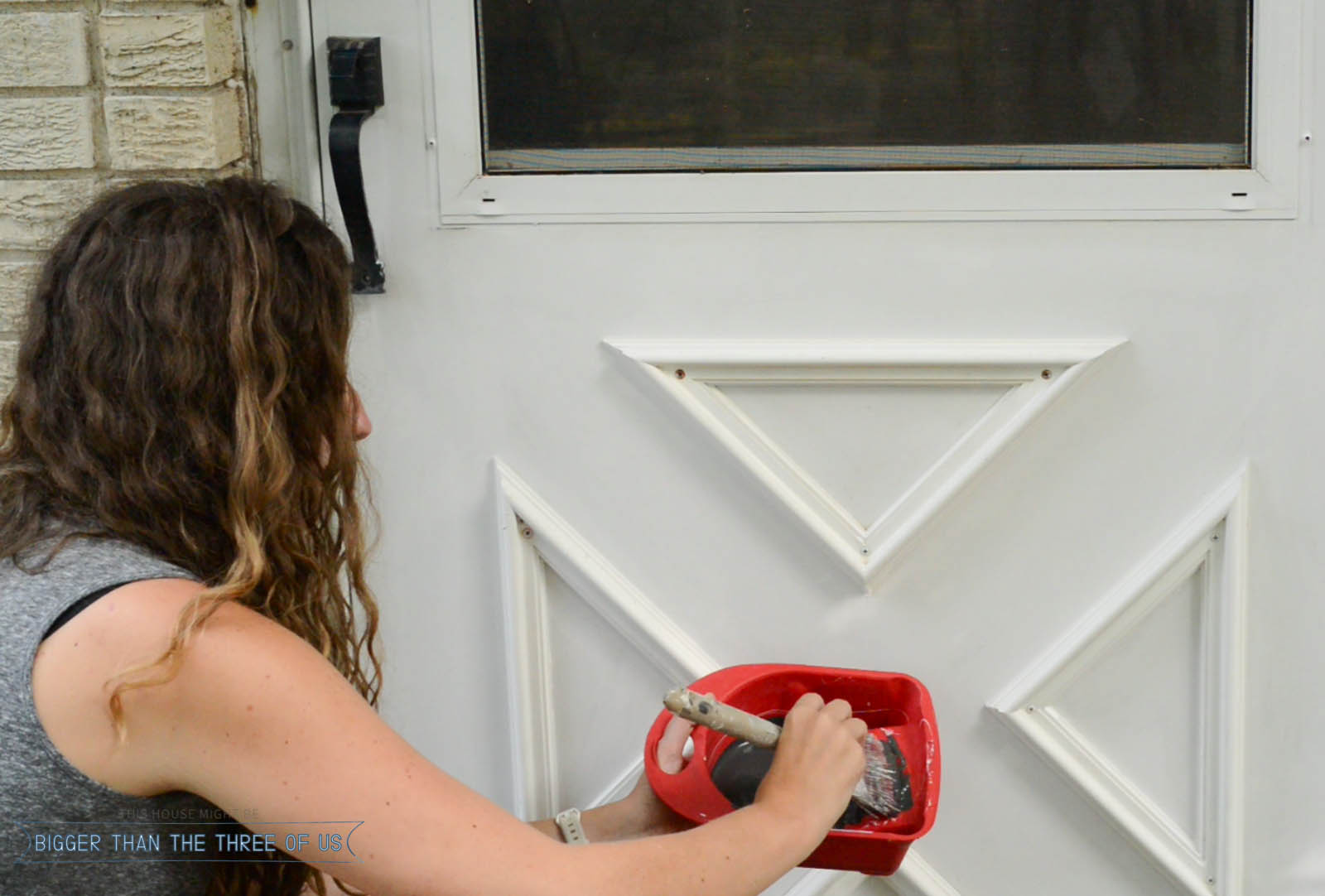 Let the paint dry and attach the storm door grille! That's it! I seriously can't get over the difference this project made for this space.
Storm Door Makeover by Updating the Muntin Frame: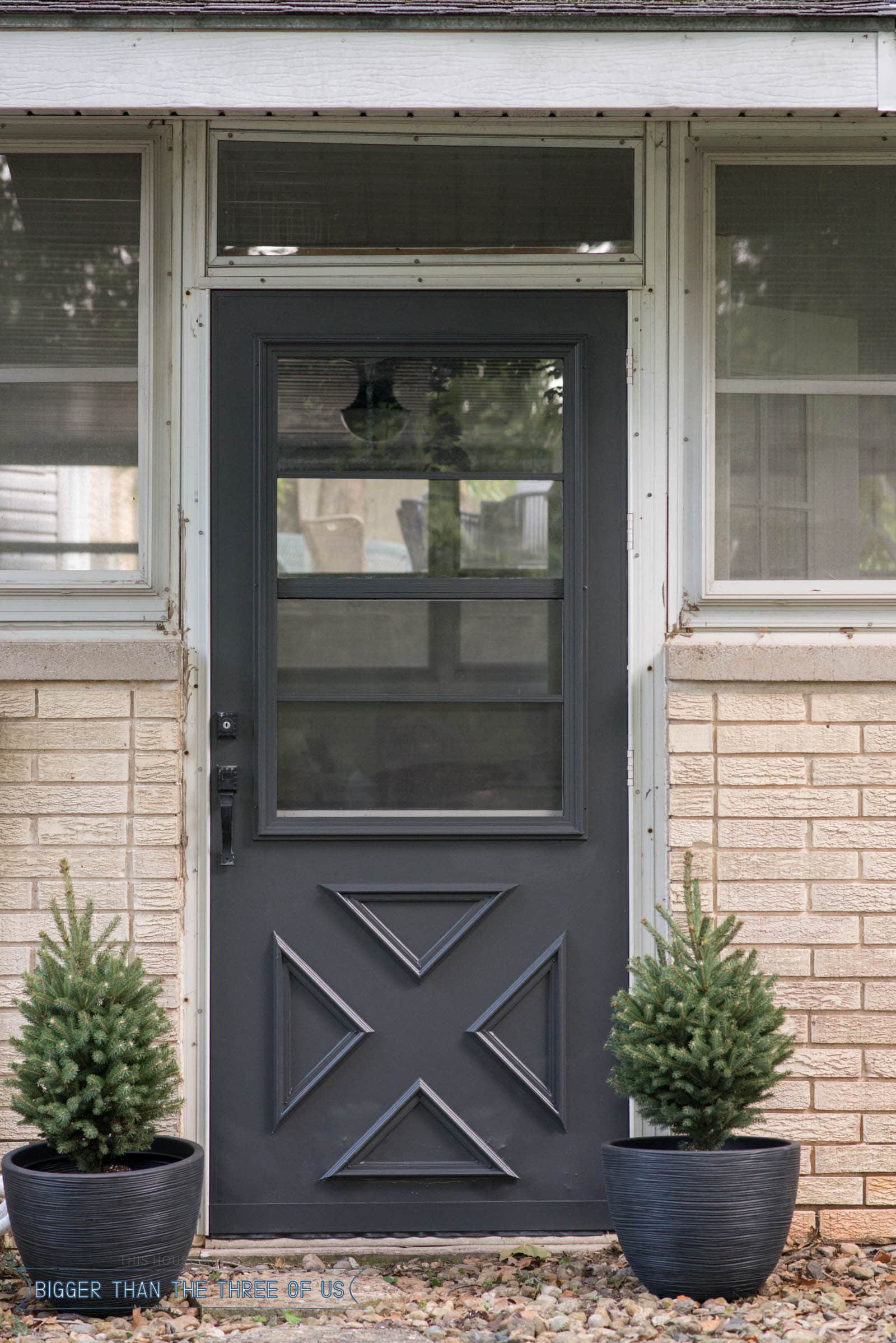 It's drastic, right?! I don't mean to toot my own horn, but it's so good guys!
With all DIY Projects, having the right products can make all the difference. The smaller size of the HANDy Craft Tray (it can hold up to a 1/2 pint of paint) and ergonomic thumb-thru handle were amazing for this project. I could have easily used a mini roller on most of this door too because HANDy Craft Tray has a built-in roller grid that fits up to a 4″ mini roller. But silly me, it didn't even cross my mind till the last coat of paint!
Do yourself a favor and pick one of these up. I have a few of them, which is great because I can slip them in a ziplock bag (with paint in the tray) and keep it in the fridge until my next job!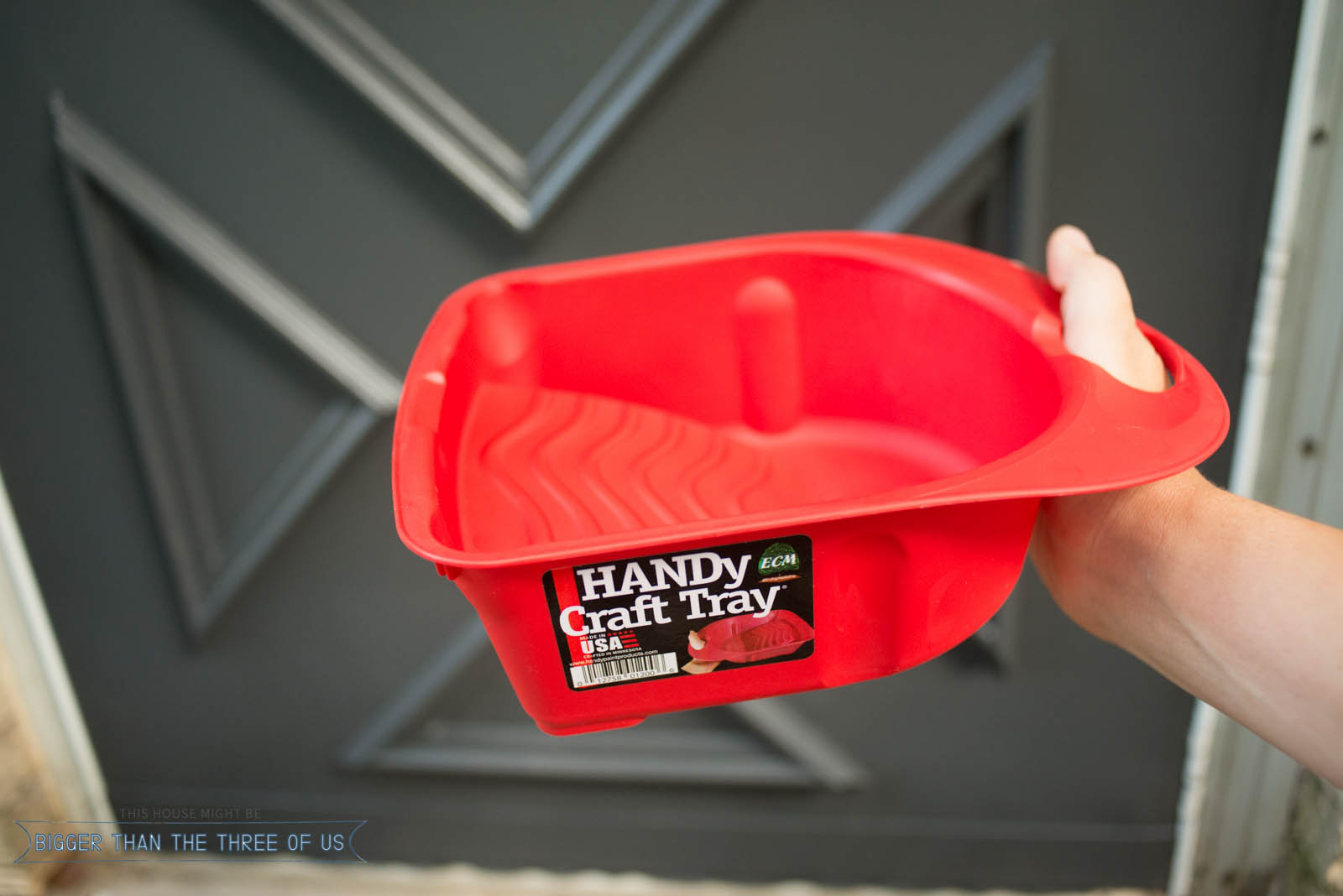 If you loved this project, then you'd probably love seeing:
Pin For Later: How to Update a Storm Door