Sherwin Williams Tricorn Black drastically changed the look of our bedroom. A lot of the staples were already in the space but going from white walls to dark-painted walls really upped the feel of warmth and comfort. Today, I'm sharing about our all-black bedroom featuring mid-century furniture, a family gallery wall, crown molding and vintage home decor pieces. I hope you find something to be inspired by!
It feels like it wasn't all that long ago that I revealed our Mid-Century Modern bedroom. Honestly, I just looked back and I shared the space in August of 2018. Some might say that changing a bedroom within a year and a half of finishing it is a bit crazy, and I could see that. If you look further into the bedroom changes though, I think you'll see that almost all things have stayed the same (minus the black painted room, really). I was so happy with my bedroom yet it felt like it could be cozier.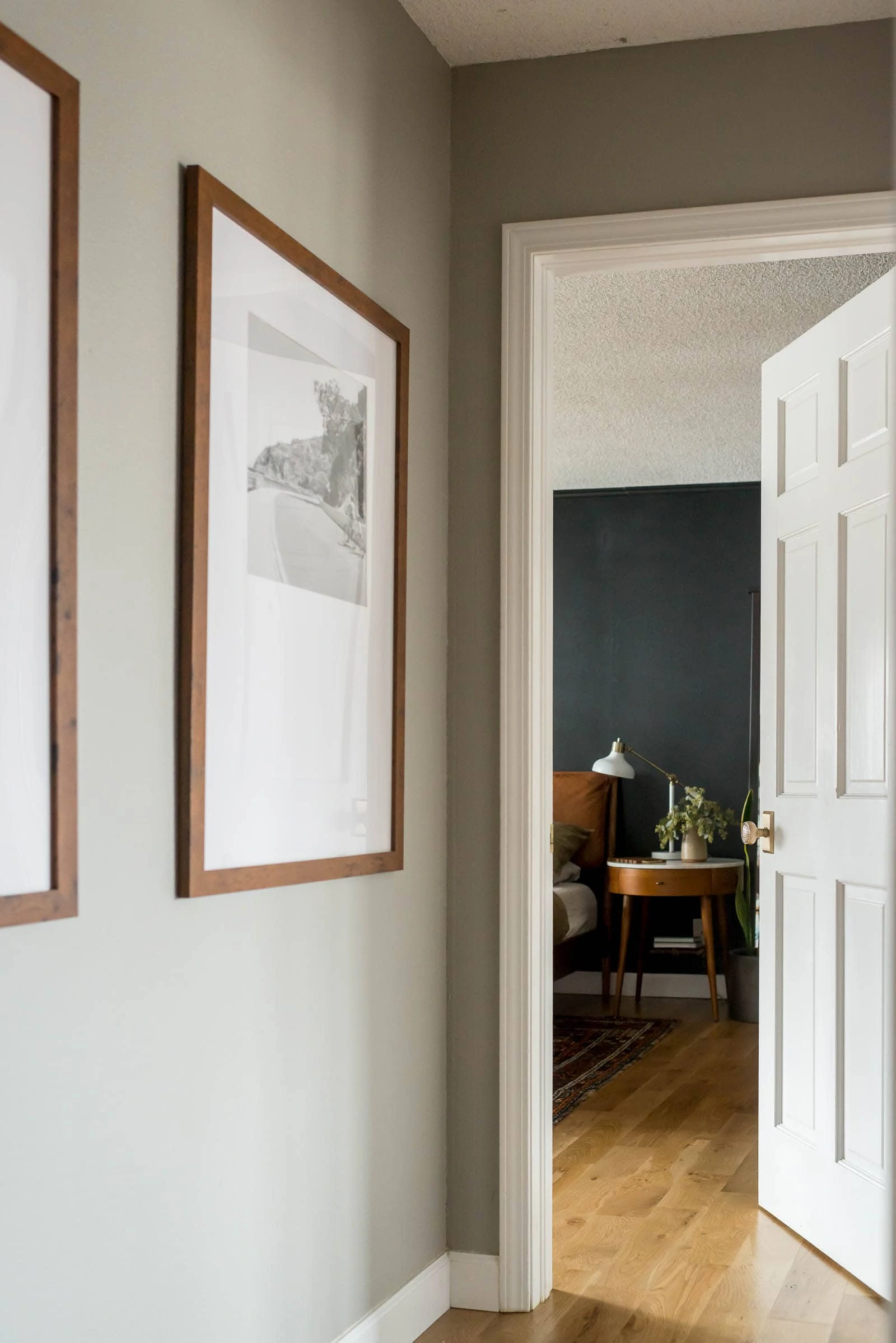 When I painted my forest green living room, I started to understand more about deep color and how to build interest with dark-painted walls. I've tried to replicate that feeling throughout my spaces (the black wall tile in our powder bathroom is an example), but my bedroom constantly seemed to lack depth, to me. It was pretty. It was styled. It functioned well for us. We liked the main components of the space; meaning the furniture, rugs, etc., but it lacked a deeper feeling. Home is a feeling, you know. It evolves as you evolve and gets better over time.
I didn't rush any changes in our space, but honestly contemplated what would make it feel more inviting, make it feel more me and came up with two things: a gallery wall and black walls. Are you shocked? Probably not, because you've seen the title of this post and the picture above, but I just kept coming back to those two things.
Adding a gallery wall to our space seemed like the easier and safer option to see if that's the thing that it took for the space to feel more like me. So, I went for it. I definitely want to talk about how I did the gallery wall but first let's back up just a bit and talk about the size of our space and the layout.
Affiliate links below. Thanks for supporting this blog. Click to read my privacy and disclosure policy.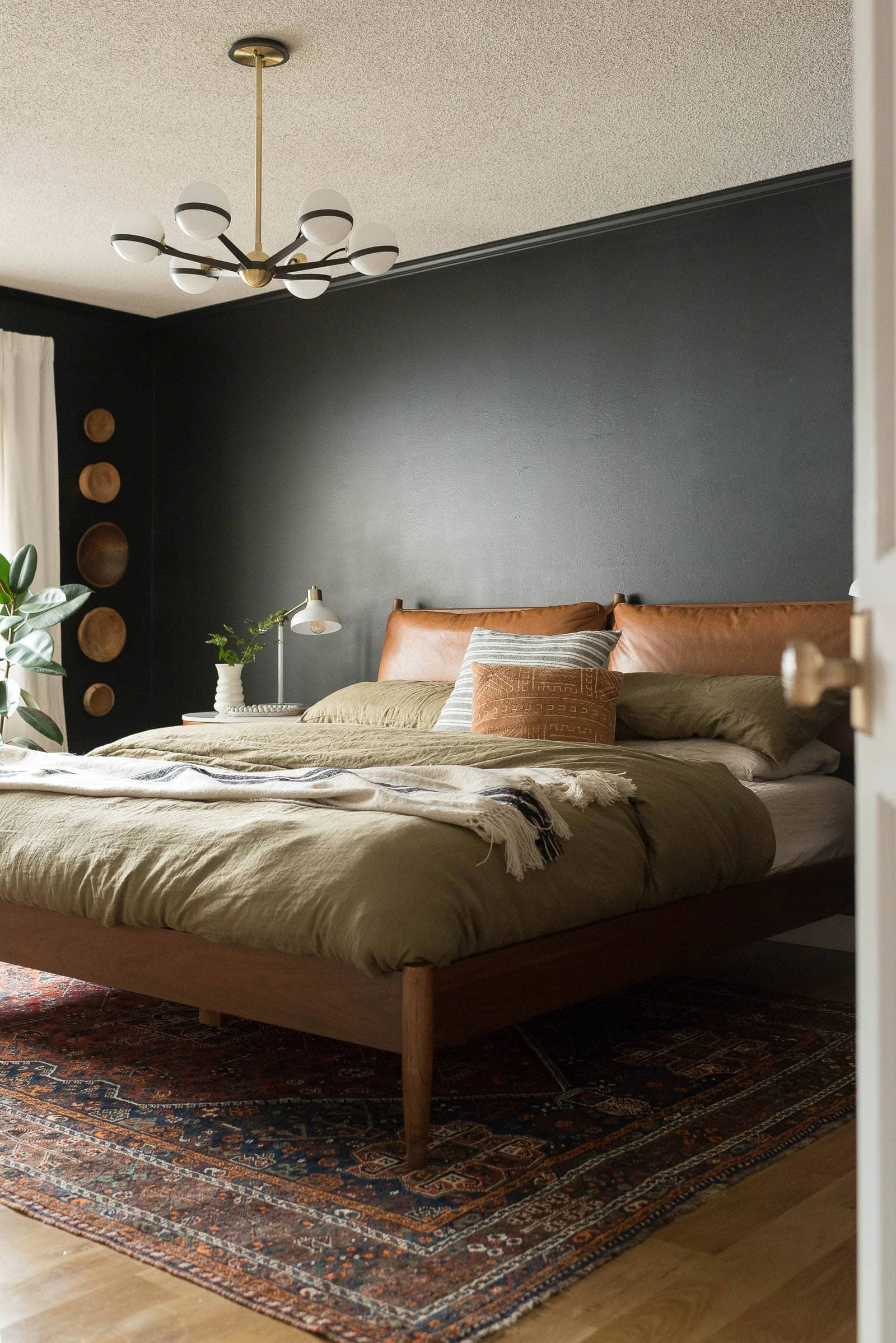 Black Painted Bedroom Size
Our main bedroom is 17.5' x 12', which is 210 square feet. I was curious to know what the average master bedroom size was (not that it matters but I thought someone would have blogged about it) and, sure enough, I found an article about it. So, our bedroom is slightly smaller compared to the average-sized bedroom of a new-build construction today, which seems crazy!
An interesting fact about our house is that Greyson's bedroom - I recently shared his Boy Bedroom reveal - is actually larger than our bedroom. His bedroom doesn't have an attached bathroom, which indicates that it's not supposed to be the master bedroom.
A few years ago, we upgraded to a king-sized bed in our space and that really helped ground the space. The bedroom sizing, the larger bed and larger nightstands, helped make the space feel more full. Still, part of the reason that I was wanting the gallery wall and paint changes was because the space still felt empty in parts. I don't know if that makes sense or not.
What we had was cohesive but it didn't have that lived-in, cozy feel that our other completed spaces had. I honestly think this is due to the master bedroom size but I'm not complaining about the size. =) There's a fine balance to understanding room size and furniture sizing and getting it all "right" and I feel like I'm barely scratching the surface of it all.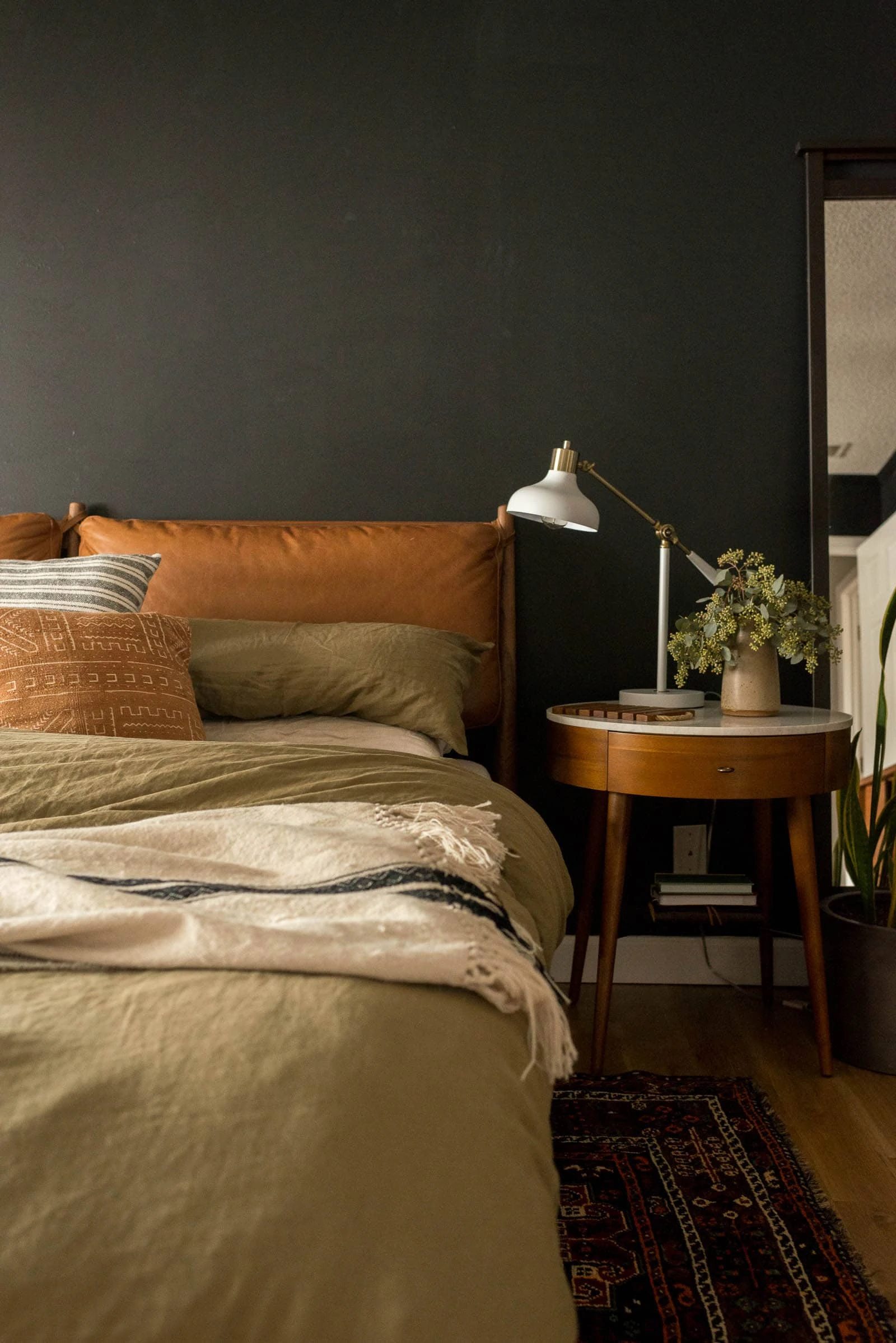 SW Tricorn Black Bedroom Layout
We pretty quickly keyed in on the fact that our master bedroom layout really only worked for us to have the bed on the main wall that you see when you walk in. It's the only wall long enough to accommodate our West Elm bed and two nightstands. For reference, the larger nightstands and bed together are 11' wide. They sit on 17.5 foot wall.
Personally, I feel like our bedroom layout is a bit quirky because the bed and nightstands can't fit on the wall opposite where they are because right smack in the middle of that wall is the opening to the bathroom. The other two walls aren't wide enough to accommodate the nightstands and bed.
So, we are pretty much stuck with how we have the bed setup in our space. I honestly don't mind it and like how you walk into the space and see the bed. The only weird thing about it is that the light is centered but to make the room feel like it flows, the bed is not centered. You probably can't tell from most of the photos and, honestly, no one would probably notice this but Luke and I (even in person) but it's just a weird thing that what works visually for the space for furniture doesn't work for the light placement.
I bet if you have an old home like I do, you have quirky things like this too!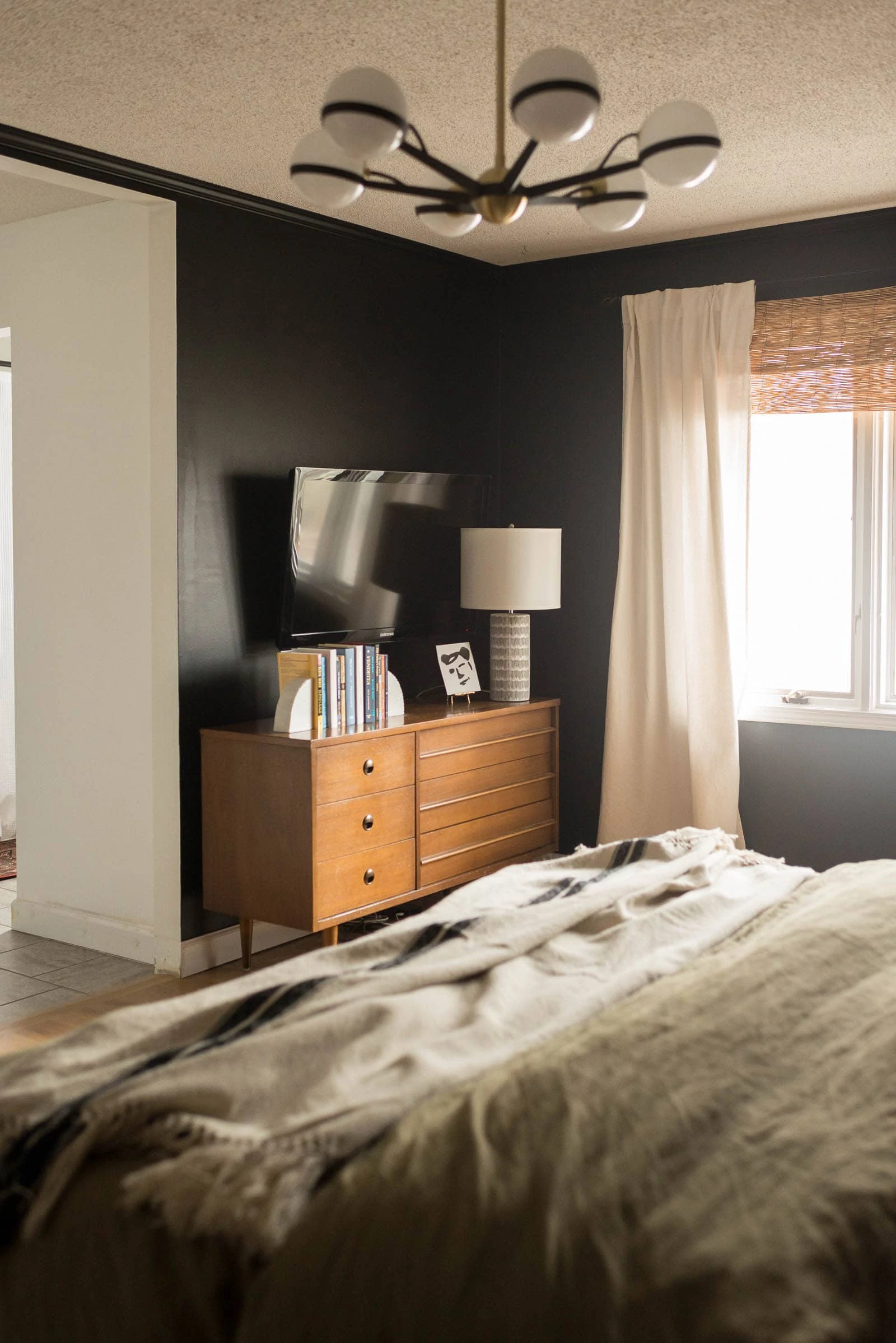 Tricorn Black Master Bedroom Reveal
Now that you have a grasp on the sizing of our space and the layout, let's get on to the new details of the bedroom.
Like I mentioned earlier, the gallery wall was the first thing that I did to change the space (other than moving a few things around on top of the dresser). I've always loved gallery walls and have always always been a huge advocate of hanging family photos in your house. If it makes you smile, you should do it. So, as I was analyzing my bedroom trying to figure out why I didn't feel connected to it, that's one of the things that I kept coming back to. There weren't enough pieces in it that truly made me smile. There weren't enough pieces that I felt a heart connection to; that had a personal story.
I decided that a grid-style gallery wall would work best. I bought frames from Target after pondering a few different options and started to gather photos.
For us, traveling is such a huge part of our lives. We all find so much joy in it, so it was a no-brainer for me to have another gallery wall devoted to fun snapshots of moments that we've loved. In the connecting hallway, I have another gallery wall full of travel memories but there's only six photos in there. I turned them black and white to create a more cohesive look and I love them like that in the hallway but I wanted more happiness for our bedroom.
I snagged some of our favorite, recent trip memories from Iceland and Hawaii. I ran them through a filter that I found on Etsy to help make them more cohesive looking and then set upon hanging them up. Honestly, I loved them immediately once I got them up on the wall. It felt like one of the missing pieces of our space. I sit in bed, directly opposite from this wall, so I go to bed looking at them and wake up looking at them. Greyson even commented about how much he loved them and wants something similar in his room. There's just a feeling to them that we all feel and that's the goal of the home.
All in, that project ran about $250. The whole arrangement is 5.5 foot high and 4.5 foot wide on the wall, so it's large. As we go on more vacations and have new memories, I'll change out a few of the photos but, other than that, I expect it won't change much.
*Since taking that photo above, I did buy paintable outlet covers and painted those with the same Tricorn Black Paint as the walls. They blend right in now!
Another art tweak that I made in the space was to move the Highland cow art up to this space and flank it with sconces. We had those sconces originally installed in our kitchen, but after we changed out the kitchen sconces, they were just sitting in a box. I've always loved the look of sconces flanking art, so we decided to try it. It gives more depth and intention to the space. They aren't hardwired, meaning, right now, they don't work. There's a hack for not hardwiring sconces called the "Magic Light Trick" and, eventually, I might do that. For now though, I'm just enjoying this view as-is.
So, the most visual change that you probably are seeing and either loving or hating is the dark paint. Let's talk about that.
Tricorn Black Bedroom Wall Paint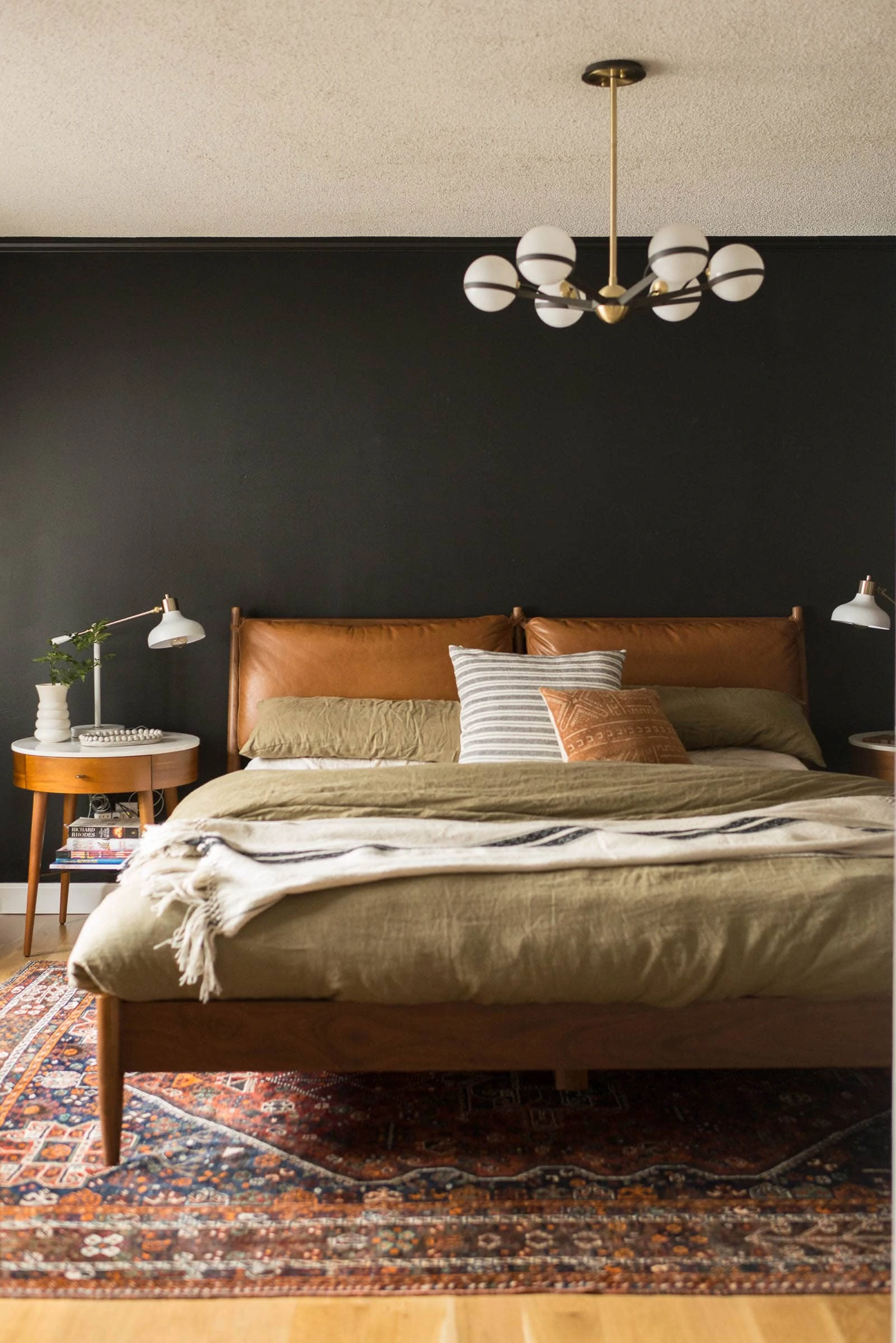 I've loved black bedrooms for quite some time but had always felt like it would be too stark for my house. After awhile though, I just couldn't get the thought of black bedroom walls out of my head for our space. I figured that it was just paint and, at the most, would cost me two days and $120 to paint back over if I hated it. I looked through some of the images I'd saved to my paint board on Pinterest and also gawked over these ten examples of Ursula's favorite moody black paint. But, I kept coming back to Sherwin Williams Tricorn Black.
Painting My Bedroom Tricorn Black
It felt like the perfect true black and so, without testing it or anything, I went and bought two gallons. When I decide to do something, I just jump in, that's honestly how I do most projects or start most projects around here anyways. So, I jumped right in and got home and just went for it. I knew the SW Tricorn black was going to take two coats but after the first one, I thought I'd made a mistake with going with a black bedroom. After the second coat, I was 85% positive I hated it.
Something that you may or may not know about me is that I'm slow to embrace change. I knew I needed to give myself time to come around to it; give myself time to bring back in the layers of the space, to get used to it. So, I told Luke that I would give it three months to see if I liked it. It took one month and a plan for adding just a bit more polish to it and I was all in!
Again, after thinking a bit about our living room, I came to realize that I really liked the crown in that space and thought that crown in the bedroom would be a good addition.
So, we went for it. Due to the opening that is not framed to the bathroom, we had to go with the smallest crown that we could find (2.5'). It's small but, in person, there's just something extra that it adds. You have to look for it to see it, but somehow, it just feels more layered. This was our first rodeo with installing crown in a room and there was definitely a learning curve. If you've installed baseboards, then you can do it but plan for the process to be similar yet different to baseboards. All in, we got it done over a weekend and it cost us about $85. We used leftover Tricorn Black wall paint on the crown (the same sheen), although, some people like to use a shinier sheen on crown.
One of my favorite bloggers just shared the easiest way to install crown, so if you are thinking about tackling that project, definitely check it out.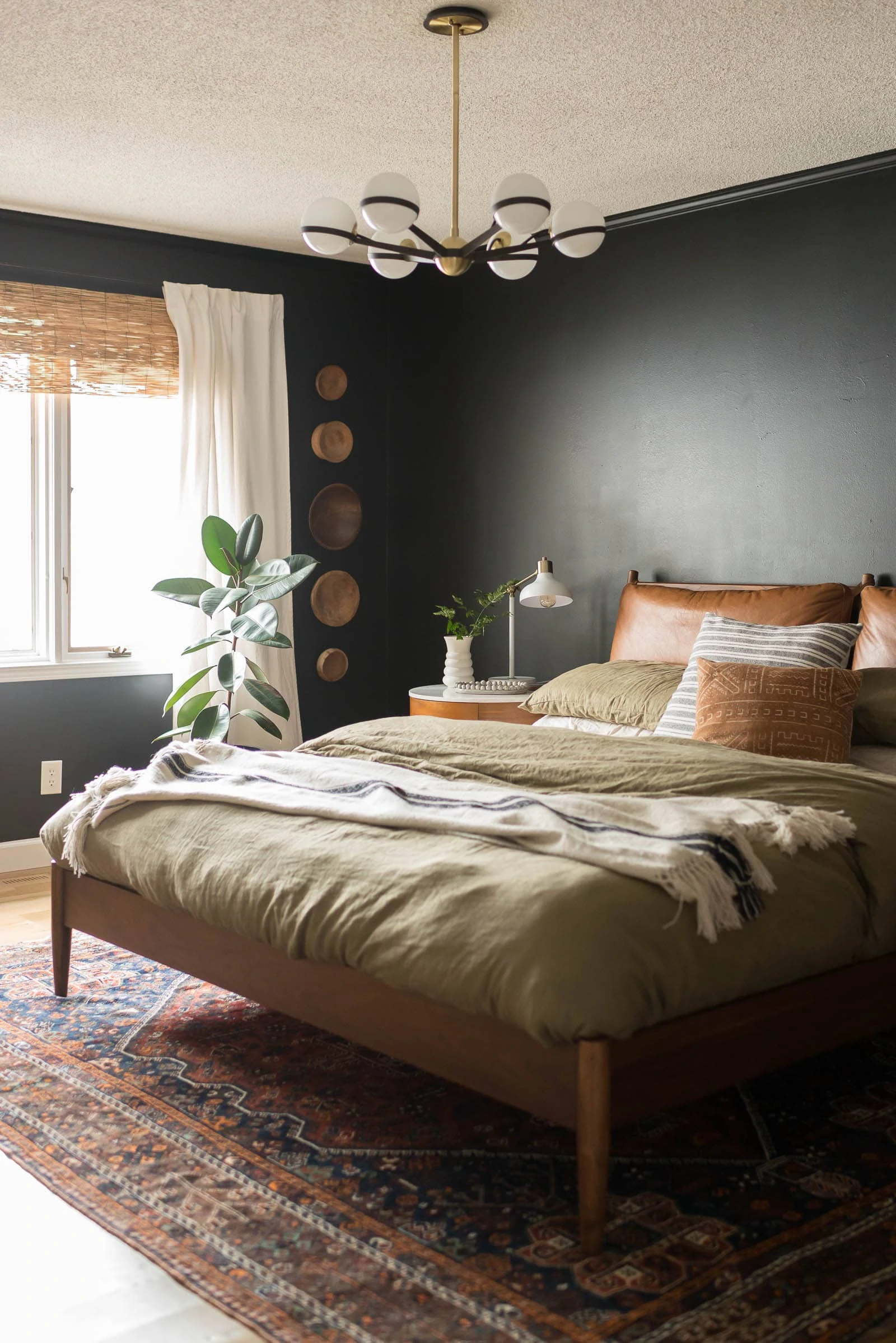 Besides some slight styling changes on the dressers, the only new addition to this space is the wall of hand-carved wooden bowls. My Instagram friend, Rebekah, had shared that she had scored some handmade wooden bowls at an estate sale and decided to hang them on the wall. Instantly, I was inspired because I have a small collection of wooden bowls that I've found at flea markets or thrifting over the past few years. I hung the wooden bowls on the wall and that was it. It seemed to add the extra layer of warmth and interest that I was looking for.
My heart is happy with this space right now. So incredibly happy! Thanks for sticking through the blog post, if you made it to reading this right now... you're a champ!
Shop Our Black Painted Bedroom with MidCentury Vibes