I love keeping track of renovation goals and think it's a great way to stay motivated in the long process that is part of transforming a fixer-upper.
I'm motivated by lists and goals. I love having a paper planner just so I can cross items off the list with a highlighter. I probably spend way too much time creating lists and visual planning goals but I get joy out of it, so there's that.
For a few years now, I've posted a house project list in January and then recapped in December with a look back on how we did with our renovation goals or house projects. For the list-maker and goal-setter, like me, these can be VERY beneficial. It makes me so happy to look back and realize that we did accomplish parts of our list or even that we made great strides towards creating the home that works for us.
2018 Renovation Goals Revisited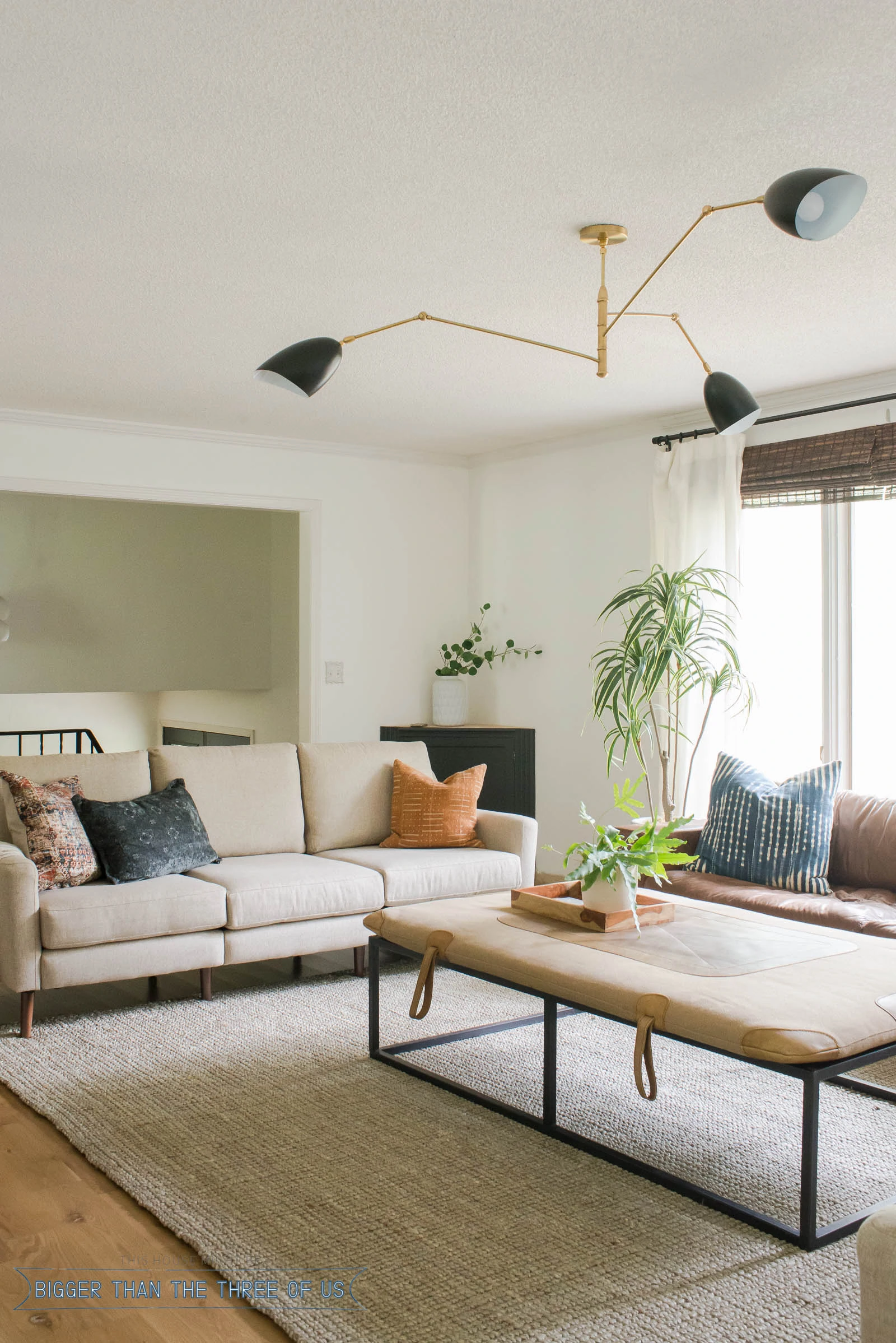 As a goal setter, I know the frustration of not hitting your specific goals but I do understand that sometimes, you just end up prioritizing other goals or projects instead. Still, for the type of person (me) who wants to cross everything off the list, it's annoying to not be able to. Spoiler alert, I wasn't able to cross everything off!
Back in January, I posted the House Project List for 2018 with the big surprise announcement that I was starting a podcast. You all majorly cheered me on with the that post, so thank you! The podcast was a major, new adventure and I have to say it's going better than I'd even hoped for. Hope that continues for 2019! Let's chat though on specific house related goals that I had. First up, the living room.
My Living Room To-Do List Included:
Art/mirror change
Figure out layout for furniture
Two new chairs
Paint corner cabinet to see if I like that better
Install baseboards
Update all trim in the room to Ultra White by Valspar
Take down bamboo shades and replace with a longer curtain rod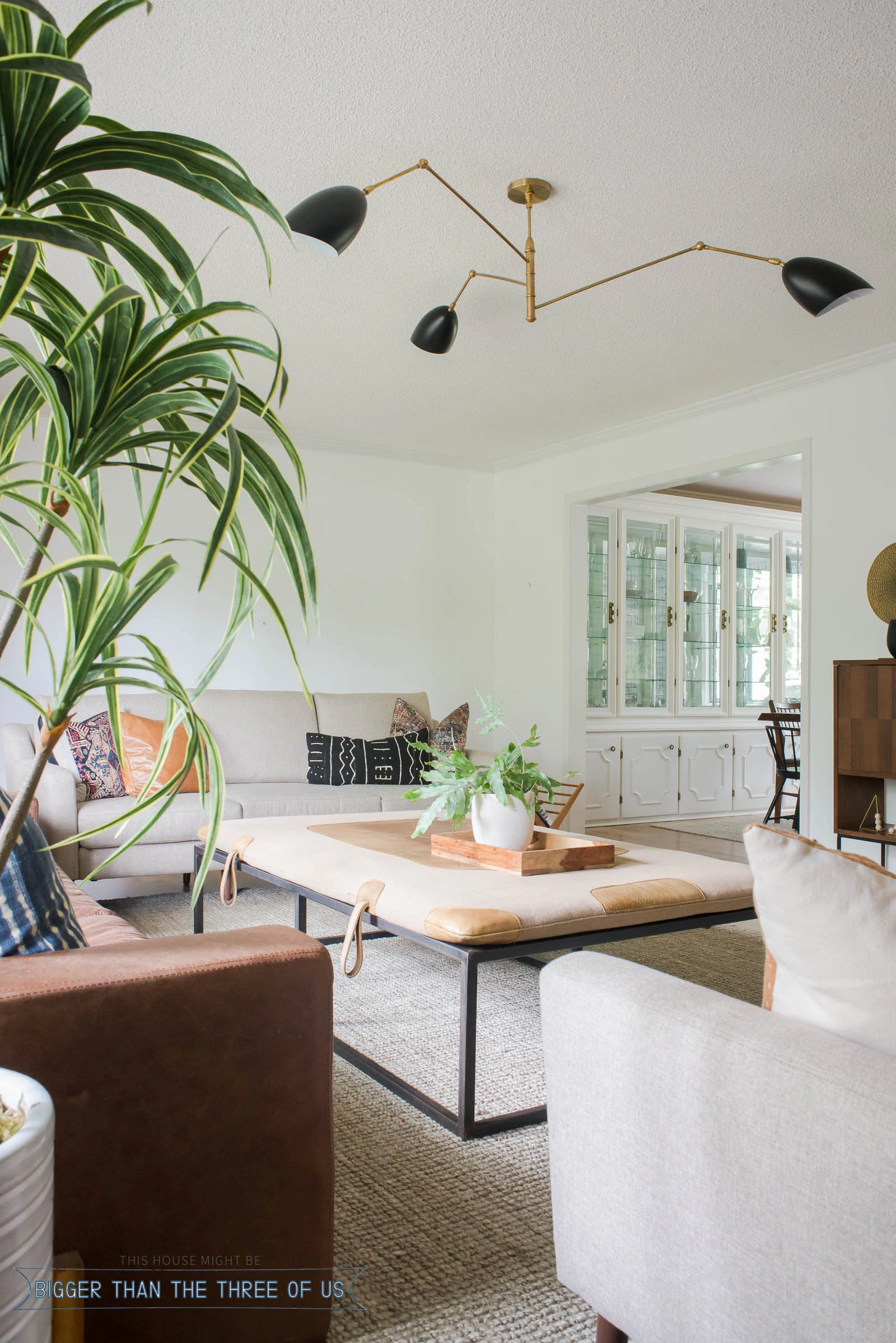 We definitely made progress in the room! I still haven't framed my Korhogo Art but part of the reason why was because I was trying to decide on painting my living room dark. If you follow me on Instagram, then you might have already gotten a sneak peek of the newly-painted GREEN living room. More pictures and details will be coming soon! 
As far as the seating arrangement goes, I do think the three sofas look good in photos as well as in person. They help anchor the room and take up space. BUT, after living with them for awhile, I just really want two arm chairs instead of one of sofas. I don't know if I'll make that change in 2019 or not but, eventually, I'd like to buy two chairs. 
So, we definitely have some to-do's still on the list but we made progress so it's a WIN in my book. 
Next up on the list for 2018 was finishing the coat closet.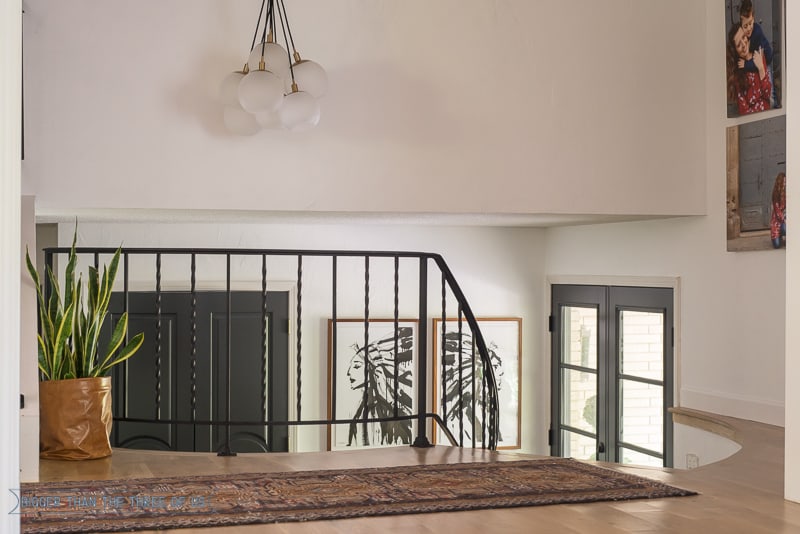 The coat closet is behind those black doors and is right off our front doors. Well, I'm sad to say that I haven't made any further progress. Oops! I especially like looking back on the 2018 goal post and reading this in regards to the coat closet:
That project should be pretty fast and easy so I really have no problems finishing it.
I have great plans for the space and really, it's just a few days worth of work but, for some reason, this space just keeps getting knocked down the the priority list. For the three of us living with it, it's quite annoying. We just throw our coats in the space on the floor since I demo'd the space and don't have a clothes bar in there anymore. See the coat closet plans if you want to check out where I think I'm going with the space! 
Next up, the plans and goals for the sunroom! 
My Sunroom/Office To-Do List Included:
Mini Split
New Lighting
Door Painting
I'm happy to report that I EXCEEDED my expectations on the sunroom. I specifically said: 
I'm not asking for a miracle in that space but I am looking to make progress.
Well, people, I do think that a miracle happened in the space and I love it so much!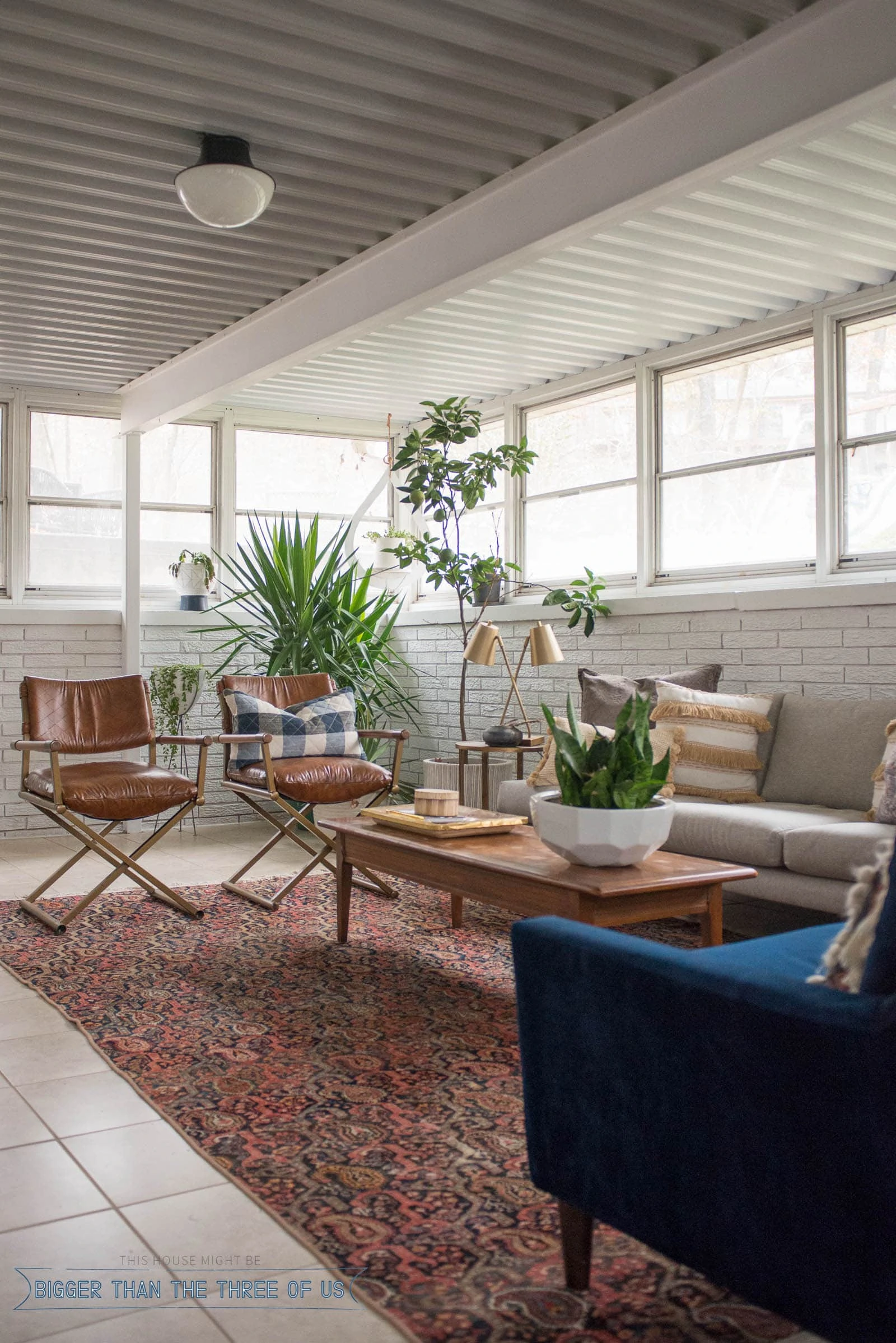 Sunroom Office Projects:
I still have plans for the space but I'm pretty content for it to evolve over time. 
The basement was next on my to-do list for the year. I had hoped to have the space demo'd and have egress windows put in. I did make a bit of progress by getting some quotes on the egress windows and, unfortunately, they were MUCH more money than we thought they would be (two quotes $12-20K). So, we prioritized a few other projects and are saving up for the basement renovation! 
Next, on the list, we had the powder bathroom. I had originally planned on starting during the spring but that didn't happen. We just started rolling on the space this past week so it's being worked on in 2018 but not finished! I'm hoping to have it done by mid-Feb! Wish us luck! If you missed it, I posted the design of the powder bathroom or how I hope it turns out! I'm pretty excited about it. 
Lastly, I had hoped to make some progress outside with painting trim and removing the shutters. I'm going to count this one was done! I didn't actually paint the trim but that's because I decided not to. I love the new look without the shutters. We also updated the landscaping along the front of the garage and it looks and feels so much fresher.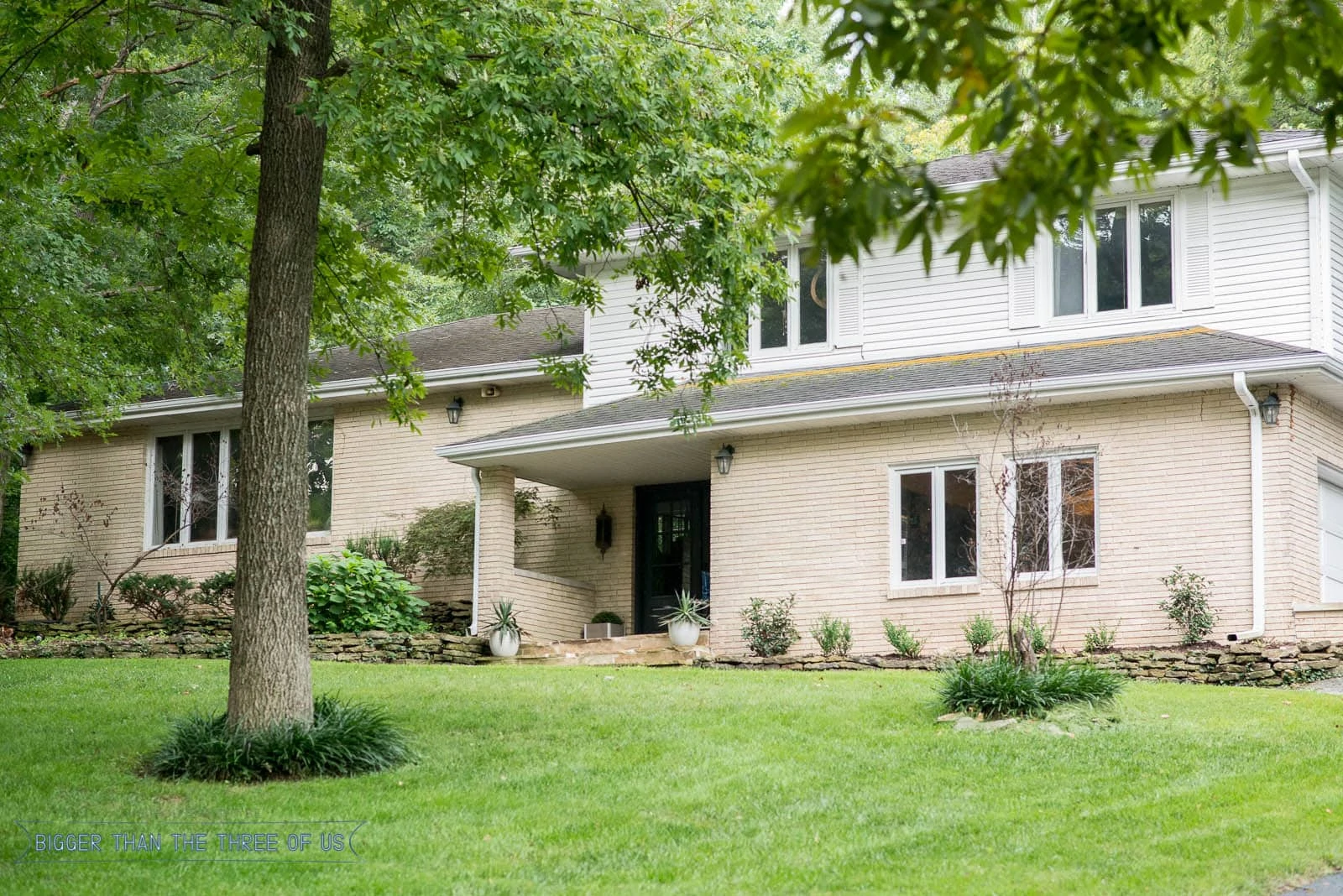 If you want to play catch-up on what we've done year to year, you can check out:
Thanks for indulging me in the look back on the year. It's always a fun post for me to write and enjoy for myself. Out of all of these projects, did you have a favorite?